Cycling Guru is reader-supported!
Some links on this page are Amazon Associate affiliate links When you buy through links on our site, we may earn an affiliate commission! Read more...
DOODLE Electric Fat Bicycle: The government is giving a huge subsidy to electric bicycle lovers. You can buy Doodle electric cycle for rupees 35,000 only instead of 80,000 rupees. But how do you avail of this offer? Make sure to read this article completely.
This electric bicycle is launched by the EMotorad brand. Emotorad is one of the best e-bicycle manufacturers in India. A strong battery has been used in it, which helps in giving it a good range (35 – 50 km on pos). This is one of the best foldable electric bicycles in India. Let's see its technical specifications and key features.
Key Features of Doodle Electric Cycle
Doodle is a foldable electric fat bike, making it compact and portable. You can also keep this bicycle in your car and travel between cities and states.
Read more: How to Charge E-Bike Battery without a Charger?
One of the best things about this cycle is, the battery is stored in the frame itself which is 10.4 Ah (detachable battery). Apart from this, it has a lockout suspension, 7-speed gears, an electric horn, a head and tail light, electric brakes and a lot more safety features are given in this bicycle.
This e-bike is perfect for going to the office and outings. One of the best things about e-bicycles is, you are not required a driving licence to ride on Indian roads.
TECHNICAL SPECIFICATIONS
| | |
| --- | --- |
| Battery | 10Ah Li-Ion |
| Motor | 36V, 250W BLDC Rear Hub |
| Frame | Aluminium Alloy 6061 |
| Rear Derailleur | Shimano Tourney 7-Speed |
| Mileage Pedal Assist | 55kms |
| Mileage Throttle | 40kms |
| Charge Time | 5-6 Hours |
| Battery Life | 3 Years |
| Buy Now | Click Here |
Range of Emotorad Doodle Electric Cycle
In this, a 10.4 Ah Lithium Ion battery has been utilised by the company. It has a 35 – 50km range on a single charge with a paddle assist. It takes 5 to 6 hours for a full charge. The bicycle's weight is 28.3 kg, which is very good for this bicycle.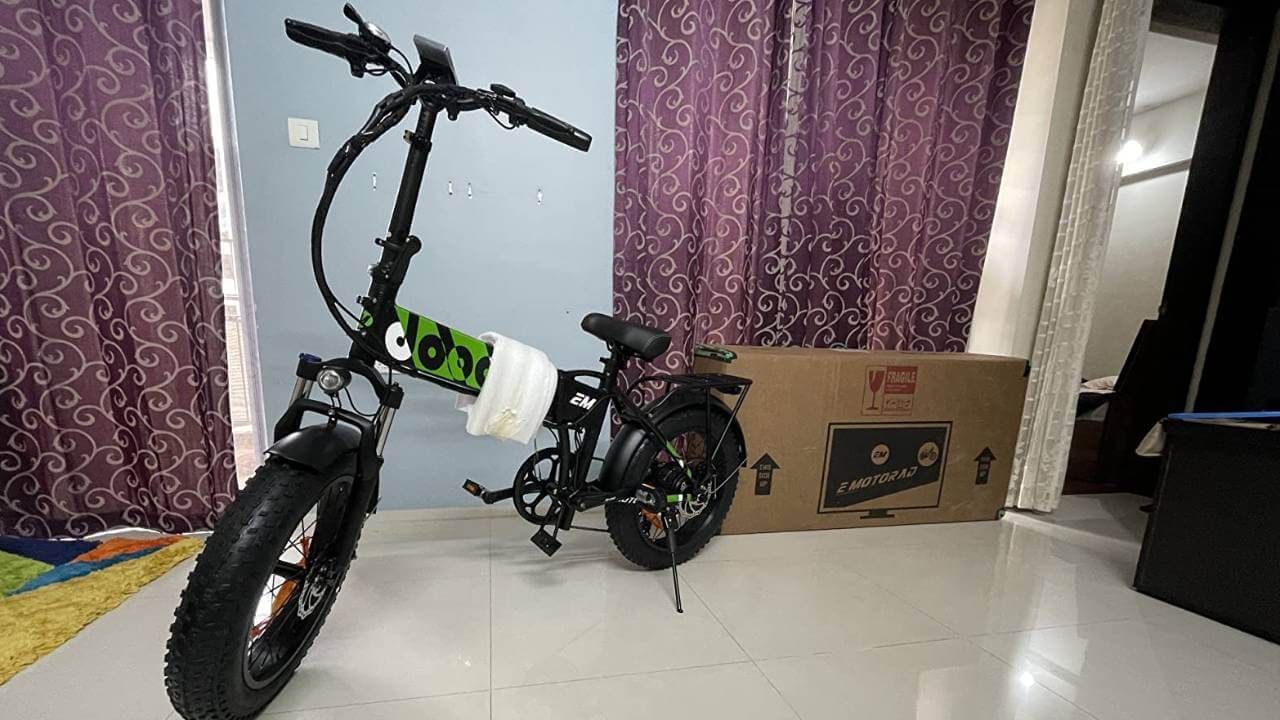 It is equipped with an advanced display which provides real-time information on speed, battery level and other important information.
How to Get Subsidy on Doodle Electric Cycle?
EMotarad has already reduced the price from Rs 80,000 to Rs 50,000. In addition to that, the Delhi government is giving flat 15,000 rupees as a subsidy to electric bike lovers. Let's see how to avail of this offer.
You must be a Resident of Delhi.
Aadhar card and a cancelled cheque need to be submitted in PDF format to the dealer.
The order needs to be placed in full payment or through EMI.
After successfully placing the order, In 60 – 90 days ₹15,000 subsidies will be credited back to your given bank account (By govt. Of Delhi).
Note: This subsidy is only given by Delhi dealers, you would not get any subsidy if you buy from the official website or Amazon.
Emotorad DOODLE Electric Fat Bicycle Subsidy
If you need any further help or assistance then feel free to ask in the comment section.