India is a crowded market of bicycle brands claiming to deliver high-quality, functional cycles and so on. Under such a competitive market it gets really tough to differentiate the actual capability of a brand and choose it.
Within such a market, a brand like Leader truly stands out since one of its outstanding features is the fact that they make its own cycle components.
Having said that, there is a lot more to analyze from cycle types, affordability, durability brand aims, and much more before deciding if the leader cycle is good or bad brand for bicycles in India.
In this article, we are going to summarise the Review of the Leader Cycles brand and help you decide on your purchase. Stick around till the end to know the unique features and FAQs about Leader Cycles.
How Leader Cycles Started: Their History & Vision
Leader Cycles was established in 2011 but its legacy goes way back to 1997 when it started manufacturing bike components. Founded by the Jindal brothers Aman and Sahil with the primary objective of providing high-quality, affordable cycle parts in India.
They saw a lack of a completely made-in-India cycle with trusted components that are easy to fix in the future and their determination to bring out excellent yet affordable cycles made this brand born.
What makes Leader cycles one of the best bicycle brands is their innovative engineered component of cycles, manufactured with high quality in check.
Leader cycles not only worked towards excelling the customer service by incorporating a variety of features in their cycles at a very affordable range but also ensured each cycle went through a useability check at the stage of manufacturing.
Be it advanced technology, or modern designs they work all around the product and constantly improve it.
Apart from the high quality, innovatively designed bicycles, Leader as a brand has a variety of other products to offer from different types of cycles, riding accessories, and much more.
What Type of Bicycles Does Leader Manufacture?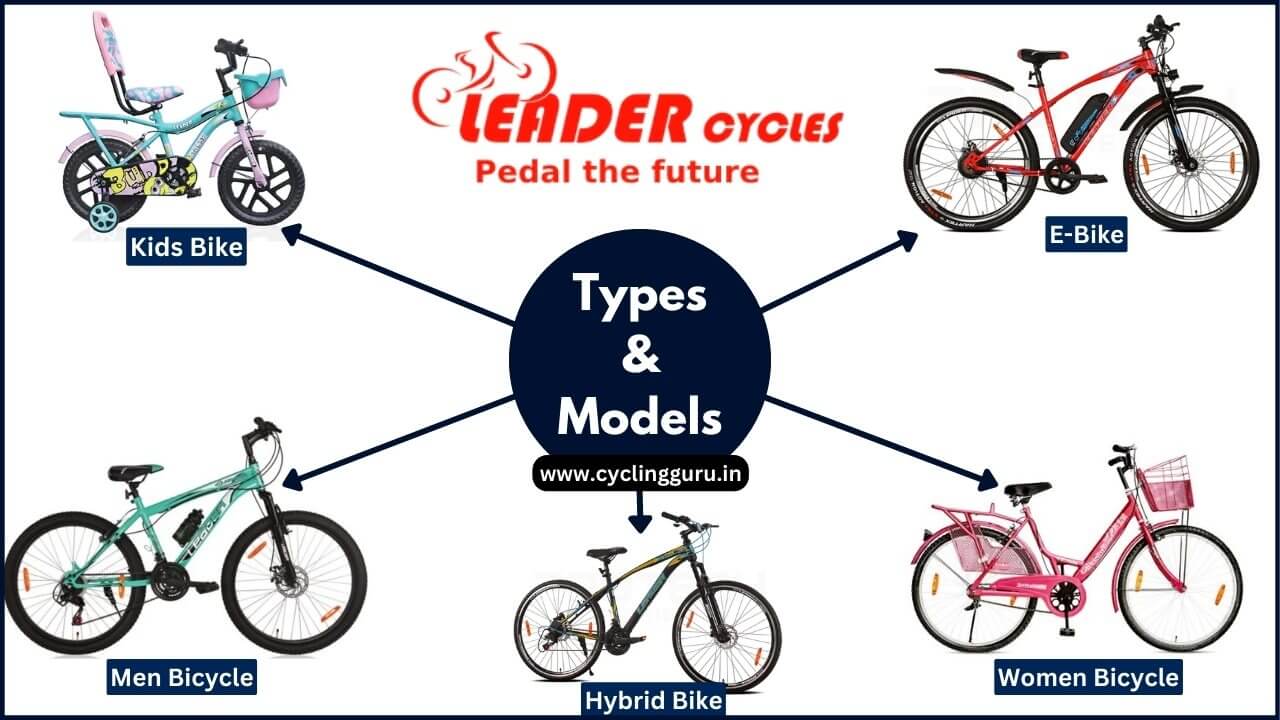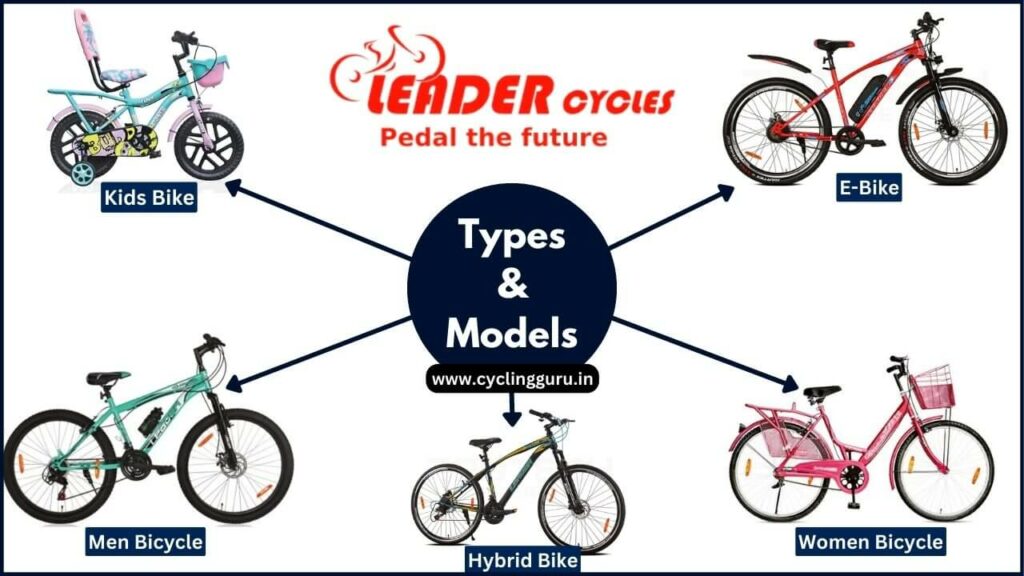 Leader have enhanced the build quality of cycles of various kinds to ensure there's something for everyone. One of their primary goals was to reach the masses and provide what they are looking for in their cycles from just a means of everyday commute to leisure cycling.
Let's see what type of cycles Leader has to offer, their features and whether they are really worth the hype.
Electric Bicycles
Before starting let's just state that the market for e-bikes has been increasing lately and we have been seeing more or less the same stricture from every other brand. So how do Leader's e-bikes differ from the rest?
Related: Top 5 Best Electric Bicycle Brands in India to Consider
To start with Leader made sure they have a limited collection of electric cycles with counted major components which are effective. This ensured less confusion and optimised the practicality. Doing this allows them to focus on perfecting the necessary parts of the e-bike with minute details.
Some of the best features of their e-bicycles are the portable water-repellent high torque motor batteries which last for a minimum of 5 years with a 7.8Ah 36-volt power, front shock absorbent suspension backed up by dual walled alloy rimed wheels for better controls on rugged trails.
A few of our favourite electric cycles from Leader's limited collection are the E-Power L6 27.5T model and the L7 version in the same model.
Last update on 2023-03-27 / Affiliate links / Images from Amazon Product Advertising API
Related: Are You Looking for Electric Bicycle under 10000 in India? All You Need to Know!
Hybrid Bicycles
By far, hybrid bikes are most in-demand, especially for the Indian market since we have such diverse and cohesive roads. The leader identified this problem and build their hybrid cycles with minute yet needed modifications that not only complement the complex road structures but also give you a comfortable riding experience.
To achieve this they used their best cycle components which last you forever, with little to no maintenance, for example, powerful brake pads, customizable handlebars from T-shaped to flat, and a riser for utmost ease and comfort.
Last update on 2023-03-27 / Affiliate links / Images from Amazon Product Advertising API
Mountain Bikes
When it comes to MTBs, there is a lot of variety in the market with certain typical focused features like broad tires and eye-catching bright body colours and designs.
Also Read: Top 11 Best MTB Brands in India 2023 (Trusted by Pro Cyclists)
Whereas, Leader's mountain bikes do have a phosphating paint unit for that ever-shining frame paint along with excellent high-quality components that last effectively long.
Their MTBs are equipped with high traction rubber tires for safety and better performance, and sturdy chain guards in order to reduce the risk of any road debris getting into and hampering the safety.
We recommend their Leader Scout 26T cycles if you want to get yourself an MTB.
Apart from these top cycle types, Leader has a wide range of fat tire cycles to kid's cycles with various features that are totally customizable according to your desired riding style. Moreover, Leader always believes in their customer's safety hence they have a specialized collection of cycling accessories as well.
Check some of the best Mountain Bikes from Leader Cycles:
Last update on 2023-03-27 / Affiliate links / Images from Amazon Product Advertising API
Do you still have any questions on Is leader a good cycle brand? Don't worry, scroll more to know what makes the leader cycle unique.
What Makes Leader Cycle Stand Out? Special Features, Affordability and Durability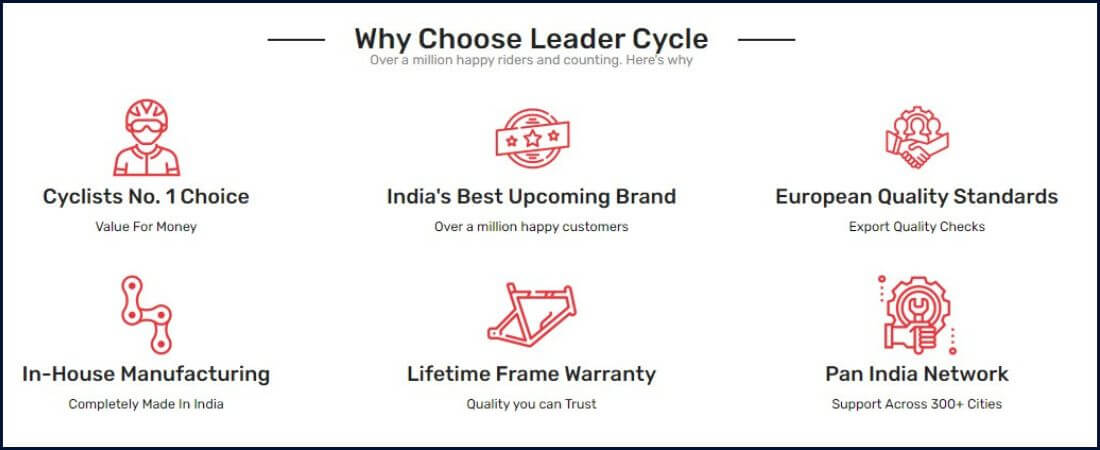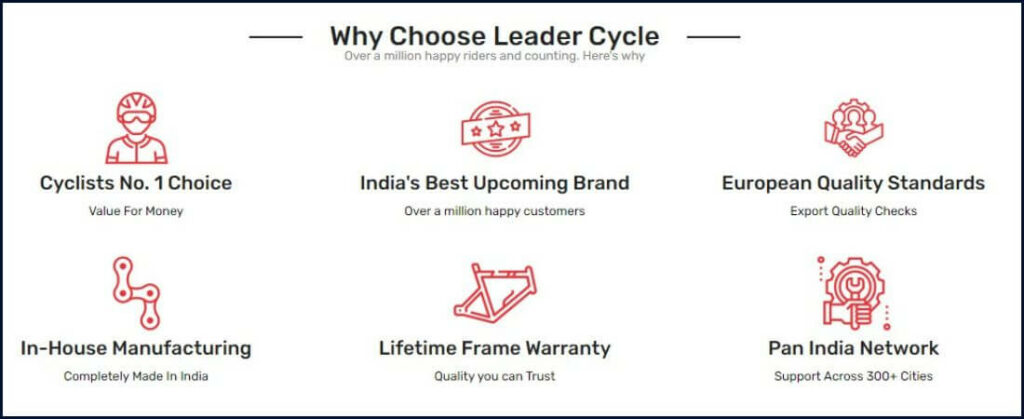 We believe that one of the major strengths of Leader Cycles is their prior experience of more than a decade in designing, innovating, and manufacturing high-quality bicycle parts that have a long shelf life.
This really gave them the amp-up for using their technology and crafting the best cycles out of those in-house produced components.
Moreover, since the beginning Leader Cycles team has been focused on delivering highly durable cycles with frames available in multiple alloys suited for preferred weather temperatures.
Leader who was known famously for their cycle components had evolved exquisitely as a nationwide cycle brand.
Conclusion: Leader Cycle is Good or Bad
Definitely, Leader is a good bicycle brand in India with promising performance reflected in all kinds of bikes. Even though building the whole cycles in-house with the latest technology and best-engineered techniques could get a little expensive, Leader Cycles are serving customers with an affordable price range of products.
Leader cycles qualify for the standards of a good brand offering the perfect balance of comfort, safety, the latest designs, and innovative technologies incorporated in their cycles.
We hope our inside into this emerging brand helps you choose your net ride to the fullest.
Keep Riding, keep exploring!
Related Posts: