Cycling Guru is reader-supported!
Some links on this page are Amazon Associate affiliate links When you buy through links on our site, we may earn an affiliate commission! Read more...
Tata company has just launched a new electric bicycle called Stryder Zeeta Plus. In my experience, It's one of the most affordable and eco-friendly means of transportation (costs only 10 paise/km).
Hence, making this ebike or cycle perfect for people looking for a budget-friendly electric cycle in the Indian market.
Great news! The Stryder Zeeta Plus is now up for grabs at an amazing price of just Rs. 26,995, but this offer won't last forever, so don't miss out!
The actual price of this ebike is Rs. 32,995, Now, you get to save a whopping Rs. 6,000 during this limited-time introductory period.
Remember, the Stryder Zeeta Plus can only be purchased directly from Stryder's official website. So "HURRY UP" and secure yours before it's too late!
Must Read: How to Buy an Electric Bicycle in India? 5 Major Features to Consider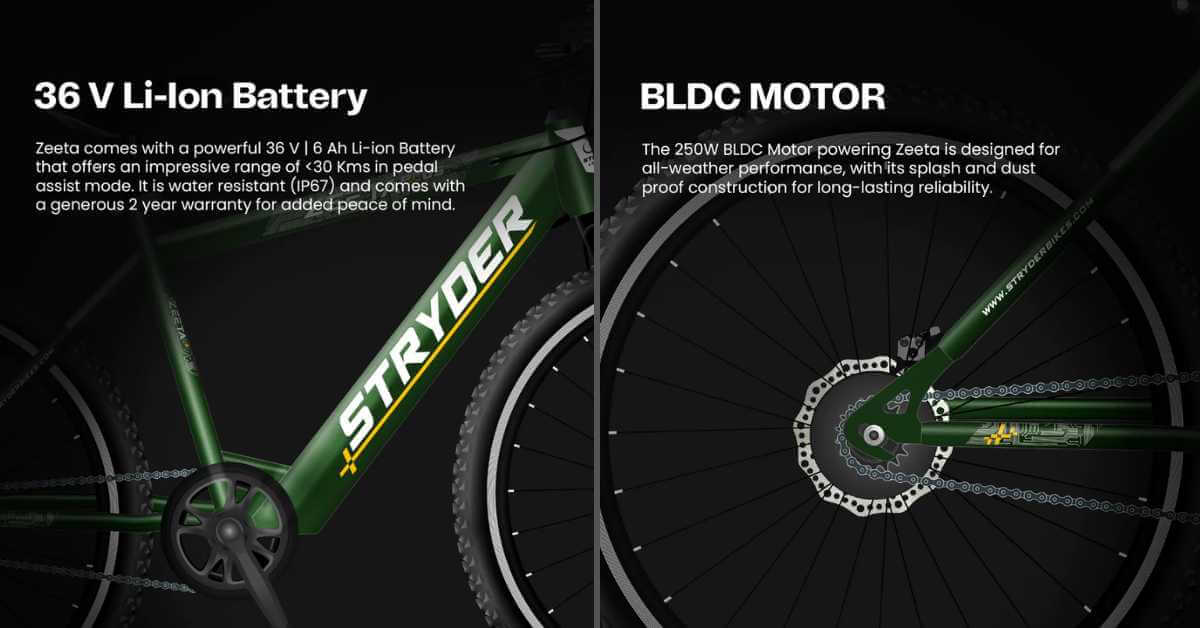 The soul of an electric bicycle is its battery and motor. Tata Stryder has paired these two important parts brilliantly as it has a 36-volt 6Ah (216 Wh) lithium battery which supplies the power to the 250 watts motor and the entire bike.
In my experience, the capacity of the battery is a bit low, but the company has done it to reduce the cost and to launch this electric cycle under 30000.
Related: Pros & Cons of Riding Electric Bicycles in India: Know Before Buying
But don't worry! As per the brand, This battery is enough to provide a range of around 20 to 30 km. Well, this also depends upon many factors such as the speed of the ebike, the terrain you ride on, the weight of the rider, etc.
Tata Stryder Zeeta Plus has got a powerful motor of 250 watts which is capable enough to provide a maximum speed of 25 km/h. Well, this electric bike can go faster than this speed but Indian law does not allow it. Learn more.
In order to control the speed of this electric cycle, the brand has provided mechanical disc brakes at both ends and they are electric as well. It means when you apply them, the motor automatically stops running. GREAT!
When it comes to the design & look of the Zeeta Plus electric cycle, the colour is very attractive and the brand has done a brilliant job on the paint as well. And to protect the battery, it is fixed inside the frame, so NO chance of theft too.
If you are looking for an electric cycle under 30000 in India, don't wait much. Get the Tata Stryder Zeeta Plus to your home at a discounted price of Rs. 6000. This offer is for a limited period.
Must Read: Government is Giving Huge Subsidy on Doodle Electric Cycle
Don't think much about the brand, As Stryder company is a subsidiary of Tata and this brand has specialization in manufacturing normal bicycles and electric bicycles. It has had more than 4000 retail owners across India for more than a decade.
Rahul Gupta, Business Head of Stryder, expressed his views on the new launch, "As a leading player in the cycling industry, our goal is to promote the use of alternative transportation in India. With the Zeeta Plus, Stryder provides a reliable, cost-effective, and environmentally friendly solution for individuals seeking a stylish and efficient mode of transportation."
Related Posts: