Bicycles have got many types and one of them is the Ranger Cycle. But Mostly people don't know what is a ranger cycle and its purpose. Are you one of them? or
Are you looking for a ranger bicycle without knowing the meaning of a ranger cycle? Don't worry! You have come to the right place.
I have done a lot of research and found the exact meaning, purpose, and benefits of a ranger cycle. Throughout this article, I'll cover almost everything about ranger bicycles.
If I miss anything or you have any queries, feel free to ask in the comment section at the end of this article.
So, Read this article completely to know what is a ranger cycle and how is a ranger cycle different from other types of bicycles.
What is a Ranger Cycle? How is It Different from Other Types of Bicycles?
Bicycles which are specially made for wandering (commuting) are categorised as ranger cycles. They have very unique types of frame designs. Such bicycles are suitable for commuting on roads and off roads because of their special geometry and features.
Hence, the purpose of a ranger cycle is commuting so we can say that the ranger bicycle is similar to a hybrid bicycle on the basis of purpose.
How is a ranger cycle different from other bicycle types?
The primary purpose of the ranger bicycle is commuting on paved/unpaved roads. Because the ranger bicycle has very unique frame design, the handlebar and the entire bike geometry are totally different from other types of bicycles.
You can take this bicycle on city roads, parks, and for going to school or college. But you can't use them for track racing because Road bikes are suitable for that purpose.
You can't use the ranger cycle for mountain biking because Mountain bikes are best for adventurous rides. Similarly, a BMX bike is for performing bike stunts.
Meaning of a Ranger in Cycles & Anatomy of Ranger Cycle
The word "ranger" has got various meanings. But in cycling, the ranger cycle means, bicycles for commuting same as a city bike or hybrid bike. As simple as that.
Here is the image of an Indian ranger cycle and its anatomy: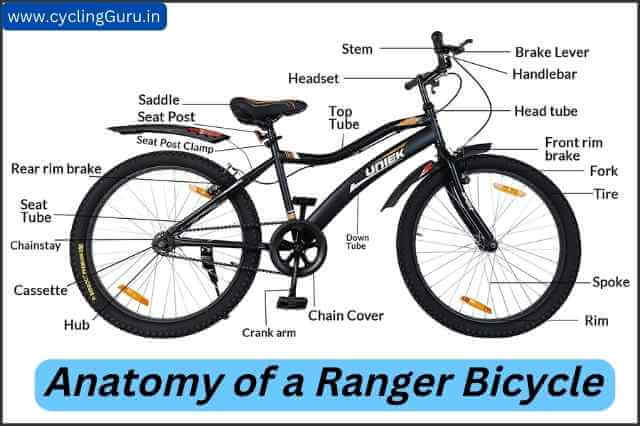 Features of a Ranger Cycle
Well, ranger bicycles have got various features which are almost the same as hybrid bicycles have. Let's see what are the features of a ranger cycle:
1. Frame type, material, sizes etc.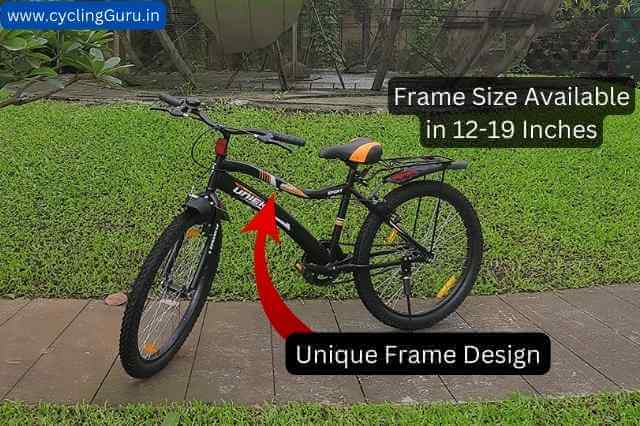 Ranger cycles have a unique rigid frame which provides good strength for off-road riding. They are faster than traditional roadster bicycles on roads as well because of their ergonomic frame design.
Also, the frame of ranger bicycles has a top tube at a low height which is very different from other kinds of bicycles. That's why ranger cycles can be easily recognised.
These cycles don't come with a two-step frame therefore not suitable for women riding with skirts and sarees. But, They can ride wearing jeans pants, or lowers or shorts.
Generally, frame materials of ranger bicycles are made from Iron and Steel. That's why the price of a ranger cycle is less than 10000 rupees in India.
The frame of ranger cycles is available in all sizes, from kids to adults. Frame size starts from 12 inches and goes to 19 inches. You can choose frame size according to your size.
If you want a durable and lightweight ranger cycle with good quality, go with a steel frame.
2. Fork (suspension or not)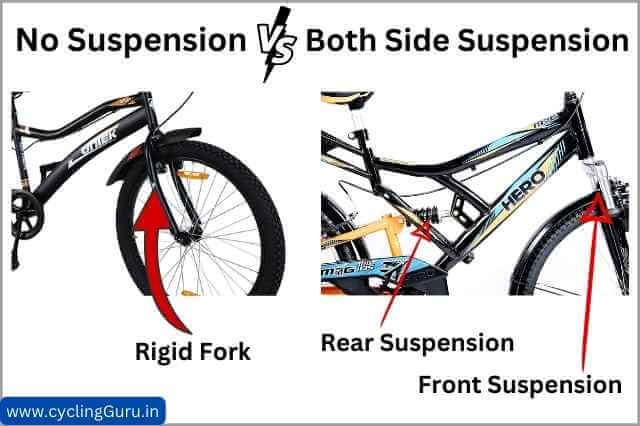 Ranger cycles come up with a rigid front fork as well as with both-side suspension. You can choose any of them accordingly.
Ranger bicycles with rigid front forks offer good strength for off-road riding, you feel more connected to the surface you are pedalling, and may feel bumps on trails and these cycles have a good speed as well.
Whereas, Other ranger cycles that are more geared towards off-roading have got suspension at the front and rear end. These bicycles perform nicely, you won't feel any bumps, and offer an amazing cycling experience on all types of surfaces.
If your goal is just commuting on paved roads, don't want to spend much, you should get a rigid fork ranger bicycle. It will cost you less than 5000 rupees.
But, If you see yourself hitting the off-road paths and bumpy roads (trails) more frequently, a full suspension ranger cycle will be the best choice. It will cost you around 7000 to 10000 rupees.
3. Wheels and Tyres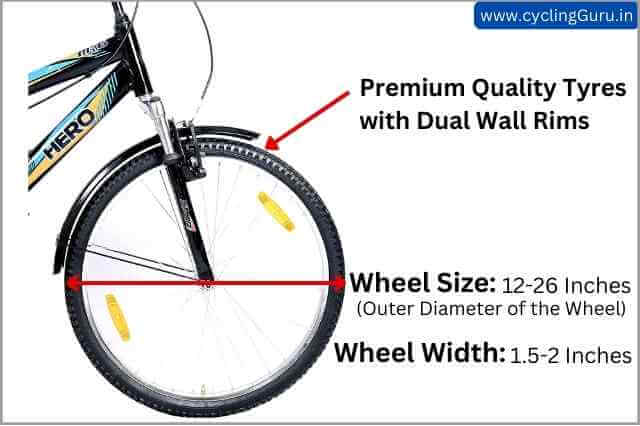 The majority of ranger cycles use 26-inch wheels. Because ranger bicycles are primarily designed for 13+ years children. Well, Adults can also ride.
Bicycles with 26 inches perform better and fit perfectly with teenagers and handle well. Because the average height of a teenager is less than 5'5'' in India.
If your child is short, don't worry, ranger cycles also come with 24-inch and 20-inch tyres.
The tyres of a ranger cycle are wider than traditional bicycles (city bikes, roadsters), it is somewhere around 1.5 to 2.2 inches.
Unlike a city bicycle, ranger cycles have a unique tyre design that gives them greater stability for uneven riding conditions.
4. Handlebars and Saddle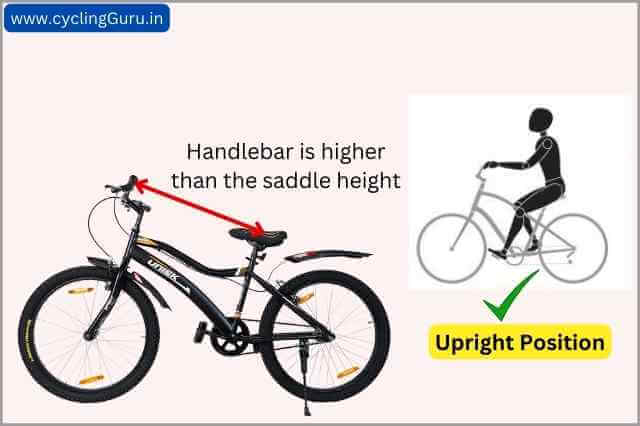 One of the defining characteristics is the angle of the handlebar with respect to the seat.
Ranger cycles have the seat notably lower than the handlebar, which creates a more upright and comfortable position for riders. Due to this position, Riders' shoulders, wrists, and hands are less stressed.
And the shape of handlebars in ranger cycles is flat or raised which increases the steering control and offers a very comfortable ride. That's why this bicycle is suitable for commuting.
When it comes to saddles, comfortable and wide saddles with soft foam are used in ranger cycles which again make them comfortable for riders.
5. Drivetrain
Ranger cycles come with gear and a non-geared drivetrain. You can choose any according to your need.
Bicycles with gear perform better than non-geared bicycles when riding on hills and on inclined surfaces. Learn which cycle is better geared cycles or gearless.
The majority of ranger cycles have a derailleur gear system, which is fixed at the rear wheel. The derailleur helps to shift the gears on the sprocket of the rear wheel and the front derailleur shifts the gear on the cranks.
The most common gear combinations in ranger cycles are between 18-21 speeds (6×3 or 7×3). Gears are almost the same as other types of bicycles.
6. Brakes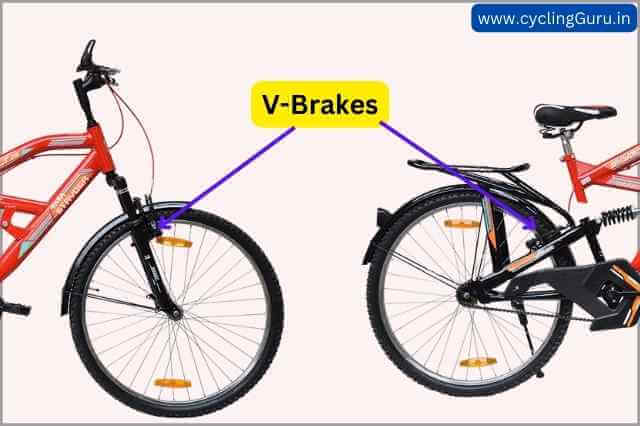 Generally, the Majority of ranger bicycles have traditional braking systems i.e., V-Brakes. But, there are some models of ranger cycles having disc brakes too.
But they are expensive and need more maintenance periodically as compared to normal brakes.
Well, V-Brakes are efficient in ranger cycles because it's commuting bikes. Thus, They don't need a more powerful braking system like disc brakes.
Generally, disc brakes are used in road bikes, professional racing bicycles and in mountain bikes. Because they are very fast and need powerful brakes.
The final decision is yours, you can go with a ranger bicycle with v-brakes or disc brakes. The choice is yours.
7. Carrier at the back (Special feature)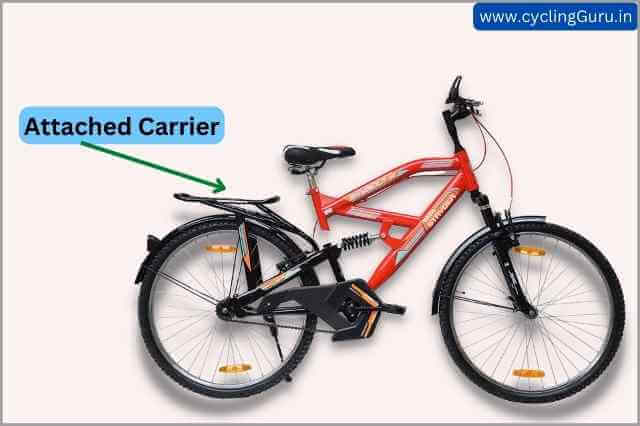 Have you ever noticed bicycles with attached carriers at the back? You must have. This is one of the special features that ranger cycles have.
A compact carrier is already attached to the back side of the bicycle for carrying goods. One more person can sit on the carrier of a ranger cycle.
This means such bicycles are strong enough for carrying a weight of around 120kg.
Summary: What is a Ranger Bicycle
A ranger cycle is a style of bicycle which is primarily designed for commuting on all types of roads. They are specially designed for the 13-18 years (teenagers) age group.
The above-mentioned features allow a ranger cycle to remain versatile and ride well on multiple terrains, unlike more specialised bicycles.
You can ride ranger cycles for going to market, school, college, or office etc. Ranger bicycle is very popular in India, therefore there is a high demand for such cycles in the Indian market.
In India, the Ranger cycle price starts from 3000 rupees and goes to 10000 rupees. This means, a very less amount of Investment is needed and its maintenance cost is negligible. DON'T WORRY!
If you are new to cycling or your child is, get a ranger bicycle and learn cycling. Then discover your preferred cycling discipline (Road biking, mountain biking, stunt biking or touring etc).
5 Benefits of Ranger Cycles in India
Ranger cycles are very popular in India because of the following benefits:
Ranger Bicycles are designed very unique and affordable too.
The upright position on this bicycle makes for the utmost comfort and stability while cycling short and long distances.
The ranger cycle is multipurpose which makes them a solid investment for cyclists looking to purchase solely one bicycle to do it all.
It is available for all age groups of riders (kids, children and adults).
It has a carrier at the back which helps to carry loads or a person.
Best Brands for Ranger cycles in India
There are many bicycle brands which manufacture and sell ranger cycles in India. I have found some best brands for ranger cycles which are leading the Indian market. They are:
1. Hero Cycles
Hero Cycles is one of the oldest and most trusted bicycle brands in India. It started manufacturing bicycles in the year 1956 in Ludhiyana, Punjab. Since then this company is leading the Indian bicycle market as well as made its presence in 65+ countries.
One of the most selling types of cycles is ranger cycles from Hero. They are very popular in India, you will see most of the ranger cycles are from the Hero cycle brand.
Some of the best ranger bicycle models are Hero Sprint Next series, Hero Tejas, Hero Mig, Hero blast for kids etc. You can get any of these.
2. Hercules
Another popular Indian cycle brand, Hercules is a subsidiary of TI cycle Group which was established in 1949. This company deals in almost all types of cycles.
Hercules Ranger cycles and Mountain Bikes are very popular in India. Hercules cycles are strong and durable. They are not expensive because they manufacture bicycles for the lower-middle class section of Indian society.
The popular ranger cycle models of Hercules are Hercules Street Rider, Hercules CX, Hercules Combat, Hercules Brut, CX70, etc. You can go with any, the minimum price is 5000.
Some More Brands for Ranger Bicycles:
There are a few more cycle brands which also sell ranger cycles in India ie., Leader Cycles and Eastman. But they have only 2-3 models available, and not much experience in ranger cycles.
If you want to buy a ranger cycle for yourself or for your children, Go with Hero or Hercules ranger cycles.
I have done the research and conducted surveys and polls related to ranger bicycles in India, and I have found the top 10 ranger cycles for you and created 2 videos.
Review Video for Best Ranger Cycles in the Indian Market:
If You have a low budget, Find the best ranger cycle under 5000 from this video:
---
Find the best ranger cycle under 10000 rupees from this video:
---
Frequently Asked Questions: Meaning of Ranger Bicycles
Q1. What is Ranger cycle used for?
The Ranger cycle is a type of hybrid bike which is designed for school-going children (teenagers). This type of cycle is used for commuting on roads and off-roads. It provides a hassle-free riding experience and is best for beginners too.
Q2. Who should ride a ranger cycle?
Ranger cycle is suitable for all type of riders who loves commuting. So, anyone can ride this bicycle for any basic purpose such as going to any place, school, tuition, college or office. The upright position on this cycle with a wide saddle provides a very comfortable riding experience to riders.
Q3. Who should not ride a ranger cycle?
As I said, anyone can ride a ranger cycle, but a woman wearing a skirt or saree should not ride a ranger cycle because this cycle does not have two-step frames, hence riding with that kind of dress can be risky for them. Also, people having breathing diseases should their doctors before riding a bicycle.
Q4. Do the ranger cycles Require a Special Area to be Ridden?
Basically, ranger cycles are made for riding on roads as well as on off-roads only. It's not a mountain bike so do not take this bicycle on mountainous surfaces, your cycle will be damaged. It's a normal commuting bicycle which can be used as a means of transportation.
Q5. What to Wear When Riding a Ranger Bicycle?
You can wear anything which is comfortable for you while pedalling. A Ranger cycle is not a track bicycle or racing bike which requires you to wear tight clothes. But yes, you should prefer wearing breathable clothes because when you pedal your body starts sweating.
Conclusion: Are You Ready to Ride a Ranger Cycle?
If you've made it this far, thanks for reading! You should now understand what a ranger cycle is, what features they have and their benefits.
Let me know in the comments below if you have any questions, and I'll get back to you as soon as I can.
If you're interested in cycling or want to learn more about it, Take a tour of this site and check out my other content too.
Happy Pedalling!
Sources:
Information about Hercules Cyles
---