Cycling Guru is reader-supported!
Some links on this page are Amazon Associate affiliate links When you buy through links on our site, we may earn an affiliate commission! Read more...
There are many types of bicycles available and one of them is a BMX Bike. Generally, BMX is mostly used for performing cycle stunts and tricks. However, the main question is: Are BMX Bikes comfortable to ride?
No, BMX Bikes are not comfortable to ride because they are very small in size, have small tires, less effective brakes, and also they don't have mudguards(fenders). Therefore, BMX bikes are only comfortable for performing bike stunts.
The primary purpose of BMX bikes is to perform bicycle stunts and tricks because such bikes are the most prominent and effective for performing such activities.
If you've ever wondered "what is a BMX bike and is it comfortable to ride?" Keep reading to find out exactly what BMX is good for at the end of this detailed guide.
What is a BMX Bike: Is It Comfortable to Ride Them?
BMX means bicycle motocross. BMX bike activities are practised and performed off-road.
The small wheels and frames of BMX bikes give them away as being unique. They are designed in such a way that they are very easy to ride in extreme environments, such as skate parks or pump tracks.
Furthermore, BMX bikes are lightweight, have thick and steady tires for durable and stable riding, and have a lightweight structure.
BMX comes in a variety of styles. Each BMX style is slightly different and has been developed specifically for a particular kind of riding or riding event.
When it comes to riding BMX Bikes for commuting, the answer is NO because These bikes are comfortable for bike stunts and bike tricks but not for riding long-distance or commuting.
Anatomy of a BMX Bike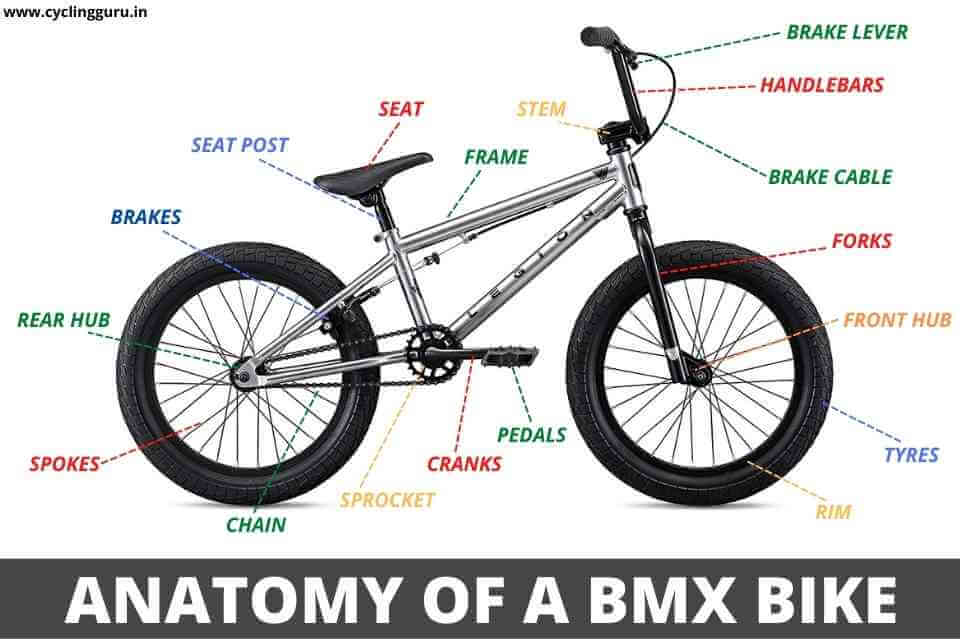 What is a BMX bike good for? Primary Purpose of BMX Bikes
BMX is an off-road sport bicycle that is primarily used for racing and performing bike stunts & tricks. These bicycles are lightweight and they have rigid and strong frames therefore such bikes are made for off-road racing and stunt riding.
You must have seen some BMX bikers performing bike stunts in urban areas, in your street, or at skate parks. Also, there are some more areas where BMX bikes are ridden.
How is a BMX bike different from a regular bike? (BMX vs Regular Bike)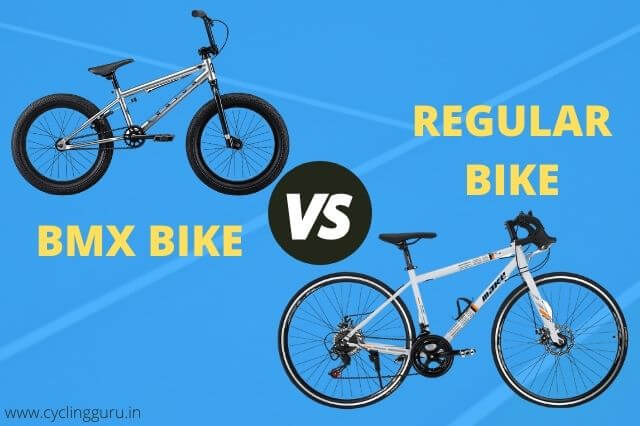 I have already explained that the BMX is a sports bicycle that is generally used for stunt racing and performing bike tricks. Therefore such bikes are designed differently. The tubes on BMX bikes are usually 20 inches long, while those on road bikes are 45 inches long. As you can see, the frame of the BMX bike is much smaller.
Their tire size is small and raised handlebars to make them look like a kid's bike. They don't have any fenders and also BMX bikes have only rear brakes which also makes them different from regular/normal bicycles.
Advantages of BMX Bikes:
They are lightweight and easy to transport, making them ideal for a fun ride and thrashing around.
A quality BMX bike costs about half what a quality mountain bike does, which means BMX bikes are not that expensive.
These bikes need very less servicing and repairs as these bikes have single-speed.
Ideal for urban environments like skate parks and BMX tracks including doing tricks and stunts.
Disadvantages of BMX Bikes
BMX Bikes are not suitable for commuting and long rides.
It's very uncomfortable to ride such bikes while sitting in the saddle.
With BMX Bikes Uphill riding can be challenging with one gear.
Compared to mountain bikes, there is no suspension, so the body absorbs more impact.
---
Is a BMX Bike Good for Commuting?
BMX bikes can be used for commuting, but are usually impractical for riding long distances therefore, it is recommended to ride this bike for commuting for short distances(a few miles at most).
Why BMX bikes are good for shorter commutes? Because there are several problems with this bike, including a bad riding position, a lack of rack and fender mounts, limited braking power, and erratic handling.
Furthermore, BMX Bicycles come with limited gearing options, so if you commute short and the hills are few, a BMX bike is fine.
Are BMX bikes good for the road?
NO, BMX bikes are not very good for roads because such bikes are only perfect for off-road riding. You can perform bike stunts and jumps on these bikes' solid and robust frame, lightness, and small frame size on your rugged off-road trails. This is why the BMX bike is famous.
Are BMX Bikes Good for Long Distance? (5+ Valid Reasons Explained)
No, BMX bikes are not good for long-distance, It is only good for performing bike stunts off-roads. BMX bikes do not make good long-distance bikes for several reasons. Let's discuss them in detail:
1. Bad riding position on BMX
The riding position on BMX bikes is not comfortable because the saddle on such a bike is very small and this doesn't allow you to sit properly and pedal them, that's very tough to do that. You will have to stand up to ride these bikes, you can do this for a few miles.
But, For a long bike ride, a rider needs a comfortable saddle that offers great comfort and a better riding position and this is available in hybrid bikes, city bicycles, mountain bikes (MTBs) or road bikes, etc.
Therefore, You should not choose BMX for long-distance.
2. Limited gearing options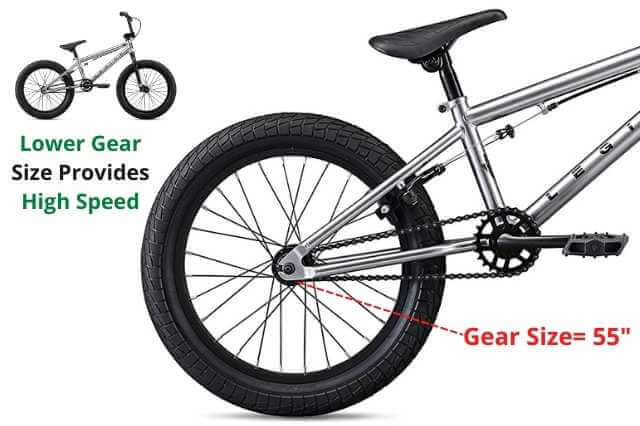 BMX bikes are sports bikes and all of them come with single-speed gear. Most hybrid bikes also have single-speed gear, they work well for long-distance riding, then what is the issue with BMX bikes if they also have single-speed gear?
Because BMX bikes have 55-inch gearing which is lower than the hybrid bikes' gearing. Normally hybrid bikes' gear measures around 65" to 70".
What is the importance of gearing size in a bicycle?
The size of gearing is the main factor for increasing/decreasing the speed of a bike. It means the lower the gearing size, the higher the speed. Therefore, A BMX bike with 55" gearing offers more speed than a hybrid bike that has 70" gearing. Hope you get my point. Know more
3. Fenders and carriers are not available on BMX
You would neither find any fenders(mudguards) nor carriers in BMX bikes because they are only made for BMXing means for performing bike stunts. These two things are useless in that case.
However, For riding long distances or commuting, a bicycle must have fenders and bike racks. Therefore, BMX bicycles are not ideal for long-distance riding.
4. Less effective braking system
BMX bikes are generally not made for roads, therefore, there are only rear brakes which you will find at the back and they are not much effective as compared to other bicycles.
The brakes of BMX bikes are fixed to reduce the speed of the bike while performing bike stunts and tricks. It is not for an emergency stop while riding on the road. That's why the brakes of BMX bicycles are not powerful.
Bicycles that are made for roads have an effective braking system such as road bikes, hybrid bikes, etc. Nowadays disc brakes have been fixed in some types of bikes.
5. Bike geometry is unsafe
You will find, that each part of the BMX bike is smaller than the other types of bikes making them unique from other bicycles. Generally, BMX bikes come in two different sizes i.e., 20" and 24" BMX bikes. Most BMX bikers ride 24" bikes. This bike is considered one of the best bikes for bike stunts.
However, It is one of the unsafest bikes for riding on roads, commuting or long distances because the main reason is bike geometry. The short-chain length reduces the bike stability on the roads. That's why BMX is not safe for riding on the roads.
6. Raised handlebar
The handle of a BMX is raised so high that don't allow a rider to ride this bike while sitting on the saddle. Additionally, the handle of such bikes revolves 360 degrees that making this bike unstable and becomes tough to handle on the roads.
So, because of the above-mentioned reasons BMX bike is not good for long-distance riding or commuting.
BMX Bike Size Chart according to Bike Type
There is generally one size for BMX bikes (even though the lengths can vary). The size of the wheel changes depending on the size or age of the rider, and that's the only other thing that changes.
There are three types of BMX bikes for different styles and purposes. And these 3 types of bikes are True BMX, Racing BMX and Freestyle BMX.
This BMX bike size chart will help you to find out the right BMX bike based on your height or age.
Make sure you measure your height accurately and check the manufacturer's measurements as well. Alternatively, you can visit a store and speak to one of our staff members.
You should always have a minimum gap of 2cm between your feet and the top tube when standing over the frame. You must know how to measure a BMX bike frame before reading selecting a bike for yourself.
| Rider's Height | Frame Size | Toptube Length | Stem Length | Bar Length | Bar Width | Crank Length | Gearing Size |
| --- | --- | --- | --- | --- | --- | --- | --- |
| Up to 4'4″ | Micro | 15-16.5 inch | 25-35 mm | 2-2.5 inch | 20″-22.5″ | 145-155mm | 41-43/16 |
| 4'2″ to 4'10" | Mini | 16-17.5 inch | 30-40 mm | 2-3.5 inch | 21″-23.5″ | 155-165mm | 41-43/16 |
| 4'6″ to 5'1″ | Junior | 17-18.5 inch | 40-45 mm | 3-5 inch | 22″-25″ | 160-175mm | 42-43/16 |
| 5′ to 5'4″ | Expert | 18.5-19.5 inch | 43-48 mm | 5-7 inch | 25.5″-27″ | 170-175mm | 42-43/16 |
| 5'2″ to 5'6″ | Expert XL | 19.5-20 inch | 43-48 mm | 6-7 inch | 25.5″-27″ | 170-175mm | 42-43/16 |
| 5'3″ to 5'8″ | Pro | 20-20.5 inch | 50-55 mm | 7-8 inch | 27″-28″ | 175-180mm | 43-44/16 |
| 5'7″ to 6′ | Pro XL | 20.5-21.25 inch | 50-55 mm | 8+ inches | 28″ | 180-190mm | 44/16 & above |
| 6′ & above | Pro XXL | 21.25-22 inch | 52-60 mm | 8+ inches | 28″ | 180-190mm | 44/16 & above |
---
Watch this Video to Learn 10 Easy BMX Tricks
---
FAQs: Are BMX Bikes Comfortable to Ride?
Are BMX Bikes Good for City Riding?
Yes, BMX bikes can be ridden in the city as well but you would not get better performance than the City bicycles because city bikes are the best options for riding at night on the city roads.
Still, If you want to ride the BMX on the city roads then install the powerful brakes and raise the saddle so that you could achieve maximum comfort while riding on the roads of the city.
Are BMX bikes hard to ride?
Yes, BMX bikes are quite hard to ride than the other bikes because it has less effective brakes and also 55" gearing makes them faster than a hybrid bike. As a beginner, you would face some challenges while riding BMX bikes. It's recommended to ride these bikes under the guidance of your coach or seniors.
Can BMX bikes go fast?
Yes, BMX bikes go fast because BMX has single-speed gearing and that comes with a 55-inch which is lower than the hybrid bikes. Generally, Single speed hybrid bikes come with a 70" gearing size. The speed of a bike depends upon the gearing size, lower the gearing size offers high speed and vice-versa.
Can you sit on a BMX bike?
Yes, you can definitely sit on a BMX bike while riding. But It's quite uncomfortable for a rider to perform bike stunts while sitting on them therefore it's impractical as well. Also, the Saddle of such bikes is very low that making pedalling a bit tough. It's easy to pedal BMX bikes while standing on them.
Do adults ride BMX bikes?
Yes, BMX bikes can be ridden by all age groups. It's not true that BMX bikes are only made for Kids. Anyone can ride BMX bikes, 20" and 24" BMX bikes are suitable for adults. You can select your size according to your height, see the BMX bike size chart above.
What size BMX bike is good for adults?
When it comes to sizing in BMX bikes, Let me tell you that BMX bikes' frames come in a single size(may have slight variation according to brand). The only thing changes is the tire size. BMX with 20-inch and 24-inch wheels is the best option for adults. You can also go through the above-mentioned size chart.
Can you ride a BMX like a normal bike?
Yes, why not? Although it is also a bike. Just make sure to train yourself perfectly with BMX bikes and get the powerful brakes installed. Also, raise the saddle if you need it. Then, you can also ride them like a normal bike no one can stop you. However, It's impractical to ride a BMX bike like a normal bike.
Conclusion: Is It Comfortable to Ride BMX Bikes?
To conclude this article on are BMX bikes comfortable to ride, I would say that BMX bikes are not comfortable for city riding, commuting and long-distance. Because the primary purpose of BMX bikes is to perform bike stunts and it is suitable for off-road riding and only comfortable for bike stunts and tricks.
So, If you want to ride bicycles on roads then go for road bikes, want to ride in the urban city then go for city bicycles or hybrid bikes and want to ride on rough/mountainous surfaces or perform some stunts and ride them on the roads then go for MTBs (mountain bikes).
I hope you liked this article, Do share this with your friends and BMX riders and share your thoughts in the comment box below.
Also, If you have any queries do not hesitate to ask. I will definitely reply.
---