Your search is over now! You have reached the right page if you are looking for the best 29 inch bicycle in India.
The health benefits of cycling are endless. Covid made us realize how important maintaining fitness is. Therefore, many of you are seeking ways to stay healthy and fit.
The list of physical activities varies from going to the gym, jogging, Yoga, and nonetheless, "CYCLING".
There are tons of brands that claim to sell the best 29″ bicycles in India. But, are all of the best? Trying each bike before making a final decision is impossible.
In order to make your life easier, we have sorted this out. After examining all available 29 inch bicycles, we have reviewed the top 5 best 29 inch bicycles in India that are guaranteed not to let you down.
Let's get started right away.
29 Inch Bike for What Size Person: Depends on Your Height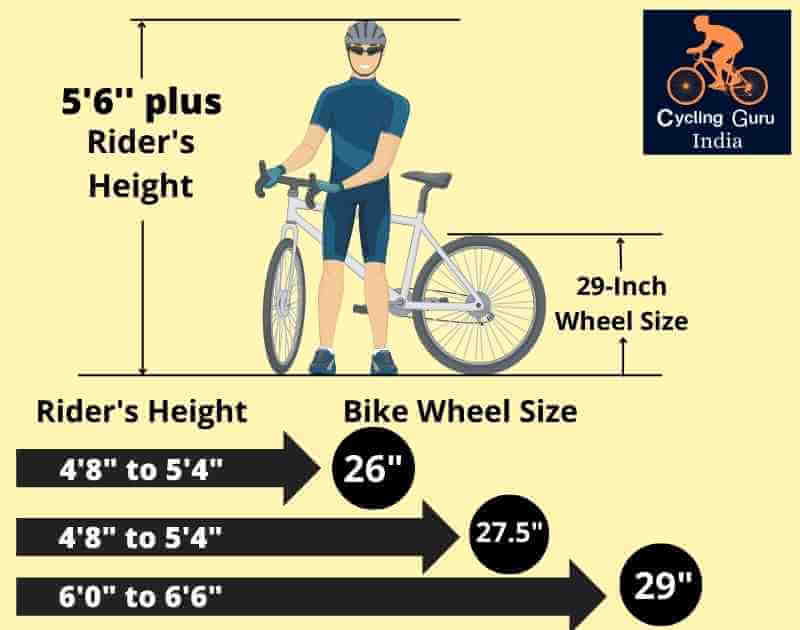 Here 29 inches stands for the wheel size of a bicycle which is the diameter of the wheel. So, a 29-inch bike is the perfect bicycle for those who have a height of 5'6" or above. Basically this type of bicycle is especially for tall riders. They will enjoy a very comfortable riding position with the size and frame geometry of a 29" bike.
In fact, 29-inch wheels are currently the largest available standard mountain bike wheel size, they are not as common as one might think. Always go through the bicycle size chart of the brand before purchasing.
Advantages of 29 Inch Wheels in a Bicycle
There are several advantages to using the big wheel over the traditional 26-inch wheel, including higher speed and more stability.
The 29" bike offers more stability, better traction & performance than the 26 inch or 27.5-inch bikes because such types of bikes have a longer wheelbase.
The 29-inch wheel rolls easily over potholes and ditches because a 29" wheel has a greater diameter compared to a 26-inch wheel. Thus, bicycles with 29-inch wheels are considered to be more comfortable bikes.
In India, the condition of roads is not good, when you ride a bicycle on these roads you may encounter rocks, various types of bumps, and speed breakers. Hence, Bikes with 29-inch wheels are best for rolling over obstacles.
As we know, a 29" wheel has got more radius than a 26" wheel. This means that a larger radius wheel rolls faster than a smaller radius, and thus speed is fast.
---
Top 5 Best 29 Inch Bicycles in India: Hybrid Bikes and MTB
1. Vector 91 Defeatr 29T Single Speed Hybrid Bike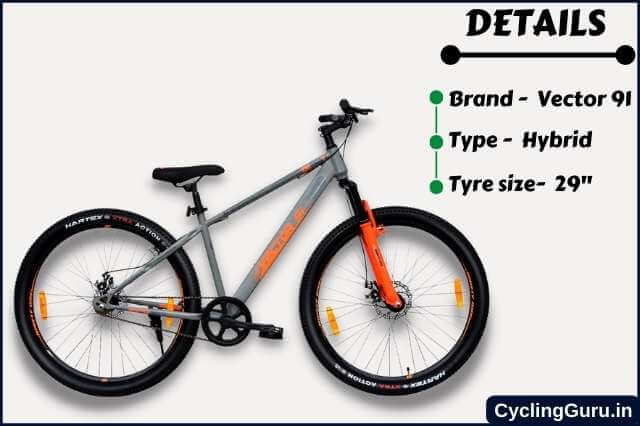 Specifications:
| Vector 29 Defeatr | Specifications |
| --- | --- |
| Frame material | Hi-Tensile steel frame |
| Frame size | 17 Inches (43cm) |
| Suspension | Front |
| Bicycle weight | 18 kg |
| Brake type | Dual-disc brake |
| Speed / Gear type | Single speed bicycle |
| Warranty given | 6 Months |
On the list of 29-inch bicycles is the Vector 91 Defeatr hybrid bike. If you are looking for the best 29 inch bicycle in India under 15000, go for it. This bike is suitable for beginners as It is a single-speed bicycle. New riders will be able to experience a fearless riding experience through this bicycle.
High-Quality Components
This bicycle is built from A-grade components, such as a 17-inch Hi-tensile steel frame to make it durable and rust-free, 80mm front fork suspension and dual wall alloy anti-rust wheel, and 29" Nylon grip 2.1' wide tires which provide excellent grip on all surfaces.
Easy Handling & Effective Braking System
You will get mechanical disc brakes at the front wheel and rear wheel. That allows you to stop your bike instantly in case of an emergency. It is a single-speed hybrid cycle, you don't have to worry about shifting the gears and derailleurs.
Non-gear cycles are hassle-free bicycles; they have a handlebar of a mountain bike type. It's easy to handle this bike as it is lightweight, has no gears, raised handlebar, and has a very comfortable saddle.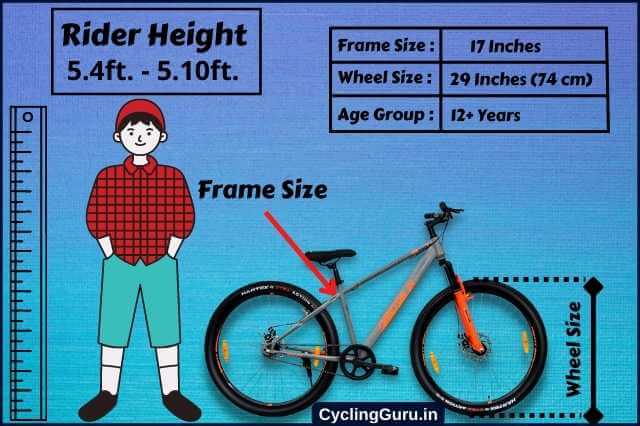 Usage of this Hybrid Bike
If you want something easy to use for your everyday commute, for going to college or school, then this 29-inch gearless cycle is an excellent solution for you. You can also go on adventures on rough terrains without worrying about safety and comfort because it has disc brakes and front suspension.
Extra Features that we liked about the bicycle:
It has one of the most appealing aesthetics.
A-grade components were used to build this bike.
Safe and comfortable to ride for long-distance rides.
Delivered in 85% assembled condition.
Anti-slip pedals and reflectors are available.
Cons of the bicycle:
The length of the seat post is short for taller riders.
Carriers, Mudguards, and ring bells are not available.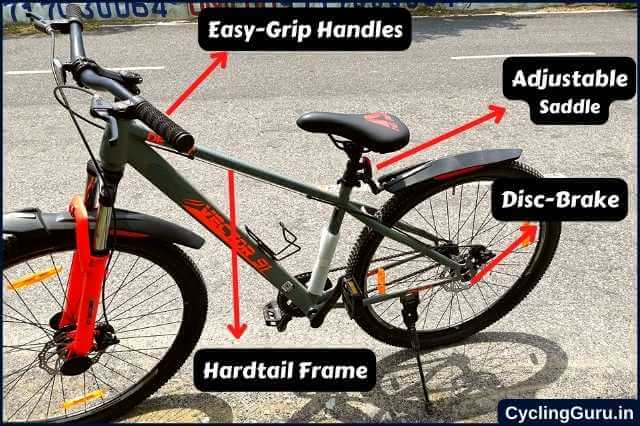 Our Verdict:
If you are a beginner and looking for the best 29" bicycle then buy this one. It's an amazing single-speed bicycle that has got everything that a cyclist needs while riding. You will have maximum comfort and safety.
---
2. Urban Terrain UT6000 Series MTB 29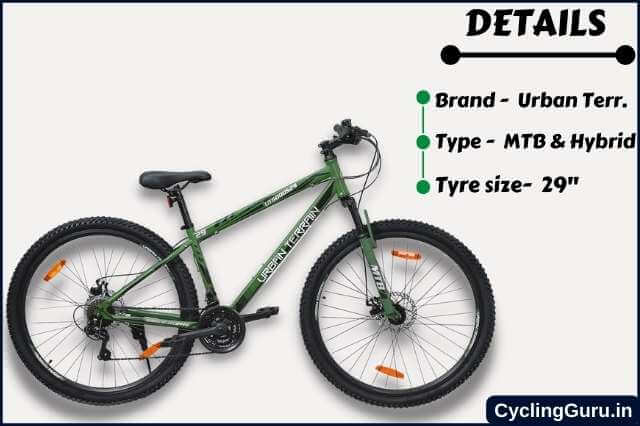 Specifications:
| Vector 29 Defeatr | Specifications |
| --- | --- |
| Frame material | Steel frame material |
| Frame size | 18 Inches (46 cm) |
| Suspension | Front |
| Bicycle weight | 19 kg |
| Speed / Gear type | 21 Single (gear cycle) |
| Brake type | Dual-disc brake |
| Warranty given | 6 Months |
If you are looking for the best 29 inch bicycle in India, Urban Terrain UT6000 Series is number one on our list. This 29" MTB is ideal for people who like to adventure while riding. You will be able to ride this bike for years to come thanks to its superb construction and durable components.
The UT6000 series comes under the premium range of geared bicycles that are functional, reliable, attractive, and very comfortable on all kinds of surfaces and roads. This bicycle has a lot of things to offer such as dynamic features and modern mechanics so that you can enjoy a joyful ride on it.
Seamless Gearing Experience
Derailleurs and shifters from Shimano are designed with Japanese technology for a smooth gear-shifting experience and reliable performance. The classy bike has a 21 speed (7 X 3), which means a combination that allows the rider to shift gears according to his requirement.
This classy bike has got 21-speed means (7×3) combinations that allow the rider to shift the gears to adjust the speed according to his requirement. As it is from Shimano, thus you will enjoy a seamless gear shifting experience.
Frame Quality
This Urban Terrain bike is built with a steel frame that is extra strong so that it can conquer even the toughest outdoor conditions in all kinds of terrains. Thus, you will enjoy an unbeatable ride. The build quality is very strong which ensures that the bicycle has a long life.
Excellent Tires & Brakes
With its lightweight double-walled alloy rims and extra-wide 29" tires, the bicycle offers smooth & comfortable riding and a remarkably powerful ride on smooth or rough surfaces.
Also, You can ensure stable and quick braking with the High-quality double disc brakes on both front and rear wheels. Guys, disc brakes are very helpful as they help you to stop safely during challenging situations such as a crowded market.
Easily Adjustable Saddle for More Comfort
Apart from these, you will also get an easily adjustable saddle so that you can adjust according to the height. You don't need to use any tools to adjust the seat height.
More Features that we liked about the bicycle:
High-Quality Components ensure durability.
Super-Attractive Color of the bike.
Dual-Disc brakes allow instant and smooth stops.
Offers 2 months of free unlimited access to the cult.fit app
Provide free installation and after-sales support all over India
What we did not like about the bicycle:
Side Stand and Mudguards are not available.
Gear bicycle needs maintenance, so it is.
Few Color Options are available.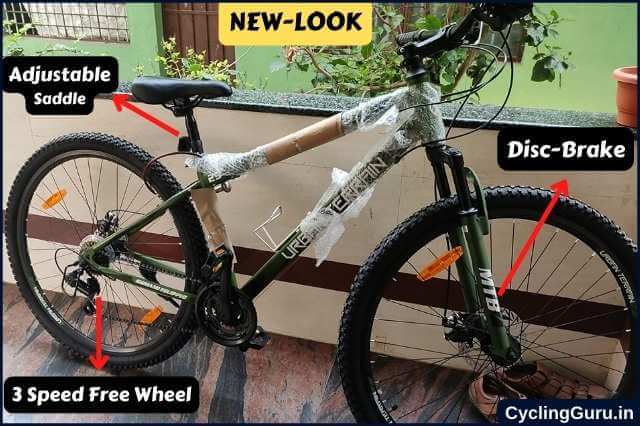 Our Verdict:
UT6000 bicycle is already assembled up to 85% and then the company offers free installation at your doorstep anywhere in India, you don't have to do anything at all. This 29 Inch UT6000 bicycle has a super-stylish design and provides a high-comfortable riding experience.
It is suitable for youngsters & adults who have a height of 5'4" or above. Overall, this bike from Urban Terrain has more than 100% to offer.
---
3. 29 Inch MTB Cradiac for Youngsters & Adults
Specifications:
| Vector 29 Defeatr | Specifications |
| --- | --- |
| Frame material | Steel Frame |
| Frame size | 19 Inches (48 cm) |
| Suspension | Front |
| Wheel size | 29 Inches |
| Brake type | V-brake |
| Speed / Gear type | Single speed bicycle |
| Warranty given | 2 Years |
Cradiac 29-inch bicycle is one of the best gearless mountain bikes under 15000 available online in India. Single-speed cycles are the most appropriate for beginners because there is no complex gear system. If you prefer comfort over anything, you will enjoy the ultimate hassle-free bike riding experience.
Excellent Stability & Seamless Performance
It features high levels of stability, which is one of its key features. On city streets as well as rough terrain, this bicycle performs exceptionally well. What makes this cycle stand out is that it is designed to provide the rider with the best possible experience.
You will always be comfortable on this bike thanks to its wide handlebars and world-front suspension. In addition, the bicycle has dual disc brakes on both wheels for safety. The result is a comfortable and safe ride without sacrificing comfort.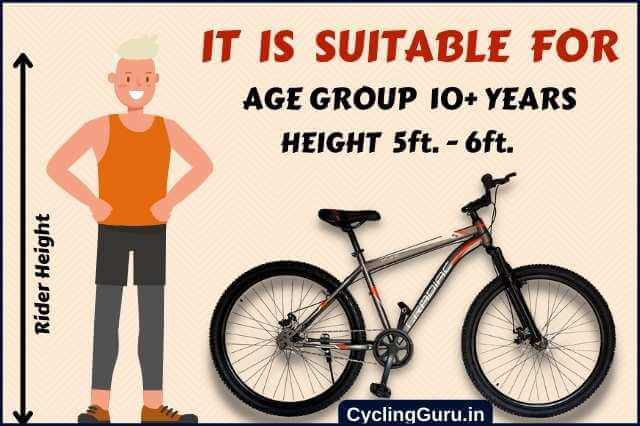 Durable Frame & A-Grade Tires
The frame is the main component of a bicycle, so this bicycle has got a 19-inch steel frame along with 29" wheels. In addition, the A-grade nylon tires in this bike are icing on the cake as it delivers excellent grip on any terrain.
What is in the box?
This bicycle is delivered to your doorstep in 95% assembled condition. Along with that, You will get a side stand, assembly tool, and Mudguard in the box.
What we liked about the bicycle:
Strong steel frame for more durability.
Wide handlebar for better control and stability.
Dual disc brakes for more safety.
Cardiac Cycles offers a 2 years warranty.
Cons of the bicycle:
The quality of Mudguard is average.
Only available in two colour options.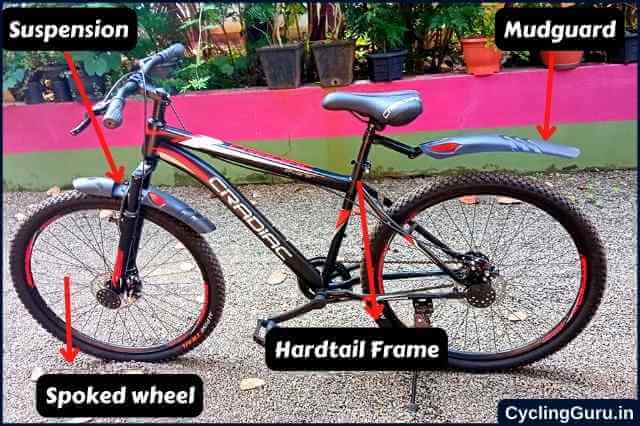 Our Verdict:
If you want to ride the best 29 inch mtb bicycle in India that offers a highly comfortable riding experience and looks good on you while riding, then this bike from cardiac is perfect. This bicycle is affordable as it comes under the budget of 15000 in India, It's quite difficult to find such a bicycle under this budget.
---
4. CAYA Split 29" Cycle with Disc Brake: Best Unisex Bike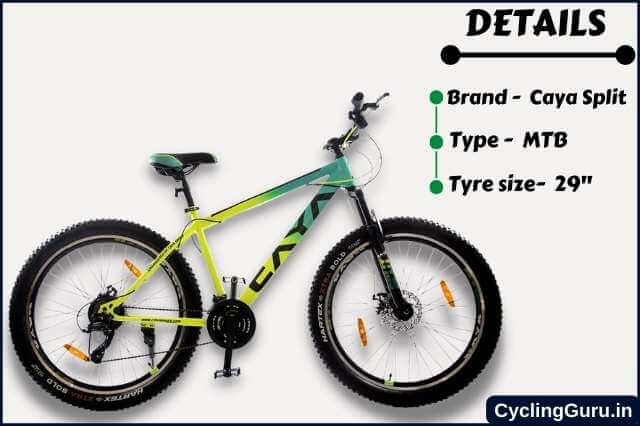 Specifications:
| Vector 29 Defeatr | Specifications |
| --- | --- |
| Frame material | Steel Frame |
| Frame size | 18.5 Inches (47 cm) |
| Suspension | Front |
| Bicycle weight | 18 kg |
| Speed / Gear type | 21 Speed Microshift gears |
| Brake Type | Dual-disc brake |
| Brake lever | Alloy |
Adding the Caya Split 29inch Unisex Bike for Kids & Adults to any list of the Best 29 inch bicycle in India would be incomplete. The bike pictured here is our favourite in terms of sheer beauty. It would be hard not to agree once you see this beautiful bicycle.
High-Quality Frame, Tires, and Powerful Braking
Caya Bike has got a steel rigid robust frame with Rigid Fork System that is rust-free and durable though. Both front and rear disc brakes are present on the bike for effective braking.
In addition, It has Triple Walled Alloy Rims that have some extra strength. Thus, you can ride this bicycle on any kind of surface.
When it comes to its tires then It has 2.4 inches wide and 29" in diameter Tires and it comes with American Valve Tyre Tubes with Comfortable Wide Saddle. These tires help to absorb the maximum amount of shock and the rest is left for the front suspension.
Gears and Riding Experience
It is a 29" geared bicycle with 21-speed microshift derailleurs and shifters which are very smooth and effective. Since it has 21-speed settings thus, you can use them according to the surface you ride on.
In addition to helping the young rider develop confidence and control as they go longer and more advanced, this split 29″ inch bike is suitable for Adults. The brand ambassador of the Caya bicycle brand is Mr Sahil Khan, a fitness trainer.
You will enjoy a wonderful riding experience once you start riding this bicycle. Don't worry it is 90% assembled; only the handle & front tire needs to be installed. For that toolkit is provided in the box.
What we liked about the bicycle:
Super Attractive colour and look.
Extra-wide and thick tires for a strong grip.
Unisex bicycle, Both for men and women.
Triple Walled Alloy Rims for extra strength.
Things we did not like about the bike:
Fenders are not provided.
The price is high compared to other 29" bikes.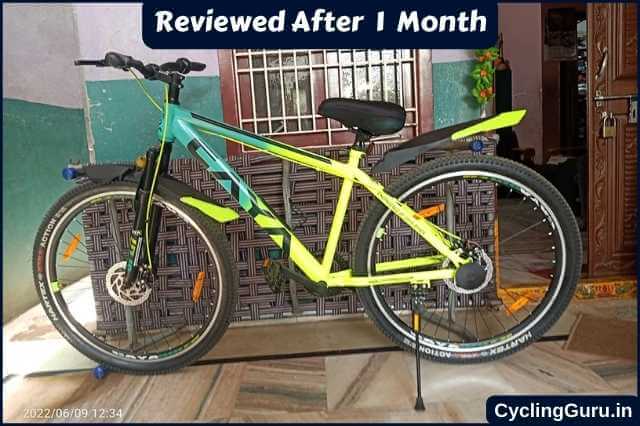 Our Verdict:
If you are looking for a bicycle that stands out while riding on the roads. Then go for this bicycle. This brand is a newly launched brand, it's an Indian brand for Bicycles. You should trust an Indian brand. Furthermore, the rider can feel more confident with each ride thanks to the excellent controls and traction.
---
5. Cradiac 29 MTB Shimano 7 Gear Xplorer
Specifications:
| Vector 29 Defeatr | Specifications |
| --- | --- |
| Frame material | Steel Frame |
| Frame size | 19 Inches (48 cm) |
| Suspension | Front |
| Bicycle weight | 19 kg |
| Speed / Gear type | 21 Shimano |
| Wheel size | 29 Inches |
| Seat post | Steel |
| Warranty given | 2 Years |
Last but not least on our list is Cradiac 29MTB Xplorer. Another bike from Cradiac which is the best 29-inch bicycle in India under 20000 if you are looking for one. the most fantastic part of this bicycle is the whole Cardiac customer experience.
This MTB has 2 years of warranty also they are famous for their excellent after-sale support and resolve any issues you might have with the bike with ease. That's what a customer wants in case of any problem with the bicycle.
Premium Quality Components:
It is another excellent gear cycle from the well-known brand Cardiac that has 21-speed gear combinations that can be used to increase or decrease the speed ratio smoothly. Shimano gears' Derailleurs and shifters are fixed in this bike so that you shift the gears smoothly.
The frame is made from steel which makes this bike strong, durable, and rust-free. The red and black colour on the bicycle looks very attractive and stands out in the crowd.
This bicycle is lightweight and relatively comfortable to ride during a commute in the city since it has double alloy wheels and a steel frame.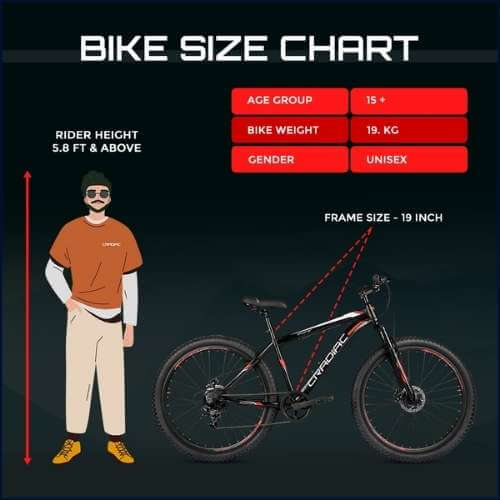 Offers Optimum Comfort and Safety
It has a wide PU padded saddle to provide optimum comfort and the seat post can be adjusted according to the rider's height.
A wide handlebar in MTB gives better control while turning, jumping, or on adventurous rides. Front suspension is used for better shock absorption.
When it comes to its tires, It has 2.1-inch wide nylon tires used at the front and rear wheels. Nylon tires provide excellent grip on any kind of terrain which makes this bicycle more stable.
For more safety Dual disc brakes are fixed at the front and back along with the ED black alloy brake levers which function smoothly when needed.
What is in the box?
You will get a brand new bicycle from the Cardiac brand and This 29" bicycle is delivered in 85% fitted condition at your doorstep. Everything is already fixed except the pedal, handlebar, and front tire. You may assemble these components yourself because it is so easy to assemble. Allen key and spanner are provided in the box.
Also, you will get a side stand and mudflaps(fenders) which are necessary for a bicycle.
What we liked about the bicycle:
Stunning look with black and red colours.
Lightweight Frame and dual alloy rims.
Best 29-inch bicycle for tall people.
Affordable gear bicycle.
What we did not like about the bicycle:
The tires could be wider.
Avg. quality mudguards.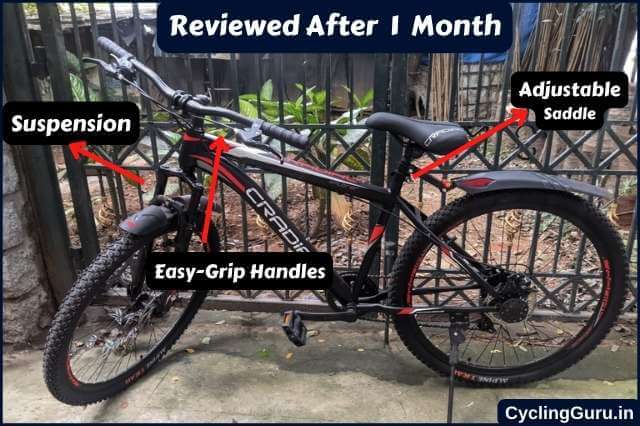 Our Verdict:
Overall, the Cradiac cycle is very good for individuals who are looking for the best gear cycle under 15000 in India. It gives maximum benefits at a reasonable and affordable price. The cycle doesn't cost much, but it offers a lot of features.
---
How to Buy a Bicycle in India | Cycle Buying Guide for Beginners
If you want to find the perfect bicycle for yourself, first you need to prioritize what you want in your cycle. Various individuals prefer different features in their bicycles, which is why every bicycle is unique.
A bike that contains your desired features will give you the best results.
So, Buying a bicycle online is not a cup of tea!
Your decision-making process will be more viable and easier if you have the slightest details available when buying a bicycle online or offline.
If you were to buy a bicycle, what are some important questions to ask yourself? And they will be based on your Objective, Budget and bike type.
Q1. Why do you want to buy a bicycle?
Identifying the purpose is the first step. Is there a reason you are interested in riding a bicycle? You can save time by narrowing down your search significantly if you know the real objective since there are various types of bikes.
Q2. How much are you willing to spend on a bicycle?
In general, this is the first step, however, as soon as you know what you are looking for, you can set a budget accordingly. Hence, you should fix your budget once you know why you want to buy a bicycle.
Don't forget to keep 10% flexibility while deciding on your budget.
Q3. Do you need a specific type of bike?
For e.g, you are going to ride a bicycle on paved roads/surfaces. You need a road bike or hybrid bike to ride on paved roads. These are the ideal choices.
Confused? Don't worry!
Choosing a bicycle online can be confusing How do bicycles differ? Let's look at the different types first.
Also, if you are not sure what features to look for. We have also mentioned some important features that a good 29" bicycle should have:
1. Type of Bikes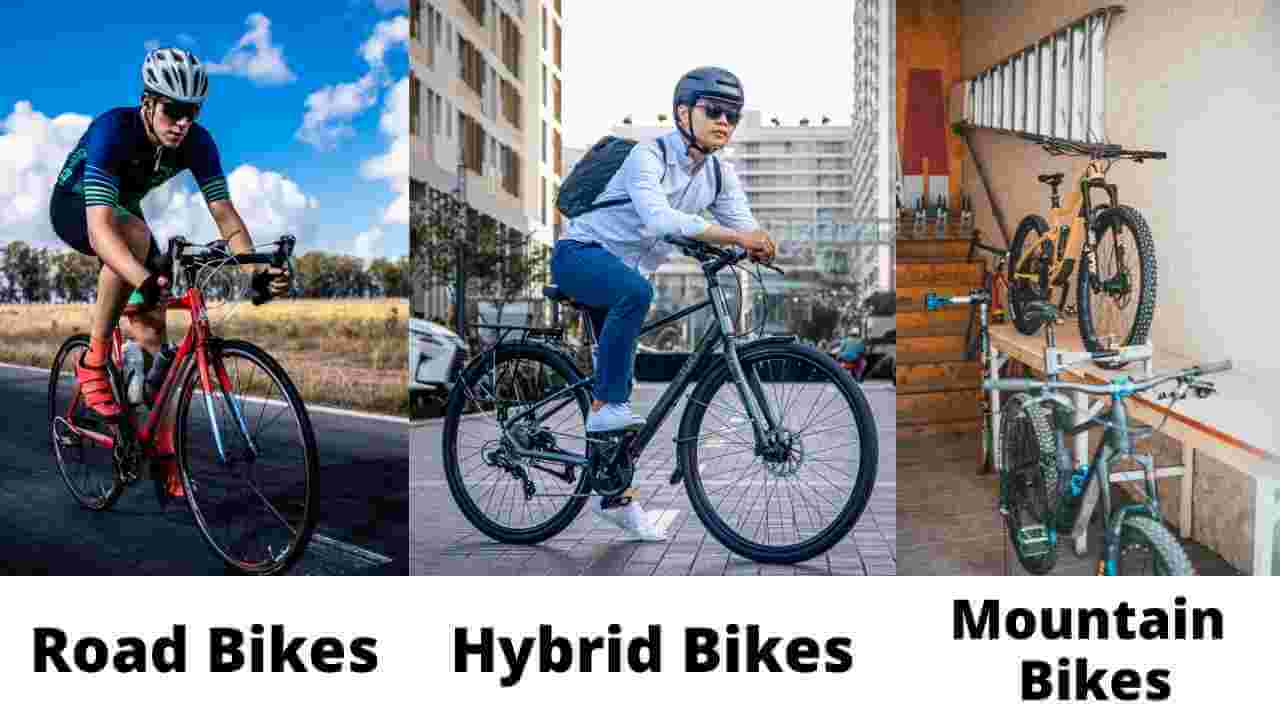 If you are new to cycling, you might not know the types of bicycles. Generally, there are three types of bicycles available on the market. These are:
Road Bikes
Hybrid Bikes
Mountain Bike (MTB)
Road bikes are primarily made for riding on paved roads. They weigh around 7-8 kg and have slimmer tires and frames compared to hybrid bikes. As they are lightweight bicycles and the rider's position is downward thus it offers more speed compared to other bikes. So, If you want to be a professional cyclist, participate in races then buy a road bike. This bike is suitable for elite cyclists.
The weight of hybrid bikes is higher than that of road bikes in every respect. It has wider and thicker tires than road bikes, therefore they weigh around 10-12kg. Due to this, speed is lower than on road bikes. Hybrid bikes are perfect for city riding, and uphill riding also allows you to ride on unpaved roads.
Mountain Bikes or MTBs are primarily made for adventurous rides. The frame material of MTBs is more solid compared to hybrid bicycles. They have thick tires for excellent traction, disc brakes, dual wall alloy wheels, etc. So, you should buy a mountain bike if you prefer riding on rough and rocky roads.
Once you decide on your budget, find your purpose and the type of bike you want, you can now shortlist a few bikes.
And then start considering their wheels, components, and other features of the bicycle. Read below to learn more about this. Very Important factors!
2. Type of Brakes
Brakes play a very important role in any mode of transportation in terms of safety. Because safety is our first priority when we are on the road.
When it comes to 29-inch cycles, Rim and Disc brakes are commonly used in such bikes.
Rim brakes are less effective than disc brakes therefore it is less expensive than disc brakes.
Whereas Disc brakes are a powerful braking system, it stops the wheel instantly when it is needed. Therefore, it saves from accidents. I would advise investing some extra bucks when it comes to brakes and getting yourself a disc brake.
3. Type of Frame Material
Frame material is one of the most important factors when purchasing a new bicycle. This is because every frame is different. Here are a few common materials that are used to make bike frames:
Steel: Steel frame bicycles are usually less expensive compared to Aluminum and carbon fibre. Steel is a heavy metal, therefore, bicycles with steel frames are heavy too but they are anti-rust bikes. You can buy a steel frame bicycle if you have a budget of up to 20,000.
Aluminium: Aluminum Frame is lighter than steel and therefore it's a bit more expensive. All mid to high-end bikes have aluminium frames instead of steel. What I think is there is not much difference between steel and aluminium frames. If you have some extra bucks to spend, you can go for aluminium otherwise, just go for steel frame bicycles.
Carbon Fibre: The most lightweight material for bike frames is carbon fibre. The material has a high degree of strength and lightness. Due to their high price, they are one of the most expensive frame materials on the market. Carbon fibre frames are mostly used in road bikes. The price of carbon fibre bicycles starts from 30,000 and can go up to lakhs.
Note: You must also consider the frame size according to your height. Because Frame is the main component which changes according to the height of a rider. So, Go through the frame size chart then select the frame as per your height while buying a 29-inch bike.
4. Front Suspension for Better Control
Suspension helps a lot while riding on rough surfaces, you know the condition of Indian roads. Cycling Guru always advises getting a bike with front suspension in India.
What does the front suspension do? It absorbs small bumps and keeps the tires in contact with the ground for better control as the wheels move up and down. Moreover, huge shocks are also absorbed by both the rider and the bike when they land a jump.
So, consider getting a bike with at least a front suspension as it gives better control and improves performance.
You can also go for bicycles available with full suspension if you do downhill mountain biking.
Also, bikes with suspension are more expensive than ones without suspension. So, Don't hesitate to invest some more money in suspension bikes.
5. Contact Points for Better Posture.
The seats, stem, handlebar and pedals are the contact point in a bicycle. These components are essential to make bike riding fatigue-free and enjoyable. Contact points determine the posture of a bike rider and posture is very important while riding a bike.
If your posture is correct, you will be able to pedal effectively and smoothly as a result you can ride for long distances without getting tired.
If you are still confused about how to buy a bicycle, consider going for bicycles that offer value in the long run. It doesn't mean that "The best isn't always the most expensive (big brand)."
The above-mentioned are the best and most affordable 29 inch bicycles in India, you should consider them as well. We have done a lot of research to find them.
Common Mistakes People Make While Choosing a 29 Inch Bicycle Online
Buying a 29-inch bicycle in India is not an easy task. Be careful before purchasing, thorough research and expert advice is necessary. The major mistake you can make is buying the wrong type of 29-inch bicycle.
As I have already said, each bicycle has different features to offer to different types of individuals. All the bikes are not made for you.
If your height is short means your height is less than 5'3'' then don't buy a 29" bicycle. Because these bikes are taller than 26-inch bikes. Thus it is made for tall riders. Do you know? Some brands offer 29" bicycles in three different sizes such as medium, large and extra-large.
As a beginner you must do thorough research before buying a bicycle otherwise you might purchase the wrong bike. As a result, won't fit perfectly, and won't get desired comfort and performance. So read this article completely if you want to buy a perfect 29 inch bicycle.
Although, buying the best cycle doesn't mean buying the most expensive one and similarly don't buy a cheap bicycle to save some money. What you need to do is, select a bicycle that is under your budget and fulfilling your all desired features.
---
Frequently Asked Questions (FAQs) on the Best 29 Inch Bicycles in India
Who can ride a 29-inch bike?
29ers are often better suited to taller riders. Any adult whose height is not less than 5'6" otherwise it is difficult for shorter riders to find a 29er that fits well. If you still want to buy then take a test ride of both wheel sizes if you can then make a decision.
Are 29ers better for climbing?
29ers are better for up hills. It makes climbing more challenging when you're using heavier wheels, so in this sense, it's a myth. However, if the climb is littered with rocks and steps, the bigger wheel will roll over these momentum-sapping obstacles with less effort.
What are 29 inch wheels good for?
The benefits of this bike are far greater than the ones you will receive from a 26-inch bike. There are so many features this bike offers, from better brakes to a fast speed and a more comfortable ride. Despite obstacles like rocks, roots, stumps, etc., you won't encounter any problems with 29er.
Is a 29-inch bike good for what height?
Riders who have a height of 5'2" and above can ride a 29-inch bicycle. Basically, 29'' bikes are made for taller people because 26 or 27.5-inch bikes are not perfect for such people.
What's the difference between 29 and 29er?
MTBs that have 29-inch wheels are called 29ers or two-Niners. Here "29" represents the diameter of the wheels these bicycles use with mounted tires. There is no difference in wheel diameter between 29-inch mountain bike wheels and 700c road bike wheels.
Conclusion: Best 29 inch Bicycle in India
The following are our recommendations for the best 29 inch bicycle in India. All the above-mentioned bicycles on the list are in no particular order.
I hope you can now make an informed decision based on this review, and that you can choose the one that will meet your needs under your budget. I recommend you to check out Vector 91 Defeatr if you are looking for the best 29 inch hybrid bike in India under 15000.
I hope that this comparison and review article was helpful for you to buy the best 29-inch cycle for yourself.
You are welcome to ask any questions you may have in the comments below.
Enjoy cycling and stay tuned for more updates.
Disclosure: As an Amazon Associate I earn from qualifying purchases at no additional cost to you.!
---