Cycling Guru is reader-supported!
Some links on this page are Amazon Associate affiliate links When you buy through links on our site, we may earn an affiliate commission! Read more...
India as a country could have a large market for cycles. From everyday commutes to professional cycling rides, Indians are equally enthusiastic about this activity. On the same hand, multiple surveys say that the majority of riders have a budget range of 10000 rupees.
So, to help all the fellow riders we have come up with a detailed review of the best cycle under 10000 in India which includes some best gear and non-gear bicycles from the best bicycle brands.
Apart from that, we have also covered the essential features that you must evaluate before buying a bicycle for around 10000 rupees otherwise you may end up getting the wrong bicycle.
Read this article till the end to know our top 5 picks for bicycles under 10k in India.
Type of Bicycles Available in India Under 10000 rupees
One of the misconceptions about buying a bicycle under 10000 rupees is that you would not get enough options, however, it is not true. In India, you can get regular pull cycles, non-gear bicycles, gear cycles, mountain bicycles, hybrid bicycles, ranger cycles and everything in between under this budget.
If your budget is around 10000 rupees, you must consider the following features while buying a cycle under this budget in India:
Single-Speed Cycle vs Gear Cycles
There are multiple single-speed cycles and some best gear cycles available in India that you can get for under 10000 rupees, which we have discussed further in the article. You must decide which bicycle is perfect for you gear or non-gear cycle and then consider the below-mentioned features before buying a bicycle:
1. Frame material
Usually, there are two types of frames available in a bicycle, they are steel and alloy frame. However, you would get only steel frame cycles under 10000 rupees in India. A steel frame is sturdy and easy to maintain whereas an alloy frame is comparatively lighter. Bicycle frames come in different sizes according to the age groups of riders. So, measure your height and select the frame size accordingly.
2. Gearing options
A rider must choose their gear set according to their level of technique. The ratio of gearing ideally should be 44/16 in a single-speed bicycle. And When it comes to a geared bicycle, you would get 7 or 21-speed gear options on a gear cycle under 10k. Always go with Shimano or Microshift derailleurs and shifters.
3. Braking options
Typically, there are two types of brakes i.e., Rim brakes and disc brakes. You would get mechanical dual disc brakes on a bicycle for around 10000 rupees. They are much safer and provide a quick and efficient braking experience as compared to the rim brakes.
4. Wheel Size and Rims
Usually, bicycle wheels come in four sizes for adults. They are 26, 27.5, 28, and 29 inches. Select the wheel size according to your height. When it comes to the width of the wheels, may vary according to the type of bicycle. If you are buying a mountain bicycle, select wider tyres (above 2 inches) and normal tyres (less than 2 inches) if you are purchasing a hybrid bicycle for under 10000 rupees in India.
Talking about the rims, They should be double-walled alloy rims as they are strong, lightweight and anti-rust material.
5. Fork type
There are two types of forks on a bicycle i.e., rigid and suspension. If you are purchasing a single-speed bicycle for riding on flat roads, go with a rigid fork as it will save some extra pennies and reduce the weight of the bicycle as well as offers you a very good speed.
However, a suspension fork plays a very important role in the functioning of a mountain bike on trails. You would get a front suspension fork without a lockout feature on a bicycle under 10k in India. If your goal is to ride a bicycle on road and on off-roads, a bicycle with front suspension is perfect.
These were the 5 major features that you must consider while buying a bicycle under 10000 in India. We have selected the top 5 best bicycles under 10000 from popular brands by keeping all the above-mentioned points in mind.
Best Cycle Under 10000 in India: Top 5 Picks for 2023
The Indian cycle market has a lot of cycles to offer under 10000 rupees but most riders love only a few chosen cycles. We have come up with a detailed review along with the pros and cons of each of the top 5 best cycles that you can get in India for 10000 rupees:
1. Leader Gladiator 26t Geared MTB Bicycle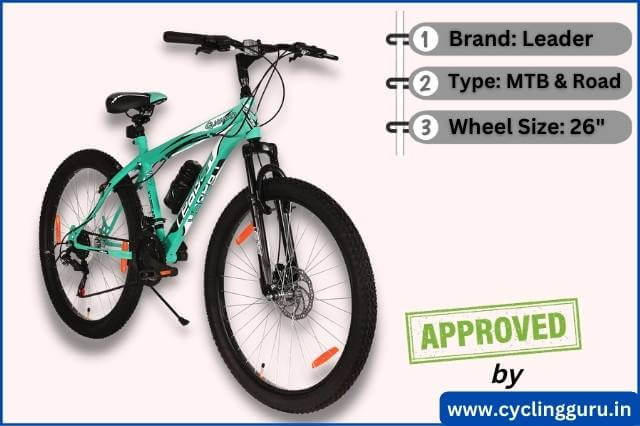 It is one of the best affordable geared mountain bikes with 21-speed gear combinations. This model by Leader is one of the top-rated MTBs under 10000 rupees and is best suited for the age group of 12+ years.
The Leader Gladiator comes with components like a front suspension fork to ensure smooth off-roading and a powerful braking system (disc brakes at the front and v-brakes at the rear) is also installed for an effortless braking experience, the brakes are uniquely designed to adapt to the uneven trails of the mountains.
Talking about the wheels and frame, It has wider tyres of 26×2.135 inches (suitable for MTBs) that come with dual-walled alloy rims. The frame size is 18 inches which are made from steel.
Moreover, the leader gladiator comes with 3 front gears and 7 rear gears. They are the utmost quality multi-gear set of the SHIMANO TOURNEY along with the thumb shifters.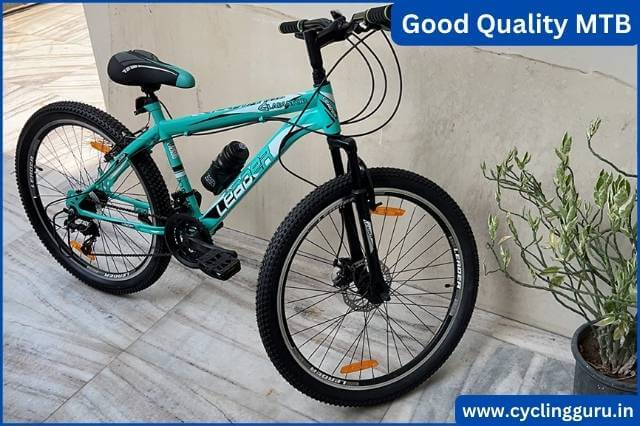 Visit Leader Cycles store and apply coupon code for 12% Discount: CYCLINGGURU
When it comes to accessories, the brand gives only reflectors, a water bottle and a side stand. The rest of the accessories like mudguards, a bell, and a bottle holder, are to be bought separately.
This mtb comes semi-assembled and is very easy to fully assemble yourself. To make this job easy, the cycle comes along with an instruction manual Allen keys and a spanner.
Pros:
Affordable geared bicycle with front disc brake.
Lifetime warranty on the frame.
TIG welded frame with a sturdy design.
Raised handlebar for a comfortable riding position.
Comfortable saddle (seat) with PU cushioning.
Cons:
Does not come with mudguards.
Not suitable for tall riders (5'8'' and above).
A disc brake is not available at the back.
Detailed Review Video of Leader Gladiator 26t
Best Choice
Last update on 2023-10-03 / Affiliate links / Images from Amazon Product Advertising API
Related Bicycle: Best hybrid cycle around 10000 in India (detailed review).
---
2. Decathlon Rockrider ST30: Best Gear Cycle under 10k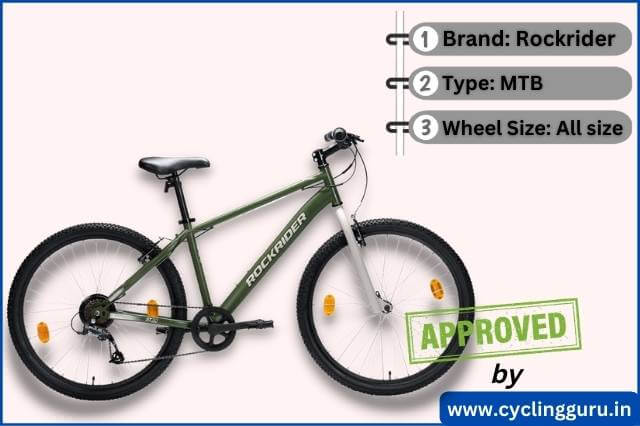 If you are looking for a premium geared bicycle under 10000 in India, Rockrider ST30 from Decathlon would be the perfect mtb cycle under this budget. This bicycle has 7-speed gears, equipped with microshift derailleurs and a grip shifter.
The frame is made from steel material and comes in 4 different sizes: small, medium, large and extra-large. You can select your size according to your height. It has a rigid fork for better speed and control.
Talking about the wheels, It has wider mtb tyres of 26×2.125 inches which offer a secure grip on all types of roads. And these tyres roll on single-walled aluminium rims. Overall the wheelset of this bike offers a very comfortable riding experience.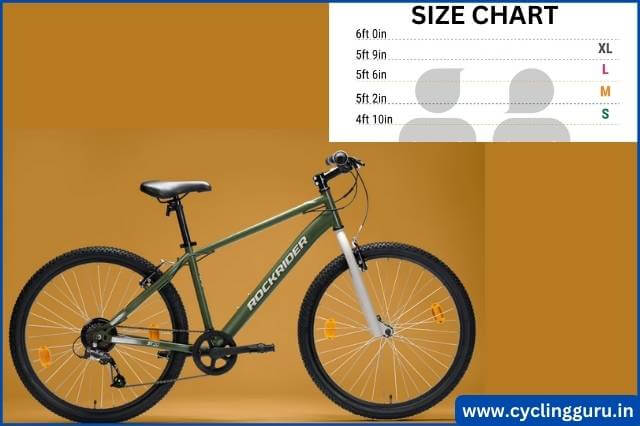 When it comes to braking, it has got v-brakes at the front and rear ends. It is the second next powerful brake after disc brakes and is perfect for mountain bikes. Brake levers are strong and matching with the colour of the handlebar.
Rockrider ST30 is a lightweight mountain bicycle and is perfectly suited for trails. The bicycle is delivered in 95% assembled condition along with tools to assemble a few components (handlebar, pedals and front wheel).
Overall Decathlon Rockrider ST30 is the best gear cycle under 10000 in India. Don't worry about the quality!
Pros:
Lifetime warranty on frame and fork.
Quick-release clamp for seat height adjustment.
Multiple colour options are available.
Front-wheel has got a quick-release axle for easy on/off.
Extra cushion on the saddle for added comfort.
Cons:
Doesn't come with any accessories.
Only a 26-inch wheel size is available.
Detailed Review Video of Decathlon Rockrider ST30 MTB Bicycle
---
3. Urban Terrain UT1000: Best MTB under 10000 in India
Every other rider knows that Urban Terrain is one of the leading and most-demanding bicycle companies in India. UT1000 is a 21-speed geared mountain bike which comes with a 16-inch steel frame under 10k.
Hence, it is one of the most affordable and best-performing bikes. This mtb cycle is suited for anyone who's above the age of 12+ years and has a height of 5 to 5'6''.
The Urban Terrain UT1000 uses all Shimano components, from derailers to shifters and even gears as well. The UT1000 has disc brakes installed in the both front and rear wheels. Having a double disc brake makes braking very safe on difficult terrains. The 27.5-inch wheels of this mtb are guarded by light yet durable double-walled alloy rims.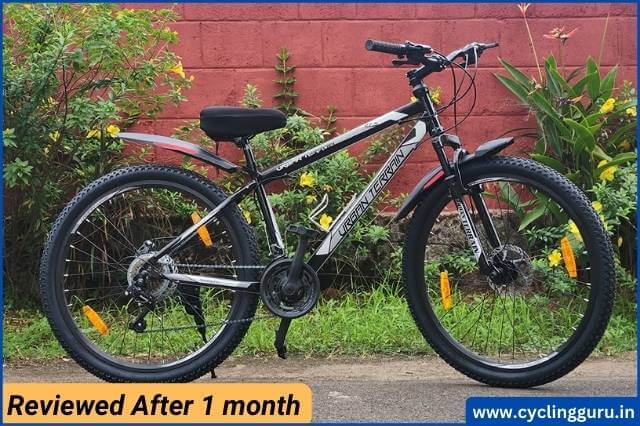 Another added feature is an adjustable seat, which you can very easily bring to your height using the quick-release clamp. Not to forget the front suspension and super-attractive colour & design on the frame that makes UT1000 one of the best cycle under 10000 for adults in India.
Pros:
Comes with a customizable diet plan.
The design is reliable and versatile.
Non-slippery pedals with reflectors.
Cons:
Does not have a mud guard which is quite a downside for an MTB
No night reflectors are given along with it.
Not suitable for tall riders.
Best Choice
Last update on 2023-10-03 / Affiliate links / Images from Amazon Product Advertising API
---
4. Hercules Flunk RF 26t Road Bicycle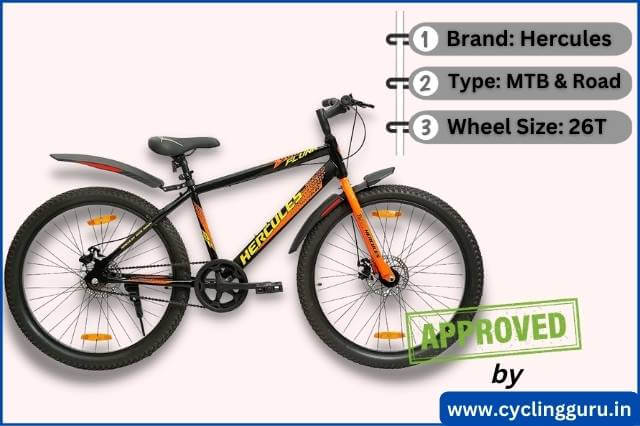 The next bicycle on our list is Hercules Flunk RF, It is one of the best road bicycles under 10k in India which comes with 26-inch tyres and a 17-inch steel frame. If your height is between 5 feet to 5'8'' then it's going to be your perfect bike.
To make sure that the cycle is perfectly sturdy, the double-walled rims of the cycles are made of aluminium which adds extra support to it. The braking system has mechanical disc brakes on both wheels. Moreover, the front rigid fork ensures better control and offers good speed on flat roads.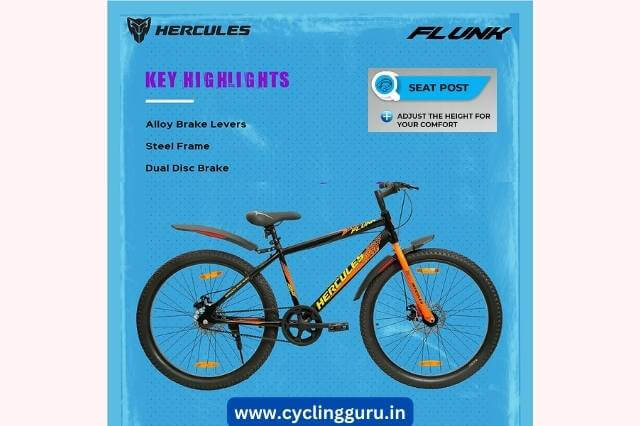 Hercules Flunk RF comes 90 % assembled and a toolbox is provided for your convenience. A go-to bike to choose from for 12+ years and adults which is very easy to handle, safe, durable and above all best bicycle under 10000 in India.
Pros:
Best for beginners and children as it is a single-speed cycle.
Reflectors are provided making them safe for night rides.
This cycle is very friendly for short-height riders.
Quick-release clamp for easy seat height adjustment.
Alloy brake levers match the handlebar.
Cons:
No front suspension.
Mudguards and a bottle holder are not available.
Not best for tall riders.
Best Choice
Last update on 2023-10-03 / Affiliate links / Images from Amazon Product Advertising API
---
5. Cradiac Xplorer 29t: Best MTB Cycle for tall riders
Last but not least! Cardiac Xplorer is one of the best single-speed mountain bikes that you can get for under 10000 rupees in India. The components of this bike include dual disc brakes, double-walled alloy rims, a stand and much more. The colour of this mtb makes this bike outstanding under this budget.
The bike has an 18-inch steel frame and a suspension fork which absorbs the shock nicely and offers a very comfortable ride on bumpy terrains. The 29-inch nylon tyres are indeed a good match for this bike since they do not wear out that easily.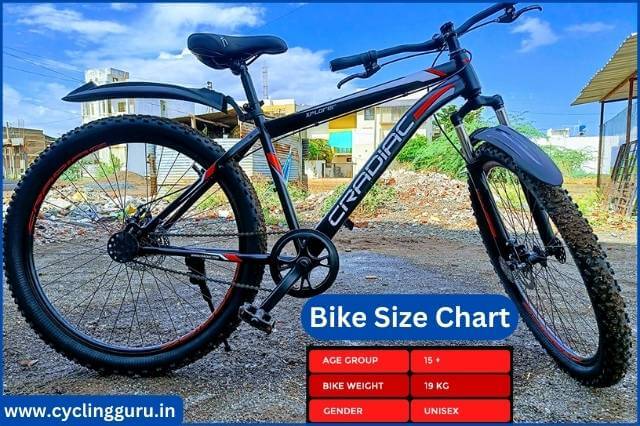 Cradic Xplorer comes fully assembled and is best suited for riders with an average height ranging from 5'8" plus riders. Overall, this is the best cycle under 10000 without gear that you can choose for adults. It gets the job done, and has quite stylish looks, stable grips and an adjustable, padded saddle.
Pros:
Comfortable saddle padded with PU foam.
Available in two colour options.
The suspension fork is an excellent shock absorber.
Comes with a mudguard, stand and all reflectors.
Cons:
Not suitable for riders with short heights.
Last update on 2023-10-03 / Affiliate links / Images from Amazon Product Advertising API
---
Conclusion: Best Cycle under 10000 in India
Whether you spend 10000 rupees or more on purchasing a bicycle, what truly matters is the quality, features, and performance that the cycle has to offer. To attain that same demand we tried to map a summarised article about the top 5 best cycles under 10000 rupees in 2023.
In conclusion, we see that the various cycle models do have quite similar features but what really matters is to choose the one which has that one extra special feature that matches perfectly with your riding style. That could be as simple as a padded seat or as complex as a different kind of suspension set.
If your budget is less than 10000 rupees or more than this, consider reading the following articles:
We hope, we could comprehend all the essential parts and guide you towards a smarter purchase of your bicycle. If you have any doubts, ask in the comment section below.
Keep Riding and Stay Safe!