Cycling Guru is reader-supported!
Some links on this page are Amazon Associate affiliate links When you buy through links on our site, we may earn an affiliate commission! Read more...
Microshift Mezzo and Shimano Tourney provide a range of bicycle components for bicycle drivetrain systems that work in coordination to move the bike effectively.
Both companies offer impressive configurations of groupsets which is why people like you get confused between Microshift Mezzo vs Shimano Tourney.
Don't Worry! We will look into both categories to help you understand the groupsets of MicroShift and Shimano.
In this article, we will compare the features and contrast between these two systems and how you can make an informed choice between tourney vs mezzo.
MicroShift Mezzo Vs Shimano Tourney: Comparison Table
| Basis | MicroShift Mezzo | Shimano Tourney |
| --- | --- | --- |
| Performance | Higher performance with a broader range of features. | Limited in terms of advanced features. |
| Riding style | Supports more aggressive riding styles. | Suitable for beginners. |
| Weight | Slightly heavier than Tourney. | Lighter than Mezzo. |
| Price | Affordable. | More affordable. |
| Suitability | Suitable for off-road trials and rough terrain. | Suitable for general commuting, and recreational riding. |
| Availability | Not always available in the offline market. | Always available in the online and offline markets. |
Before you proceed further, Just give your 5 minutes to read bicycle parts names so that you understand this  artiicle properly.
MicroShift Mezzo Groupsets: An Overview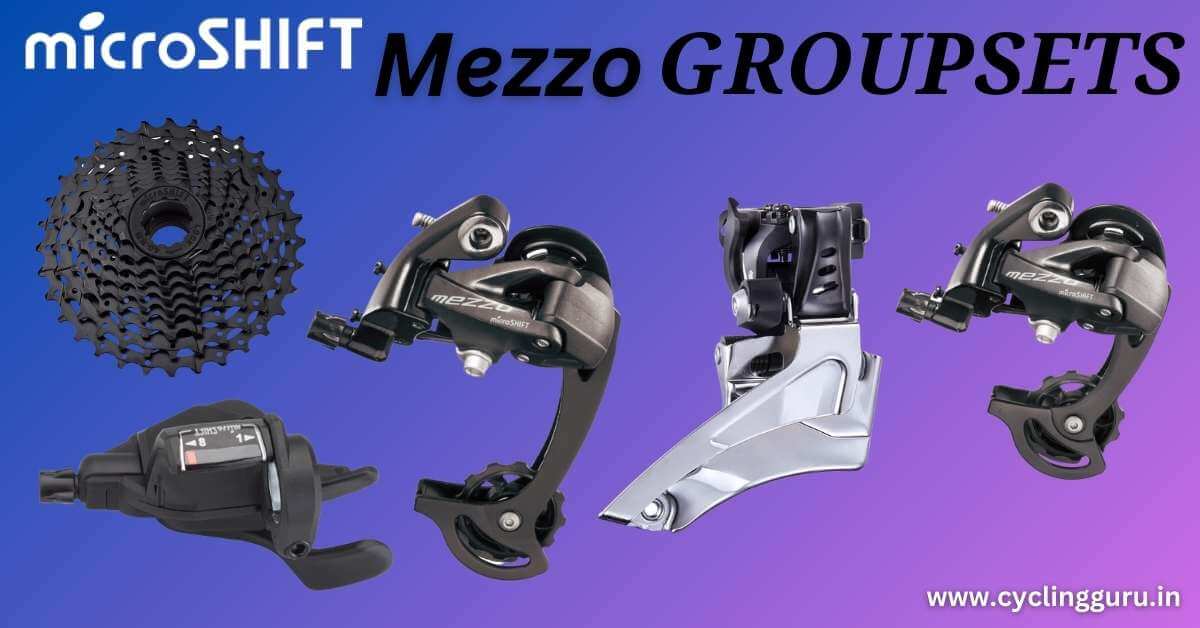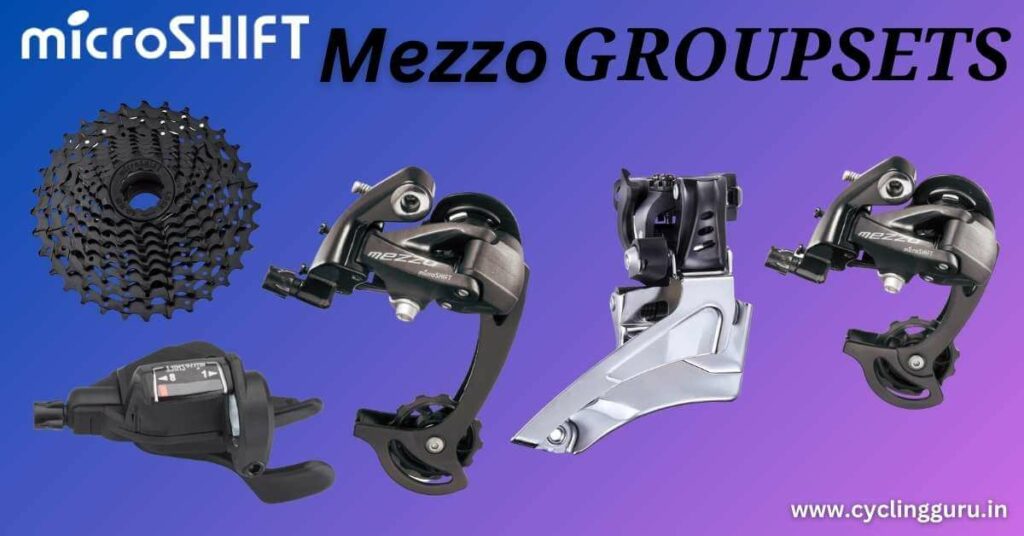 Microshift Mezzo is manufactured by Microshift, a Taiwanese company that specialises in bicycle drivetrain systems. It promises its customers cutting-edge technologies and consistent production.
It claims to meet the high demand of the market without compromising on the quality of its products. The model, MEZZO is an adaptable, cost-effective, and accomplished system that prioritizes durability.
This prevents the need for frequent maintenance proving value to its users. As a rider, you would consider functional shifting a crucial part of a bicycle's performance.
The derailleurs and shifters work smoothly to perform their respective functions accurately. This facilitates the riders to change gears effectively. The provision of functional shifting ensures seamless gear changes so that riders can change gears quickly, enhancing your riding experience.
What type of bicycle is it designed for?
Microshift Mezzo is designed to withstand hurdles while cycling to promote longevity. For budget-conscious riders, it provides an affordable option without compromising on the quality of the material.
The range of gear options can meet your riding preferences and conditions. Navigating urban streets, exploring off-road trails and unusual rough terrain can ensure reliable and durable solutions such that cyclists can enjoy their rides with rarely any concerns about gear maintenance.
If you are looking for an entry-level or mid-range bicycle drivetrain system, a Microshift mezzo would be a reliable option for your bike.
Related articles:
Features of Microshift Mezzo Groupsets:
Shifters are designed such that riders gain precise control for efficient gear shifts over the rear derailleur's movement.
The shifters in the Microshift mezzo system allow direct gear changes to suit different terrain and riding conditions of the road.
Mezzo rear derailleurs come in a range of models whose primary function is to assist in the movement of the bicycle chain between different gears.
The models are capable of accommodating various sprocket sizes that help to regulate the available gear range.
Now, take a look at the major pros and cons of Microshift Mezzo groupset.
Pros & Cons of MicroShift Mezzo Groupsets
PROS:
Hydraulic brake upgrade is easy: You do not need to change the shifter to change the brake levers as the shifters are separate parts of the system.
Quick gear changes: The gears are shaped in a way that minimizes physical effort and positioned within easy reach which permits riders to focus on the road while maintaining control over the bicycle.
Adaptability to diverse terrain: The seamless gear change system is suitable for changing terrains like tackling steep climbs, crossing flat roads, or descending challenging trails. The system is highly adaptable to maintain optimal gear ratio for enhancing power output, efficiency, and comfort.
Supports different riding styles: Whether you are planning for recreational cycling with your group or light off-road adventures, the system quickly responds to varying conditions. If you engage in diverse cycling activities, Mezzo is for you.
Affordability: One of the major advantages of this groupset is its affordability. Microshift mezzo is a popular choice among urban and city riders looking for a budget-friendly option.
CONS:
Blank space in the shifter display. All numbers between 1 to 7 are not displayed.
Lower shift material is fiber which causes a risk of breaking when high pressure is applied.
---
Shimano Tourney Groupset Review: An Overview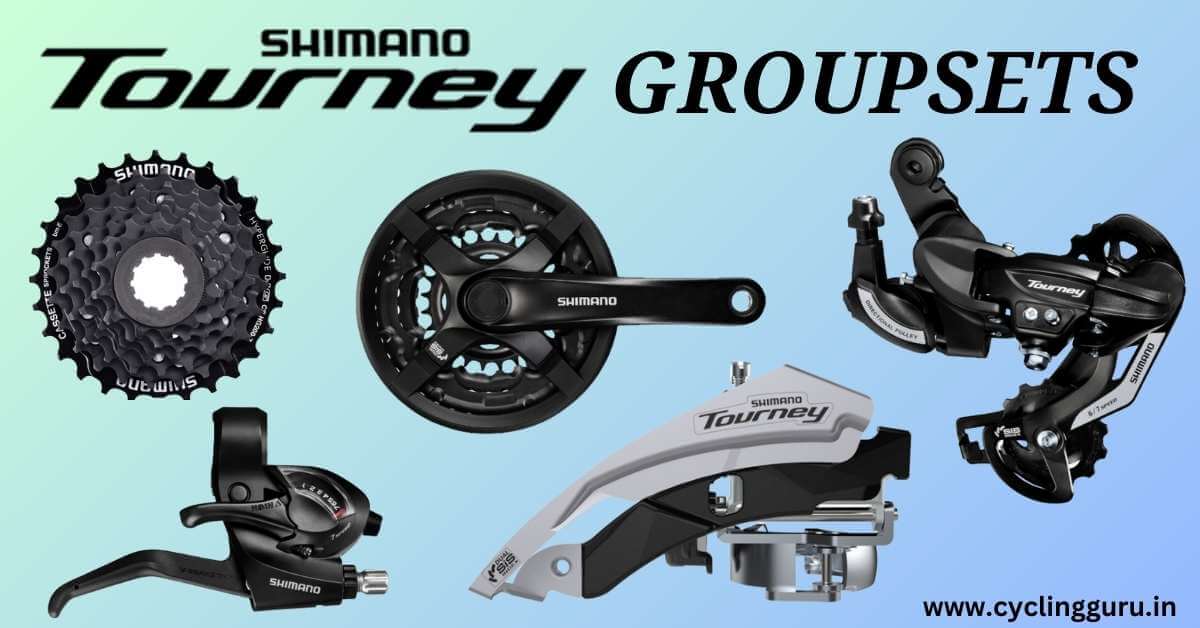 The Shimano Tourney groupset is the most widely known groupset as an entry-level bicycle component produced by Shimano, a well-known Japanese manufacturer of components and accessories for bicycles leading the market for more than 100 years.
It has been leading the industry for its value-based features and reliable performance. The components consist of derailleurs, shifters, cranksets, freewheels, cassettes, and other drivetrain parts.
In the Indian market, this is a popular groupset with 6/7 speed gearing options. It is famous among riding enthusiasts, especially for its front and rear derailleurs. The smoothness of the gear system reduces any chances of chain slippage or misalignment.
Related Posts:
What bicycle type is it designed for?
Generally, the Shimano tourney is designed for all categories of bicycles such as mountain bicycles, ranger cycles, city bikes, and hybrid bicycles. It offers durability to meet the demand conditions of regular use as well as recreational cycling for those willing to start their journey.
With the help of shifters, riders are equipped with easy gear selection. Shimano tourney is basically known for its smooth shifting and compatibility with a set of gears commonly used for casual riding experiences in most hybrid bicycles.
Shimano Tourney Features:
3 levels of components: Shimano has 3 levels of components for different types of bikes such as Base Tourney (6-speed), Tourney TZ(7-speed), and Tourney TX (8-speed).
Shifting performance: Tourney components offer gear performance more inclined towards casual riders.
Compatibility: The compatibility among different drivetrain parts promotes coordination in the system. The Shimano tourney rear derailleur is compatible with a number of gears on the rear cassette that give optimal shifting precision and efficiency.
Range of gears: The Shimano tourney has a variety of gear options available to suit many bicycles. 6/7 speed derailleurs are used to make it a performance-focused system.
Pros & Cons of Shimano Tourney
PROS:
Affordable: Beginner-friendly experience at a low budget. It is a cost-effective solution for riders whose preference is affordability and durability over top-tier performance.
Reliable: Although this is an entry-level groupset, its components are known for their reliability.
Easy maintenance: With simplicity as a priority, Tourney components are easy to maintain and replacements can be done by using basic bike tools.
CONS:
Lack of advanced features: The Shimano tourney does not offer advanced features and performance.
Limited performance: They do not provide high-level precision and smoothness as compared to expensive Shimano products.
Heavier: Shimano tourney components are heavier in comparison to higher-end groupsets due to their simple construction.
---
Major Differences Between Microshift Mezzo and Shimano Tourney:
1. Wheels
Both the Microshift Mezzo and the Shimano Tourney are groupsets that have no direct influence on the bicycle's wheels. The type and quality of wheels are determined by the bicycle model and manufacturer, not by the groupset. These groupsets are universal for all adult bicycles.
2. Cassettes
The Microshift Mezzo and Shimano Tourney are both available with a variety of cassette options. Cassettes are the gear clusters on the back wheel.
While individual cassette selections may vary, Shimano Tourney frequently provides a greater range of options to fit a variety of riding circumstances and tastes.
3. Speed
Both the Microshift Mezzo and the Shimano Tourney are available in 7-speed, 8-speed, and 9-speed versions. Shimano Tourney may provide a greater range of speed selections to meet a variety of riding needs and terrain types.
Related: Average speed of bicycles in India
4. Gears
Gears are a component of the drivetrain that includes gears, and both groupsets use comparable gear systems. However, the precise design and materials used may vary, potentially resulting in variances in shifting performance and smoothness.
5. Pedals
Pedals are a separate component of the bicycle that is not directly related to the groupset. Microshift Mezzo and Shimano Tourney are both compatible with typical pedal types such as platform pedals or clipless pedals, depending on the rider's option.
6. Efficiency
Both groupsets are intended for novice and recreational riders. While they provide adequate efficiency for basic bicycle demands, they may lack the smoothness and precision of higher-end groupsets.
Riders seeking great performance and efficiency may want to consider upgrading to a more advanced groupset in the future.
7. Durability
Shimano Tourney is well-known in the entry-level groupset market for its durability. The components are intended to resist normal use as well as some moderate wear and tear. Microshift Mezzo is a little less well-known, but it tries to be as durable as Tourney.
Final Verdict: Shimano Tourney Vs MicroShift Mezzo
Making a choice between Shimano Tourney or Microshift Mezzo highly depends on the needs of the rider (customer) otherwise you may make the wrong decision.
The Microshift mezzo is considered a good option for off-road trials, rough terrains, and exploring a variety of riding styles while the Shimano tourney groupset is considered a good option for normal commuting bicycles and entry-level mountain bikers.
Hope to clear your doubts to make a clear decision between the two groupsets. For any further questions, feel free to ask in the comments section below!

---