Cycling Guru is reader-supported!
Some links on this page are Amazon Associate affiliate links When you buy through links on our site, we may earn an affiliate commission! Read more...
When it comes to the groupset of bikes, Shimano offers a lot of options to its customers. Among all those options we will be comparing Shimano Altus vs Alivio groupset in this blog article.
So that you or anyone can choose between these two components for your mountain bike and make an informed decision wisely. This blog will help you do that!!
We will cover the overview of both the groupsets and then look at their major differences along with the pros and cons of each so that you can understand in a better way and take the final decision as we did in the previous article i.e., Shimano Deore vs Altus.
If you don't the bicycle's parts names, read this: Bicycle parts names with picture
Shimano Altus vs Alivio: Quick Comparison Table
| Features | Shimano Altus | Shimano Alivio |
| --- | --- | --- |
| Speed | 9-speed rear derailleur | 9-speed rear derailleur |
| Shifting performance | Reliable and smooth | Smoother and more precise |
| Crankset | Tripple | Double |
| Gear range | Narrow (2×9 & 3×9) | Wide (2×9 & 3×9) |
| Durability | Perfect for regular use | Off-road riding and touring suits best |
| Price | More affordable | Slightly higher |
| Weight | Recreational and beginner cyclists | Touring, moderate off-road riding! |
| Cassette | 11-32T, 11-34T & 11-36T with hyperglide technology. | 11-25T, 11-28T, 11-32T, 11-34T & 11-36T with hyperglide technology |
| Who is it for? | Beginners | Intermediate |
Shimano Altus Groupset Review: Quick Overview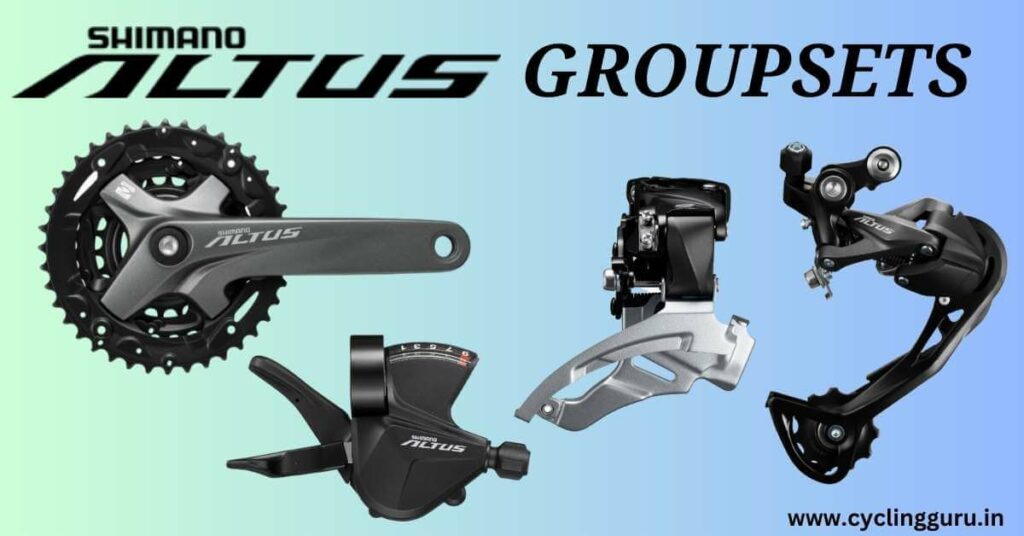 The Altus groupset of Shimano is a drivetrain set designed for entry-level mountain bikes and hence it is for beginner riders. If you have just started cycling and looking for a good recreational and beginner kind of ride. It is very reliable and durable.
Shimano Altus offers smooth shiftings that make it possible for the rider to have a good experience while riding the bike on plane roads as well as on off-roads. As this groupset is designed for beginners, it is very affordable & relevant.
Who is Shimano Altus designed for?
It is designed for beginner riders as mentioned previously, it is also suitable for people who are looking for sustainability and durability under a budget. It is excellent for daily commutes and recreational rides and also a little bit for off-road riding.
Shimano Altus components require a little bit of maintenance for good performance making it popular among beginner riders. The cassettes are like 11-32T, 11-34T & 11-36T that comes with hyperglide technology for better performance and smooth shiftings.
Pros & cons of Shimano Altus Drivetrain
There are always a few things that would not work out for other people that may be good for you. So let us see what are the pros and cons of the Shimano Altus drivetrain.
PROS:
It is a beginner-level drivetrain and provides the basic things that a rider would need with a nice performance, these drivetrains are very affordable.
The components of the Shimano Altus are designed to withstand the daily usage of the bike and give reliable performance at the same time.
The performance is very good as the smooth shifting allows the riders to have a very good riding experience.
These drivetrains are very easy to maintain and are very easy to use, again very good for beginners.
CONS:
Compared to the Shimano's higher groupsets the gear range of this groupset is very less. It is not suitable for very demanding terrains or advanced riding styles.
It is slightly heavier than the other groupsets. This can lead to affecting the overall bike weight and underperformance of the bike.
Shimano Alivio Groupset Review: Quick Overview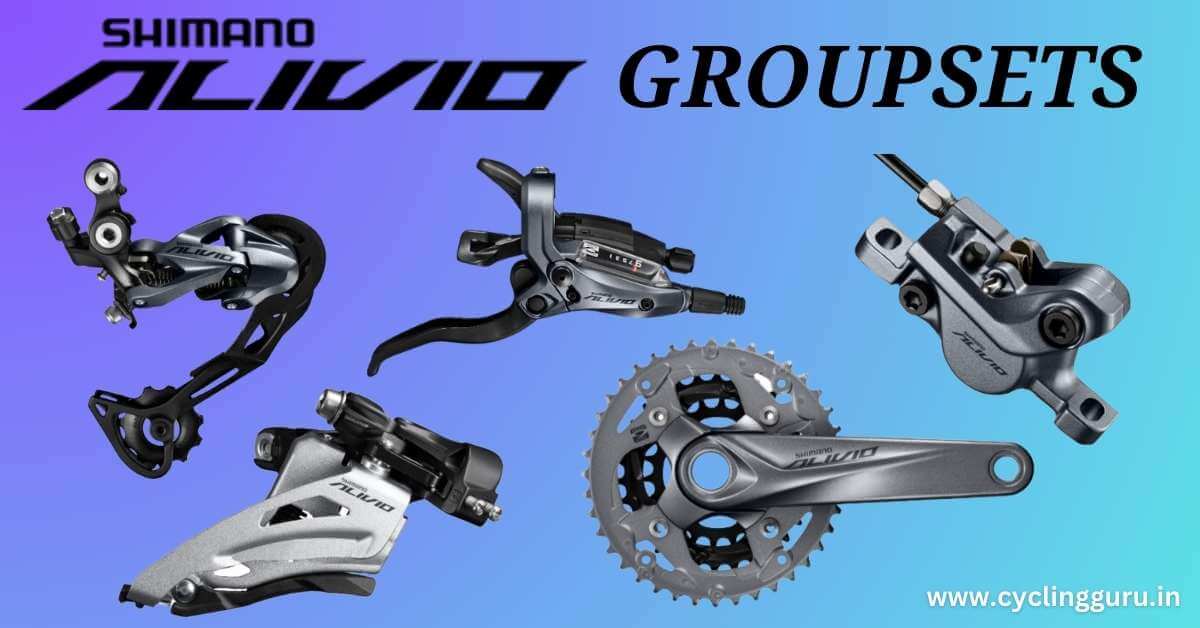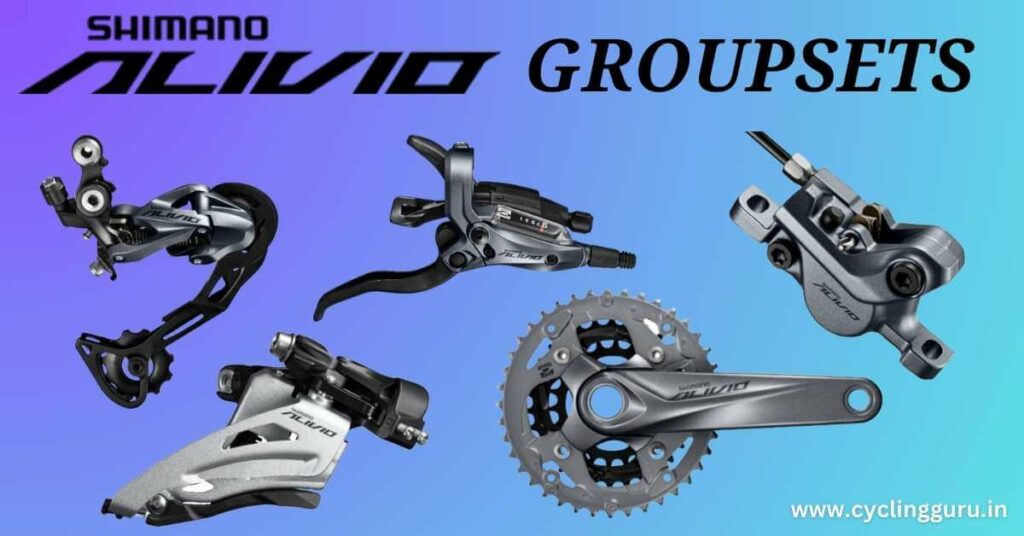 The Alivio is one step ahead of the Altus groupset. It gives the rider improved performance and features. The durability and sustainability of this is also better than the Altus groupset.
The typical speed drivetrains that it offers are 9 and have a wider gear range with cassettes like 11-25 T, 11-28T, 11-32T, 11-34T & 11-36T with hyperglide technology.
Now let us see for whom it is designed and what else it offers.
Who is Shimano Alivio designed for?
The Shimano Alivio is designed for people who are looking for enhanced versatility and performance while saving their pocket. The Shimano Alivio caters to a lot of different things ranging from recreational cycling to off-road riding and touring as well.
It can be used by beginner riders as well as intermediate ones. Looking at the groupset as a whole and the speed and the other components, the groupset is very efficient as a matter of fact and very good for beginners.
Pros & cons of Shimano Alivio Drivetrain
PROS:
It provides smoother and more precise shifting. This results in a better overall riding experience.
It has improved performance because of the wide gear range that this groupset provides. The broader range of the gear ratios allows the riders to tackle tough and challenging terrains.
It is built to withstand challenging terrains and is suitable for moderate off-road riding.
With the features and the variety it has, it is very affordable to the riders.
CONS:
It has a moderate level of performance. It is not suitable for people who are professional and are looking for very high-level performance. There it can fail to cater for the type of audience.
Shimano Altus vs Alivio: Major Differences
The major differences between these groupsets are based on the above-mentioned factors only. For you to have a glance, read below
Performance
When it comes to the performance of the Shimano Alivio vs Altus, Alivio wins as it ranks one step above the Altus and is brilliantly designed to tackle the mountainous terrains with ease because of wider cassette sprockets.
Whereas, Shimano Altus is also a very good groupset, majorly equipped with entry-level mountain bikes. It too performs nicely but is not much efficient on mountainous terrains.
Cassettes
The Altus (M2000) has a 9-speed cassette with hyperglide technology, available in two colour options (black & silver). The cassette is available in 11-32T, 11-34T & 11-36T gear specs. So the largest cog you get is 36T which makes your pedalling very comfortable while climbing hills.
On the other hand, Shimano Alivio (M3100) also has a 9-speed cassette with hyperglide technology but it has more cog options such as 11-25T, 11-28T, 11-32T, 11-34T, 12-36T specs, the largest cog you get here is 36T. As it has more variations in cogs, it is better for mountain biking.
Derailleurs
Shimano Altus derailleur (RD-M2000) is a 9-speed rear derailleur which comes with a super-low profile & SHADOW mechanism, it has a wider linkage that helps in precise gear shifting and looks very durable as it has a strong build quality. Additionally, It offers quick and easy wheel installation with a B tension spring and has a cable adjuster for simple adjustments.
Whereas, Shimano Alivio rear derailleur (M3100) can be paired with a 9-speed cassette featuring the innovative SHIMANO SHADOW RD technology. Its low-profile design enables aggressive riding with minimal interruptions, enhancing overall performance.
The derailleur has a total capacity of 45T and supports a maximum low sprocket size of 36T that ensures smooth gear shifting across various terrains. Additionally, the inclusion of an adjustment barrel allows for easy fine-tuning and maintenance, making it a reliable choice for cyclists seeking efficiency and precision while mountain biking.
Speed Options
There is no difference in the speed of the Shimano Altus and Alivio. The only difference is between their cassettes and the technology. Shimano Alivio has more options in cassettes and comes with improved design and technology.
Pedals
The pedals are not included in the groupset but as part of the comparison, both of them come with an option where the rider can choose the pedal the way they like and also the ones that are compatible. This gives riders the freedom to choose as per their comfort and preference.
Wheels
Again something which does not come with the groupset but for the comparison factor, both groupsets allow different types of wheels to be compatible with them. Different sizes are allowed the rider to be as specific as he wants to be with the wheel, as it is one of the most crucial things.
Durability
The Shimano Altus built quality is excellent. It is one of the best durable groupsets in its domain. But compared to the Shimano Alivio, the Alivio gets the upper hand. It is more durable and is made for bigger challenges than the Shimano Altus.
Who is it for?
Altus is for riders who are beginning their riding journey and looking for something strong, durable and efficient, this is the best choice.
Whereas, Shimano Alivio is better for intermediate riders. These riders know what they are looking for when buying a groupset. It is more technical, smoother, and more durable compared to the previous groupset.
Is Shimano Alivio Better than Altus?
Yes, Shimano Alivio is better than the Altus components. But! A lot of things depend on this question, namely your budget, the kind of rider you are, and the kind of experience you are looking forward to.
If you are a beginner with a low budget level, Altus is best for you as it can handle all terrain and provide a 9-speed drivetrain with mechanical or hydraulic brake options for an instant braking experience.
But if you are looking for a slightly higher experience then you will have to go for Shimano Alivio if that's what you are considering.
Both yes and no can be the answer depending upon who you ask. So it is based solely on the person who wants to ride the bike and the specifications and features he or she is looking for.
Final Verdict: Shimano Alivio vs Altus
When it comes to quality both the groupsets do a stunning job in catering to the different riders they are made for. So it all depends upon the rider's preference because one thing can be liked by a person and at the same time be hated by another person.
It depends on the needs at the end of the day, Taking all these factors into consideration, you can go ahead to decide which groupset will be the best for you as Shimano has all kinds of groupsets that are made for people, keeping their needs in mind.
Related articles: