Cycling Guru is reader-supported!
Some links on this page are Amazon Associate affiliate links When you buy through links on our site, we may earn an affiliate commission! Read more...
Deore and Alivio groupsets come from the same manufacturer Shimano! Both of them are suitable for mountain bikes but obviously come with a lot of differences.
For instance, Shimano Alivio is good for entry-level MTBs and is budget-friendly as well. Whereas, Shimano Deore is slightly more expensive and has a lot of other features that Alivio does not have!
Don't get confused between Shimano Deore vs Alivio.
Because we will be covering all the differences between these Shimano groupsets, Why is Shimano Deore better than Alivio, which one should you select for your MTB? and so on.
You will understand almost everything about these Shimano groupsets by the end of this blog article and hence you can make a wise decision. But before that, you must learn more about Shimano.
Let's dive in straight!
Shimano Deore vs Alivio: Quick Comparison Table
| Components | Shimano Alivio | Shimano Deore |
| --- | --- | --- |
| Gear Ratios | 2×9 or 3×9 gear set | 1×10, 1×11,1×12 as well as2×10 & 2×11 |
| Derailleurs | Shimano Alivio-M3100-SGS (9-speed) | Shimano Deore M6100 (1×12 speed) |
| Cassette Options | Shimano CS-HG400-9(9-Speed) | CS-M5100 Cassette 10-51T |
| Brakes | Hydraulic Disc brakes | Hydraulic Disc brakes |
| Speeds | 9 | 11 |
| Crankset | Double, Triple | Double |
| Warranty | One-year | One-year |
| Price | Cheaper than Deore | Expensive |
Note: Some of you might get confused in this article as it includes some technical bicycle parts names which you may not be aware of. So, firstly learn the bicycle parts' names with pictures so that you can understand the article easily.
Shimano Deore Groupset Quick Overview
The Shimano Deore groupset is a very premium & yet popular choice when it comes to mountain bikes and that is because of the performance it gives, but it is twice as expensive as the Shimano Alivio.
Its smooth shifting gives you a gliding experience while riding it. It also proves to be durable as it avoids damage from rocks while you are mountain biking!
It can shift three gears at a time, hence explaining the gliding performance that it has. A chain stabilizer is fitted in the bike, to avoid the chances of chain dropping while riding the bike, which is a very common problem in bikes.
Shimano Deore comes with 4 series such as M6100 (12-speed), M5100 (11-speed), M4100 (10-speed), and M5130 (10-speed).
All are premium groupsets for adventurous mountain bikes and can easily climb steeper trails and fly down descents with improved stability and predictable control.
You can choose 1×12 gears, 1×11 gears, or 1×10 gears, all will perform excellently on different terrains.
Shimano Alivio Groupset Quick Overview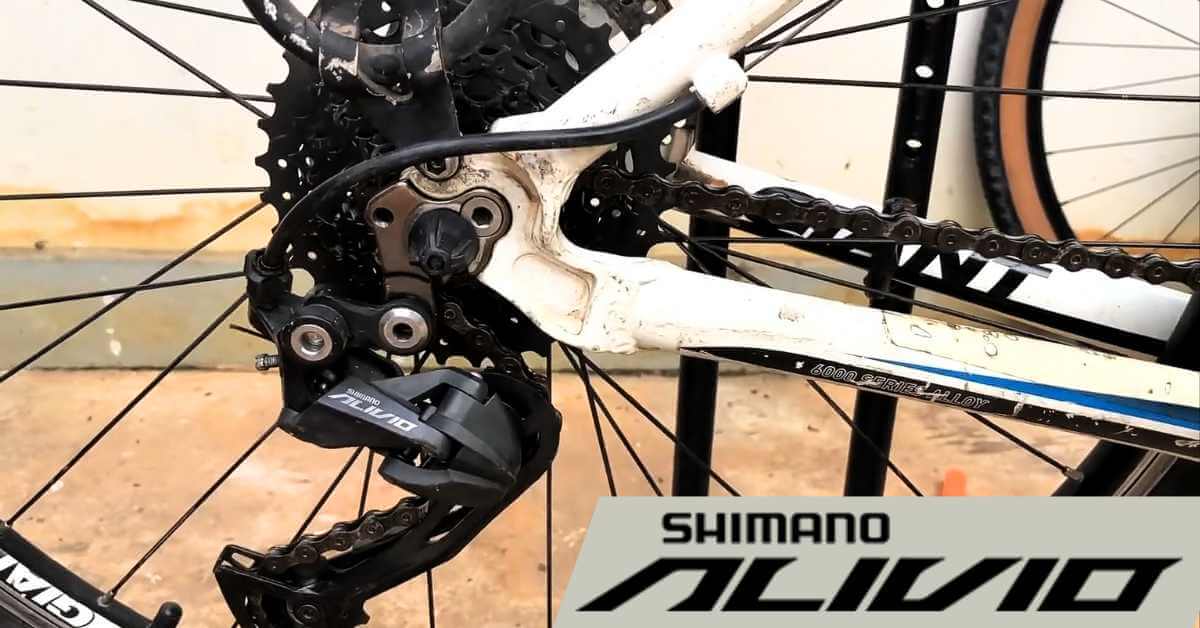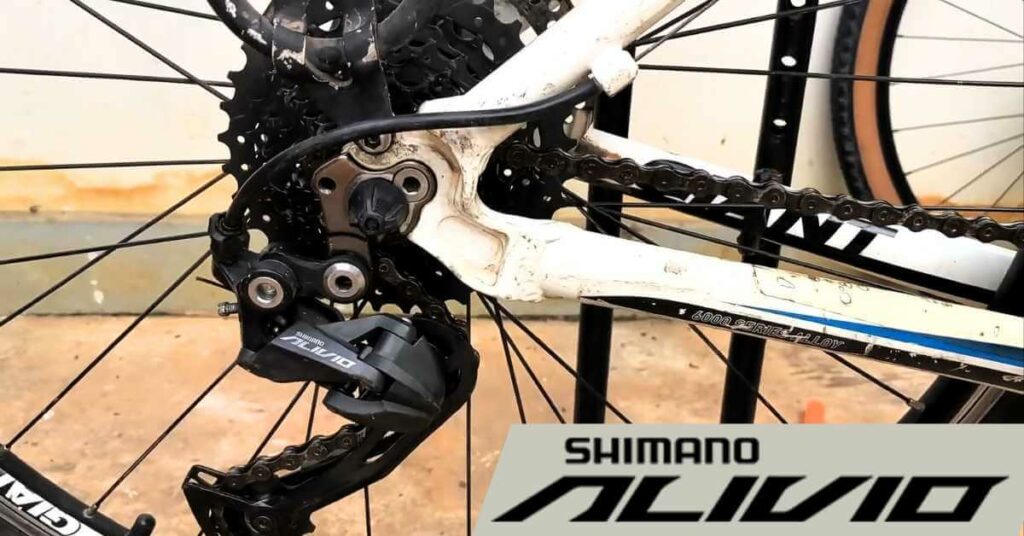 The Shimano Alivio groupset is a very affordable option in terms of a mountain bike. Without costing too much, it provides a very reliable performance. It is very easy to change gears with its shifters.
It gives you two different options suited for different terrains. Either you can have 1×9 gears on the back or 3×9 gears.
With all of these, the crankset is also very strong and efficient, which helps to transfer the pedalling power effectively.
The rear derailleur which is responsible for changing gears using the chains, handles bumps and obstacles on the trail. It is very durable and reliable.
The bike also includes mechanical disc brakes which give you good stopping power. That means you will be able to stop your bike safely and control the bike well in every kind of weather and terrain.
Hence, Shimano Alivio is a very reliable option for people who want to have a good experience even after maintaining a budget.
Shimano Alivio Vs Deore: What's the Difference?
There are a lot of differences when it comes to both of these groupsets, an overview of which you have already read.
Now it is the time we delve into deeper aspects of each factor to see what are the actual reasons those factors make both them so different!
Gear Shifter
Shimano Alivio has an SL-M3100-R shifter and the Shimano Deore has SL-M5100. Both shifters help you change gears smoothly and have displays to show you which gear you're in.
The SL-M3100-R works with nine gears, and the SL-M5100 works with eleven gears. As well as the SL-M5100 is fancier and more comfortable, but also more expensive.
Hence, The main difference is the number of gears they work with and how they feel when you use them. That's it!
Cassette
The Shimano Alivio cassette is lightweight and has 9 gears. They are placed close together for easy & efficient shifting.
Whereas, the Shimano Deore cassette has 11-gears and can be paired with different types of derailleurs, i.e., bikes with one or two gears at the front.
Also, both cassettes have hyperglide technology, which improves the gear-shifting experience.
But remember, one has nine gears, and the other has eleven gears. That's the main difference between the two cassettes.
Rear Derailleur
Regarding rear derailleurs, The Shimano Alivio has M3100-SGS, designed for regular MTB riding as it has a low-profile design that allows for fun riding.
Whereas, Shimano Deore has M5100-SGS which is stronger than M3100-SGS. Therefore it's better for rocky trails.
If you ride on normal trails, the Alivio rear derailleur is enough. But if you ride on technical trails (rocky), the Deore rear derailleur is stronger and more useful. That's the main difference between these two rear derailleurs.
Front Derailleur
Talking about the front derailleur, Shimano alivio has an 18-speed or 27-speed gear setup, you can choose either one according to your requirements.
However, In Shimano Deore, there are two options i.e., 11-speed or 22-speed gear setup.
Gear Ratios
This is one of the biggest factors to differentiate between both the groupsets. The Shimano Alivio offers a 3×9 configuration in gears, which means it has three chainrings at the front and 9 gears on the rear wheel which mostly gives a decent range for riding situations.
Whereas, the Shimano Deore offers quite a few configurations. It is available in 1×11 and 2×11 configurations. The first configuration consists of 11 gears on the rear wheel and 1 chainring in the front.
In the second configuration, it has 2 chainrings in the crankset and 11 in the rear wheel, making 22-speed combinations. This expanded range of gears on Shimano Deore makes it very comfortable for the riders to tackle various terrain effectively.
Brakes
The Shimano Alivio bike is equipped with mechanical disc brakes. These kinds of brakes rely on the cables attached to transfer force from the lever of the brake to the callipers, which provides reliable power to stop.
Whereas in the Shimano Deore, we have hydraulic disc brakes which are better than the mechanical ones. These kinds of brakes use fluid to transfer the force which results in better and stronger braking performances.
This advantage becomes very significant in conditions when the terrain is wet or muddy and here the responsiveness of the hydraulic brakes comes into action the best.
Wheels
The Shimano Alivio does not include any wheelsets, so you won't be able to compare both of these accurately. But Deore M-5100 has a wide range of tire selections of 27.5" and 29" clincher wheels.
When choosing tires, go for tubeless ones. The tubeless tires offer low pressure and better puncture resistance. Using a tubeless tire for your bike is a very easy decision to make after looking at the things tubeless tires have to offer!
Pedals
Shimano alivio does not supply any pedals but Deore does. Shimano Deore has a pair of flat pedals which are wide and which offer maximum grip for which the long screw pins are responsible.
SPD pedals are offered by both. Where Deore has a wider selection of styles and offers two larger footprint pedals, Alivio makes a smaller and offers one larger footprint pedal.
Speed
The speed depends on the number of gears available in the groupset of the cycles which determines the range of gear ratios and the overall versatility of the bike.
As we have already talked about the gears of both of these bikes, we know that Deore has better gear configurations than Alivio, which makes it natural for Deore to be the speediest among the two.
In Deore, the riders are able to make finer adjustments because of the gears to find the perfect gear ratio that they want to match their pedalling cadence of the demands of the terrain.
Is Shimano Deore Better than Alivio?
When we are starting to compare both groupsets we have to keep in mind the word "better" is subjective and will depend on the needs of individuals. The preference for riding style and the reason for its use will define what is better in both components.
However, regularly if we are to compare the Shimano Deore will be considered better than the Shimano Alivio and for that, there are quite a few reasons, most of which we have already discussed.
We know that Deore offers more configuration of gears than Alivio. Brakes too, are better in Deore than in Alivio. Looking at the price range Alivio is quite cheap compared to Deore, the reasons are quite obvious.
Even after both of the parts are made to cater to different needs we can declare that the Shimano Deore is better than the Shimano Alivio for the enhanced configurations and features it has.
Whereas, Shimano Alivio is better for entry-level mountain bikes which would not affect your pocket.
What is the significant difference between Alivio and Deore?
No Doubt! Both Shimano groupsets are great for mountain bikes. However, there are some differences in their prices, speed ratios, derailleurs, quality, and performance.
In general, Shimano Deore is known for being of higher quality and more focused on performance compared to Alivio. It's specially designed for riders who face tougher and more challenging conditions while riding.
So, if you're into adventurous and demanding riding, Shimano Deore would be a good choice. But don't worry, both groupsets have their strengths and will work well for your mountain bike adventures!
Conclusion: Difference Between Shimano Deore vs Alivio
Shimano Alivio and Deore stand on their grounds with unique features, made to cater to different needs, Alivio and Deore stand on their grounds as very good mountain bikes. Deore has more technical features in it which makes it better than Alivio but that does not mean that Alivio is a bad choice.
Typically, Shimano Deore is regarded as superior in quality and geared towards enhanced performance compared to Alivio, as it is specifically engineered to meet the requirements of challenging riding environments.
When going out mountain biking with friends and family, Alivio is the best choice as it has all the features and also falls under the budget. Whereas, Deore is double the price of Alivio.
It has all the higher configurations and can be deemed suitable for mountain biking races. At the end of the day, it would depend on your needs.
Also read: Shimano Tourney Vs Altus Components: Which Groupset is Better for Normal Bikes?
FAQs: Shimano Alivio vs Shimano Deore
Is Shimano alivio good for MTB?

Yes, Shimano Alivio is one of the best groupsets for MTBs which has 18-speed or 27-speed gear options. But the components are not that much stronger which can be used on rocky trails. But if you are a beginner mtb rider, go for Shimano Alivio.

Is Shimano Alivio compatible with Deore?

Yes, Shimano Alivio is compatible with Shimano Deore. You can install the alivio cassette on the Shimano Deore drivetrain. Which will reduce some costs.

Where does Shimano Deore rank?

Shimano Deore is better than the alivio. Therefore it ranks above Shimano Alivio and is best suitable for experienced mtb riders.

Is Shimano Acera better than Alivio?

No! It's Not. No Doubt both are one of the best entry-level groupsets for mountain bikes. But  Shimano Acera is just one step below the Alivio drivetrain. Because Shimano Alivio is lightweight, performs smoothly and has many gear options.