Cycling Guru is reader-supported!
Some links on this page are Amazon Associate affiliate links When you buy through links on our site, we may earn an affiliate commission! Read more...
One of the biggest decisions you'll make when purchasing a geared bike is what type of gear to select. Do you want to go with a traditional derailleur system or something more advanced like a microshift? So which gear to choose: Shimano vs Microshift?
In this article, we'll compare and contrast these two systems, so you can make the best decision for your needs. How do Shimano, SRAM, and Microshift compare?
Shimano gears are known for their reliability and precision since the 1920s. They're also some of the smallest and lightest gears available, making them great for climbing and speedy descents.
It can be difficult to determine which gears are best for your bike, depending on the terrain you're riding on and your personal riding style. In this article, we'll compare the 3 most popular gears in mountain biking: the Shimano and microShift and SRAM groupsets.
If you are a beginner cyclist and you are confused about these brands and their components of a bicycle. Don't worry! You will have enough knowledge after reading this article.
So, Read this comprehensive article to understand how Shimano gear shifters are different from microshift. Let's see the key differences between them.
Shimano vs Microshift: Brief Introduction and History
Shimano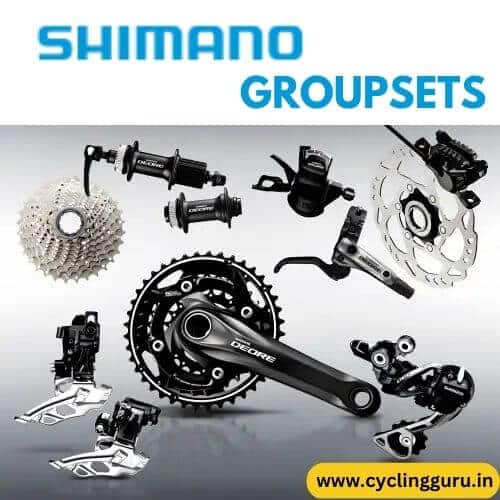 Shimano has been a well-known brand in the Bicycle Industry for more than 100 years and leading the market for bicycle components, drivetrains and gears. It offers component groups for each and every type of bicycle (MTB, Road bikes, hybrid or BMX) for lower-end bikes to high-end bikes.
Therefore, Shimano has capitalised on the market more than SRAM and Microshift. As well as Shimano has a wide range of gears and shifters. Each and every part is available in the market (online or offline).
The majority of low-end bikes use Shimano Tourney, Shimano Acera and Shimano Altus groupsets. And Shimano Alivio, Deore and XTR are mostly used in high-segment bikes.
For better understanding, we have compared Shimano acera or Altus components, Shimano Tourney vs. Altus and which groupset is the best fit for your bicycle, know in these detailed comparisons.
Here are some best Shimano's best components that you might be confused about:
Shimano Component/Groupsets Hierarchies:
| Levels | Shimano Road | Shimano MTB |
| --- | --- | --- |
| Entry Level | Tiagra | Deore |
| Mid Range | 105 | SLX |
| High End | Ultegra | XT |
| Premium | Dura-Ace | XTR |
Related: Top 5 Best Bicycles with Shimano Gears in India - Our top recommendations!
Microshift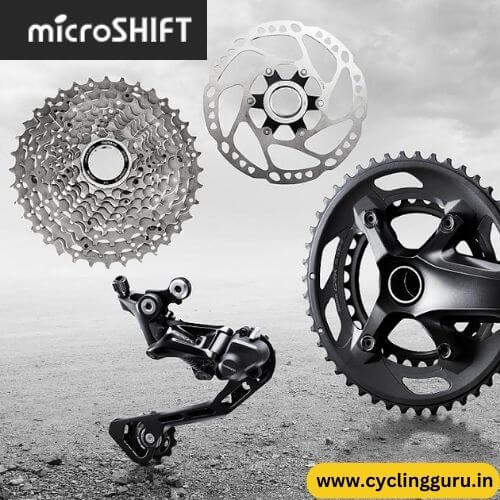 MicroShift is a Taiwanese company which was established in the year 1999. This brand is also famous for manufacturing drivetrains and its groupsets. Microshift has created its goodwill globally in a very short span of time as compared to Shimano.
Related: Best Gear Cycle Brands in India
Currently, It has very limited options for mountain bikes such as Microshift Mezzo, Margo, and Admins. Their product is very limited, they neither offer cranksets nor brake systems.
In fact, It has always been MicroShift's goal to offer components that are compatible with those produced by Shimano.
Their website still lists "Shimano Compatible" components, even though they have a more comprehensive product line now.
Shimano vs Microshift vs SRAM: Basic Difference
| Basis | Shimano | Microshift | SRAM |
| --- | --- | --- | --- |
| Establishment Year | Founded in the year 1921 in Japan. | Founded in the year 1999 in Taiban. | Founded in the year 1987 in the USA. |
| Type of Bikes | Manufactures components for MTBs, Road bikes and gravel bikes. | MTB, Hybrid and Road Bikes. | MTB and Road Bikes. |
| Products (Models) | Shimano has groupsets for all types of cycling disciplines, For Lower segment Bikes: Shimano Tourney & Acera and for Hig-end Bikes: Shimano XTR, Alivio, SL. | In comparison to Shimano, MicroShift offers much fewer products. Only three component groups are available for MicroShift's mountain bike line i.e., Mezzo, AdventX, Advent and Acolyte. | Entry-level groupsets are better than the mid-range level of Shimano i.e., SRAM x3, x4, etc. |
| Price Range | Shimano has groupsets for all types of cycling disciplines, For Lower segment Bikes: Shimano Tourney & Acera and for High-end Bikes: Shimano XTR, Alivio, SL. | From 800-15000 rupees. | From 1500-1.5 lacs rupees. |
| Brand Reach | Some brands still use Shimano because of quality, trust and partnership. | Equipped in low-level segment bikes (less than 20k). Has collaborated with Decathlon. | Equipped in high-end bikes (track bikes and racing bikes). |
| Availability | Parts are easily available in the offline market as well. | Sometimes not available in the offline market. | Available in both online and offline stores. |
Pros and Cons of Microshift's Gears and Components
Pros:
Microshift gears are some of the smallest and lightest available, making them ideal for mountain bikes and road bikes that need a small gear range. They also have a very short tooth profile, which makes them great for high-speed downhill or cross-country riding.
Microshift shifters are known for their precise and responsive shifting. This is thanks to the small size of the gear teeth, which allows for quick and accurate movements.
It offers a wider gear range than Shimano gears. This can be beneficial if you are riding on hills or uneven terrain.
Cons:
One downside of microshift gear shifters is that they can be difficult to disassemble. Additionally, they can be noisy while shifting. However, these drawbacks may not be an issue for some riders.
Microshift gears are that they can be difficult to shift in wet or icy conditions. Additionally, they can be noisy when shifting, so they may not be ideal for stealthy rides.
Microshifts can be difficult to find in some parts of the world & do not have a lot of support from Shimano dealers.
It may require some customization to work with certain bikes or components.
Pros and Cons of Shimano Gears and Groupsets
Pros
Shimano gears are well-known for their durability and performance. They are also popular due to their wide range of options and compatibility with many different bikes.
Shimano gears are more powerful than Microshift – They Can handle bigger gears with more torque.
All the components of Shimano gears such as derailleurs, shifters, drivetrain and cassettes provide an excellent experience while riding a bicycle.
Cons
Shimano gears can wear down over time due to the high level of usage they undergo while in use. However, these drawbacks may not be an issue for some riders.
Shimano gears are larger in size as compared to microshift, but they offer a narrower gear range than microshift gears. This is perfect if you want to ride on flat surfaces or smooth terrain.
The price is high. hence, It is more expensive than microshift gears.
When Should You Consider Microshift Over Shimano?
Guys, Microshift and Shimano are the two different brands that are famous for their gear shifters. Both are very popular on an international level and hence their components are used in branded and imported bicycles.
According to stats and studies, Shimano is the largest manufacturer of bicycle components in the world hence leading the bicycle market.
On the other hand, Microshift is a new brand and acquiring the bicycle brands like Decathlon with its innovative technology and increasing its range of products as well. Let's see what are the major difference in the products they manufacture.
When it comes to the type of gear, there are a few things to consider. One of the most important factors is the size of your bike and the type of terrain you will be riding on. Another important consideration is the gear range you need for your ride.
So which gear range should you choose?
Microshift and Shimano gears have different mechanisms of gear shifting hence they offer their benefits and drawbacks, so it's important to understand which one is right for you. Here's a look at what each has to offer.
Shimano gears are known for their durability and precision. They offer a wide gear range that's perfect for serious cyclists who need to cover a lot of ground quickly. Their teeth are also larger than microshift gears, which makes them more efficient when climbing or cruising.
Some of the best Shimano gears are Shimano Altus, Shimano Acera, Shimano Tourney tz, Shimano Alivio, Shimano Sora, etc. All are different models and are used in various types of cycles.
Bike Components of Shimano Company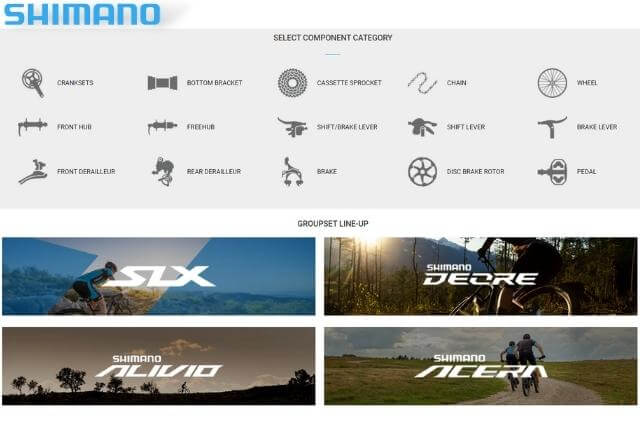 1. Shimano chains: Shimano chains are available in a variety of lengths and widths, making them compatible with a wide range of derailleurs. They also come in a variety of durability levels, so you can choose the right chain for your needs.
2. Shimano derailleurs: Shimano derailleurs are an essential part of any cyclist's gear arsenal, and whether you're a beginner or a seasoned pro, you'll want to make sure you have the best ones possible. In this article, we're going to take a look at the different types of Shimano derailleurs and tell you which ones are best for your riding needs.
3. Shimano Di2 electronic shifting: Shimano Di2 electronic shifting is another amazing option for mountain bikers. They use a microprocessor to control the gear changes, which makes for incredibly smooth and quick shifts. They also feature a clutch system that prevents the bike from running out of gears in high-speed terrain.
4. Race Face Turbine crank arms: Race face turbine crank arms are another great option for mountain bikers who want the best possible gear performance. They're made from lightweight aluminium, which means they're incredibly durable and resistant to wear and tear. Plus, they come with a built-in sensor that helps you optimize your power output for each ride.
5. Cranksets: Hollowtech crankset standard is the top-notch feature of Shimano's cranksets. In this case, two parts are joined together to create a hollow, aluminium crank arm. Thus, the cranksets of Shimano are lightweight and solid and come with stiffness.
6. Bike computers: Another product that Shimano makes is cycle computers. These computers help you track your cycling performance and keep track of your stats. They also have features that allow you to train effectively. While Microshift is not manufacturing cranksets.
Apart from these, Shimano also makes Brakes, bike wheels, brake levers, pedals, brakes, disc brake rotors, front hubs free hubs etc. That's why they are leading the bike component market.
Bicycle Products of Microshift Company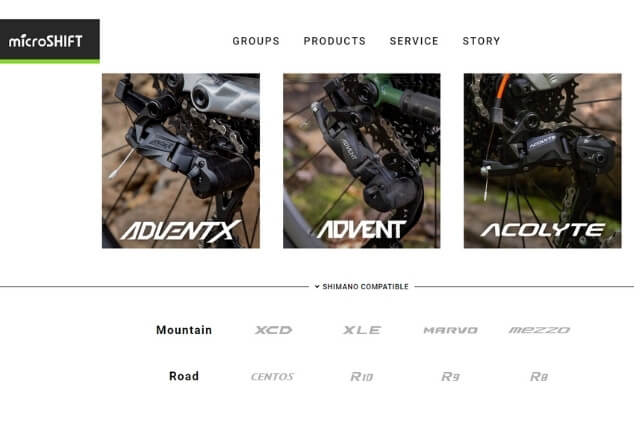 Microshift is a company that mainly makes bike shifters, Derailleurs, cassettes and other cycling accessories. Their products are designed to improve your cycling experience.
1. Shifters: One of their most popular products is their shifters. These are designed to make shifting easier and more comfortable. They are made from high-quality materials and they are built to last.
2. Derailleurs: Microshift makes rear and front derailleurs for road bikes and MTBs. They are the top-notch products of the company with good quality. The rear derailleurs start from 6 speed and go to 11 speed. Front derailleurs range from 2 to 3 and are made from aluminium.
3. Cassettes: Cassettes are also an important part of the drivetrain of a bike. They have so many models for road bikes and mountain bikes with premium quality. It ranges from 7 speed to 11 speed and can go with the chain of any company. Advent and Acolyte series is the top-of-the-line cassettes of Microshift company.
4. Microshift System: This system allows cyclists to change gears quickly and easily, without having to take their hands off the handlebars. Not only is this system convenient, but it also ensures that cyclists can focus on their riding instead of worrying about gear changes.
If you're ever looking for a quality gear system, be sure to check out Shimano's microshift products. They're sure to give you the performance you need and the convenience you want!
Shimano or MicroShift: Who has the Best Value Groupsets?
When it comes to buying a bicycle groupset, there are a lot of factors to consider. Which components will give you the most value for your money? And which brand offers the best performance?
We took a look at two of the most popular groupsets on the market, MicroShift and Shimano, and evaluated their features and pricing.
Microshift is known for its high-quality components and aggressive pricing. Their R9000 Ultegra Groupset is one of the most affordable options available, and it offers great value for its price tag. While it doesn't come with everything that you might want (a compact crankset, for example), it's packed full of features that will make cycling more enjoyable.
When it comes to value groupsets, Shimano is hard to beat. Both MicroShift and SRAM offer great options at prices that won't break the bank. However, when it comes to overall performance, Shimano is usually the clear winner. If you're after durability and seamless gear changes, Shimano is your best bet.
Difference Between Microshift and Shimano Shifters
Microshift has a new type of shifter, It's a smaller, more compact shifter that is designed to be used on bikes on the basis of small frames. It has got different types of shifters according to the handlebar.
Such as Trail trigger, quick trigger, Xpress, thumb press and twist shifters are for flat bar handles. There are so many, you can visit microshift's website to find more.
Whereas Shimano has two shift levers on their shifters that control upshifts and downshifts of gears, and the brake lever pivots inward to control both actions. Shimano has also announced a microshift option for its mountain cycle groupsets, which is designed specifically for use with smaller frames.
Advantages of Microshift Shifters:
The advantages of using a microshift shifter are that it's more compact and easier to use than standard shifters.
This is especially important for riders who have smaller hands or who are using a bike with a small frame.
The microshift also offers greater flexibility when it comes to gear selection, as you can change gears much more easily than with a standard shifter.
Overall, the microShift shifters option is an excellent addition to the mountain bike market. They're perfect for riders who have smaller frames or who want to make gear selection easier.
Related: Gear Vs Non-Gear Cycle: Major Differences, Pros & Cons
Can I use MicroShift shifters with Shimano derailleur?
There is some debate over whether or not you can use Microshift shifters with a Shimano derailleur. The general consensus seems to be that yes, you can, but it may require some modifications to the shifter.
The biggest issue is that the Microshift shifters use small gear teeth that don't line up with the large gear teeth on a Shimano derailleur. In order to use them, you'll likely have to replace the derailleur with a compatible model. Alternatively, you could try using a different type of shifter, such as an SRAM Apex or Grip Shift.
How do You Adjust a Microshift Shifter? 3 Simple Steps
How to adjust a Microshift shifter is a question that has come up on numerous occasions. The good news is that it's not difficult to do, but there are a few steps involved. Here's how to go about it:
Open the shifter up by pressing the button on the side. You'll see two screws on either side of the shifter. Remove them with a Phillips head screwdriver.
Lift the cover and set it aside. Underneath you'll see three adjustment screws (marked A, B, and C). Use a Philips head screwdriver to adjust these screws until you get the feeling you're looking for. Be patient – this process can take some time to get just right.
Replace the cover and screws, and you're done!
Watch this video on how to repair gear shifters:
---
Shimano 105 vs Microshift: Which is Better? Explained
When it comes to cycling, Shimano is a brand that most cyclists know about and trust. Their product line includes everything from entry-level bikes to top-of-the-line components, and their 105 series is no exception. So when it came time to choose a bike for commuting, Shimano was at the top of my list.
But what about microshifting? Is it really worth the additional cost of a Shimano 105 bike over a standard model? Don't worry! we'll compare the two models and see which one is best for you.
Shimano 105 vs. Microshift: Which one to choose?
When it comes to gear ratios, Shimano's 105 series offers a bit more flexibility than microshifting. The standard Shimano gear range is 1-10, with 10 being the most powerful. But with Microshifting, you can choose from 12 different gears, giving you more options for varying terrain and speeds.
Microshift also offers a few other advantages over Shimano 105. For one, their shifting system is much quieter than Shimano's. And because their gears are smaller (and thus slower), they're less likely to clog up your bike's gears.
All things considered, there are pros and cons to both systems. Ultimately, the decision comes down to personal preference. If you're looking for the utmost flexibility and ease of use, then a microshifting bike may be the right choice for you. But if you value reliable performance and don't want to deal with extra noise or fuss, then a Shimano 105 bike may be better suited for you.
Shimano Tourney Vs Microshift Mezzo: Which Model is Better?
When it comes to value, Shimano has no rival. The Japanese brand offers a wide range of groupsets designed to fit a variety of riders and budgets. Among the most popular options are the MicroShift mezzo and its sibling, the 105, both of which are affordable and well-rounded options for riders looking for quality and value.
On the other hand, SRAM's offerings can be expensive for some riders, and the company doesn't offer as many value-oriented options as Shimano. For example, the company's top-of-the-line group, the Rival1, isn't as affordable as the MicroShift mezzo or 105. Additionally, SRAM's gear is often preferred by more experienced cyclists who are looking for high-performance features.
Ultimately, it comes down to personal preference and which brands you prefer. If you're on a budget, Shimano is a great option due to its wide range of affordable groupsets. Alternatively, if you're looking for high-performance gear that won't break the bank, Microshift may be a better choice.
Related: Gear or Gearless Cycle for Weight Loss: Which one is Better?
---
FAQs: Microshift Vs Shimano Components
Q1. Which is lighter Shimano or SRAM?
Lightweight depends upon the material of the components, steel-made components are likely to have more weight than carbon fiber, and aluminium. Shimano's components are made from aluminium whereas SRAM's components are made from carbon fiber for high-end products.
Q2. Is Microshift compatible with SRAM?
Microshift and SRAM are competitors of each other. They have different mechanisms and different products. It's not a good idea to mix the components of two different brands, it may reduce the bike's performance.
Q3. Is Shimano or SRAM cheaper?
No one is cheaper. Both the company produces drivetrains for low-segment bikes to higher-segment bikes. There are some cheap and affordable models from Shimano such as Shimano Tourney and Shimano Acera.
Q4. Does MicroSHIFT Advent work with Shimano?
Sadly, no. Compared with Shimano 10-speed products, ADVENT X has a different cable pull. So, It is best to use ADVENT X shifters and derailleurs from the Microshift brand.
Q5. Which is the best SRAM or Shimano?
It's hard to choose between Shimano and Sram because both brands boast incredible technology. Despite this, we may say that Shimano is the most popular road bike gear choice, while Mountain bikes have been a particularly strong area for SRAM. See the difference here
Conclusion: Which is Better Microshift or Shimano?
When it comes to bicycle shifting, there are two main brands that most people are familiar with: Shimano and Microshift. Each brand has its strengths and weaknesses, which is why it can be hard to decide which one is the best option for you.
Here are the key differences between Microshift vs Shimano vs SRAM:
Microshift uses a ball-and-socket system to shift gears, while Shimano uses a linear system. This difference may seem minor, but it can make a big difference in how smooth the gear change feels.
Microshift's shifters are smaller than those of Shimano, which makes them easier to use and keep track of.
Microshift cables are thinner than those of Shimano, which means they're less likely to break or fray.
Finally, both Microshift and Shimano offer warranties in case your gear shift fails. However, the warranty period for Microshift is longer than that of Shimano.
So guys this is the end of the article on Shimano vs Microshift. If you have any doubts feel free to ask in the comment section below. If you liked this blog post, please share it with your friends and the cycling community.
Till then, keep cycling!
Related Posts:
References:
https://www.theproscloset.com/blogs/news/shimano-vs-sram#pop
https://www.bikeradar.com/advice/buyers-guides/buyers-guide-to-microshift/