Cycling Guru is reader-supported!
Some links on this page are Amazon Associate affiliate links When you buy through links on our site, we may earn an affiliate commission! Read more...
"Health is the true wealth, not gold or silver". Therefore, everybody should do some physical activity to maintain their health and Fitness. I believe that one of the best and most effective ways to reduce weight is cycling. But, you might not know which bicycle is better gear or gearless cycle for weight loss.
Don't worry! You've found the right place. In this blog article, I have covered: geared vs gearless cycles for weight loss and the difference between gear and gearless cycles etc.
So, read this article on gear or gearless cycle for weight loss till the end so that your desired search query is solved.
Make sure you read this article till the end as I have explained and suggested which is best gear or non gear cycle for weight loss. First thing first,
How Cycling Reduce Weight? Truth or Myth
As you know cycling is a kind of physical activity (exercise) which burns calories and have positive effects on your body. The more you ride a bicycle the more calories you are likely to burn which leads to reduce weight. It's true that cycling reduces weight.
As per the report from Harvard Health Letter, a person with a weight of 155 pounds can burn around 288 calories in just 30 minutes when the biking is done at a speed of around 13 mph (moderate speed).
So, If you want to lose weight by biking then you have to follow some proper strategies. Just increase your cycling Intensity, follow a proper diet, cross-training exercises etc.
First, you need a bicycle for losing weight. Let's know which bicycle is good for weight loss.
Difference Between Gear and Gearless Cycle: Gear vs Non-Gear Cycle
Due to the Coronavirus pandemic that took effect in recent years, people have started enjoying cycling because cycling is an effective exercise to stay fit and healthy while maintaining social distancing. Therefore, People are heading towards cycling for fitness.
But, People may get confused when selecting the bicycle type for weight loss. Don't worry! I have got you covered.
Basically, There are two types of bicycles based on gearing i.e., Gearless Cycle and Geared Cycle. Let's understand them in detail.
What is a gearless cycle? Are non-geared cycles good for weight loss?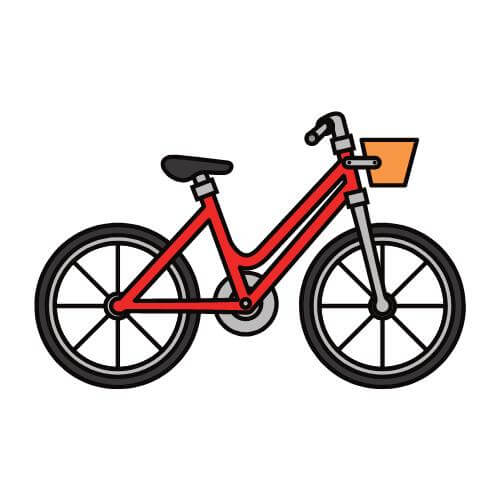 As the name indicates, these types of cycles are gearless means such bicycles have a single-gear ratio. A gearless cycle is a traditional cycle that is also known as a single-speed cycle. It's a very simple and straightforward principle i.e., Pedalling harder makes it go faster.
Hard pedalling consumes more energy and burns more calories of a cycle rider. Hence, gearless cycles can be the best option for weight loss.
Furthermore, Non-geared cycles have got two types. The first one is Free Wheel Cycles or Regular Bicycles and the second is Fixed Wheel Cycles.
1. Freewheel Bicycles (Regular cycles)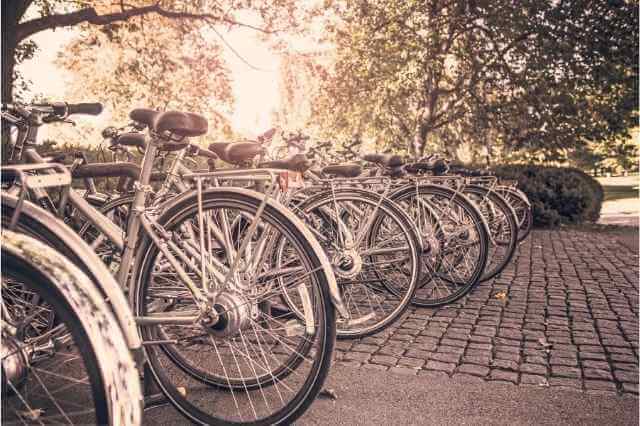 Freewheel cycles are the most popular bicycles in India. They are very easy to pedal and ride on Indian roads because the back wheel of such bicycles is not fixed to the pedal which allows you to stop pedalling once you attain a certain speed or reach the desired location.
Additionally, you do not need to pedal freewheel cycles while riding downhill since gravity helps you cruise. This type of bike is very comfortable to ride.
2. Fixed Wheel Gearless Bicycles (Fixie Bikes)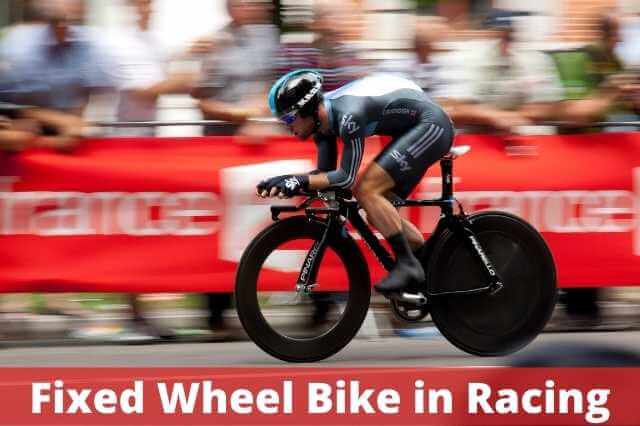 The back wheel of fixie bikes is fixed with the pedals so that the cycle moves forward only when you pedal ahead. In this way, cyclists can control the speed of the bike while pedalling without using the brakes. This means if they stop pedalling, the bike wheel will stop (no brakes on a few models).
Such types of cycles are mostly used in indoor racing events by professional cyclists. Fixed wheel gearless cycles are one of the best cycles for weight loss.
If you are a beginner and want to ride such bicycles, be sure to practice. Don't ride such bicycles on busy roads or in public places. It's very risky to ride such bikes as a beginner in a busy area.
Advantages and Disadvantages of non-geared Bicycle
| Benefits of Gearless Cycles | Cons of Gearless Cycles |
| --- | --- |
| It's very easy to ride on roads because you don't have to worry about gear shifting | It's not useful for uphill riding or bridges. |
| Gearless cycles are built with very less components, price is lesser than geared cycles. | It has only single-speed gear which limits the speed and it depends on your pedalling speed. |
| These bicycles are very affordable and need less maintenance. | Long-distance rides with gearless cycles can be difficult and may cause some leg injuries due to constant pressure. |
What is a geared cycle? Is geared cycle good for weight loss?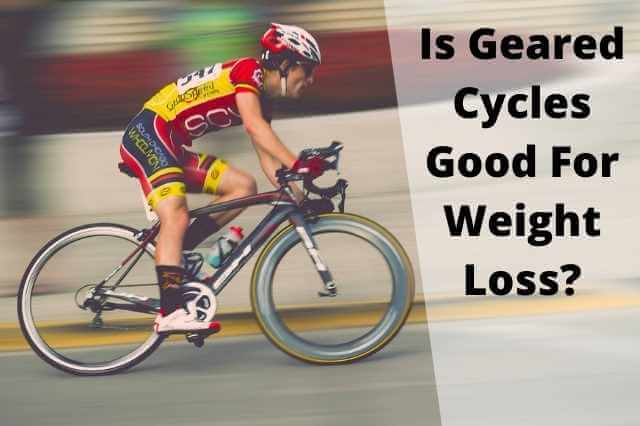 Geared cycles have more than one gear ratio. This allows the cyclists to change the gear based on the surface of the terrain. The derailers help to shift or change the gear between the gear cogs which helps to maintain the cadence even if the terrain changes. This is the reason why geared cycles are in high demand and they are very useful for long-distance rides.
"It's a myth that geared cycles have more speed than gearless cycles".
Pedalling a geared cycle helps you maintain an even cadence- or a maximum number of revolutions per minute (RPM). Typically, cyclists ride between 60 and 90 RPMs, keeping their muscles relaxed and comfortable as they ride.
Is Geared Cycle Good for Weight Loss?
If you have some experience in cycling, definitely go for the gear cycle because this cycle is perfect for all types of terrains and long-distance as well. Long-distance bicycle riding helps to reduce weight. Hence, geared cycles are the best for uphill riding which helps to reduce belly fat and this leads to maintaining health and fitness.
Advantages and Disadvantages of geared bicycle
| Benefits of Geared Bicycles | Cons of Geared Bicycles |
| --- | --- |
| Gear Shifting helps to ride more comfortably as per the terrain. | Geared cycles are equipped with a lot of components, they are expensive. |
| Geared bicycles are best for long distances compared to single-speed bikes. | Geared cycles need more maintenance compared to gearless ones. |
| You can ride faster and accelerate better with a gear cycle. | Derailers, shifters, and cogs are expensive in geared cycles. |
Gear or Gearless Cycle For Weight Loss: Which is Better?
I have explained to you what gear and the gearless cycle are along with their benefits and disadvantages.
When it comes to choosing a geared cycle or gearless cycle. I would say that both cycles are excellent for reducing weight.
But most people ride non-geared (gearless) cycles for weight loss because these cycles consume more energy while pedalling on hills and bridges. Hence, Non-geared bicycles are good for reducing weight.
On the other hand, if you want to do some adventure along with cycling for weight loss, then go for geared bicycles. Also, bicycles with gears are the best options for long-distance rides. Because you can shift to the lower gears when you are tired. However, you can't do this with gearless cycles.
Since Both cycles have their advantages and disadvantages. So, when it comes to gear or gearless cycles for weight loss, it depends on a personal choice.
Final Verdict:
We recommend you to go for any cycle for weight loss whether it is geared or non-geared. If your goal is to reduce weight through cycling, Make sure to ride the bicycle regularly and follow a balanced diet to eat healthy food to achieve your desired goals.
---
Best Cycle for Weight Loss in India
In India, there are three kinds of bicycles: MTB, Hybrid, and Road Bike. Each has its own unique features and functions, but if you are unfamiliar with these bike terms, read on to learn about these different kinds of bicycles.
A mountain bike has thicker tyres and wheels ranging from 26 inches to 27.5 inches and 29 inches. Tyre size and frame size are very important when selecting a bicycle. So, you can read this guide on the bicycle size chart if you have any doubts.
When it comes to losing weight by cycling then I personally recommend mountain bikes and hybrid bikes. Since road bikes take more time to lose weight than hybrid or mountain bikes, I don't recommend them for weight loss.
So these are my favourite picks! See below!
Road Bike vs Mountain Bike For Weight Loss: Which is better for exercise?
Which Cycle is Better for Fitness Gear or Gearless?
Cycling is an excellent aerobic activity. So as a cardio workout, cycling is fantastic because it burns calories, helps you lose weight, and burns fat.
Regular cycling maintains lung and heart health. Additionally, it builds muscle, keeps you energized, reduces your stress, tones your bones and helps you lose weight and the benefits of cycling are countless.
When it comes to which cycle is better for exercise gear or gearless? Then it depends on your personal preference. I have already explained the difference between geared and non-geared bicycles above.
Let me tell you the universal uses of geared or non-geared bicycles.
Basically, the gearless cycle is for beginners, who have just started cycling and don't have much experience of riding a bicycle. Because such bikes don't have many technicalities and provide a hassle-free ride for commuting in the city. You just have to pedal them to go ahead and that's it.
Whereas, Geared cycles are for those who know how to ride a gearless cycle or experienced cyclists. Because bicycles with gears are equipped with many technicalities and a rider has to practice them before heading towards the road. Because geared bikes are for adventure purposes, long-distance riding, tough terrain, etc.
So, both cycles are best for fitness purposes. The only difference is that geared bicycles are expensive whereas gearless bicycles are very affordable therefore it is a pocket-friendly cycle.
How to Ride Bicycle for Reding Weight Loss: Effective Cycling Tips
---
Conclusion: Gear or Gearless Bicycle for Exercise
To conclude this article on gear or gearless cycle for weight loss. Our main goal is to reduce weight by cycling. So it doesn't matter which type of bicycle you ride. The only thing required for weight loss is regular cycling.
Always make sure to maintain your bike health with regular cleaning and service so that your bicycle can deliver excellent performance on the roads.
If you are an enthusiast rider who enjoys climbing faster and descending without taking heights or curves into account, then go riding geared (multi-speed) cycles.
However, gearless (pedal-powered) cycles can be used for short commutes & short rides. Also, it is budget-friendly and needs less maintenance. When ordering a cycle, It's important to consider weight, maintenance, budget, and riding preference.
I hope this article helped you, If you still have any queries, drop that question in the comment box below, It will be answered soon. Do share this informative article with your cyclist friends who want to lose weight by cycling.
---
FAQs: Which is best gear or non gear cycle for weight loss
Is without gear cycle good for weight loss?

Riding a cycle without gears can definitely help you lose weight because if you pedal harder, you will use up more energy and burn more calories, but it's not the most effective method out there. If you really want to shed those pounds, you may try some other exercises or upgrade to a geared bicycle for a more intense workout. Trust me, you'll feel the burn!

Which is better cycle with gear or without gear?

If you are trying to find out whether a bicycle with gears is better than one without, it really depends on your needs. Gear bicycles can help you tackle different types of terrain and make your ride smoother, but a bicycle without gears is easier to maintain and less complicated. Apart from the comparison, Gear bicycles are a great choice for long-distance cycling.

What type of cycling is best for weight loss?

High-intensity interval training (HIIT) is the best way to reduce weight as it gets your heart pumping and keeps it up for a while. This kind of workout is great for burning calories and reducing overall fat.
Sources:
https://www.cyclingweekly.com/fitness/training/how-to-lose-weight-cycling-266755
https://www.youtube.com/watch?v=hzNVwxkeLVQ
https://www.health.harvard.edu/diet-and-weight-loss/calories-burned-in-30-minutes-for-people-of-three-different-weights
https://www.healthline.com/health/biking-to-lose-weight
Related Articles: