Cycling Guru is reader-supported!
Some links on this page are Amazon Associate affiliate links When you buy through links on our site, we may earn an affiliate commission! Read more...
Mountain bikes become dirtier as compared to the other bikes, so you need to be more alert with them. And therefore we teach you how to clean a mountain bike in 15 minutes. Regular washing of a mountain bike is important. When you are keeping your mountain bike clean, it appears new and you can easily figure out any damage and prefer going for a service.
Likewise, you will be able to maintain your bike as well. You might feel troublesome when it comes to cleaning your mountain bike. But you just need 15 minutes to wash your bike decently.
Follow these simple steps to clean your mtb in 15 minutes without harming them. Also, learn bicycle cleaning tips at the end of this article.
Tools Required to Clean a Mountain Bike Quickly
Washing and cleaning your bike properly requires the right set of brushes. When you use a sponge to wash your mtb, you won't get into all the tiny gaps and the process will be slowed down. If you want to wash your bike quickly then go to your local grocery store and buy the following tools:
A medium bucket to store soapy water to soak the brushes
You need a big soft brush (a dustpan brush with soft bristles). The only soft brush is needed otherwise it may leave lite scratch marks on the bike frame. This brush will be used throughout the entire process while cleaning your bike except for some greasy areas.
Also a small brush with hard bristles (like a toilet cleaning brush). This type of brush is used to clean the oily areas of a bike, chains, cassettes etc.
A bottle brush for cleaning the hubs which are positioned inside the spokes and attached to the crank arm and chainrings between the frame and spokes.
If your chain or cassettes are oily, you will need a degreaser or paraffin.
Simple Steps to Clean a Mountain Bike in 15 minutes
The below-mentioned steps are very effective and simple to clean a mountain bike quickly (time may vary from person to person), Follow these cycle cleaning tips to save your time (if in hurry).
1. Let your mountain bike be filthy and then begin
The main reason for causing more damage to your mountain bike is that you end up washing your bike too often. Just because your bike becomes a little dirty or the down tube attracts little dirt, it does not mean that you are required to take out your brushes and burst them. Understand that it's a mountain bike, not a doormat! Wash your mountain bike only when it is really dirty.
2. Look for a suitable place to wash your mtb
People who have their own homes can easily wash their mountain bikes in the garden or the veranda using a tube, but the people who live in the apartments do not find it easy to get the piping facility. But now this is not far from a problem because you can prefer to go to the local bike shops. Most of the shops will provide you with free service to wash your bike nicely.
3. Arrange the required brushes and wash them out
You can easily purchase a brush set for your bike as it is available at a low price. And in case you are going to the local bike shop to get your bike washed out, then you can buy one there as well. Use your normal hose to wash out all the mud from your bike to your best. Always remember, not to sprinkle high-pressure water into those areas that consist of bearings. Water will do its work properly by washing all the grease out.
4. Use your shrub
Use the big-sized brushes for cleaning the frame as the medium-sized brushes are having hard bristles and would find it difficult to reach minor places. Whereas small-sized brushes are preferred mostly for the chain and cassette. You can prefer to use a bar of soap as will help you clean the areas and remove the grease from the hard areas.
Since our main motive is to clean the bike within 15 minutes, so I would like to skip using soap and use only scrub instead as it will work well with water.
5. Clean the chain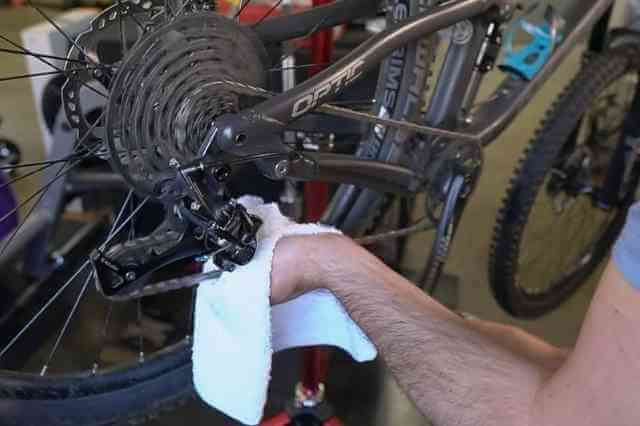 Once your frame is clear, you need to focus on your chain because it is equally important to wash and clean your chain as well. You can prefer buying a chain cleaner if you have dingy chains. Learn how to clean a bicycle chain at home using household products.
6. The cassette and other parts need to be cleansed
Make sure to get all the spots out of the cassette and wash out the rings of the chain along with the mudguard as well. Be very careful with your task and clean the components perfectly.
7. Leave out the tyres
Your main focus is to make your bike clean and tidy within the shortest duration and i.e., 15 minutes. So in the end, you can bounce wiping your tyres. You can simply shower them down to let the filth go away without taking more time to scrub them because there is no sense in doing this. Tyres are the first to become untidy again, but it is not going to affect their work at all.
8. Dry your bike after a wash
The next step is to make sure that your mountain bike gets dry after a wash. If you are in a hurry, then focus on the chain and other components of the mountain bike. Make sure to get all the water out from the heads of the bolt so that they don't go through rust.
9. An application of a lubricant is very important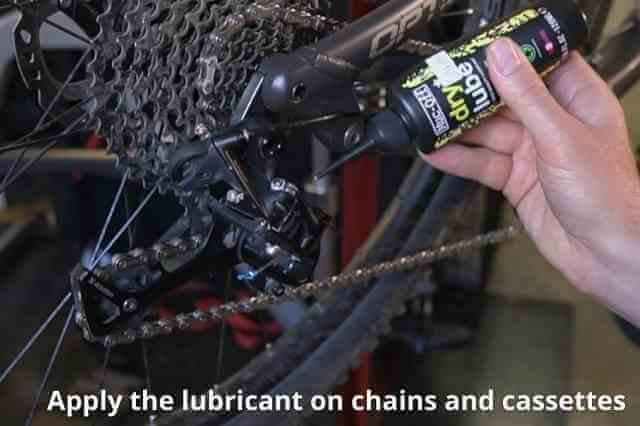 Once your bike gets completely dry, lube the chain along with the other components including the mudguard. Make sure that you remove away all the spare lube by using an old cloth.
When you will follow these simple steps, you are going to notice that washing your bike will hardly take 15 minutes. This method is really fast, important and provides your bike with good working condition.
Now, get back on the ride and make your mountain bike dirty by enjoying the trails and go back to step 2
Watch this Video Tutorial to Clean Your Mountain Bike Quickly
Mountain Bike Cleaning Tips to Remember
While washing your bike, examine your bike completely in order to avoid any problem that may arise. Repair or replace the components if required.
Do not sprinkle high-pressure water on your bike otherwise it will wash away the essential grease and oils which your bike needs. Water may also enter those areas where it is not required like hubs.
Don't use wax for your bikes as it may damage your bike parts.
If you want your chain to last (prevent rust), don't keep it in water for longer than a few minutes.
Make sure you don't clean your bike with hot water as it will remove the internal greases which are important for smooth performance.
Wet bikes will rust over time due to trapped moisture, so don't wash and store them wet. To get rid of water, It is best to let it dry in the sun, hand dry it or ride it a bit to remove the water.
How frequently should you wash your mountain bike?
You must wash your mountain bike regularly only if you are using it too often. If you are not using your bike frequently and it is kept in storage, then there is no need to wash your bike. It is considered best to wash your bike when you notice dirt and dust coming all over the areas or when you came from a marshy path.
How can you wash your bike without making your bike seat wet?
If you need to wash your mountain bike without letting your seat wet, then you can prefer using a waterproof covering for your bike. You can use a carrier bag as it is available at a low price. Just tie the bag around your seat (saddle) and it will work well. Or you can also remove the seat if you have the tools.
Bottomline: How to Clean a Mountain Bike in 15 minutes
So these were the simple steps to clean your mtb just in 15 minutes. Follow the above-mentioned simple steps to clean your mtb just in 15 minutes. By regular cleaning of your bicycle, you will increase the lifespan of your mountain bike.
Mountain biking is one of the emerging sports in India as well, If you love cycling then buy a mountain bike and try riding it. You will enjoy it a lot!
Do it regularly and share this with others so that they can also clean their beloved bike quickly. Thanks for reading this article.