Cycling Guru is reader-supported!
Some links on this page are Amazon Associate affiliate links When you buy through links on our site, we may earn an affiliate commission! Read more...
A few years ago, no one wanted to own a bicycle because it has been considered the poor man's vehicle. Now bicycles have become the talk of the town.
Today, The bicycle market has expanded and now includes various types of cycles in India which are in high demand. In India, Cycling is on the rise thanks to Covid.
You must have seen different types of bicycles on the roads or in cycle shops. To name a few, there are hybrid bikes, road bikes, electric bikes, MTB cycles, folding cycles and gearless cycles.
Do you know about each type of bicycle and its purpose?
If your answer is No, this article will help you understand the various kinds of cycles available in India and their uses. Hence, You will be able to choose the right cycle for yourself.
Exploring 21 Different Types of Cycles in India: You Must Know!
You know what when the bicycle was invented, it didn't have a chain, pedals, or tires and was made from wood. Bicycles evolved during each century.
Now we have more than 20 types of bikes for each purpose, we have road bikes for racing, mountain bikes for adventure, BMX for stunts, hybrid bikes for commuting and the list goes on.
Let's discuss them in detail so that you can decide which type of bike or bicycle you need.
1. Road Bike: Perfect Bike for Professional Cyclists
Road bikes are also known as racing bicycles hence these are primarily designed for professional cyclists. It's a very lightweight bicycle because it is made from carbon fibre, titanium or aluminium. Therefore it provides good speed on smooth roads.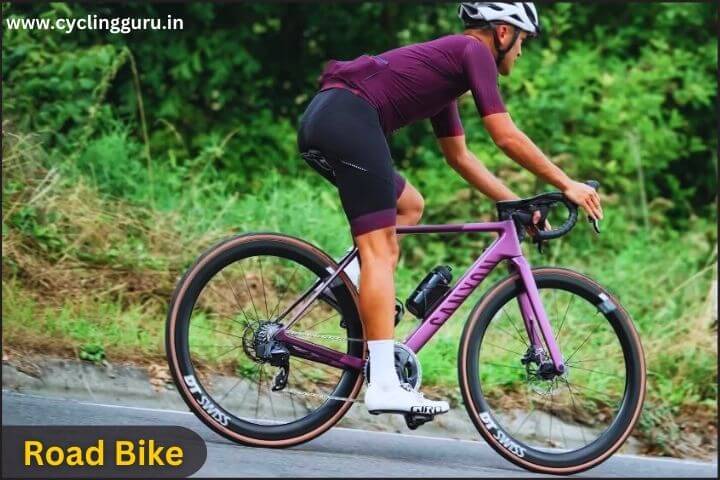 Key Features of a Road Bicycle:
The tires of a road bike are very thin as compared to other types of bikes due to this it keeps the friction low.
The handlebar of such bikes is bent down, therefore a cyclist has to bend down to maintain aerodynamics. Aerodynamics helps to eliminate air resistance. Learn how?
The frame of road cycles is made from aluminium or carbon fibre and has no suspension fork, making road bicycles lightweight. As a result, it offers more speed somewhere around 20 to 30kmph(depending on the cyclist's weight & experience).
Actually, Road bikes don't have suspension forks as this cycle is mainly ridden on paved surfaces.
Road bikes are very expensive in India as compared to other bikes. The price of a road bike starts from 30,000 in India and can go up to lacs.
Who Should Ride a Road Bike?
Road bikes are primarily ridden by professional cyclists who participate in various road or track races. Riding a road bike on normal roads is not practical as it is very expensive and considered a performance bike as well.
So if your goal is to participate in races, you can go with this otherwise, you should not go for a Road bike. There are so many bicycle types for beginners, so let's move to the next bicycle which is suitable for new cyclists.
2. Hybrid Bike: Good Bike for Commuting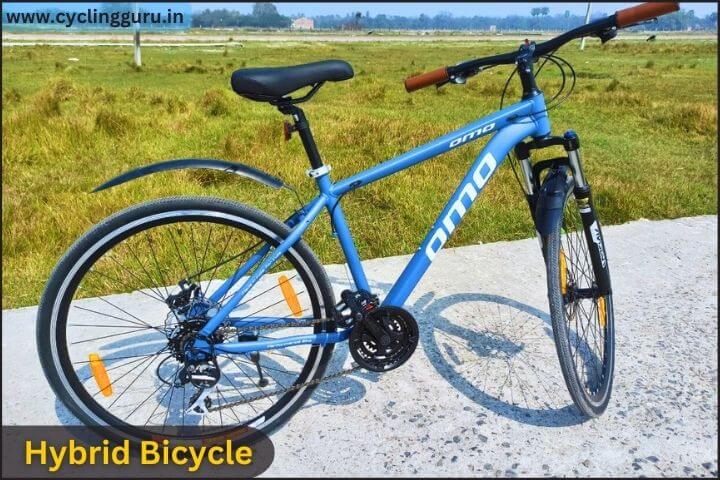 Another type of bicycle is a Hybrid Bike. As the name suggests, This type of cycle is a combination of road bikes and mountain bikes. As a result hybrid bicycle neither has wider tires nor skinny tyres, it's somewhere in between. Also, its weight is normal which can be handled easily.
Hybrid bicycles are designed for beginners who would use them for commuting in cities, long-distance rides and for maintaining fitness. But not for performing stunts, road racing, etc. That's why, hybrid bikes are suitable for beginner cyclists.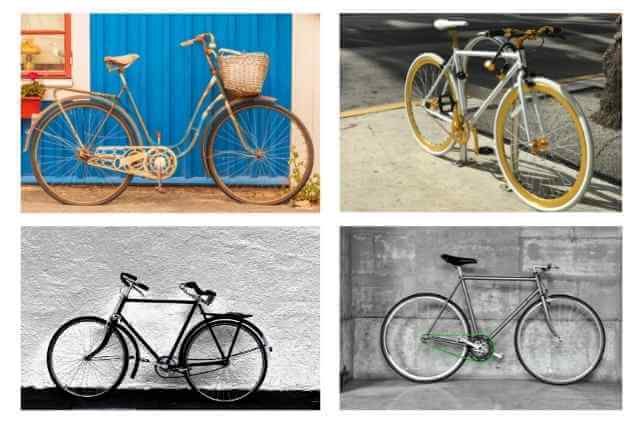 City Bikes: It is a type of hybrid cycle which is also known as a city bike. Basically, it is mostly used for commuting, going to college or school in your city. Such bikes have a carrier at the back to carry some luggage. You may find a basket in ladies' city bicycles. A roadster bicycle is an example of a city bicycle.
Key Features of a Hybrid Bike:
The tyres of a hybrid cycle are thick as compared to road bikes. Hence it gives a better grip on all kinds of surfaces.
Hybrid bikes have front suspension forks making the ride more comfortable. It is the best cycle for commuting in cities as it can be ridden on all types of surfaces.
Talking about its frame, they are made from steel so it becomes heavier than a road bicycle.
The speed of hybrid bikes is less than that of road bikes because of their heavy frame material, thick tyres and suspension forks.
The handlebar of a hybrid cycle is upward to provide maximum comfort to the rider. And the wider saddle so that riders can maintain proper balance during long rides.
The price of hybrid bikes is less than that of road bikes and it ranges from 10,000 to 30,000 in India.
Related: Do You Need Suspension Fork on a Hybrid Bike? Explained
3. Mountain Bike: Best for Adventurous Rides
The third type of bicycle we have is a Mountain bicycle, also known as MTB. These cycles are designed to ride on any kind of terrain you love such as off-road, unpaved roads, uphill or downhill etc. Basically, this type of bike is made for adventurous rides. If you love adventures while cycling, you must have an MTB.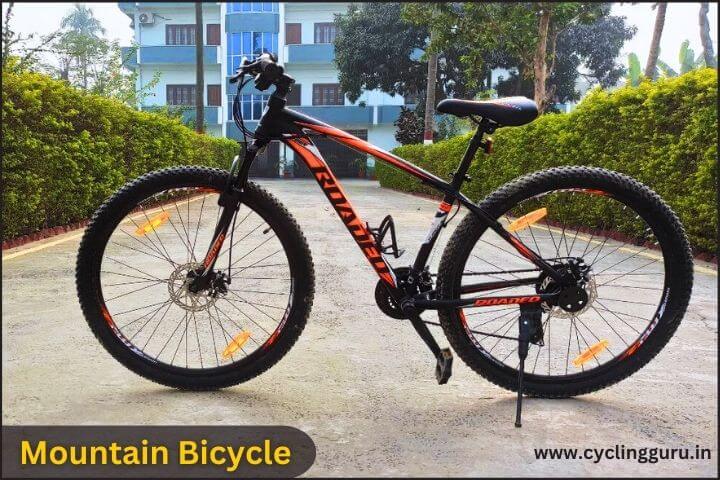 Indian market is full of mountain bicycles ranging from 10000 rupees to 30000. Unfortunately, you can't use any of them for hard mountain biking. Because all of them are entry-level mountain bikes.
It means these bicycles have the same look but are assembled with average quality material which doesn't last long if used on mountain terrain.
If you want to ride on mountainous surfaces, you need to invest more, around 50000 rupees. You will get many best quality mountain bikes at that price point.
Some Special Features of MTBs:
It has wider tyres as compared to road and hybrid bikes and therefore provides excellent grip while riding on any surface.
The frame material of MTBs is made from steel or alloy making the bicycle heavier than hybrid and road bikes. Also, mountain bikes are durable as it has very strong material.
If you go deeper, you will find that MTBs have two types on the basis of suspension i.e., Hardtail MTB(have front suspension only) and Dual Suspension MTB (both front & rear suspension).
Mountain bikes have a wide range of gears (say 21 or 24 speed) so that you can select from a variety of gearing options while riding on different types of terrains.
Generally, The handlebar of a mountain bike is flat to provide the optimum balance during adventurous rides on the rocks and hills.
4. Single-Speed Bicycle: Perfect for Beginners
As the name indicates, single-speed or non-gear cycles are those which have only one gear combination. Such a type of cycle is perfect for beginner cyclists as it is a hassle-free bicycle.
You don't have to worry about gear shifting while riding, just pedal fast to increase speed and slow to decrease speed. In terms of pricing, these bicycles are cheaper than geared bikes. Also, needs less maintenance compared to other bicycle types.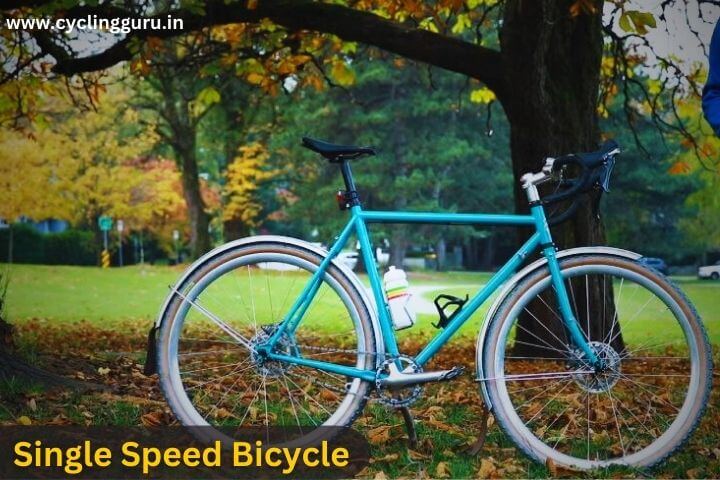 There are two types of single-speed cycles:
Free Wheel Single-speed cycles: The rear hub of this type of bicycle is not locked (fixed), which means you can freely move the bicycle without pedalling, it won't stop.
Fixed Gear Bicycles or Fixies: The rear hub of this type of bicycle is locked so that the bicycle doesn't move without pedalling. You hardly find brakes in this type of bicycle as it is made for professional cyclists to ride in a cycling race.
Related Article:  Know more about single-speed bicycles vs geared bicycles.
5. Electric Bike: Good for Commuting, Delivery Boys & Uphill Riding
When a bicycle is paired with a battery, electric motor and some electrical cycle parts, such bicycle is known as an Electric bicycle or bike.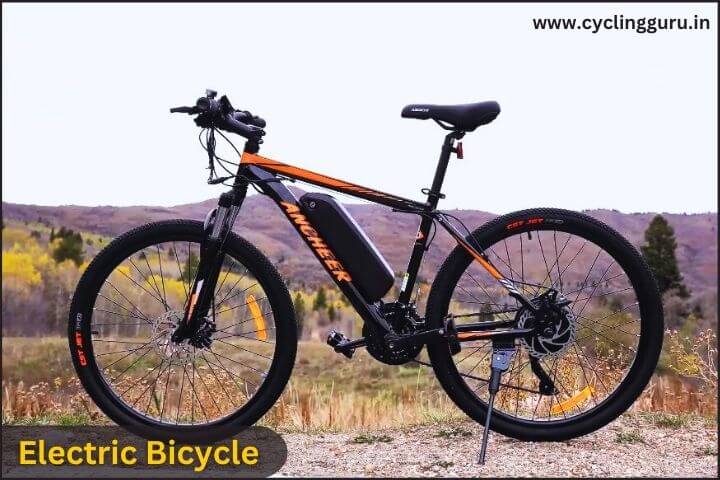 Electric bicycles are becoming popular in India because of their amazing features and benefits i.e., their batteries are chargeable and also come with a brand warranty so you don't have to worry about it. That's why many local companies have also started manufacturing ebikes.
But worry not! I did a lot of research, invested so much time, and finally found some best electric cycle brands that you can trust.
Some Special Features of an Electric Bicycle:
You can ride an electric cycle without pedalling as it has an electric motor which starts assisting when you use throttle.
They have lithium-ion batteries to power the whole bike and they are rechargeable too.
Electric bikes have controllers to control the speed, the maximum speed limit for electric bicycles in India is 25 km/h.
Electric bicycles are waterproof in nature, so you can ride an electric bicycle in the rain as well. But don't ride in heavy rain.
You can see all the information (speed, distance, battery level, etc) related to your ride as it has a display installed on the handlebar.
As you are going to get these unbelievable features on an electric bicycle, of course, you have to pay an extra penny for it. It means electric bicycles are expensive! You can't get an electric cycle under 10000.
Well, if you don't want to invest much, you can convert your normal bicycle to an electric cycle by using a conversion kit. Which hardly costs around 10000 in India.
How electric bicycle or bike works:
An electric bike helps you to go faster by using very less energy. When you pedal an electric bike then the motor also works which enhances the speed of the bike. Uphill riding becomes so easy with this type of bicycle.
Note: Electric bicycles are quite expensive as compared to other types of bikes, It is recommended to buy e-bike Insurance for them. It will protect your bike and cover all types of losses.
Related: How to Prevent Bicycle Theft in India: 5 Top Secrets Unveiled
6. Folding Bikes: Good for Commuting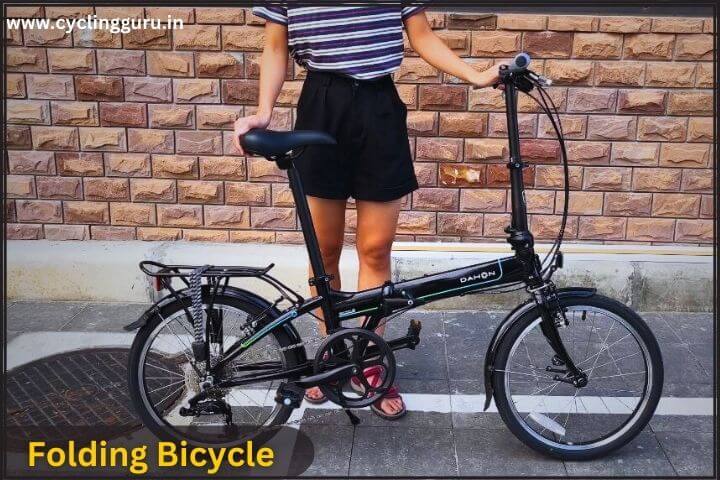 If you don't like public transport and are looking for a bicycle for commuting, get yourself a Folding Bike. As the name implies, Folding bicycles are very light and can be folded easily. That's the USP of a folding bicycle.
Hence, it can be kept in a large size suitcase and can be carried as luggage anywhere you want. If you don't have enough space at home, folding cycles are made for you.
Key Features of Folding Bicycles:
Generally, Folding bikes have smaller wheel sizes (mostly 16 or 20 inches) so that they can be conveniently folded and carried anywhere.
The saddle, Handlebar and frame are adjustable as per the height of the rider and at the time of folding the bikes. This type of bike is easily assembled and dissembled.
The handlebar and saddle of the folding cycles are raised up(with or without suspension) and they can be adjusted accordingly.
7. Fat Bikes: Best Bicycle for Heavy Weight Person
Oversized fat tyres are the hallmark of these cycles, as they have the name fat tyres Bike. These types of cycles are suitable for riding on the snow, at the beach, on the muddy surface and on rocky hilly surfaces.
If you are looking for a bicycle for a heavy heavy-weight person, the Bicycles with fat tyres are the best option to go with.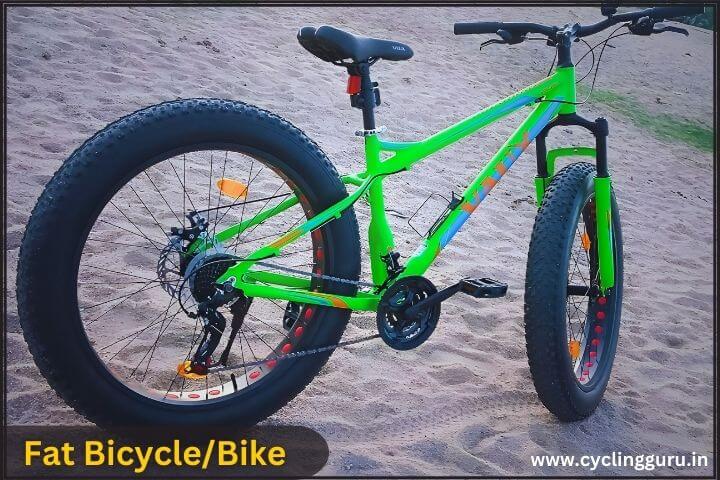 Key Features of a Fat Tyre Bike:
It has extra-wide tyres (2.4″-3″) which make this bicycle very unique. And it offers excellent grip and cushioning while cycling.
You would find suspension at the front for shock absorption for riding on rocky terrain.
Fat Bikes are heavier than the other categories of bicycles therefore it is considered the best cycle for heavy-weight person.
8. Touring Bikes: Best for Long-Distance Rides
Long-distance bike tours can be completed on these bikes, which are almost like traditional road bikes. As it looks like a road bike but touring bikes are primarily designed for riding on paved and unpaved surfaces.
Because it has thicker tires than a road bicycle. A self-supported long-distance ride on one of these bikes will be enjoyable with good durability.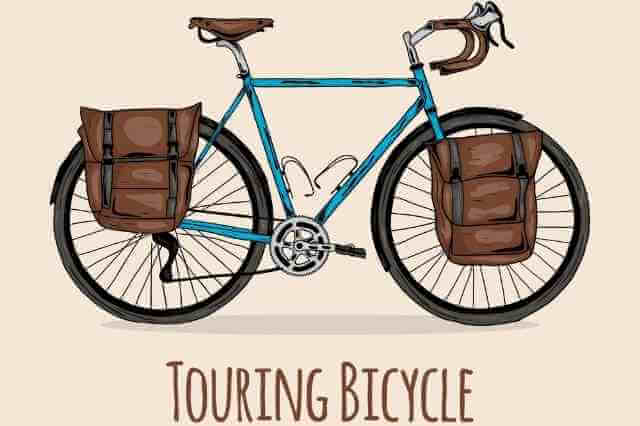 Some Special Features of a Touring Bike:
It is possible to attach fenders, pumps, lights, racks, water bottles and even other accessories to touring bikes, thanks to the multiple attachment points.
Designed especially for gravel roads, therefore touring bikes have wide or semi-knobby tires.
In addition, both the front and rear racks are equipped with highly durable frames that facilitate the carrying of heavy loads.
The longer wheelbase on a touring bike reduces the centre of gravity and hence it provides more control to the riders during long-distance rides.
Disc brakes are also found on most touring bikes, giving the rider more confidence while riding on unpaved surfaces because disc brakes have amazing stopping power.
9. BMX Bike: Best Bicycle for Performing Stunts
BMX bicycles are specially designed for performing stunts and bike tricks. And If you are looking for the same, then a BMX bike suits you. This type of bicycle is not suitable for commuting because it has a smaller frame and wheelbase and is not comfortable at all.
Some Special Features of a BMX Bike:
A BMX bike is a 360-degree rational which helps a rider perform stunts easily.
Due to its small frame and wheels, it is one of the smallest bicycles. BMX bikes are also best for children.
The components of BMX bikes are strong and durable because it is used for performing bike tricks so it needs to be strong.
In a BMX bike, the flat handlebar is raised up and the saddle is down which does not offer a comfortable riding position to a rider while sitting.
In spite of their small size, the bikes are strong and can handle the weight of an average adult while performing the stunts.
BMX bike has only a single gear because it is a stunt bike Also It doesn't have brakes so it is not good for riding on the roads.
10. Recumbent Bike: Very Comfortable like a Chair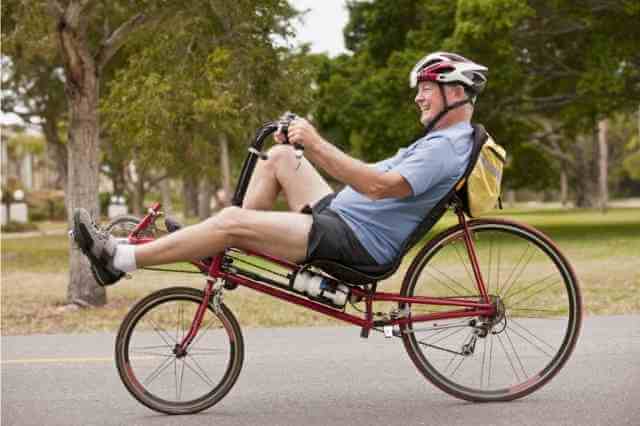 A recumbent bicycle is also known as a non-traditional bike because the rider sits in a seat in a laid-back reclining position. Basically, a rider allocates his weight comfortably on a wider area which is supported by the backbone and sit bones. This bicycle gives the feeling of a chair while riding.
There are two, three, and four-wheel recumbent bikes available in the market, and the steering can be either under or above the seat. You can choose any that you find the most comfortable.
A common drawback of recumbent bikes is that their form and design prevent them from standing up while pedalling up hills, as well as they are not fast.
11. Cruiser Bike: Best for Commuting in Cities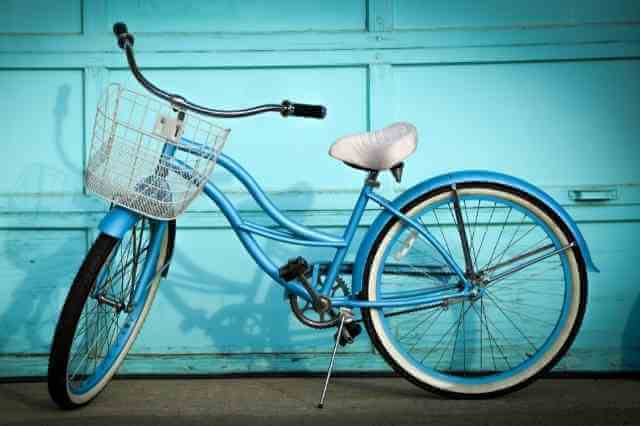 In comparison to other types of bikes, cruiser bikes are classified as "specialty bikes" that are used for very specific purposes. It is a bike designed for leisurely rides, so it is used for going around town and the neighbourhood on a leisurely basis.
Generally, most cruiser bikes have wider tyres than the other pavement bikes which offer excellent grip and stability. It usually comes with super comfortable seats that allow for relaxed seating positions, as well as an internal gear-driven rear hub that makes maintenance easy.
12. Cyclocross Bike: Good for Cyclocross racing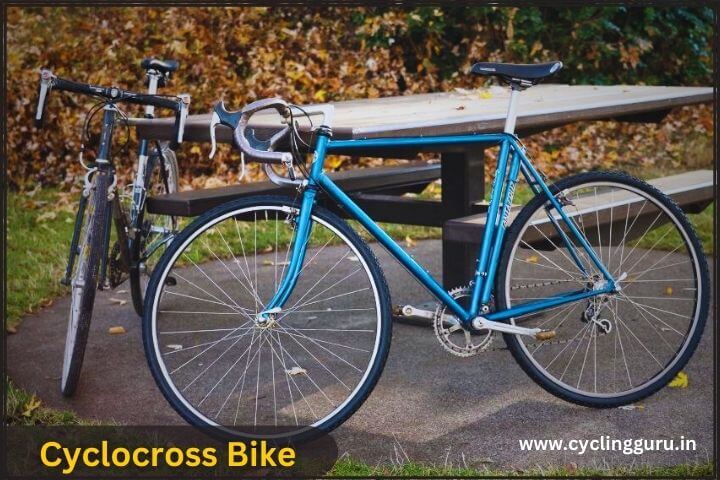 Cyclocross Bikes are specially designed for surfaces like dirt trails or a combination of paved and unpaved roads with gravel and grasses. Such types of bicycles are basically used in cyclocross races around a dirt trail which have various obstacles and stoppages placed at various points.
The objective of such barriers between the race is that a cyclist has to stop in between the race and carry the bicycle for till the obstacle finishes.
Key Features of a Cyclocross Bike:
As this type of bike is used in cyclocross racing, it is very lightweight and comes with tough and sturdy material.
The tyres of cyclocross bicycles are partially knobby which provides better traction on any kind of terrain.
---
MTB Vs Road Bike Vs Hybrid Bike: Which One to Buy?
---
Types of Bicycles in India: According to Gender & Age
Furthermore, bicycles have been categorised on the basis of gender and age such as ladies' bicycles for women, kids' bicycles for children, tricycles for toddlers and unisex bicycles for boys and girls.
Every bicycle type is unique and designed for different riders. You can learn more in the image below.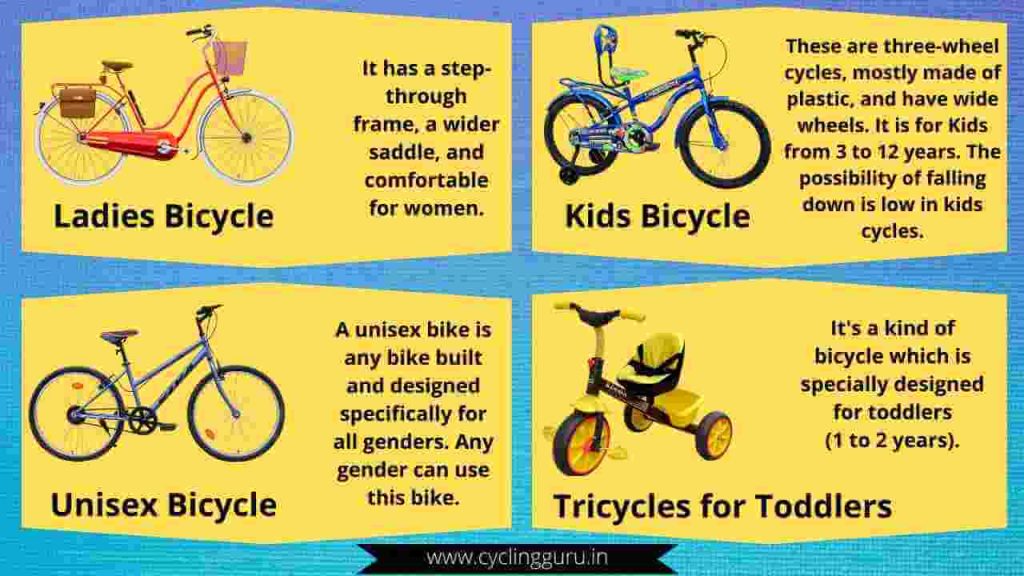 ---
Different Types of Cycles in India: According to Specialty
Another classification of a bicycle is done on the basis of Specialty, i.e., Tandem bicycles for two riders riding simultaneously, one-leg cycles for kids to play around the streets, quadra cycles with four wheels & steering to provide the feeling of a car and unicycles for shows in circus.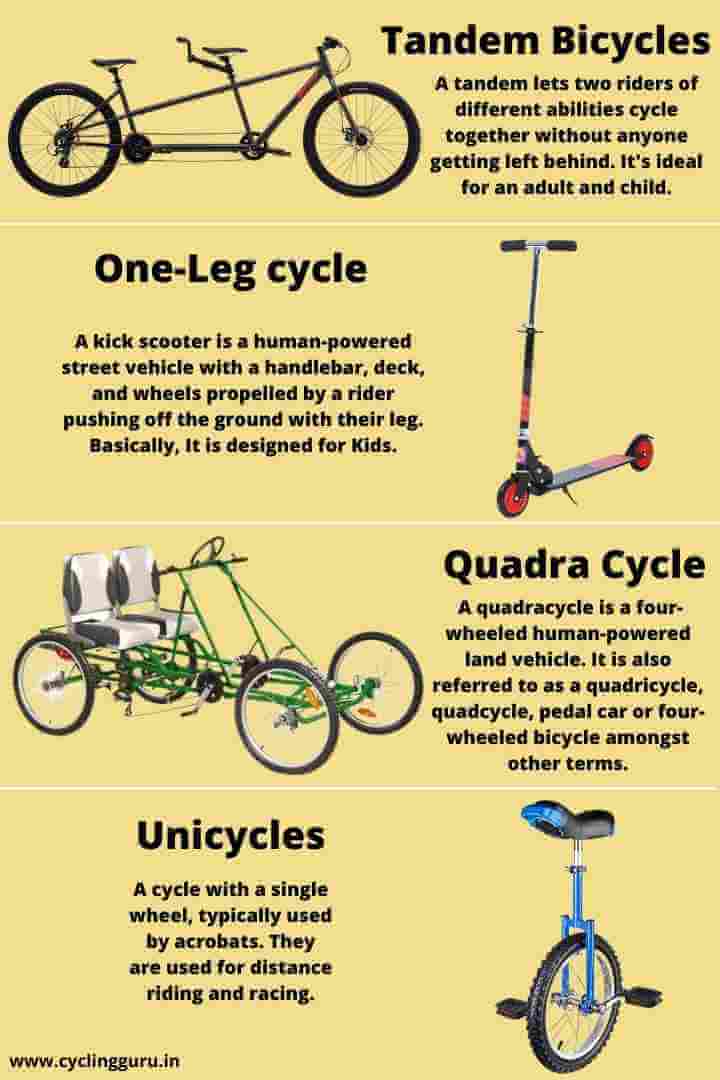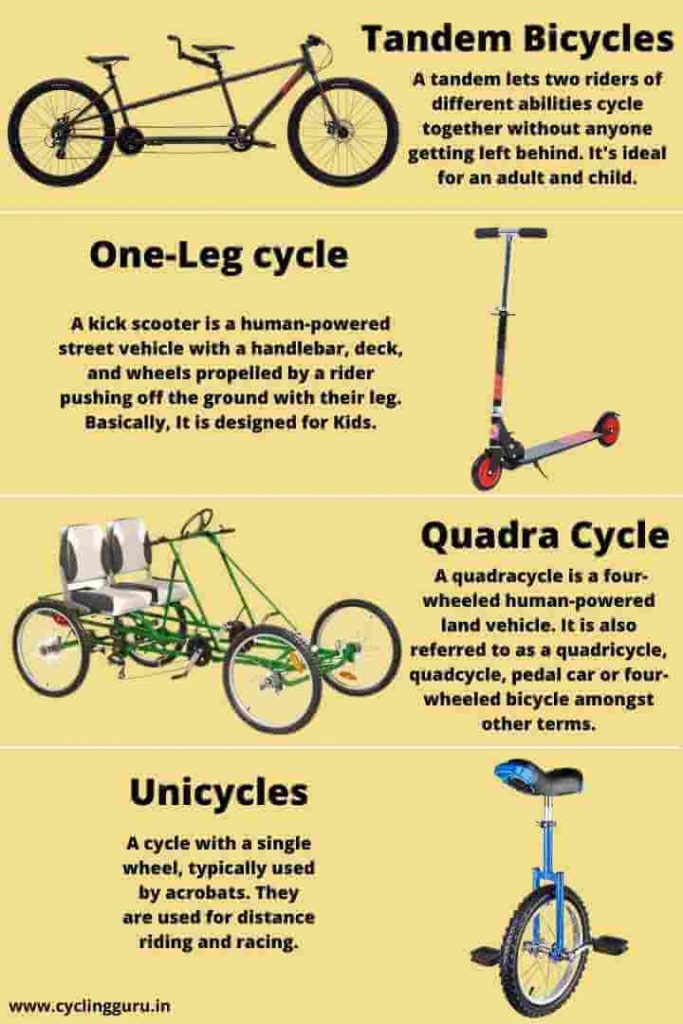 ---
Bottom Line: Different Types of Bicycles and Their Uses
Now, You know all the major types of cycles in India. If you want to buy a bicycle for yourself, You can pick any of the above-mentioned bicycle types which fulfil your needs.
Once you know the type of cycle you need, you need to check the other important factors while buying a bicycle online in India. Otherwise, you might get the wrong bicycle that's why I say selecting the perfect bicycle which fulfils your all requirements is complicated but very important.
So guys that's the end of the article on the different types of cycles in India. Do let me know which bicycle type you love riding on the Indian roads.
If you have anything to ask related to bicycles or cycling. Feel free to ask in the comment section below.
---
Frequently Asked Questions (FAQs)
Q1. What type of cycle should I buy?
There are various types of cycles available in the market, you can buy any one of them. You should buy a cycle which fulfils your requirements. Because each bicycle has unique features and is made for different purposes. If you don't know the kinds of bicycles we have in India. Read above.
Q2. Which type of cycle is best for weight loss?
Bicycles are the best and the cheapest option for reducing weight. Yes, guys, cycling helps to reduce weight. But Which bicycle is best for weight loss? You can buy any normal cycle such as a Hybrid bicycle, MTB cycle, Fat Bike or road bike if you are not a beginner. These types of bicycles are best for weight loss.
Q3. Which type of cycle is best for long rides?
Touring bicycles are primarily designed for long-distance rides. This bicycle comes in both variants i.e., geared and non-geared. You can choose any which you prefer. Gear cycles need a bit of maintenance as compared to gearless cycles.
Q4. What are fat Tire Bikes good for?
Fat tire bikes are heavier than the other categories of bicycles. Therefore, It is suitable for carrying the weight of a heavy person. Fat bicycles are the best option for heavy-weight adults.
---