Cycling Guru is reader-supported!
Some links on this page are Amazon Associate affiliate links When you buy through links on our site, we may earn an affiliate commission! Read more...
Theft of a bicycle is a major concern for all cyclists whether you are a professional or leisure cyclist. And that's why protecting your bicycle from being stolen is of utmost importance.
Sadly, motorbikes and cars are not safe in India, how can you even think that your bicycle is safe from thieves? You have to take some preventative measures if you want to prevent your bicycle from theft. Otherwise, your cycle will be stolen.
You have landed on the right page as you searched for how to prevent bicycle theft in India. In this blog article, I have listed the best 10 ways to protect bicycles from theft so that you can take your bike out without any fear of theft.
Let's start protecting your bicycle from thieves today onwards.
How to Prevent Bicycle Theft in India: 10 Best Tips & Tricks
The below-mentioned tips have been followed by many riders for a long time that's why we are recommending to you the best 10 ways to prevent bicycle theft in India:
1. Invest in a quality bicycle lock that you can trust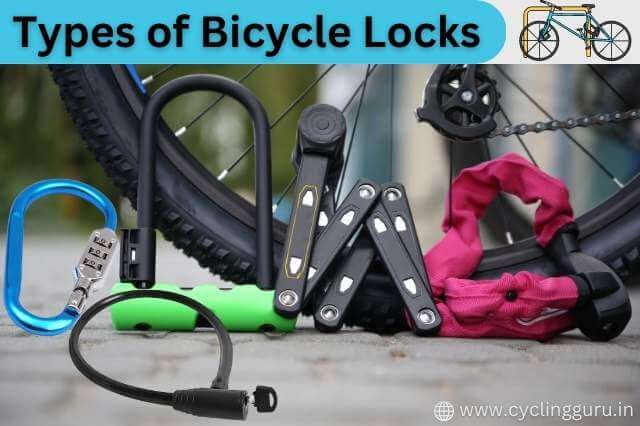 Most of you protect your bicycles by locking them with a cable lock. But do remember, thieves can easily steal and unlock your bike with the right tool if your lock is not heavy. You can only make the task more difficult and time-consuming for the thieves by locking your bicycle with a heavy-duty cycle lock.
How to lock your bicycle to protect it from thieves?
Always lock your bicycle with U-locks and heavy-duty chains for securing your cycle from thieves. Never use cable locks as they can be easily cut with garden scissors.
Make sure to lock the bicycle frame along with both wheels otherwise thieves may take out the wheel.
Always lock your bicycle with more than one lock so the task becomes time-consuming and challenging for thieves and may require some unique tool to unlock it.
Lock your bicycle tightly using a small U-lock so that the thief doesn't get much space to free your bike and cut the bike lock.
Always lock your cycle with an immovable item like a tree, garden table (metal), parking rod, etc.
Here are some best bicycle locks to prevent bicycle theft in India:
Best Choice
Sportneer Bicycle Chain Lock SP-Bikelock Alloy Steel 5-Digit Resettable Combination Anti-Theft Bike Metallic Locks 3.2 FT Bike Chain Cable Locks Bicycle Lock
Keyless Secure Lock Mechanism: Freedom from lost or forgotten keys, combo bike locks with keyless convenience. The chain bicycle lock has advanced 5-digit combination lock, certainly safer than other 4 digit locks, and allowing up to 100,000 possible codes making it nearly impossible to crack.
Durable Cut Resistance Cable: Heavy duty anti theft bike chain locks is made from extra thick manganese steel for cut resistance, the lock cylinder made of strong zinc alloy is not easy to be damaged, greatly improves the safety of bicycles.
Easy To Set/Reset: Easy to set and reset your own personalized number combination. Stay one step ahead of bike thieves with combo chain lock. Note: Initial password 00000. For the specific reset process, you can refer to the manual or video. If you encounter any problems, pls contact customer service to help. One-year warranty service.
Last update on 2023-12-06 / Affiliate links / Images from Amazon Product Advertising API
2. Make your bicycle an attention-grabber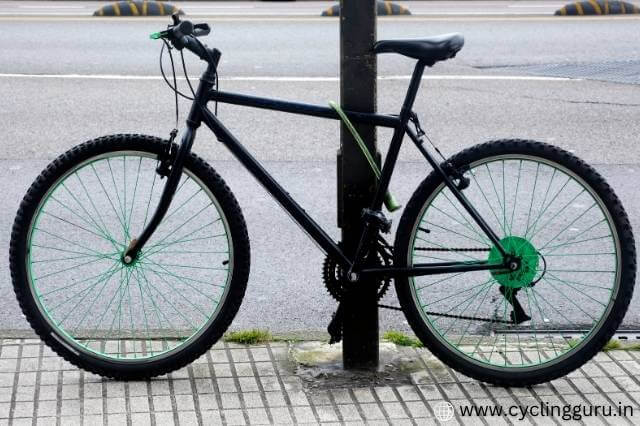 Your bicycle has a greater likelihood of theft when it is easily concealed from the eyes of its onlookers. The perfect theft opportunity is where there is a lower risk of being caught red-handed.
The general defence is to make your bike distinctive and visible easily. The bike should have a uniqueness that grabs the attention of all. Apply some reflectors, bright colours, unique stickers, and funny decorations, as these are the best ways to make them visible.
The unique appearance can help safeguard your bicycle from theft. However, it will not help, especially in the darker areas or is obstructed from view. Therefore, always select well-lit, open areas for parking your bike.
3. Use the theft-detection systems in your bicycle
Your bicycle's entire security system is insufficient to safeguard your bike from theft. You must ensure that you install and use other anti-theft systems to prevent your bicycle from getting stolen.
You can use the anti-theft bicycle chain as it is the best chain you can purchase. These anti-theft chains are more robust than any iron chains that can be easily cut.
Last update on 2023-12-06 / Affiliate links / Images from Amazon Product Advertising API
4. Lock your bike well, even when you are at home
You are at peace of mind that your bicycle is on your property. However, it does not mean that it is safe from thieves. Ensure that you keep them locked in a garage or with an immovable object securely out of the building using a sturdy device.
Also, Ensure that they are out of reach and securely locked to something that would make a loud thump noise if anyone tried moving it. It would act as a kind of DIY shed alarm. If you lack sufficient space for a shed or live in an apartment, keep it in your room and lock it securely in a closed space.
5. Install a bicycle tracking device like a GPS tracker
If the lock of your bike is of high quality and you follow the steps we mentioned above, then the chances of your bike getting stolen are distinctively less. GPS bicycle tracking is an innovative idea, and several latest products are on the market today.
You even have Bluetooth bicycle trackers which are cheaper than GPS bike trackers. They are offering you an additional level of protection for your bike to help you locate them if your bike gets stolen and you cannot remember where you locked it in parking.
Best Choice
Onelap Micro – Wired Hidden GPS Tracker (Live Location + Engine ON/Off Alerts) for Car, Bike, EV, Scooty, Truck, Bus with 1 Year Sim Card
Package Includes – GPS tracking unit (Compatible with all types of vehicle (Key or pushbutton both) ) with connecting wires and 12 months sim card data + Android + iOS app. Recommended to all those customers who want permanent solution for daily tracking need. No need to recharge the device as it takes power from its internal battery and Vehicle's battery.
Quick Customer Support – For any kind of technical queries such as SIM cards preference, Raise a request on our 24/7 Whatsapp Helpline +91-7217760961
Live GPS tracking + Travel history data – Highly sensitive GPS chip which sends vehicle's accurate location to our cloud servers and you can watch your vehicle's live location plus full day driving history on our user-friendly mobile app.
Last update on 2023-12-06 / Affiliate links / Images from Amazon Product Advertising API
6. Never park in the same spot every day
Parking your bicycle in the same spot every day is not a good idea as it can grab the attention of thieves and they would find out the time when no one is looking at your bike, using the correct tool they would unlock the bicycle and ride away.
If you want to protect your bicycle from thieves, you should avoid parking at the same spot every day. Look for some other alternative spots to park your bicycle and try to lock your bike with some different types of locks.
7. Make sure your cycle is covered during transportation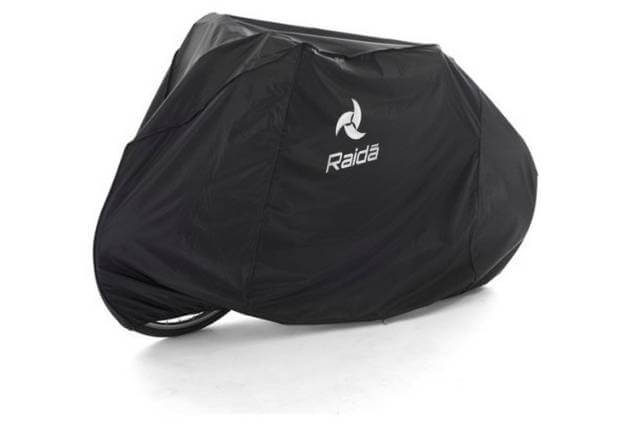 When you travel by car with your bicycle (inside or outside the car on bike racks), it's a kind of low-hanging fruit for thieves which can be easily theft in a few moments. So, always covers your bicycle while travelling.
Covering your bicycle during transportation also protects your bike from dirt, dusty air, moisture and most importantly from the prying eyes of thieves. So, get a bicycle cover if you don't have one.
8. Get your bicycle covered by Insurance
Always remember that no precaution is 100% safe against theft irrespective of people who are undertaking all precautions, this is unavoidable. So, what to do? Will you bear the loss? No!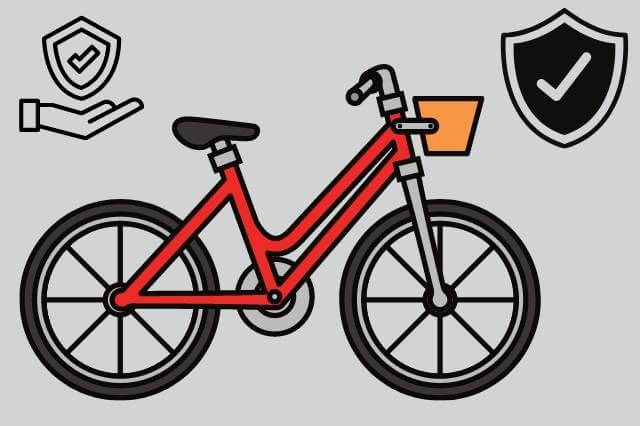 You can safeguard your bicycle by investing in a comprehensive two-wheeler insurance policy for bicycles. This policy safeguards you against possible vehicle theft if it is stolen, and then the insurance company will compensate you on the basis of your bicycle's IDV.
Initially, you must file an FIR at the nearest police station and then submit a copy of an FIR along with the other policy that gets documented to gain money to submit a Two Wheeler Insurance CLAIM against the vehicle theft. Get cycle Insurance from Bajaj Finserv.
9. Keep all bicycle purchase & service receipts with you
It is vital to keep the sale receipts with you irrespective of whether you bought a brand-new bicycle or even opted for a second-hand bike. These receipts will help you prove that you have made legitimate purchases, which come in handy if you have any issues with your bike.
Like your car, it is always a great idea to have receipts for any work you have done on your bike. Keep the receipt if you have your bicycle serviced. If you are buying a new saddle, make sure you have the receipt with you. Store them in a safer place.
For second-hand purchases, it is important to record the date of purchase, the name of the bicycle's previous owner, and the purchase details, along with a couple of basic pieces of information regarding the bike you bought. Also, ensure that you are recording the price, serial numbers, and conditions along with the make and model of your new bike while you get the owner to sign the receipt proving its authenticity.
10. Lock your bicycles when you are out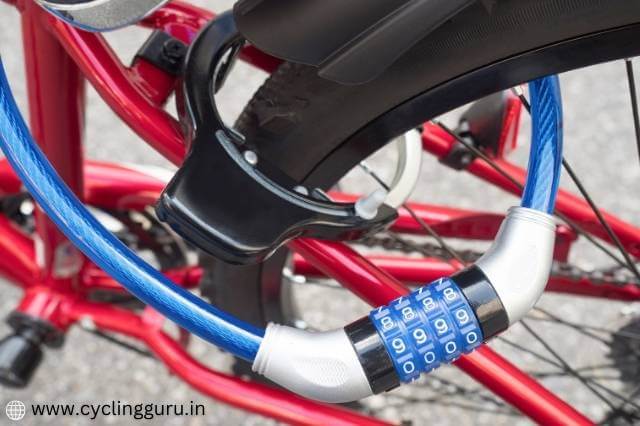 A couple of times, your bikes get stolen due to the carelessness of the rider who is leaving their bikes unlocked. Alternatively, the bicycles are also stolen due to bad safety measures you took for securing them. Always try scouting out your final destination before making a call, whether or not it is a safe area to lock it in.
Always use any stationary object permanently fixed to the ground while locking the rack, as there are hardly any bicycle parking racks. It can be a grill, a metal post, and even a bench, as the thieves would require privacy to steal the bicycle easily. It is a tough job for thieves when you park your bicycle in crowded public places.
---
FAQs on How to Protect Bicycle from Theft in India
What kind of locks can prevent the theft of bicycles?
Only cable locks are not enough for locking a bicycle, you should use u-locks, and chain locks along with a cable lock. Lock your bicycle using these locks with an immovable object.
What to do if your bicycle is stolen?
Go to the nearest police station from where your bicycle was theft, file an FIR and tell them the expected time, the location of the bike you parked and everything about your bicycle. Do carry the original bill of your bicycle (ownership document). But this process can't guarantee that you would get your bicycle back.
---
Conclusion: Ways to Prevent Bicycle Theft in India
Bicycle theft is a real problem in India that's why most people don't buy a bicycle and ride it. You hardly find some parking spots for bicycles, and even if you lock your bicycle they are stolen easily and no one can find them (police too).
So when it comes to how to prevent bicycle theft in India, Taking too many precautions isn't a good idea. Try to follow some of the above-mentioned tips according to your conditions.
I hope your cycle never gets stolen and you keep on riding to maintain your health. Don't forget to get insurance for your bicycle and lock it with an immovable object. It is especially vital for people who own high-end bikes.
Do share this blog with your friends so that they can also follow some tips to protect their bikes from thieves. If you have some more ideas, we welcome your thoughts in the comment section below.
---
Disclosure: This article contains affiliate links. As an Amazon Associate, I may earn from qualifying purchases at no additional cost to you.!
---