Cycling Guru is reader-supported!
Some links on this page are Amazon Associate affiliate links When you buy through links on our site, we may earn an affiliate commission! Read more...
Electric bikes are being proven as one of the most environment-friendly vehicles and the best for commuting. Without disturbing the balance of Mother Nature they have been making our lives easier by making us travel distances in no time.
But did you know you could take insurance for them?
Yes, you heard it correctly and in this article, we will be looking if electric bike need insurance in India or not. It is going to be very interesting, so keep reading to find out more.
What is an Electric Bike? How is It Different from a Normal Bicycle?
Now, let us fully understand what an electric bike is. By now you must have understood that it is something related to electricity and a bicycle but, let me tell you it is much more than that.
There is a battery that is installed in the bike and when you paddle, the motor is present in it engages giving much more push to the cycle and helping you to ride it easily.
There are many categories of e-bikes themselves. And of course, it is got to be different from a regular bicycle.
Okay, let us look at them in form of a table for your ease. Let's see, shall we?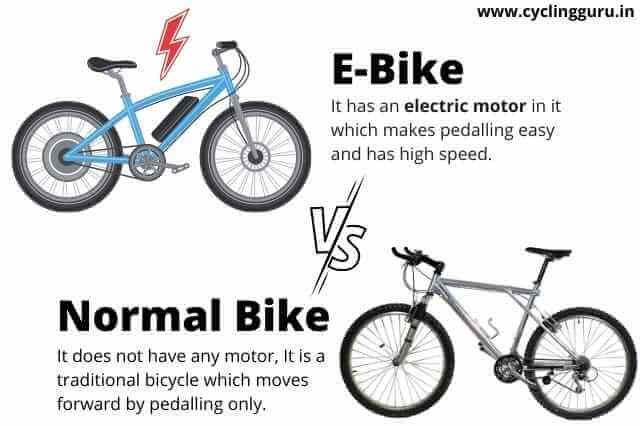 Difference between Electric Bicycles and Regular Bicycles
| Electric Bikes | Normal Bikes |
| --- | --- |
| The speed depends on the engine or the motor present in the cycle which gets engaged when you paddle through the cycle. | The speed depends on your legs and strength and it would never accelerate much more easily as electric bikes do. |
| Electric bicycles are very high-maintenance bikes as compared to normal bicycles. They require a lot of attention towards them. | Normal bicycles do not require much maintenance and without much of that, they are always good to go. |
| E-bikes are very costly and hence require us to take more care of e-bikes. The human tendency you know. | Regular cycles cost less and do not draw much of our attention towards them. |
What is Cycle (Electric Bike) Insurance?
An insurance policy for bicycles protects its owner from financial loss in the event of theft, natural disasters, or accidental damage to a bicycle. Therefore, Insurance is financial protection for the bike owner.
In India, cycle insurance is only applicable when damage occurs while cycling (not for wear and tear or intentional damage).
Factors to consider before choosing bicycle insurance?
Before choosing cycle insurance, one should consider the following factors:
Coverage Level of the policy
Various options for payments and repayments
Compare the premium rates with other insurers
Inclusions and exclusions of the cycle Insurance policy
Make sure to check for Worldwide applicability
Related: Advantages and Disadvantages of Electric Cycles in India - Must know before buying!
Does an Electric Bike Need Insurance in India? Explained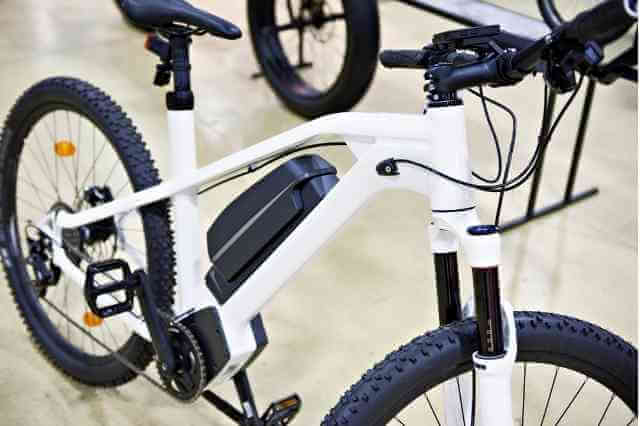 See, there is no such thing that you have to compulsorily take insurance for your electric bike (if it does not fall under the norms). It totally depends upon you, the option you choose.
But, It is always advisable to take insurance for your electric bikes because they are expensive and need some extra care.
The final answer is:
"If your e-bike has more power than 250W and a speed of 25 kmph and above, then it is compulsory to take insurance."
Some of the reasons to get your electric cycle insured:
1. It gives your mind peace
A very important thing for all of us, isn't it? Whenever we buy something that is expensive (gold & luxury items) and has cost us a bit more than the usual things we always are worried that it does not get damaged and take care of it more than anything.
Getting your precious electric bike insured will give a peace of mind and it will allow you to focus on more important things without any worry.
2. Insurance for E-Cycles has become very cost-efficient nowadays
Because of the availability of the internet all across the world and with the assurance that it will be there throughout mankind, there are many platforms that have emerged.
This reduces the cost of the insurance as there are no middlemen involved and makes the work much easier for people like us.
3. Protecting yourself legally
If your bike meets with the points mentioned earlier in the paragraph (motor power and speed more than 250W & 25km/h respectively) then you must insure your electric bike as it is legal to do that, failing which would result in legal actions being taken against you.
Related: Top 5 Best Electric Bicycle Brands in India
How to Get Insurance for Your E-Bicycle in India? Simple Steps
The main question that you would have been going in your mind while reading this article is how to get insurance for e-bikes.
Well, have things been tough since we knew how to use the internet? No, right?
So, of course, there are a few steps to get insure your electric bicycle in India but trust me the processes are very easy to follow.
Step 1: Choose your Insurer
The first and foremost step to follow is to choose your insurer (who insures your bike). You can compare some of the websites (the legit ones) that are providing their services and the benefits. Choose the right ones for you and then proceed to the next step.
Step 2: Choose the right plan for your bike (electric bicycle)
Read all the plans that they have. The one that makes sense to you and covers the things that you need, basically the one that would resonate with you, your pocket and your bike must be chosen as the right plan.
Step 3: Read all the necessary details and see whether the policy suits you
The next step is to read all the terms and conditions related to the policy as you do not want to regret them later in the future. And that must not be just in the case of bike insurance.
It is ALWAYS advisable and you must not make the mistake of not reading the terms and conditions of any Insurance policy.
Step 4: Make the payment for the E-bike Insurance
Proceed to make the payments if everything was fine and good till now. If not you are allowed to repeat the steps mentioned earlier.
Step 5: Wait for the confirmation and the receipt
After being done with the payment you will receive the confirmation message on your registered mobile number and also your receipt. You must keep following the SMS that you would be getting to remain updated in case there are any changes and Ta-da! You just had your bike insured.
Yes, I know very well what you all must be thinking right now, is it THAT easy to get your electric bike insured? I had already told you, didn't I? It IS this easy.
How Much does it Cost to Get an E-Bike Insured in India?
The cost of the insurance depends on the speed of the engine that the bike gives. According to Policybazaar, the premium rates for electric bike insurance are:
| Engine CC of the E-bike | Third-Party Premium Insurance Price |
| --- | --- |
| Up to 3 KW | Rupees 457 |
| Over 3KW and up to 7 KW | Rupees 607 |
| Over7 KW and up to 16 KW | Rupees 1,161 |
| Over 16 KW | Rupees 2,383 |
Notes: Above mentioned Prices may vary from time to time as Inflation is increasing day by day.
5 Major Benefits of Electric Bike Insurance
Insurances always bring goodness with them. By getting your electric bicycle insurance in India, you also avail many advantages. So, let us look at five major ones.
1. Insurance protects you against thefts
It covers you in case of any theft if something like that happens and gives you moments of relief.
As you know bicycles are not safe in India, so you must have insurance for your electric bicycle or any other type of bike you have.
If you have an expensive bicycle, you must get your bike insured at the time of purchasing it.
2. It covers your cycle during the competition (if you are a cyclist)
If you are a cyclist you must be participating in competitions and there are chances of it getting damaged while the practices and also during the competition.
Bicycle Insurance covers those things also but you have to choose a plan like that.
3. Bicycle Insurance protects against damages caused by accidents
It is very likely to predict that because most people know this thing as it is very common and think that insurances are only there to protect their bikes during accidents or maybe the damages caused by the accidents.
But let us see some of the other benefits just as different as the first and second points.
4. Electric Bike Insurance covers your bike while travelling
If you are a cyclist you must be travelling to other places to participate and do you know cycle insurance covers that too? Well, now you know!
5. Insurance covers your personal injuries while cycling
There are specific plans which you need to choose as per your requirements but most bike insurances, especially for cyclists, cover personal injuries that may occur to the cyclist as they are likely to happen most of the time.
Related: How to Buy an Electric Cycle or Bike in India? E-bicycle buying guide
---
FAQs on Electric Bike Insurance: All Your Questions Answered
Q1. Do we need insurance for Electric Bicycles?
Well, you saw that it is legal to insure your bike if it is passing certain features or else legal actions will be taken against you. So, I think by now you know the answer.
Q2. Where to get your electric bike insured?
There are many agencies that are offering the same but you must be careful to check if they are legit or not. There are many verified companies that do this, you can opt for them.
Q3. Can I choose my customised Insurance plans?
Of course, you can do so. There are many plans to choose from and look at the benefits that they cover. So, yes you have the utmost right to choose your plan. You can also customise your own E-bike Insurance plan.
Q4. Are theft losses covered by Cycle Insurance?
Yes, theft losses are covered by a cycle insurance policy, which means if your beloved bicycle is stolen then the insurance company will compensate you for your financial loss. Just, read the policy carefully before making a final decision.
Q5. What is the age limit for buying this insurance?
Since the policy protects only the cycle, not the individual, there is no minimum age requirement. In this way, any cycle owner, regardless of their age, can get their cycle insured by a legit insurer.
Q6. How much does bicycle insurance cost in India?
There is no such fixed price. However, it may range from 1000 to 2000 p.a. There are several factors that affect bicycle insurance prices in India:
● The cost of your bicycle
● The Brand and model of the bike
● The age &  Condition of the cycle
Final Verdict: Do We Need Electric Bicycle Insurance in India?
The article covered the major questions that mostly asked Does my electric bike need insurance in India, its benefits and things covered how to take bicycle insurance and other necessary details.
I hope that this article really helped you to make the right decision.
Let me know in the comments down below, how much you liked the article (electric bicycle Insurance India) and so mention if you have any questions, I will be more than happy to help you.
Sources: