Cycling Guru is reader-supported!
Some links on this page are Amazon Associate affiliate links When you buy through links on our site, we may earn an affiliate commission! Read more...
Want to switch your ride from a normal cycle to an electric one but don't know how to buy one? Well to solve that exact problem we have come up with a detailed guide on how to buy an electric bicycle in India.
There are a few things that you must have clarity about before purchasing an electric cycle online in India, like which is the perfect e-cycle for usage, what features to consider in an electric bike, and much more.
This blog article on electric bicycle buying guide will help you to choose the best ebike for yourself according to your usage and budget.
So read till the end to get some special tips for buying an electric bike and important faqs as well!
What are the Types of Electric Bicycles in India?
One of the major factors that you must evaluate before buying an e-cycle online is knowing your purpose & budget. The purpose of an electric bike can range from a regular hike, commuting, cycling to work, evening exercise, and much more.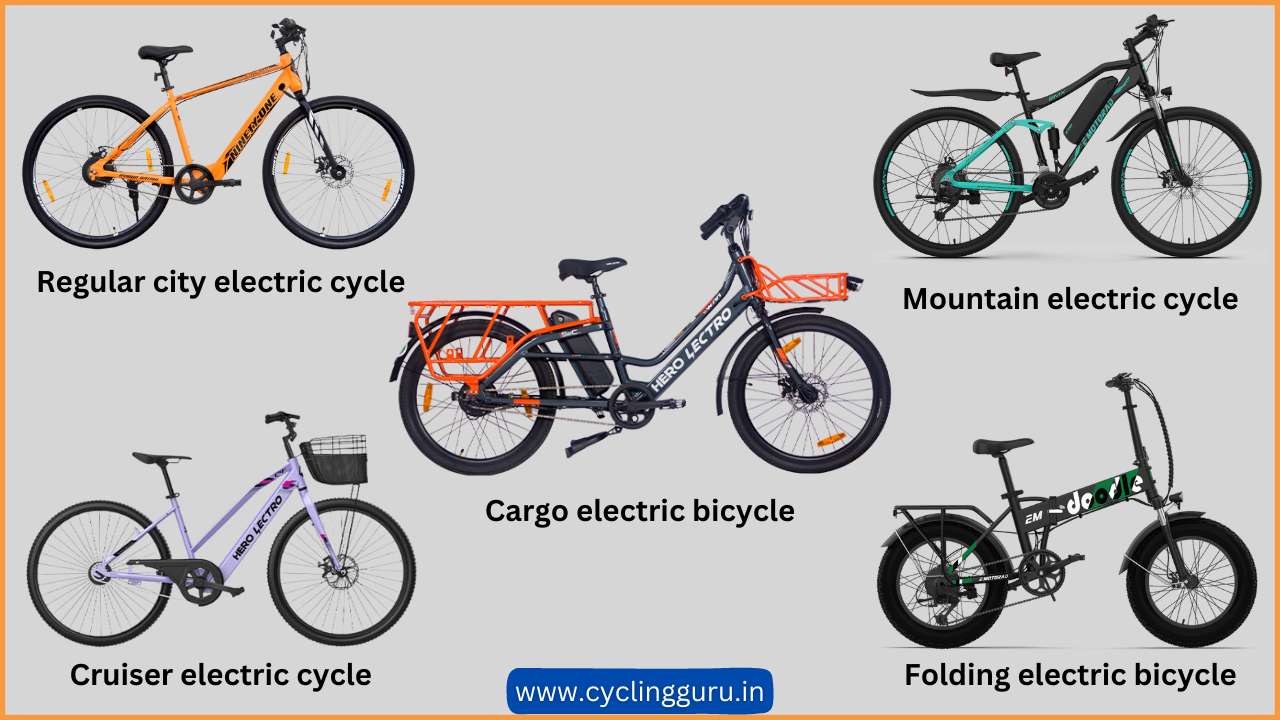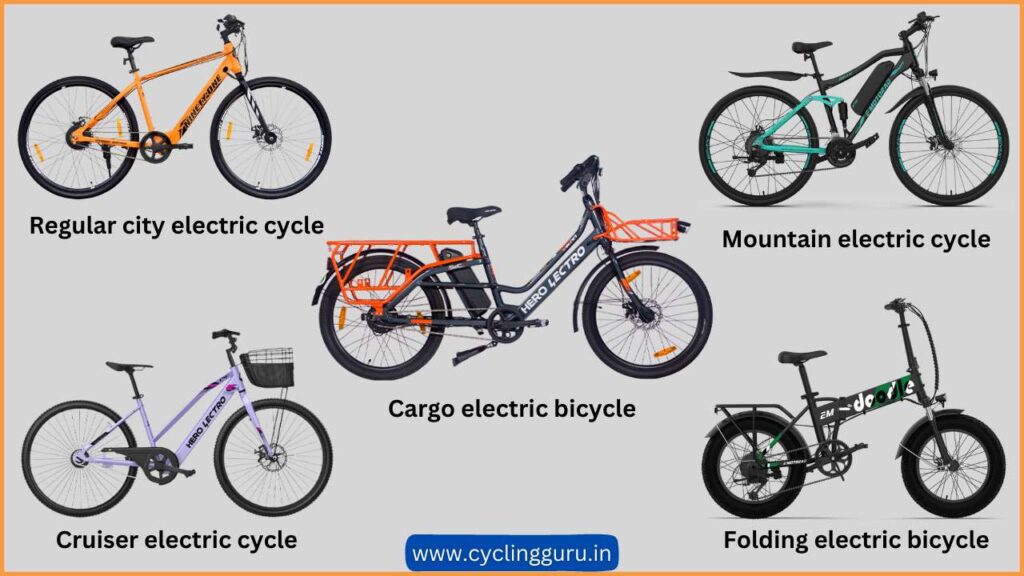 There's a wide range of electric bicycles available online from single-speed, geared electric bicycles, electric cruiser cycles, e-mountain bikes, folding e-cycles, cargo electric bicycles and much more.
Let's find out which one fits you the best according to your purpose.
1. Regular city electric bicycle
If you are looking for an electric bicycle for everyday errand running and for neighbourhood rides, a regular electric bike with a 250W motor is the perfect fit for you. In India, you would find all the electric cycles with 250-watt motors or less.
A regular ebike with a 250w strong motor and pedal assist helps your rides to be quite easy and smooth. Moreover, a majority of city electric bikes are quite affordable to charge hence making them absolutely convenient as everyday city ride bicycles. From grocery rides, tuition, and running errands to evening rides with friends, a regular city e-bike is the best fit for all.
2. Mountain electric bicycles
Apart from that electric mountain bikes are yet another option that many riders prefer. If you are looking for weekend adventures, races, and much more, an electric mountain bike is a perfect bicycle for you.
A mountain electric bike does not go beyond 700W and supports your irregular tail adventures quite smoothly. However, All types of electric bicycles come with a 250w motor or less because of Indian government regulations (ARAI).
Also, the thick broad tires with suspension and pedal assist feature not only enhance your experience but also ensures a safe ride. There are multiple features that one must consider before investing in an electric MTB, which we have discussed further but essentially you must have a strong purpose for investing in an E-MTB.
3. Folding electric bicycles
While living in a top-notch urban setting it gets really difficult to carry such large and heavy cycles up and down the lift on regular basis and even keep them in your flat. A folding e-bike is a perfect choice for you if you find yourself in a similar situation.
A foldable, lightweight, easy-to-carry e-bicycle with a maximum speed of 25 kmph and shock-absorbing suspension is a must-buy. They are quite easy to maintain and cost-effective, however, not good for riding in villages and on bumpy roads.
4. Cargo electric cycles or bikes
India is a population-rich country where cargo e-bikes are the most preferred and convenient since they are designed to carry more than just the rider. The features exclusively include carrying racks, baskets, and storage accessories to maximize the load-carrying capacity. Even after these cargo e-bikes can go quite fast and are easy to handle with stable motors and efficient battery life.
Cargo electric bicycles are perfect if you want to ride along with your pets, drop off kids, carry those monthly heavy grocery bags, and also use them for various product delivery services (Zomato or Swiggy delivery guys) as well!
5. Cruiser electric bicycles
Cruiser electric bicycles are quite interesting e-bikes, they are more focused on the comfort of the rider than the speed and hence these e-bikes have distinct designs such as broad & cushioned seats along with bent handlebars for arm comfort and upright riding position and many more features that make it comfortable to ride it (perfect choice for ladies or girls).
One of the major features of a cruiser e-bike is the balloon tires, which are basically big tires with low air pressure. This helps to control the bike much easier and steadily even on uneven trails and bumpy roads.
A cruiser bike's speed ranges from 15 to 25 kmph and can cover 30-50 kilometres in one full charge which is perfect for any city ride safely and comfortably. However, one of the major drawbacks is you cannot achieve higher speed on it.
I hope you would have understood the types of electric bicycles available in the Indian market, you can select one on the basis of your purpose and budget. Let's understand what are the important points to remember while buying an electric bicycle online in India.
How to Buy an Electric Bicycle in India: Buyer's Guide
Once you are clear about your usage and have found a perfect e-cycle for yourself, then you must evaluate a few more important features before investing in it finally. We have explained 5 major features out of various features of an electric cycle, Let's see them!
5 Major features to consider while buying an electric bicycle online:
1. Range of the electric cycle
The range of any electric bicycle simply means the distance it can cover with a fully charged battery. The range of any regular single-speed electric bike may vary from 30 to 40 kilometres. Whereas, for any multi-gear ebike, it may range from 40 to 60 kilometres.
One thing you must keep in mind is the range not only depends on the battery power but trail conditions as well. Therefore, It is important to know what range is suitable for you since it helps to choose the battery for your electric bicycle.
2. Battery voltage and capacity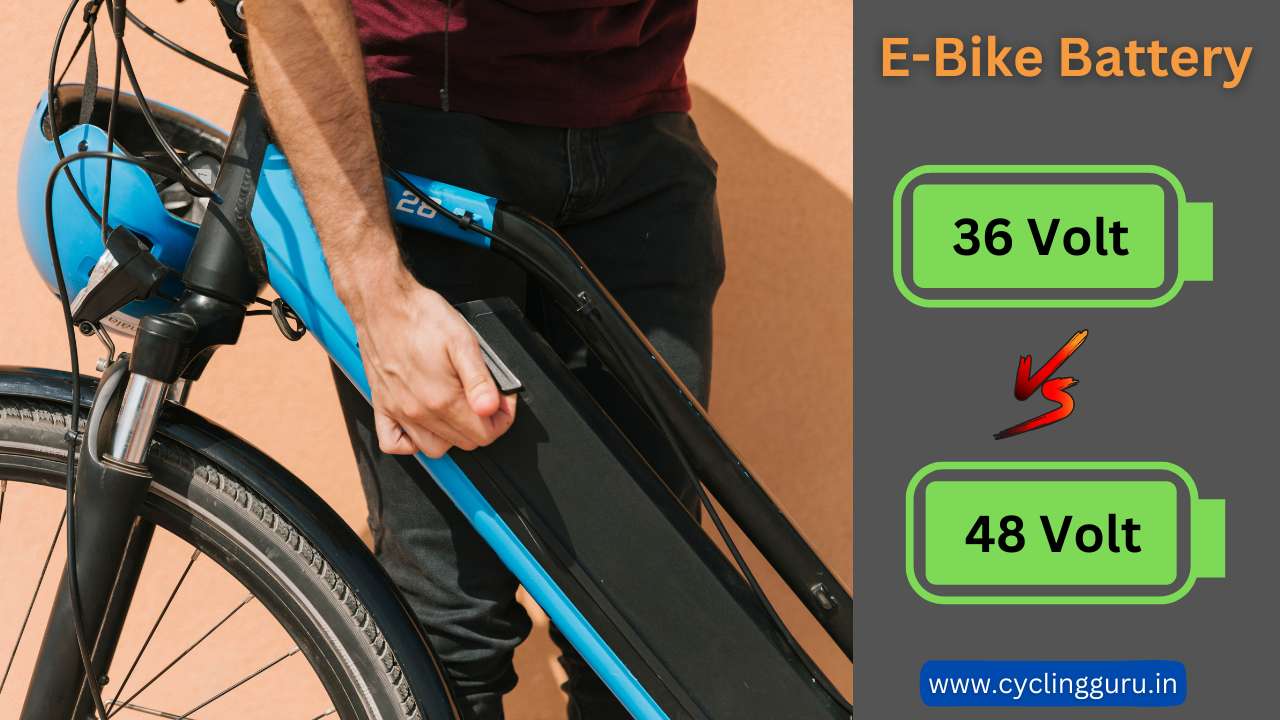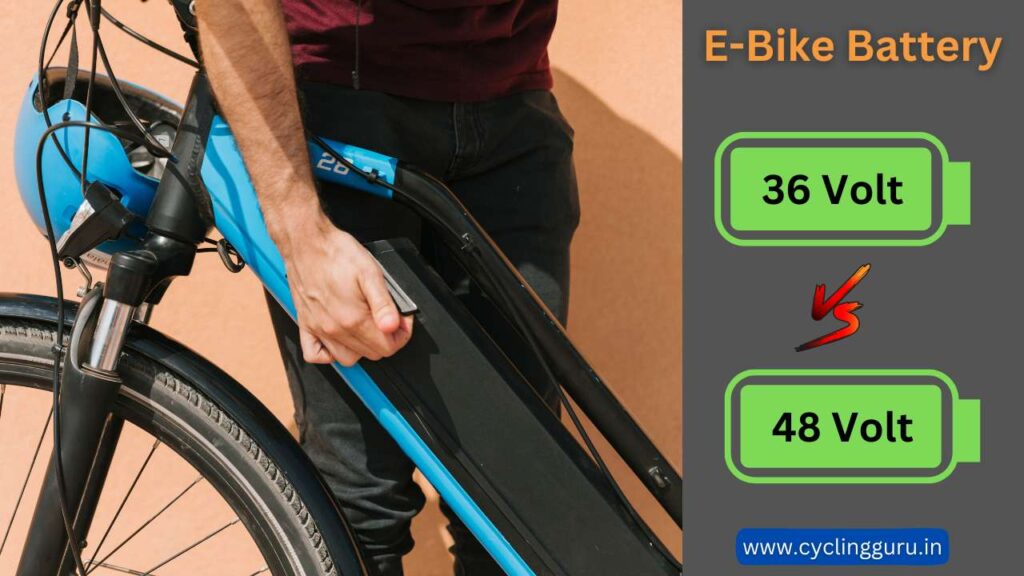 For any electric bicycle in India, it is essential to look into the battery type and its watt power, voltage and such details. Most e-bikes are designed majorly around the battery kind itself! There are two major kinds of batteries available for electric bikes:
Lithium-ion batteries: These are the most common types since they take the least time to charge and last the longest hours of ride by generating enough power for miles.
Lead acid batteries: These batteries are mostly the second choice among riders since lead acid batteries are quite heavy and bulky which adds to the overall weight of the bicycle. Moreover, they drain power quite fast. This also makes it comparatively cheaper than lithium-ion ones.
In India, Most e-bicycles have lithium-ion batteries of 36v or 48v. 36v battery would give you a lower range as compared to a 48v e-cycle battery. If you need a higher range then you should go with a 48v battery.
Also, consider AH (amp-hour), a 36v battery with a higher AH will provide a higher range whereas, a 48v battery with a lower AH will provide you with a lower range. This means, AH is also a factor which influences the range of an e-bicycle.
3. Speed of an electric bicycle
The speed of an electric bike is a major concern for every rider who is switching from a regular push cycle to an e-bicycle. Generally, the speed of an electric bicycle ranges from 16 km/h to 25 km/h and the speed can be assisted either by electrical motors or manually by the riders.
But one of the most important things to research before buying an e-bike online is checking the laws around the maximum speed of an e-bike allowed in your city. And we found the maximum speed of an electric bicycle is 25 kmph in India as per law.
4. Motors of electric cycles
Motors are one of the most prominent features of any electric bicycle. The motor power ranges anywhere from 250W to 15000W depending on the bike and battery and other features. But you would find only 250w motors in all types of electric bicycles in India. There are broadly two kinds of motors available in the market, hub motors and mid-drive motors.
Before getting into the details of these motors, one basic relation between motor and battery that every buyer must know is that a high horsepower motor basically means that it will exhaust the battery more rapidly and will affect its shelf life in the long run and vice-versa.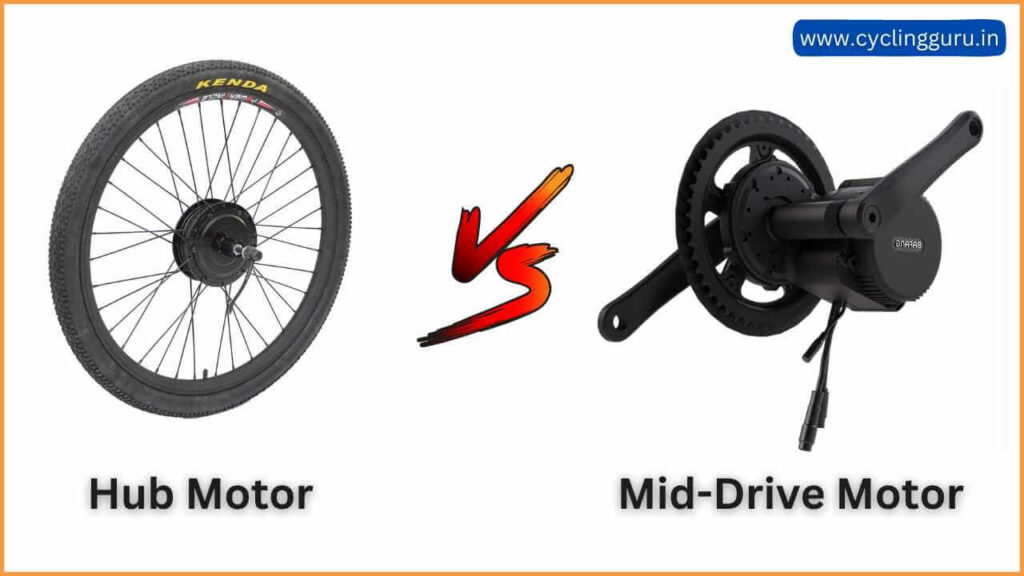 Hub motors: They are quite easier to maintain and install. In India, you would this type of motor in the rear hub of an electric bicycle. These motors are cheaper than mid-drive motors.
Mid-drive motors: These are comparatively more preferred over hub motors since they are easier to maintain and balance the power-to-battery drainage ratio quite efficiently.
5. Maintenance
There is no secret that electric bicycles cost more compared to non-electrical ones so a buyer must take into consideration the maintenance process and expenses as well.
Usually, any electrical bike or cycle needs overall routine maintenance every 1000 km of a ride but it also varies from one part to another such as the battery, brakes, motors, chargers, and much more. And it's a technical machine, you should avoid repairing it unless you know things properly.
These were the 5 major features that one should always consider in an electric cycle while purchasing it. Also, we have got you some special tips to remember while making an order for an electric bicycle.
Must Read: Should you ride an electric bicycle in the rain?
Tips for Buying an Electric Bike or Bicycle Online:
Do not buy any e-bike without a minimum warranty of 2 years.
Always look for at least 3 years of review of that particular bicycle.
Only buy from reliable, trusted companies of ebikes in the market. Apart from that make sure the delivery company is also a trusted one.
Calculate the amount of electricity that will be consumed by it.
It is always a plus point to look for a warranty on batteries in particular since many companies include a cheap one even in an expensive e-bike.
Related: Pros and Cons of Electric Bicycles in India (Learn before purchasing).
---
FAQs: How to Buy Electric Bicycles in India
What is the price range of a good electric bicycle in India?
Electric bicycles are more expensive than non-electric cycles because it has some extra components such as an electric motor, a battery, some sensors, a throttle, a light etc. These things increase the cost and hence price range of an electric bicycle in India is around 25000 to 150000 INR.
Can we get a subsidy on electric cycles in India?
Yes! you can get a subsidy on the purchase of an electric cycle in India because the government is promoting electric vehicles along with e-cycles in the country by providing subsidies. You can also avail of this benefit if you are a citizen of India.
Do electric cycle require a license in India?
Many electric cycles in India are powered by 250w motors, allowing speeds of up to 25 km/h. As per ARAI, electric bicycles with 250w motors or less do not need a driving license in India. If the motor power is above 250 watts, you need a license to ride such electric cycles.
Why are electric cycles expensive in India?
Electric cycles have some extra components such as a motor, battery, sensors, etc. These parts increase the manufacturing cost of an electric bicycle. Therefore, electric cycles are expensive in India. There are some electric cycles at around 25000 INR and some at around 50000 rupees. Well, It depends upon the type of e-cycle and the quality of the components.
Are electric cycles under 20000 available in India?
No! Electric cycles are not available under 20000 rupees in India because the manufacturing cost of an electric bicycle is around 20k. So no one can offer you an electric bicycle at this price. If any brand is offering you this price, make sure to double-check. However, at the time of sale, a few old model electric bicycles are available for around 20000, buy from trusted brands only and consider the above-mentioned points.
Are electric cycles under 10000 available in India?
NO! Not at all. No one can offer you an electric cycle under 10000 rupees in India. Why? Because non-electric bicycles are available at this price. Stay away from those advertisements as they are fake.
Conclusion: Electric Bicycle Buying Guide India
Buyers are often doubtful while buying an electric bike online and taking into that concern we came up with a guide on how to buy an electric bicycle in India online or offline. And the whole aim of this article was to make your investment in an e-bike safe yet successful at the same time.
We are pretty sure that this detailed summary of guides and tips will help you choose the perfect electric bicycle for you and get your cycling journey kick-started!
If you liked this blog, do share this article with your friends and comment below with your questions or thoughts.
Till then, Stay Tuned!