Cycling Guru is reader-supported!
Some links on this page are Amazon Associate affiliate links When you buy through links on our site, we may earn an affiliate commission! Read more...
An electric bicycle is a new concept in India so most people don't know much about it. Are you one of those who are looking for an electric cycle under 10000 in India?
If yes! You have landed on the right page. In this blog article, we would explain to you the meaning of an electric cycle, its types, special features and the pros and cons of e-bicycles in India. Why are electric bicycles so expensive and how to convert a normal cycle to an electric one?
Let's see if electric cycles are available under 10000 in the Indian market.
Is Electric Cycle Under 10000 Available in India? Yes or No!
No! You can't get a new electric cycle under 10000 rupees in India because the price of the motor and battery is around 15k and the average price of a single-speed bicycle is around 7000 rupees. Therefore, there is no brand which offers an electric bicycle for around 10000.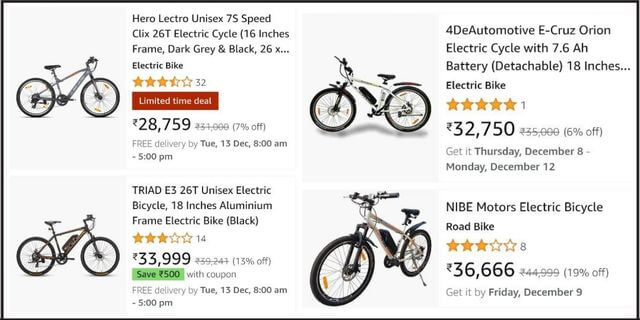 If any brand, website or store is selling an electric bicycle around 10k make sure to check that twice. Otherwise, your money will be wasted or you might be cheated.
When I got to know that many people are looking for an electric bicycle under 10000 in India, also saw so many ads running on google and found so many websites offering electric cycles for around 10k. I decided to write this article so that you never get cheated.
What to do if some websites are selling electric cycles for around 10000 INR?
Stay away from them, all are fake and fraudulent. You will be cheated. They don't offer cash on delivery for your order, only accept online payment. Once you pay them, you will be blocked from their website. You don't get any option to contact them or ask for a refund. And yes, you won't get the bicycle delivered as well.
"Your payment details may be shared with illegal websites, you can be the next victim of financial fraud". Think Twice!
I already knew the fact that no one can offer you an electric bicycle for around 15000, so I went through those websites and found them all are frauds. They are running ads for looting the unaware public.
So, stay away from them, otherwise, you will be cheated and your hard-earned money will be wasted.
Thus, no one can offer you an electric cycle for around 10000 or 15000 INR. Let's understand in detail, why I am saying this. Firstly, you need to understand:
Related: How to Ride Yulu Bike in India: Explained Everything
What is an Electric Cycle or Bicycle? Types & Price Range
It is a kind of bicycle that comes with some extra features such as an electric motor, battery, sensors, cycle computer, e-brakes, pedal assist features and light. Pedalling becomes very easy on electric cycles because the motor moves the wheels.
There are two types of electric bikes or bicycles in India:
1. Pedelec or Pedal Assist Electric Bicycle (Without Throttle)
This type of electric bicycle has only a pedal assist feature which assists in pedalling only and doesn't have throttle mode, therefore, this kind of electric cycle is known as a pedelec or pedal assist bicycle. As you start pedalling, the motor starts and assists you in pedalling.
The maximum speed of a pedelec electric bicycle is 25km/h and you don't need a driving license to ride it. After doing a lot of research I have found the price of a pedal-assist electric cycle starts from 25000 rupees in India and goes to 50000.
So, I am 100% sure that, you can't find an electric bike or bicycle in India around 10000. There are so many fraud websites running scams to cheat the unaware public.
Read more: Electric Bicycle Buying Guide Explained
2. Electric Bicycle with Pedal Assist and Throttle Mode
It is the second type of electric bike which comes with pedal assist and throttle mode. So, you can ride this bicycle using pedal assist mode as well as the throttle mode when you don't want to pedal. The maximum speed of this bicycle is also 25kmph and doesn't require a driving license.
The price of an electric bicycle with throttle mode starts from 35000 rupees and goes to lacs. It depends upon various factors such as a battery (voltage, capacity, brand), motor power (type, power, wattage) and the manufacturer of the e-cycle.
These are our top 5 best e-bicycles recommendation!
Last update on 2023-10-03 / Affiliate links / Images from Amazon Product Advertising API
See the prices on amazon in below screenshots, which I found while doing research: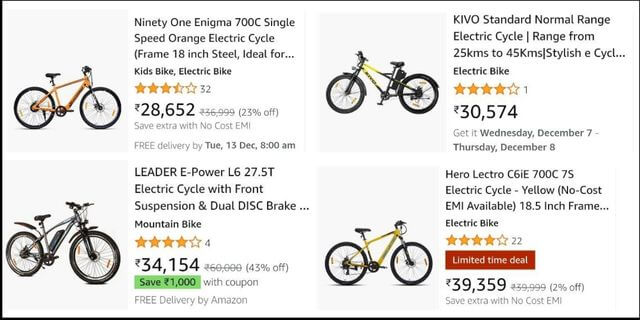 As you can see all the electric bicycles in the above image are above 25000 rupees. And when you break up these parts, you will also understand the fact, let's do the break-up:
| S.No. | Parts Names | Estimated Cost |
| --- | --- | --- |
| A | Normal single-speed bicycle price without suspension | 7,000 |
| B | 250-watt Hub motor price (conversion kit excluding battery) | 8,000 |
| C | Electric bike battery & Charger | 9,000 |
| D | Total Cost (A+B+C) | 24,000 |
As you can see the estimated cost of converting the electric bicycle is coming out around 24000 rupees.
So, It's 100% clear that there is no electric bicycle manufacturer or brand which can offer you electric bicycles for around 10000 or 15000 rupees.
If you want to ride an electric cycle, You have two options, either buy a new electric bicycle or convert your normal cycle using the electric bicycle conversion kit.
Why is Electric Bicycle so Expensive in India?
As you know the electric bicycle is a type of cycle which is equipped with a motor (front hub, rear hub or mid-drive), lithium-ion battery, throttle, sensors and some electric internal parts. All these parts are necessary for an electric bike or bicycle and they are costly too!
The manufacturing cost of an electric bicycle in India is around 20000 to 25000 (base model) including all the spare parts costs, marketing costs and all hidden costs. It's very simple to understand, the higher the manufacturing cost, the higher will be the selling price in the market.
Similarly, the cost of manufacturing an electric cycle in India is high therefore, electric cycles are expensive in India. and It may vary from manufacturer to manufacturer, li-ion battery voltage & capacity, motor wattage and bicycle quality.
If you have an electric cycle, take care of that properly. As you know it is one of the most expensive bicycles You should keep it safe and secure. To do so, you can also have a good insurance policy for your e-bike or bicycle because heavy vehicles like motorbikes or cars are easily stolen in India.
Electric cycles are one of the best modes of transportation for short-distance rides in India at a very low cost. You can ride this bicycle for going to work, school, college or explore the city. If you don't have one, get yourself the best electric bicycle, Don't worry! I have done my research and found the best for you.
If you don't have that much of a budget, you can convert your regular bicycle to an electric one. You just need an electric bicycle conversion kit and battery, firstly learn how to convert:
How to Convert Normal Cycle to Electric Bicycle?
If you have a good-condition bicycle, you can also convert your normal bicycle into an electric cycle instead of buying a new one. You need around 15000 rupees for buying the best conversion kit and ebike battery with a charger.
If you don't know much about the best conversion kits and brands. Saved your precious time! Here are some best electric bicycle kits and batteries that you should consider.
---
Frequently Asked Questions: Electric Bikes under 10000 in India
Q1. Should we buy an electric bicycle under 10000 online?
No! Never buy anything from such fake and fraudulent websites, your money will be wasted. They only accept the online mode of payment, once you pay them neither order is confirmed nor the e-bicycle is delivered. Think twice why are they selling gold at the price of silver?
Q2. What is the price range of an electric cycle in India?
In India, The price of an electric bicycle starts from 25000 rupees and goes to lacs. Different ebikes are sold at different prices and it also depends upon various factors such as motor, battery and sensors.
Q3. Is an electric cycle worth buying?
Yes! It's. Investing in an electric bicycle is a wise decision for a number of reasons, not just environmental ones. It's very easy to ride, e-bikes are an excellent investment, don't require a driving license and are best for commuting in rain as well. Your purpose plays a significant role while making the decision of buying an ebike.
Conclusion on Electric Bicycle under 10k
I hope, you understood that no one can offer you a new electric cycle under 10000 rupees in India. So stay away from such websites and ads showing electric bicycles under 10k.
If you really want to ride an electric bicycle, get a new electric bike from authentic e-commerce websites or you may convert your regular bicycle.
Thanks for reading this blog, I hope this article has helped you. Also, share this information with your friends and family.
Stay tuned! Keep Cycling!