Cycling Guru is reader-supported!
Some links on this page are Amazon Associate affiliate links When you buy through links on our site, we may earn an affiliate commission! Read more...
I saw a group of a few people riding e-bikes in Delhi when I was going to college, I was shocked because that bike was quite different from other e-bikes. I also wanted to take a ride, so I asked them about their unique electric bikes.
They answered it is a Yulu Bike and it is being rented from the nearest Yulu Zone. I also enquired about how to ride Yulu Bike, How to use the Yulu app, the process to ride the Yulu miracle, Yulu bike ride charges and a lot more.
After a few days, I went to Rajiv Chowk with my friends and took a Yulu Ride. So yes, I took the ride, I must admit that It was an amazing experience that I have ever had.
The idea of writing this blog came to my mind when I took the ride. Then I did some more research on the internet and gathered information about it from many websites, blogs, videos etc. Wrote this article on how to use Yulu Bike in India.
Read this blog article completely to know everything about the Yulu App and how to ride a yulu bike in India.
What is Yulu Bike, Yulu Miracle and Yulu Move?
Yulu is a Bangalore-based company that has partnered with Bajaj Auto to launch an electric bike-sharing program. Yulu electric two-wheelers bikes are co-designed and manufactured by Bajaj Company for Indian customers.
With Yulu, you can ride a unique vehicle to work every day. In an effort to end traffic congestion in India, Yulu provides the most secure commute solution through a mobile app that enables sharing, solo, and sustainable commuting.
The Yulu zone locations are all at strategic locations such as metro stations, bus stands, offices, residential areas, and corporate offices to make those first and last miles as convenient and easy as possible! This blog article will guide you on how to ride yulu bike in India.
The Yulu e-bike is called a Yulu miracle and Yulu Bicycle is called a Yulu Move.
Currently, Yulu bikes are available in Bangalore, New Delhi, Gurugram, Mumbai, Pune, Ahmedabad, and Bhubaneswar. Over 3000 electric bikes are maintained by this startup in India. Yulu electric bikes can be rented from a Yulu zone nearby.
Related: Pros and Cons of E-Bicycles in India - know before buying an ebike.!
How to Ride Yulu Bike in India: Step-by-Step Guide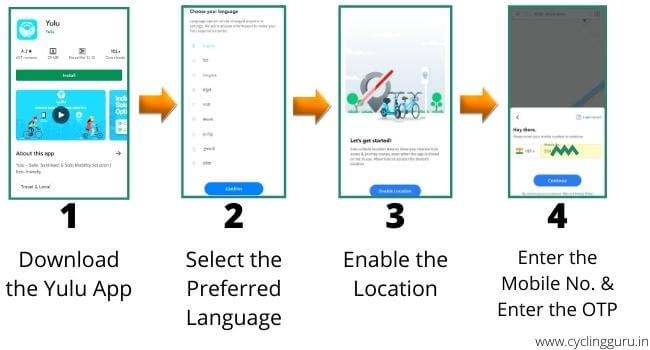 If you don't know the process to ride a Yulu Bike, you have come to the right place. Once, you read this article you will know everything about Yulu Bike. Make sure to follow the below-mentioned steps to ride a Yulu Bike with your friends. Currently, the Yulu Bike service is not available all over India.
#1. Download the Yulu app on your phone.
The first step is to download the Yulu app on your mobile phone from the play store if you are using an android phone or from ios if you are using an iPhone. Over a million people have downloaded this app. The size of this app is around 29MB, which will get downloaded in minutes.
Note: There are some fraudulent apps, they might steal your personal details so beware of such fraudulent apps. See the above image carefully before downloading the app.
#2. User Registration in Yulu App
Once the app is downloaded, The next step is to register yourself using your mobile number. First, select your preferred language and tap next, enable the location and press next, allow the mobile access and tap next, enter the mobile number and tap Continue, and enter the received OTP, hence, you are logged in. You are ready to take a ride.
#3. Find the closest vehicle to you Use the Yulu app.
When you are logged in to the app, find the closest vehicle near you using the yulu app. Once you click on the nearest vehicles, the app will show you the yulu zone near you. Then go to the nearest yulu zone to get an e-bike.
Yulu Bike service is available in Banglore, Pune, New Delhi, Bhubaneswar, Mumbai, Ahmedabad, Gurugram and Gulbarga. If you live in any of these cities, then the app will show you the nearest yulu zones otherwise not.
#4. Pay the security fee (Refundable).
The fourth step is all about a one-time payment as a security deposit. Don't worry! It's not huge. You will have to pay ₹199 as a security deposit and it is mandatory to pay before taking any ride. It's for one time and it is refundable as well when you plan to never ride this Yulu Bike.
#5. Select a Yulu E-Bike & Scan the QR code to unlock it
Once you arrive at your nearest yulu zone, select a bike to take a ride. Make sure to check the bike completely such as checking the vehicle is functioning before starting a ride, make sure to check for any damages on the body of the bike, examining the air pressure on both tyres and checking the battery power along with the brakes & accelerator of the Yulu Miracle(e-bike).
To check the battery of a YULU MIRACLE, just hit the seat(saddle) of the bike with your palms, the bike will show you the battery power on the screen. You will also get a volunteer from Yulu App to help you out with all this stuff.
After selecting scan the QR code using the YULU APP to unlock the bike. The QR code is placed above the headlights and at the back as well. You will find them easily. Once you scan the QR code, the bike will be unlocked and your ride will be started in the app. You can start riding the e-bike.
#6. Park the vehicle at a yulu zone to end your ride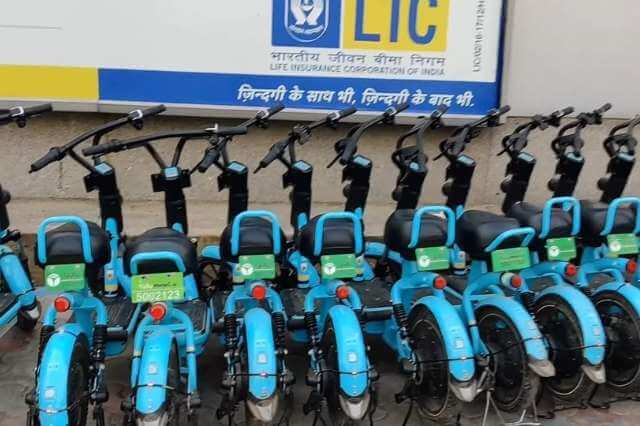 Finally, You have taken the ride of an amazing yulu bike. Now it's time to end the ride otherwise, your ride will be on unless you end the ride. So how to park the yulu bike to end the ride?
You just have to go to the yulu zone where you want to park. Place the bike on the stand and make the payment using the app. Once the payment is confirmed, you will have the option to end the ride, click on the end ride. Your ride will be ended and the bike will be locked automatically.
Must know: Top 5 Best Electric Cycle Brands & Manufacturers in India
Yulu Miracle Price and Rental Details
Yulu bike charges ₹5 for the Base fare + ₹2 for per minutes ride. There are also pause charges, If you pause the ride then the app charges ₹0.5 per minute. A GPS is installed in the e-bike and is being monitored through the mobile app.
For eg. If you have taken a ride for 1 hour and had a pause for 10 minutes. Then the Yulu bike price for 1 hour will be:
| | |
| --- | --- |
| Base Fare (Fixed) | ₹5.00 |
| Fare for 60 minutes (60×2) | ₹120.00 |
| Pause Charges (0.5×10) | ₹5.00 |
| Total | ₹130.00 |
***This is the current price charged by the app, it may vary from time to time.****
Additionally, Yulu offers saver packs for ride durations of 2 hours, 3 hours, and 6 hours for prices of ₹49, ₹95, and ₹185, respectively. These packages are valid for a day.
Yulu bike is loved by most people because this is an eco-friendly and pocket-friendly electric bicycle. Anyone can use this service by paying the nominal fares.
Must know: Are You Looking for Electric Bicycle under 10000 in India? – All you need to know!
How do I Pay for my Yulu Bike Rental?
You don't need to worry about the payment method, they accept all payment modes except cash. Yulu app supports multiple Payment methods such as Paytm, Google Pay, PhonePe, BHIM/UPI, Net Banking, and Debit/Credit cards.
You can add any of these payment methods to your yulu account, payment will be automatically deducted when you end the ride. It's very easy to pay.
Refer and Earn Benefits from Yulu: How to get a free yulu ride?
Yulu offers very exciting and attractive rewards to their existing users i.e., refer & earn. Under this benefit, you will have to share a referral code(you will find this code under the refer & earn tab in the Yulu App) with your friend or anyone who is not using YULU APP.
Once your friend or anyone downloads the app, enter your referral code while registering. They will get 200 off on their 1st purchase of a rental plan and you will get 3 days rental plan extension when they purchase their 1st plan successfully.
You must have an active rental plan to avail of this benefit. If you don't have an active plan, then your 3 days extension benefits will be added when you buy the rental plan.
You can share the referral code via WhatsApp, text message, e-mail or any other social media app. You just have to look for those people who are willing to take a Yulu bike ride.
3 Important Rules to Ride a Yulu Miracle:
People who have age 16 years and above are allowed to ride a Yulu miracle.
Yulu Miracle (e-bikes) is not allowed to be ridden by minors, and their parents will be held responsible for a fine or anything if they are found guilty.
Yulu miracle is only for one person and can be used by a single person at a time, riding with more than one person is risky and it will lead to a penalty if found guilty.
Review of Yulu Bike: My Personal Experience
When I saw this bike on the roads of Delhi, I was very excited to ride. I took a ride with my friends and enjoyed it a lot. The concept is very cool allowing regular commuters to ride this e-bike to save their time and money. This is very easy to ride, if you know how to ride a cycle then you are good to go.
You don't need any license to ride this ebike because there is a speed barrier set by Yulu. You can ride up to 60 km when the battery is fully charged. Yes, charges are more costly than public transport.
Benefits of riding the yulu miracle:
It is best for a short-distance ride i.e., 5 to 7 km.
It reduces pollution as it is eco-friendly.
You don't have to wait, it saves your precious time.
You don't license to ride this.
It is the best way to reduce the traffic on the road.
Yulu miracles are electric bike, it does not create any noise.
Disadvantages of riding yulu miracle:
It is not suitable for long-distance rides.
It is slow because the maximum speed is 25km/hr.
There is no shocker so don't provide a comfortable ride.
The bike is used by many people and it is not maintained properly.
You will have to go to the Yulu Zone to end the ride.
Because of the low height of this bike, You might not be visible to many motor vehicles so it increases the chances of accidents.
---
Experience of Riding Yulu Bike in Delhi:
---
Can Yulu Bikes be Used in the Rain?
Yes, the Yulu miracle(bike) can be used in the rain but not in excessive rain. As it is an electric bike, its battery may get damaged in excessive rainfall. So, Avoid riding in those weather conditions.
You should use Yulu Move in the rain because it is a normal bicycle that needs pedalling to ride. There is not any battery in Yulu Move so you can easily ride this in the rain or excessive rain. Always ride slowly in rainy weather.
Related: How to Buy an Electric Bicycle in India? 5 Major Points to Consider
---
FAQs: How to Use Yulu App to Ride E-Bike
Q1. Can anyone ride a yulu bike?
No, anyone can not ride a yulu bike. Only those who can ride Yulu bikes(miracle) who are 16 years and above. Minors are not allowed to ride such bikes if they are found doing so, their parent shall be responsible for any cause.
Q2. Does yulu require a license?
No, You don't need a driving license to ride any Yulu Vehicle whether it is Yulu Miracle or Yulu Move. You must follow the rules of the road while riding on Indian roads to stay safe. You will not be fined for not having a driving license but you may be fined for not following the traffic rules.
Q3. What happens if you park Yulu outside the Yulu zone?
An incidental fee of up to INR 1,000 will apply if the vehicle is not returned to the Yulu designated parking locations. In the event that a vehicle is lost or stolen during the rental, a rider security deposit will be forfeited and a police report may be filed against the rider.
Q4. Is a helmet mandatory to ride a Yulu Miracle or Yulu Move?
A helmet is always mandatory to ride any two-wheeler vehicle to stay safe. However, Yulu Biikes have speed barriers therefore, a helmet is not required by law while riding. But still, you can wear a helmet while riding a Yulu Miracle to stay safe.
Q5. What is Yulu's long-term rental?
Yulu offers a long-term rental service that allows a user to rent YULU MIRACLE or YULU MOVE for a month or more than that. You can pick up any vehicle from nearby Yulu Zone or it can be delivered to your doorstep.
Also, You will be able to use the bike at any time you won't have to go to the parking spots to park them. You can keep them at your home and charge them at your home. You just have to make the payment. It is one of the best plans by YULU in times of Covid-19.  Download the app to avail this amazing service.
Q6. How to check the battery power of yulu miracle?
It's very simple to check the battery power of a yulu miracle. You just have to tap on the seat of the e-bike, battery power will be indicated on the screen of the bike which is near the right side of the handlebar.
Q7. Are yulu bikes Insured?
No, Yulu Bikes are not insured, Which means if they get stolen then the company will file an FIR against the rider. and the loss will be covered by the rider. So, It's very important to have insurance for Yulu Bikes.
Conclusion on How to Ride Yulu Bike in India
Finally, I have explained everything about the Yulu App and its services. I hope you know how to ride the yulu bike and its charges and all other stuff.
If you want to ride, then you can ride with your friends to explore the city, you can also use the Yulu miracle for going to college, the office or any other place.
If you have any questions related to this topic, you can ask them in the comment section below. Also, share your thoughts about this amazing concept.
Do share this article with your friends and family members if you liked this article.