Cycling Guru is reader-supported!
Some links on this page are Amazon Associate affiliate links When you buy through links on our site, we may earn an affiliate commission! Read more...
In countries like the United States of America (US) and the United Kingdom (UK), cycling is commonly used by everyone and is considered a sport for them. The question is "why is cycling not popular in India?"
In this article, we will discuss 10 reasons why cycling is not popular in India. In foreign countries like US and UK, the foreign governments support cyclists and provide separate cycling lanes and ensure that they are safe.
But in India, cycling is not encouraged and people don't think about cyclists on the road. And even the government does not do anything for cyclists in India.
There are so many reasons. Let's discuss the reasons one by one.
Why is Cycling Not Popular in India [10 Reasons]
I have read many articles, did a kind of survey in a group of 100 people, had a poll on social media and found the following reasons why cycling as a sport is not popular in India.
If you find some more reasons, please share your thoughts as well in the comment section. We will add that as well.
1. Lack of Safety on the Roads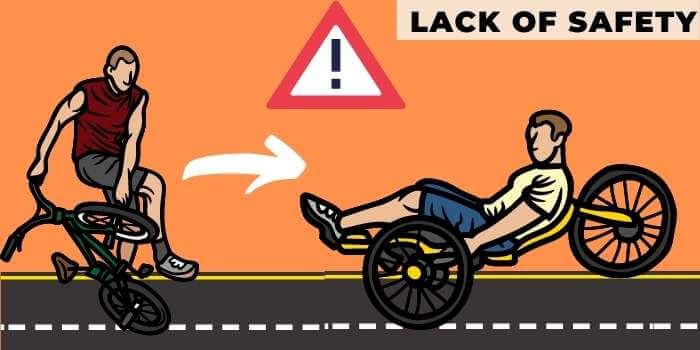 Indian roads do not have separate lanes for cyclists, which results in more road accidents in India. According to the World Health Organization (WHO), accident rates are higher in developing countries and it has increased to 1.3% in India.
Most of the time two-wheeler riders, such as cyclists and motorcyclists, become victims of this. Most accidents occur when they don't follow Red-lights. Here are some suggestions for bicycling on Indian roads.
Suggestion: Government should encourage cycling in India and should plan to make separate lanes for cyclists in India. They should not feel suffering while riding a bicycle or two-wheelers.
2. Dangerous Condition of Roads in India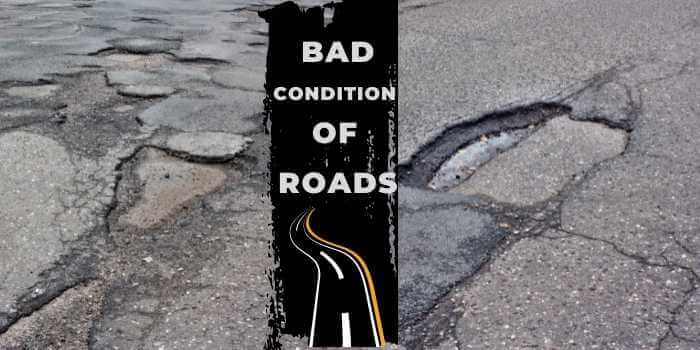 Dangerous condition of Indian roads, This is one of the main reasons why cycling is not popular in India. Every person suffers from this problem whether it's a pedestrian, cyclist, motorcyclist, or any public or private mode of transportation.
People don't feel safe while riding bicycles on the road in India. They prefer buses and autorickshaws to travel. This is not in every state of India but most of the state's problems with terrible roads are easily found.
3. High Pollution Levels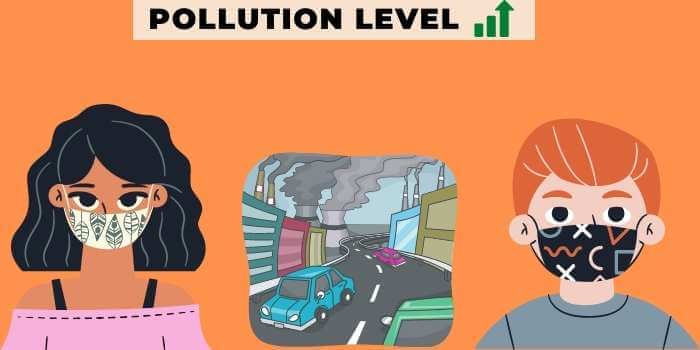 After Diwali, every winter Delhi people face a peak level of pollution. People think that they are smog but actually, they are a combination of smog and pollution.
Not only Delhi but many states of India suffer from bad air quality index. But India is a developing country and innovation is in work in progress to cope with the high pollution level.
Most beginner cyclists face this problem while cycling in India therefore they don't ride on long routes.
High pollution levels in India discourage Indian people from making cycling a sport or hobby.
What can we do to reduce the pollution levels in India?
We should start riding bicycles to save our environment.
We can set a limit on our car rides and use public transport.
Don't use plastic more or stop using it.
Stop smoking or forest firing.
Stop the use of the woodstove or burning plastic or other material.
Don't firecrackers as it's a big reason for high pollution in Delhi.
4. The Government does not Encourage Cycling
Why is cycling not popular in India? – The government does not think about cyclists in India like in other countries. Traffic rules are the same for cyclists but they are not favourable for cyclists.
Cycling is a sport in India, Somewhere down the line the government considers bicycling a hobby.
Neon stickers on the back of the cycles are the one that helps them to be seen at night or in the dark. If the government really thinks about the future of cycling in India they should come up with great planning for the innovation of cycling in India.
5. Cycling is Banned on Various Roads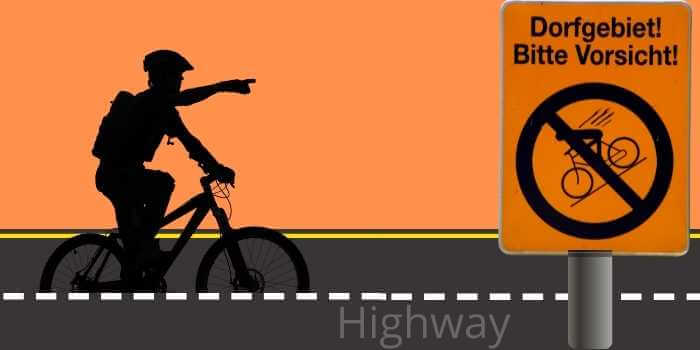 The government has banned cycles on various roads and highways to ensure the safety of the people. Safety is most important but the government can fix it by making separate lanes for cyclists, like in foreign countries.
Driving or riding in dangerous conditions on Indian roads is a common occurrence and this kind of behaviour is faced by cyclists in India. So there must be separate lanes for riders in India.
6. Bullying of Cyclists is Common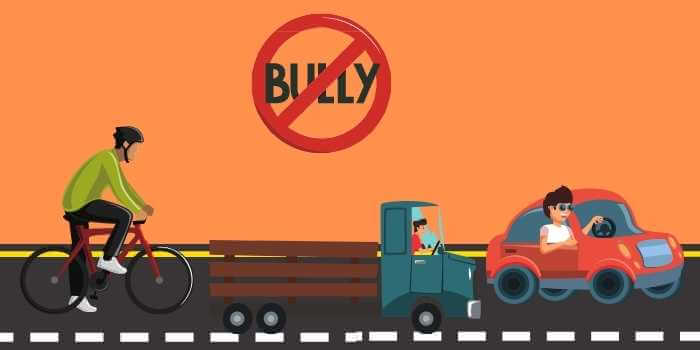 People don't care about bicyclists. This is one of the main reasons why cycling is not popular in India. On the huge traffic of Indian roads, most of the cyclists are bullied by many vehicles drivers like cars, trucks, buses or even motorbikes.
We can say that Indian roads are monopolized by cars and buses. Everybody wants to invest in cars or bikes but few of them are cycle lovers. They do not listen to the cycle bell, which causes getting late for cyclists.
7. Hit and Run Accidents are Common
It is also a very common problem for bicycle riders. Once accidents happen everybody thinks that it's the cyclists' fault.
Even after having experience of 4+ years in cycling, most of the time I have gotten into trouble because of it. They don't even check whether cyclists have been wounded or not.
8. Bicycles are Expensive
There are a lot of cycles available but buying a perfect sports cycle costs a bit much. Cycles have many types. What kind of cycle you need depends on the purpose of the cycle.
Nowadays electric bikes are very trending in India, I have seen many people riding e-bikes on Indian roads and one of them is Yulu Miracle. It's an amazing concept that is encouraging more people to ride bicycles except for motor vehicles.
A great gear cycle price range starts from 10K to Lacks but your budget is very important. A normal cycle from the Hero brand costs only 4K-5K. Why premium bicycles are expensive?
9. The Chances of Being Stolen
In India, cycle parking spots are very few so they park their bicycles on the road, which increases the chances of stolen bicycles or bikes.
Cycles do not come with number plates so it's easy to steal for the thieves. That's why people don't like to buy cycles in India and it is not popular in India.
I think this is not a reason because all types of vehicles are stolen. You should have bicycle insurance to compensate for your loss as the other motor vehicle have.
10. More Use of Spinning Bicycles
In India, riding bicycles on the road has been decreasing because of more use of spinning bikes in the gym.
We can say it's the general laziness of the people or they don't want to explore the natural environment.
With the help of cycles, you should exercise for at least 15-30 minutes a day. Cycling is a great way to make your body fit and healthy. Even you can increase height by cycling.
Why is Cycling Not Popular in Many Places?
After knowing the benefits of cycling, very few people ride bicycles because of the above-mentioned reasons. Because the mindset of people should be changed towards cycling in India.
Riding bicycles is completely carbon-free and contributes much to the environment but having a car has become a status symbol for many people. They love to use gasoline-fueled vehicles. Cycling must be preferable to the public and the Indian government should encourage this like the foreign govt.
Why is cycling not popular in many places? Another reason can be time-consuming for working professionals. People are job-driven and want to save time by travelling by car or metro but using cycles may not be useful for them.
Solution: Although they can't ride a bicycle to work, they can incorporate cycling into their daily routines as physical activity. Also, beginner cyclists don't know the good distance to ride bicycles in India.
Frequently Asked Questions:
Q1. How to promote cycling in India?
The solution comes after the realisation of problems, so we have found the reasons why cycling is not popular in India (mentioned above), Now we have to find the solution. We need proper roads for cyclists (with cycling lanes), should have cycle parking, laws for the safety of cyclists etc.
Q2. Why is cycling considered a hobby in India?
Because cycling as a sport is not much popular in India, most people ride bicycles for commuting and for maintaining health. We have the Cycling Federation of India which is now promoting cycling as a sport in India. But people don't take this sport seriously.
Q3. Is cycling in India safe?
Well, no one is safe on the roads, It's up to us. We have to be alert while riding a bicycle/motorbike or driving a car. So, always follow the traffic rules, don't overtake, don't go fast, follow the golden rules of the roads and take precautions while riding a bicycle to stay safe.
---
The Bottom Line: Why is Cycling Not Popular in India
We have seen the top 10 reasons why cycling is not popular in India but knowing the reasons is not enough. But you know the solution comes after the realisation of problems.
Cycling is not popular in many states of India because of so many reasons some of which are mentioned above. However, some states, such as Maharashtra (Mumbai & Pune), Karnataka (Banglore), Chennai, Kolkata and Kerala etc have a good number of professional cyclists and doing cycling for years. The government of Karnataka did well for their future cyclists.
Actually what I have realised during my research is that Indian people ride bicycles as a hobby or as a means of transport. But very few people opt for cycling as a sport because of awareness.
We have to participate collectively to make the people aware that cycling is a sport in India and the government should also take some actions for the same.
Please share this article as much as possible so that people realise and start riding bicycles.