Cycling Guru is reader-supported!
Some links on this page are Amazon Associate affiliate links When you buy through links on our site, we may earn an affiliate commission! Read more...
The heaviest traffic on Indian roads is caused by motor vehicles and it creates pollution i.e., air and noise pollution. On the other hand, cyclists feel unsafe among them and therefore, very few people use bicycles in India.
How to promote cycling in India is our main objective. We have found the 10 best ways to promote cycling in India and how to encourage employees to cycle to work.
If you are not aware of why cycling is not popular in India then know the relevant reasons why cycling is not popular. But now, we are here to find out the best possible ways to promote cycling in India.
So, Let's discuss the ways to promote cycling in India in detail, if you have anything to share, please share your thoughts in the comment section at the end.
How Can We Promote Cycling in India?
It's very tough to promote something in India. I have found another word i.e., encourage. So our goal is to encourage more cyclists in India. A bicycle is a means of transport which saves your money and improves your health & fitness.
There are many ways through which we can encourage cycling in India, Let's Discuss them one by one.
1. Change the mindset towards cycling
A lot of Indians consider that a person who rides a bicycle does not have money to buy a car or a motorcycle, so he/she is riding a bicycle. Don't think like this.
Cycling is a sport in India, also it is a part of the Olympics you can make your career in cycling as well. To ride a bicycle in India you have to change your mindset. It is one of the best ways to promote cycling in India. Isn't it?
If you see countries like USA, UK, Australia and Canada. Most people commute to their work by bicycle, they are rich too. But they don't think like this.
2. Use bicycles for exercise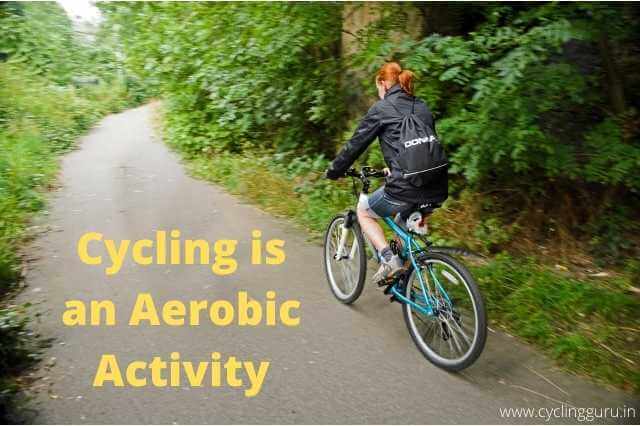 Once your mindset is positive towards cycling, you will enjoy riding and you will experience a lot of things that you will never experience in a car or on a motorcycle.
In India, Most people hit the gym and pay the fee monthly in order to maintain their health and fitness. 30 minutes of cycling regularly can give you the same benefits which you get in the gym.
What I mean is, You can ride a bicycle instead of hitting the gym. You will get fresh air outside while riding in the heart of nature. Cycling is an aerobic activity that will burn your calories as well and your physique will be maintained by paying nothing.
In the rainy season, you can use the spin bikes on your balcony too.
3. Encourage people to commute to work by bicycle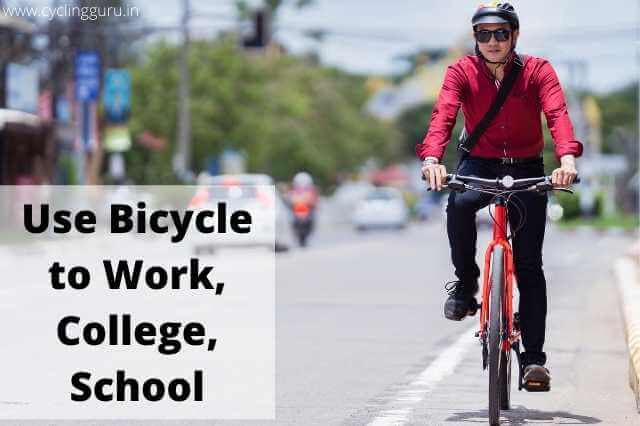 If your workplace or office is within a distance of 10km, you must ride a bicycle to commute to your office or workplace. By doing so, you will save your money and decrease a motor vehicles on the road which will contribute to the environment positively.
If you are a student, you should go to school or college by riding a bicycle. You will be surprised when you follow the same practice for a month. You will see a great change in yourself, this will encourage your friends to join you as well.
4. Use bicycles for short distances (Don't use cars or motorcycle)
You should avoid using your motorcycles and car for short distances. It's better to use the bicycle for short distances, a bicycle is an effective means of transportation for short routes.
If you take your motorbike and car, you might take more time. However, a cycle can be taken to anywhere on any kind of street. So in this way, a bicycle saves your time and money.
Get a bicycle for yourself if you don't have one.
---
How Can Government Promote Cycling in India? 5 Best Ways
Govt. has to take some initiative to promote cycling in India. It's a debatable question why the Indian Govt. is not promoting cycling, even if cycling has a lot of environmental benefits.
Some cyclists reported that Govt. might be thinking that cyclists don't contribute to the economy because they neither buy petrol nor pay road tax. Is it? Let's not discuss that right now.
What steps should Govt. take to promote cycling in India:
1. Increase the safety on roads for cyclists
In India, cyclists feel unsafe because the driver of other vehicles doesn't care for cyclists. Therefore, most victims of hit-and-run cases are found to be cyclists. Govt. should enforce some strict laws against drivers who don't follow the rules of the road.
Roads are filled with gravel, stones, sands etc. It's very tough to ride a bike on this kind of road where you will find many puddles filled with water. The condition of the roads is not favourable for a bicycle rider.
So, Govt. should get the new roads built, proper lighting on the roads, and a separate green signal for cyclists only.
2. Different lanes for cyclists
Countries like the USA, UK, Canada, Australia etc have made separate lanes for cyclists. However, You hardly find any cycling lanes in India. We have a first-cycle highway in U.P which is 207km long.
So, the Govt. should make more cycling lanes so that more people come together to ride a bicycle. Having different lanes on the roads for cycling makes cyclists very safe, and more people start riding bicycles.
3. Reduce the taxes on bicycles
Govt. should reduce the tax rates on bicycles so that the price reduces and more people buy bicycles. Because there are some people who want to ride bikes but they don't have money to purchase them.
As you know the whole world has suffered from the covid-19 pandemic, and it has made the rich people richer and poor people poorer. In this situation, if the govt lowers the tax rate, more people will commute to work by cycle and their money will be saved every day.
4. Make cycle parking spots
You hardly find cycle parking spots in India, therefore most people hesitate to commute by their bicycle because the chances of being stolen increase. Most people have bicycles but they don't ride because of being stolen.
If govt make cycle parking spots where a person can easily lock his bicycle safely. It will definitely encourage more Indians to ride cycles in India. It is one of the best methods to promote cycling in India.
Earlier, we didn't have Insurance for bicycles but now many companies are offering this service in India as well. This will also encourage people to take out their cycles on the roads because bicycle insurance helps.
5. Enforcing traffic laws in favour of Cyclist
There must be some laws to make cyclists safer while riding so that no one could hit them or bully them while riding. If someone is found to be doing this, there must be some strict action against him/her.
---
How to Encourage Employees to Cycle to Work in India?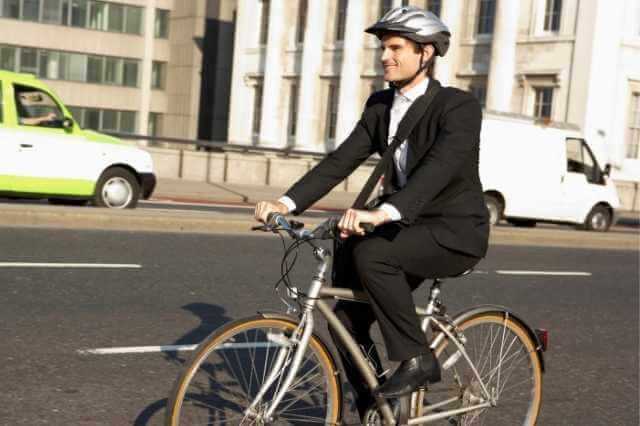 Cycling is one of the effective ways to keep yourself fit and healthy. It's good to commute by bicycle to work because by cycling you can do the exercise and also you reach your office. So, cycling to work has a lot of astonishing benefits.
If you see countries like USA & UK have "Cycle to Work Scheme" that encourage more people to commute to and from work by bicycle in order to reduce the environmental pollution and reduce the traffic.
Right now, there is no kind of scheme like this in India, But people should follow this practice so that they can enjoy the various benefits of cycling to work. If you want to encourage employees to cycle to and from work, you have to start doing it first. Then, people will watch you and follow you and might join you.
5 Ways to encourage employees to cycle to work:
Cycling to work improves cardiovascular fitness as a result, your heart becomes healthy and eliminates the risk of heart attacks, strokes and diseases related to the heart. If you motivate your friends or colleagues, then they will be encouraged to cycle to work with you.
In India, most employees are running out of time, they always complain that they don't have the time for doing exercise, yoga or any other physical activity like this. So, cycling to work can be the best way for them as cycling is an exercise, you can do it while going to work and coming home and your exercise is complete.
Regular cycling reduces body fat and most people want to reduce their body fat by doing nothing. But, It's impossible to get anything without losing something. If you cycle to work regularly, you will definitely reduce body fat and you will get a perfect body shape.
Youth in India are suffering from stress, resulting in depression. This problem can be resolved because cycling reduces stress levels. You and I should start riding a bicycle to go to work, for exercise and to go for short distances.
Cycle to work is pocket friendly, it costs nothing but in return it gives several health benefits.
---
How do you feel when you start cycling to work in India:
---
Conclusion on How to Promote Cycling in India
Bicycling in India is necessary because petrol prices are increasing day by day along with pollution. Very soon, people will automatically come out of their homes by riding a bicycle. So why wait for tomorrow, do it today.
You must have got the answer to the question of how to promote cycling in India. Only You, I and Govt can promote cycling in India. Don't wait for the change to happen, let's be the change and encourage India to cycle.
Share your thought on this article in the comment box and if you liked this blog do share this with your friends, colleagues and family members. Thanks for reading!
Resources:
https://en.wikipedia.org/wiki/Cycle_to_Work_scheme
https://www.youtube.com/watch?v=9dVa6vDHwag