Cycling Guru is reader-supported!
Some links on this page are Amazon Associate affiliate links When you buy through links on our site, we may earn an affiliate commission! Read more...
Having fun and enjoying the ride should be the primary purpose of cycling. However, there are some cyclists who want to pursue cycling as a career. But they don't know how to become a professional cyclist in India.
Do you know? Cycling is a sport in India and It is a part of the Indian Olympic Association (IOA) as per the Cycling Federation of India (CFI). There are many events that are organised every year for professional cyclists. But most cyclists are not aware of this.
Cycling is still not very popular in India. Why is that? Most people ride bicycles as a hobby, not as a career.
So, in this article, I am going to cover almost everything about cycling as a career in India such as:
The process to become a professional cyclist in India.
Tips to become a professional road cyclist.
What are the types of cyclists?
How to join the Cycling Federation of India.
Is there any career in cycling in India? And a lot more.
Do read this article completely if you don't know how to become a professional cyclist in India.
How to Become a Professional Cyclist in India? Quick Answer
A cyclist has to join or register as a cyclist with the Cycling Federation of India. Then, he or she has to participate in the events organised by CFI or across the state or world. Then that cyclist is considered a professional cyclist in India.
As a beginner cyclist, you have to improve your performance, because a cyclist has to ride every day (average distance to cycle in km) to increase his stamina, should have a good coach, and take a healthy diet for excellent body weight and shape.
Related: What is the Average Cycling Speed in India? - All you need to know!
If you ride a bicycle on the road, you need to know the rules of the road to ride a bicycle in India whether you are a professional or a normal rider.
Type of Professional Cyclists (Decide which type you want to be?)
A Cricketer can be a batsman, all-rounder and baller Similarly, Cyclists include all types of cyclists such as sprinters, climbers, riders, punctures and all-rounders etc.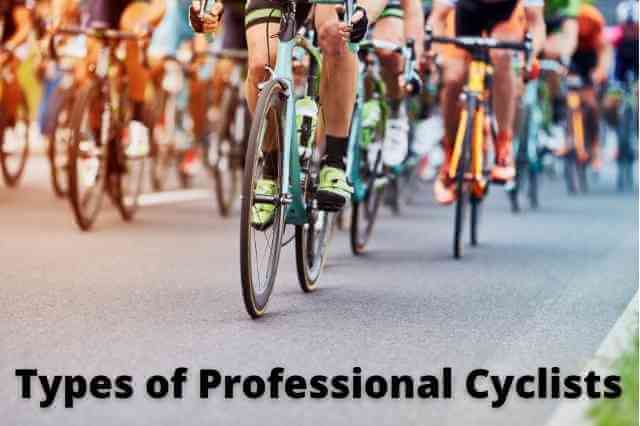 Cycling is also a game/sport where different types of races or cycling tournaments are held for different types of cyclists.
There are some cyclists who love road cycling, some riders love mountain climbing. Therefore, cycling sport also has different types of professional cyclists:
1. The Climbers (Specialists for riding MTBs)
As the name suggests, a climber is a cyclist who rides mountain bikes in mountainous terrain, his weight is quite low compared to other riders but not the energy and power. Climbers have an amazing ability to climb to the highest points in the world by cycling at incredible speeds and inhaling thin air while climbing at high altitudes.
2. The Sprinters (Fast Cyclists)
Sprinters are road cyclists who have big and powerful legs (thighs) so that they can kick faster than any in the peloton (a group of cyclists in a race) to win the race as fast as they can. A sprinter has the ability to accelerate his speed up to 70km/h.
3. The Riders
Riders often have the size and strength of sprinters, but they are able to maintain a high cadence for many minutes in order to overtake their rivals. When it comes to time trials, they are very efficient.
4. The Puncheur (Punchers)
Punchers are known for their explosiveness in the final kilometres of a race. It is their ability to hold the cadence for long periods of time that allows them to escape the peloton using less efficient fast accelerations than sprinters.
5. The Rouleur (all-rounder)
The rouleurs are versatile riders who have the capability of riding in all areas. They can push hard whatever the surface and the elevation. They are called all-rounders because they have the ability to serve a variety of roles, but are particularly useful as domestiques and super domestiques, as team captains as well.
6. Time Trialists
They are fabulous solo riders in skinsuits and aero helmets. They are specialised to achieve high speeds over a wide range and provide enough power through a climb and on flat terrain.
So, when you observe a cycle race, you will find these types of cyclists. If you want to be a professional cyclist, decide which category you fall into. And let us know, what kind of cyclist you are in the comment section below!
Who are Professional or Elite Cyclists?
Professional cyclists are those who ride bicycles in events, and races such as the Sub-Junior National Track Cycling Championship, Junior & Sub-Junior National Road Cycling Championships and other cycling events across the world. These events are organised for different age groups for different types of bicycles.
Cycling races are organised to see which cyclists and teams make the fastest time. Races range from 10 km to 100 km on different surfaces such as roads or trails. A cyclist has to ride for long distances without getting tired.
If races are organised on-road then they are called road events. Similarly if organised on track, they are called track events. One of the events is dedicated to MTB (mountain bike) bikes, and they are called MTB events.
Thus, professional cyclists participate in different types of races and events across India and the world.
Related: Top 11 Best Mountain Bike Brands in India (Trusted by pro cyclists)
10 Best Tips to Become a Professional Road Cyclist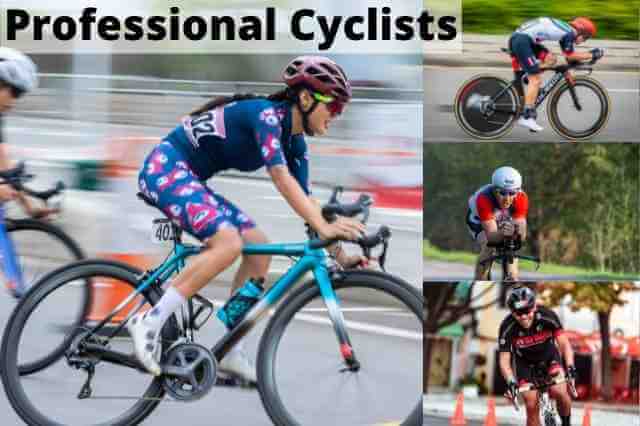 There are many race events across the globe where thousands of professional cyclists compete for the fastest time, such as the Giro d'Italia, the Tour de France, and other cycling events. Discover how to become a professional road cyclist by reading the following steps.
1. Prepare your mind & body like a professional cyclist
The first step to becoming a professional cyclist is to prepare your mind and body for intense cycling & training. You must have a good physique, strength and stamina for cycling in races.
You can achieve this by regular cycling (at least 4 hrs. per day), Building your strength in the gym, proper and adequate diet to fuel your workout (fruits, vegetables, carbs & lean protein), and trying to ride in a dynamic environment which will improve your riding cadence and stamina.
2. Active participation in the cycling community
If your ultimate goal is to become a road cyclist, join some best cycling communities where you get a chance to participate in their cycling events, you learn the rules and regulations of cycling. You also come out of your comfort zone when you compete with other cyclist aspirants.
A cyclist must be familiar with the Cycling Federation of India (CFI), and Union Cyclist Internationale (UCI). So, active participation in the cycling community helps a lot.
3. Don't wait, Start Cycling at an early age
Start your cycling journey as young as you can (if possible). Join some cycling associations and local cycling groups to enter this cycling sport. It will help and develop your strength & skills at an early age.
Also, you are known to some experienced cyclists when you start early. So don't wait much, cycling is also becoming competitive in India just like other sports.
4. Join a group of experienced riders and ride with them
It helps a lot, when you start cycling with experienced cyclists, you learn from them and become motivated to learn new things as well.
Also, You have to be with cyclists, try to make some cyclist friends and ride with those cyclists who are better than you. You know, you are the average of 5 people in your surroundings.
5. Consult a cycling coach to improve your technique
Coach plays a very important role in any sport. "A good coach can change a game and a great coach can change a life". So, try to find a cycling coach who will train and teach you new techniques and lead you in the right direction.
A good coach can help you improve your technique when racing against others, break your own time records, and build your endurance and speed. Also, advise you on how to choose the right equipment and what nutrition to follow in cycling sports.
6. Practice Key Skills and Develop your Own
"Practice makes a man perfect" right? So follow this principle while cycling. Keep practising key skills without counting them. Also, try to develop your own technique which will make you unique from the crowd.
7. Decide on the event you wish to specialize in
As you know there are various types of cycling events, you have to find out the category (niche) in which you wish to specialize. So, decide what type of cycling you like the most and what you are good at. A great coach will surely help you out in this situation.
For e.g., if you are good at racing then go for time trials, criterium or stage races. If you are good at mountain biking then go for downhill, enduro or cross-country racing. Or, if you love track racing then go for sprint or pursuit races.
8. Get a flexible job that supports your cycling
As you know cycling is a passion and it isn't easy to earn money from following a passion in the beginning. So, you need a flexible job to manage your cycling expenses.
If you are selected for a team still you need money because they finance only bicycles and equipment, not for personal expenses. So, you must have some source of income to pursue this sport.
9. Participate in Local races
When you participate in local cycling races in your city or state, you become better, more confident and reputation. You should work together with your local club members to dominate the racecourse if you're entering with others.
You can find local races by searching at Active.com or the official cycling website of your respective country.
10. Enter a bigger contest as you become better and Faster
The final step to becoming a professional cyclist is to participate in state-level cycling events where you should perform excellently so that you can catch the attention of professional teams.
Because in these types of events, a scout of a cycling team searches for new talent, if you perform extraordinarily then there is some chance that you are selected for a professional team to compete for them.
So, You should keep on searching at the CFI website, and Audaxindia website to participate in these bigger events. Good Luck!
What is the Cycling Federation of India and its Mission?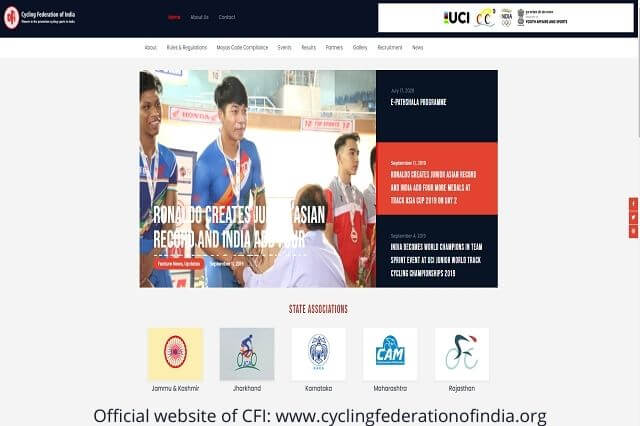 The Cycling Federation of India is the sole body that promotes cycling sport in India by organising cycling events and races from time to time. It has been promoting cycling sport in India since 1989. Founded for the promotion of cycling as a sport in India. CFI organises the National Championship for the cyclists of India every year.
National Championship Organised every year by CFI
National Road Cycling Championship
National Track Cycling Championship
National Mountain Bike Championship
The mission of the Cycling Federation of India
Control, direct, regulate, and develop cycling sports in all forms within the country.
All States of India should be encouraged to promote cycling at all levels.
The organization organizes National Championships and Inter-State Cycling Championships, as well as Stage Races in India, of which it is the sole organizer and owner.
The goal is to promote fair play and sportsmanship.
Assist and promote the sport of cycling at national and international cycling events and represent its interests in front of the National and international Continental and Federations.
How to Join the Cycling Federation of India [CFI]
The Cycling Federation of India is a govt. Body for cycling sport. Only elite cyclists can be members of CFI. If you are an Indian and would like to join this club, you need a CFI license. You must have an equivalent riding license if you are a foreigner.
There is no specific process to join CFI. You need to be an elite cyclist, who wants to pursue cycling sport as a career. You need to participate in trial races.
In India, each state has a cycling association to promote cycling sports in their state. You have to register yourself with that association. Then, you will have to participate in intra-state cycling events regularly. You will have to perform well continuously in order to get selected for the state team.
When you become an elite cyclist in your state, you can participate in Inter-State cycling events to get selected for the National Cycling team of India.
After getting selected for the Indian National Team of Cycling, you will be participating in all international and national events of cycling in India or across the world.
This is almost like the cricket sport in India, where BCCI is the sole governing body in India. Similarly, The Cycling Federation of India (CFI) is responsible for cycling sports in India.
How to Participate in Tour De France Cycling Event
The Tour de France is an annual multi-stage bicycle race for men (not for women) which is mainly held in France but sometimes passes through neighbouring countries as well. This event is held for 23 days, it includes 21 stages, each lasting a day.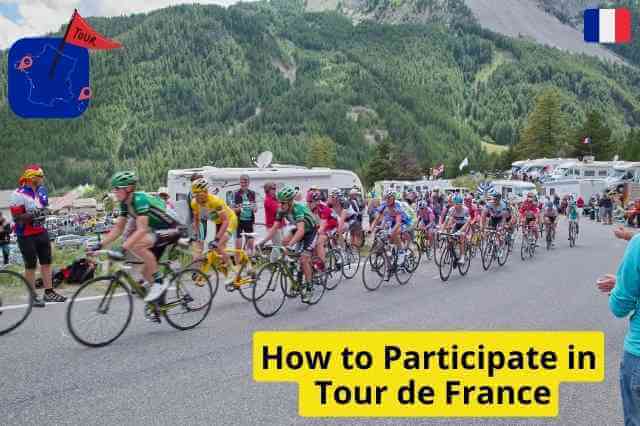 Well, Tour de France is not open to any cyclist with a bike and a goal. Because the Tour de France is a team competition, not for individual riders.
If you want to participate in the Tour de France cycling event, you have to win a spot on a top cycling squad. This event is ultimately a team competition.
International Cycling Union rankings determine who enters the Tour de France, and wild card entries are permitted as well.
In order to join an elite squad, you must perform well in key races. It is then necessary to be a member of one of the nine team riders that traditionally compete in the event.
There is no requirement that you be one of the 9 fastest riders because racers are assigned to specific roles and may be more valuable to their team if they can shine on the climbing stages.
Important Note: Only males are allowed to enter the Tour de France as a rider. Women are not allowed in the event to compete. Know the Reasons?
---
How to Join Indian Cycling Team: A Comprehensive Video
---
Is there any Career in Cycling in India? Career Vs Passion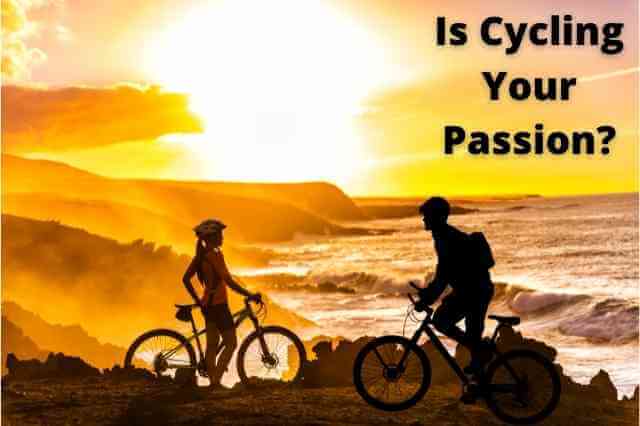 Yes, there is a cycling career in India. Because CFI promotes cycling as a sport in India. Also, cycling is part of the Olympic Games. After becoming a professional cyclist, you can participate in various cycling events across the world and win prizes and medals.
As you become famous as a professional cyclist in India. You will be earning a lot from various sources. Also, you can become a cycling coach in the Cycling Federation of India or at other cycling associations or clubs in India.
Thus, you can make your career as a cyclist in India by becoming an elite cyclist. Or you can open your own cycling club or join cycling associations as a coach.
How much can a cyclist earn in India?
There isn't a concrete career in cycling – but yes, you can earn by cycling in India. You have to be creative around it, regardless of where you live.
Unfortunately, cycling is not a career like IT, Trading, Manufacturing or Hospitality. In fact, sports, arts, music etc are not a career at all. They are a passion. It's not like a 9 to 5 job where you earn to pay your daily expenses and EMIs.
If you have any passion to follow, you have to be very competitive and willing to sacrifice exceptionally. Money is one of them. Passion is connected to your soul and money doesn't matter in this case.
The majority of Indians do not understand this, since they have only learned to become government employees or private companies for a steady monthly income.
Cycling sport is new and it's tough to find sponsors for a cyclist. Because cycling is not very popular in India like cricket. Indians should also have some craze for other sports except cricket.
5 ways to earn by cycling in India:
Starting a blog or video blog where you can share your knowledge of cycling, gear, and parts might be a great idea if you are passionate about cycling.
To earn more, you can explore a city, different neighbourhoods, mountain trails, etc. and post pictures/videos on a blog/YouTube.
While cycling, consider promoting local brands – they will give you credibility, and then you can move on to larger cycle brands.
If you have an Instagram/YouTube/blog with a commendable user base, you may also be rewarded with free products/gear/parts from various brands.
You can also earn money from cycling apps in India, by following their instructions while riding.
Consider exploring – there are many options available. There is always the option of making your own if you can't find one you like!
Conclusion: Ready to Become a Professional Cyclist in India?
When it comes to the conclusion of this article on how to become a professional cyclist in India. Cycling is a passion for me. If you want to be an elite cyclist, you have to be very passionate about it. Never think about money when you are following your passion.
You can become a professional cyclist in India by following the above-mentioned steps. If you are going to ride a bicycle on Indian roads. You must remember cycling tips for riding on the road.
If you liked this article, please share this with your cycling partners and friends.
---
FAQs: How to Become a Professional Cyclist in India
Q1. How long do I have to cycle a day to participate in the World Cycling Championship (WCC)?
There is no such fixed distance to cycle. You should cycle every day because the foundation of any sport is training and experience. Professional cyclists make many miles on the road as a part of their job.
Work out for at least 60 minutes once or twice a week to build your leg and core muscles. Also, Eat right to fuel your workouts and always Stay Focused.
Q2. How much money can you make as a pro cyclist?
As you know cycling as a sport is not very much famous in India as cricket. The earnings are not fixed. You can earn by participating in cycling competitions, cycle blogs, the Ridevert app, and brand promotion. On average, a pro cyclist can make anywhere around 50000 to 100000 INR in India. But it takes time to achieve that level.
Q3. Who is the best cyclist in India?
According to Wikipedia, Mahitha Mohan is the best cyclist in India since 2010. She has participated in and won the national championships in multiple road, track and MTB events. She was the 50 km Mass start gold medalist in 2010.
Q4. How long does it take to become a good road cyclist?
It is evident that every individual has a different timeline for becoming a pro-road cyclist. Regardless of how long it takes an athlete to go pro, in cycling, experience makes a significant difference.
References: