Cycling Guru is reader-supported!
Some links on this page are Amazon Associate affiliate links When you buy through links on our site, we may earn an affiliate commission! Read more...
Recently, bicycles have attained a lot of fame for mainly two reasons. It is the perfect workout for adults who are not interested in or bored with running or jogging. The second reason is that it is the ideal way of transportation who wish to grab an instant workout while commuting.
So when you decide to invest in a good-quality bicycle, the main question in your mind is how to buy a bicycle for adults. Also, you realise, Should I buy a bicycle online or offline? And What to look for while purchasing a new bike and so on.
This bicycle buying guide for adults will help you pick the perfect cycle according to your height and your cycling discipline. We would also suggest you some best bicycles depending on the kind of terrain you would ride on & your expertise level and answer some important faqs at the end.
You must read this article completely if you are planning to buy a cycle for the first time because each and every point of this guide will help you choose the best bike for you.
So, It's time to learn step-by-step how to shop for an adult bicycle online or offline.
Should You Buy a Bicycle Online or Offline?
According to a report from Statista.com, around 190 million people shop online in India for all types of products including bicycles. We rank at number 3 on the list of online shopping in the world. Online shopping saves precious time and time is money! Isn't it?
Selecting a bicycle online would hardly take 1 or 2 hours when you have already read this article. You can do this by sitting at your home with just one click and you get thousands of bicycles to select from along with some extra discounts!
Apart from this, you also get the option to return or replace the bicycle if the wrong product is delivered or damaged.
When it comes to shopping from offline stores, you have to visit the store, won't get many options, only a few brands will be available with fewer colour options, prices will be high as well as won't offer discounts. You might be sold a Chinese brand bicycle at a higher price if you are not aware of how to select a bicycle.
According to us, buying a bicycle online is a time and money-saving process. It's up to you, you can buy a bicycle offline as well but read this guide before going to a bicycle store because the process is the same whether you buy online or offline.
How to Buy a Bicycle for Adults: Step-by-Step Guide
If you are a beginner, and want to invest in a perfect bicycle but don't know much about it. Don't worry! This cycle buying guide will help you select or find the perfect cycle. So follow the below-mentioned steps to buy a bicycle:
Step 1: Set your budget
Budget planning is the key component whenever you decide to purchase a bicycle. Firstly, you decide whether you want a bicycle under 6000, 10000, 15000, 20000 or more. Having a higher budget will give you more options with premium quality. But, Decide your budget according to your Income.
It is easier to sort out the kind of bikes you would look at after you have your budget fixed with the amount fixed to your head. You should have a minimum budget of 6000 rupees with 10% flexibility. If you are a beginner you should not invest much so 6000 to 15000 rupees is enough, you get varieties of bicycles under this budget.
If you are experienced and want to explore more while cycling and learn more cycling techniques and want to participate in BRM cycling events, a 15000 to 50000 budget is recommended where you would get good quality bicycles made from alloy and aluminium frames with good quality cycle parts.
You will get several options with reputed bicycle brands like Hercules, OmoBikes, Btwin, Leader Cycles, Firefox, and Ninety-One.
For professional cyclists, a premium quality road bike is recommended which starts from 50000 rupees in India. Guys, road bicycles are very expensive compared to other bicycle types because of their frame material and features. So don't buy a cheap road bicycle, they would not last long and your money will be wasted.
Step 2: Choose a bicycle that meets your requirements
You should be knowing your purpose for buying a bicycle means you should ask yourself the question why do I need a bicycle? Is it for exercising, commuting, adventure biking, or something in between?
You must also consider the number of times you can cycle based on goals, such as daily, once a month or week, and so on. These all would help you make a good decision, and not just any other impulse of purchasing that would become a rack to dry your clothes.
Once you know your purpose of cycling, you go one step forward on how to buy a bicycle for adults. But, There are many types of bicycles, which one should buy?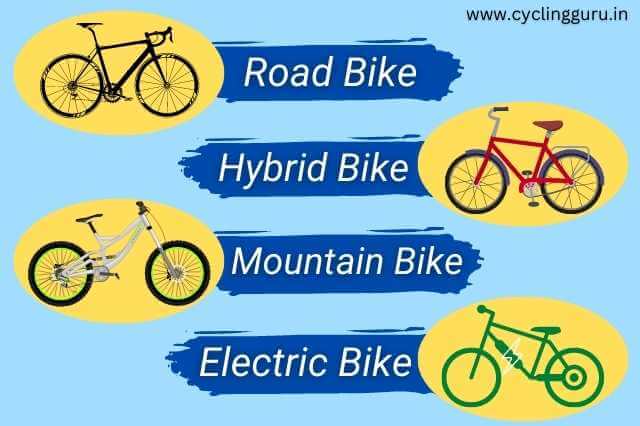 Let us explain it more in detail. Some bicycles are specifically classified under the following categories:
Mountain Bikes: These bicycles are designed mainly for off-road and more challenging terrains. The flat handlebars and the pick of the lower gears offer greater comfort while pedalling on the steeper trails on the bikes. The mountain bikes comprise higher-quality shock absorbers. Therefore, if you are in search of some adventure, then you should look for the Best MTBs under your budget.
Hybrid Bicycles: Hybrids are suitable ones both for city or off-road cycling. These cycles have larger padded seats for better comfort. There are medium-sized tires, allowing for appropriate cushioning under uneven surfaces. Therefore, if you are searching for a cycle that helps you reach your ultimate fitness goals, then hybrid bicycles are the ideal choices you will make.
City Bikes: As the name would suggest, the city bike is mainly built for rides on urban roads and flat surfaces. These are fast and involve less maintenance, making them the best for activities, including cycling to work or running errands. Leader cycles and Hercules have the best range of city bicycles you can pick from.
Electric Bicycles: Electric bikes are becoming popular in India as well since they have the best technology, smaller and lightweight batteries, longer ranges, and affordable costs as compared to motorbikes. They are perfect for effortless cycling since they would make these hills less of a challenge while the distances are highly reasonable and filled with a lot of fun suited for adults and senior citizens. These E-bikes are the perfect ones if you wish to attain a mix of leisure and fitness. Well, they are costlier than MTBs and Hybrid bicycles.
Road Bikes: Road bicycles are mainly built for racing and riding swiftly across paved roads. They mainly come with higher gears allowing the riders to hit that higher speed with low handles. therefore, cyclists can bend even lower and cut off the air resistance by maintaining aerodynamics. Therefore, road bicycles have higher speeds as compared to any other pedal-powered bike.
I hope you would have understood what type of cycle you need according to your purpose after reading the above points. Let's move on to the next step.
Step 3: Consider the anatomy of the bicycle
A bicycle is manufactured using various parts such as a frame, rims, tyres, gearset, chains, fork and other important parts. If you don't know the bicycle parts, you should learn before buying a new cycle. Trust me! It helps a lot when you know the bicycle's anatomy.
#1. Frame material, Design and Size
It is worth stating that the type of frame material you are picking on will depend mainly on your budget and your intent on using the bicycles. The following are the materials you can pick from:
Aluminium frame: It is generally a cost-effective and lightweight solution, perfect for shorter rides across smoother terrains. It is quite long-lasting and durable with the right kind of design.
Carbon frame: Carbon fiber frames perform their job relatively better for absorbing the shocks and vibrations on the road, mostly used in road bikes. However, they are mainly on the expensive side. But, it is highly prone to damage from collisions and falls.
Steel frame: It is a highly durable and heavy material as compared to any other frame materials. It is perfect for custom bike designs, which are costlier. They are found in cheap and affordable bicycles under 20000 in India.
Titanium frame: The titanium frames are lightweight and longer lasting. They are even optimal for mountain bikes which are repaired easily. But they are extremely expensive.
Apart from the frame material, you should also know what kind of frame design is suitable for you. Frame shape/design decides your riding posture. There are two types of frame design i.e., Step through and Step-over frames:
Step Over Bicycle Frame: This type of frame has a top tube which allows you to take your legs up while sitting on the bicycle. You would find this kind of frame in racing bikes, road bikes and MTBs. It offers good speed and maintains aerodynamics.
Step Through Bicycle Frame: It doesn't have a top tube which makes it very easy to sit on the bicycle. You would such type of frame design in ladies' bicycles and comfort city bicycles.
Once you select the frame shape, the next and very important step is to select the frame size according to your height and inseam length. Otherwise, you won't be able to maintain the balance properly if you select the wrong frame size.
Take your measurements and find the suitable size from the below-mentioned frame size chart of a bicycle:
| Rider's Height | Leg Inseam | MTB Frame Size | Hybrid Bike Frame Size | Road Bike Frame Size |
| --- | --- | --- | --- | --- |
| 148-158 cm | 61-73 cm | Less than 14″ | 14 Inch | 47-48 cm |
| 158-168 cm | 63-76 cm | 15-16 Inch | 15 Inch | 49-50 cm |
| 168-178 cm | 66-78 cm | 16-17 Inch | 16 Inch | 51-53 cm |
| 178-185 cm | 68-81 cm | 17-18 Inch | 17 Inch | 54-55 cm |
| 185-193 cm | 71-83 cm | 18-19 Inch | 18 Inch | 56-58 cm |
| 193-198 cm | 73-86 cm | 19″ & above | 19 Inch | 58-63 cm |
If you are reading this line, it means you have followed 60% important steps of a bicycle buying guide India for adults or any age group. Let's move further.
#2. Gear Type (geared vs non-geared cycle)
There are two types of cycles are in the market i.e., Gear cycle and non-gear cycle. I believe that you know the difference between a gearless and geared bicycle.
Non-geared bicycles have only one speed whereas geared bicycles have multiple speed combinations which help a rider to change his/her gear ratio according to the terrain.
If you are a beginner, you should go for a non-geared bicycle. But if you know some basics about cycling, opt for a geared bicycle for better performance. However, the price of a geared bicycle is more expensive than a gearless cycle.
The price of an entry-level geared cycle starts from 10000 rupees in India and can go to lacs. So, select wisely.
Picking the kind of gear is based on your ride type and willingness to maintain your bike in the best way. There are a few massive kinds of gears to pick from, such as:
Hub gears: It is a type of gear with service intervals that range between 3000 to 5000 km and are best for commuters searching for robust, low-maintenance rides. The hub gear systems range from 3 to 14 gears and are well-suited for varied terrains.
Derailleur: The derailleur has a mechanism operated through a toggle that allows cyclists to shift the chains from one sprocket to the other. It is a mechanical sprocket wheel with smaller notches designed specifically for engaging and rotating with the links to a belt or chain. The setups for most of the derailleurs have speeds ranging from 27 to 30, meaning that you can locate the best optimal gear option for the terrain you ride on and the speed you are at.
#3. Wheel size and Rim type
The size of the wheels follows varied standards; therefore, picking the right one is extremely tricky. You must sit on the bike and understand the best one for you or you can see the wheel size chart. Check on the following things before making the purchase: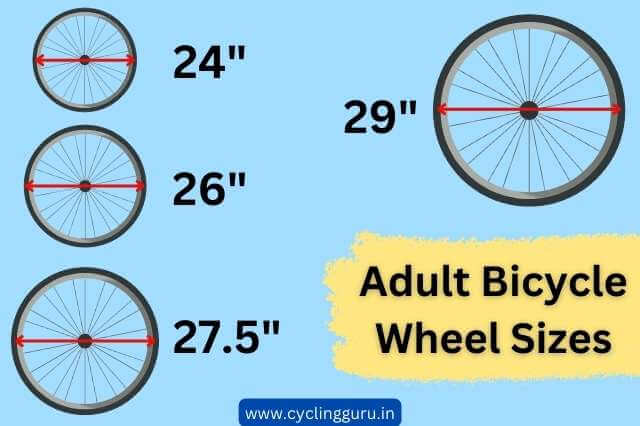 The wheel diameter: You can have a smoother, stable ride with a larger diameter; however, changing the directions will make it tough. However, a smaller wheel diameter will make every turn, deceleration, and acceleration easier; however it would imply a bumpier ride.
The wheel width: You can attain a stable ride with the higher wheel width, which is highly suitable for first-time riders. Less width would have low rolling resistance, which helps you cycle faster.
As you know bicycle wheels come in various sizes and widths, For adults, tyre sizes are 24T, 26T, 27.5T, 700C (28-Inch) and 29 inches. You should select according to your height.
When it comes to rims, They should be dual-wall and made from alloy material. Which is anti-rust material and will last longer.
If you don't know what's your wheel size? Here is the bicycle wheel size chart:
| Rider's Height | Bicycle Wheel Size |
| --- | --- |
| 4'10″–5'3" | 26-Inches |
| 5'4″–5'7″ | 26-Inches |
| 5'5"-5'9" | 27.5-Inches |
| 5'9"-6′ | 27.5-Inches |
| 6′-6'3" | 29-Inches |
| 6'1"-6'6" | 29-Inches |
After selecting the wheel size of the bicycle that you need. The last important step is to look for the quality of other bicycle parts. Let's see it in detail.
#4. Select the brake type
Selecting the bicycle brakes can be a bit technical and tricky. Basically, you would find two types of brakes in bicycles i.e., V-Brakes and Disc Brakes. Let's understand them in detail:
V-Brakes: It's a traditional braking system where a calliper and brake rubber push the bicycle rims in order to stop the moving bicycle wheel. It's very cost-effective but doesn't work properly when the rims are wet.
Disc Brakes: A disc rotor is installed at the bicycle hub (front and rear) and the calliper stops the rotor using disc pads in order to stop the bicycle wheel. It's more expensive than the v-brake and involves high maintenance costs but it's very effective in wet conditions too. Mechanical and hydraulic disc brakes are available in the market.
If you select a bicycle with v-brakes, will cost you cheaply. Whereas a bicycle with mechanical disc brakes will cost you around 1500 rupees more. So, it's up to you, both are okay if you ride for commuting.
#5. Fork Type (Suspension or without suspension)
One more important part of a bicycle's anatomy is the fork. The fork absorbs the shock along with the tyres. As if now we have got two types i.e., Rigid and Suspension forks. Rigid forks are good for commuting bicycle, road bikes and hybrid bikes as they are lightweight and increases the speed of the cycle.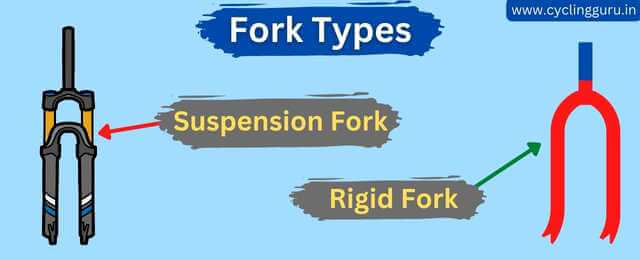 However, suspension forks are good for mountain bikes as they absorb the maximum shock so that the rider enjoys a comfortable ride. They are heavy and thus decrease the speed, are suitable for rough terrain and increase the price of the bike.
if you ride on roads, you can go with a rigid fork. Otherwise, the suspension is a good option with all types of terrain, but you will have to pay some extra bucks.
Step 4: Understand the accessories, servicing, & spare parts
A bicycle is a machine which needs maintenance for better performance and some parts are also replaced sometimes such as brakes, chains, tyres and tubes. Maintenance includes timely cleaning, greasing and tuning up the bike.
There are some other accessories like mudguards, carriers, bells, reflectors, sides stand and lock. These parts are important in any bicycle so you should keep this in mind as well while looking for a bicycle for adults.
Related: How to protect bicycle from theft in India? – These are some best ways!
After you have bought your bicycle, ensure to keep up with the daily maintenance by following the tips below:
Fill up the air according to the specific pressure on the tires and keep them at less than 10 to 15%, which offers you a good grip.
Wipe the cycle handles and frames using a damp cloth after each ride to remove the dirt. Use a dry cloth to wrap the chain and backpedal the drivetrain by wiping off the exterior muck. You can even use baby wipes to get this done. After cleaning the chain, you can apply lubricant as required.
Purchase an Allen key set that helps you tighten the bolts that loosen the daily uses.
Step 5: Take a Test Ride
And the final step is to take a test ride if you are buying it from an offline bicycle store. It's very beneficial, when you take a test ride, you feel the comfort and understand a little bit about performance.
Taking a test ride is not possible when you are buying it from an online store. But you can watch some review videos on Youtube of that particular bicycle, you will understand almost everything, and will be able to make the final decision.
Which Cycle Brand is Best for Adults in India?
The bicycle Industry is booming in India, Many brands are entering the market rapidly. But let me tell you the big players in the Indian bicycle sector are Hero cycles, Hercules, BSA, TI cycles India, Firefox Bikes, and Ninety-one. Each company has various types of cycles starting from low range to high.
But our main question is, which gear cycle brand is best? Each well-known cycle company is best. You can go with any by keeping the above-mentioned points in mind. I have selected some best bicycles for adults from top cycle brands:
Last update on 2023-12-06 / Affiliate links / Images from Amazon Product Advertising API
Last update on 2023-12-06 / Affiliate links / Images from Amazon Product Advertising API
Last update on 2023-12-06 / Affiliate links / Images from Amazon Product Advertising API
Last update on 2023-12-06 / Affiliate links / Images from Amazon Product Advertising API
Last update on 2023-12-06 / Affiliate links / Images from Amazon Product Advertising API
Which cycle is best for school students in India?
School students need a comfortable bicycle so that they can sit properly and don't feel tired. Good for commuting and cycling on city roads. According to me, hybrid bicycles offer all these benefits. Below are some best hybrid bicycles for school students:
Last update on 2023-12-06 / Affiliate links / Images from Amazon Product Advertising API
Last update on 2023-12-06 / Affiliate links / Images from Amazon Product Advertising API
Last update on 2023-12-06 / Affiliate links / Images from Amazon Product Advertising API
Last update on 2023-12-06 / Affiliate links / Images from Amazon Product Advertising API
Last update on 2023-12-06 / Affiliate links / Images from Amazon Product Advertising API
---
FAQs on Bicycle Buying Guide India
Q1. Which cycle is the best gear or gearless?
In terms of performance and riding uphills and flyovers, geared bicycles are the best to go with. You just have to shift your gears to low, and pedalling becomes easy. However, the gearless bicycle does not have this option, you have to pedal fast or even stand on the pedals. So according to us, geared bicycles are best for all types of terrains if you have a good budget.
Q2. Which cycle is best Aluminium or steel?
Aluminium frames are lighter than steel-made frames but they are costly too. If your budget allows you to invest some extra bucks, you should definitely go with bicycles with aluminium alloy frames. Such types of cycles offer good speed and are long-lasting.
Q3. What kind of bicycle is good for beginners?
Non-geared city or hybrid bicycles are good for beginners if you are buying them for commuting and exploring the city. However, you should go with mountain bikes as they have wider tyres which offer good stability and balance to a beginner. We don't recommend road bikes to beginners.
Final Verdict on How to Select a Bicycle in India for Adults
We at CyclingGuru always help you to pick a bicycle based on your overall skill rather than the above-mentioned information. If you are at a beginner level, cycling with a basic gear system consisting of good control and powerful brakes is preferred.
So, we hope we have answered your rising query on how to buy a bicycle for adults. If you are cycling for a normal reason, you can be flexible in choosing the frame and selecting a cycle that involves a moderate rise in your skill levels.
Any bicycle will work great for professionals. However, if you plan to use your cycle professionally, a lighter cycle is used in various terrains, offering a greater level of speed.
When purchasing a bicycle for an adult, the thing that matters the most is picking the one you like and feel comfortable in. You can also do some modifications to your bicycle by upgrading brakes, gearset, tyre size etc.
So that was it for the cycle buying guide, if you have any queries write to us in the comment section below.
Thanks for reading this article, share this information with your friends who are looking for a bicycle.
Stay tuned and Keep Cycling!