When we choose a bicycle, there are so many questions in our heads and we often do not know much about them. So in this article, we will deal with what is 26t in cycle.
I know it may have troubled a lot of you guys but you are going to know everything about a 26t in a cycle by the end of this article.
I have also mentioned some of the brands that you can have a look at if you are planning to buy a 26T bicycle. Opting for them will enhance your first user experience and will also come under your budget.
What is the Meaning of 26t in Cycle?
26t in a cycle represents the tyre or wheel size of a bicycle. Where "26" means the size of the wheel is 26 inches and "t" denotes "Tyres". Thus, 26t cycle means wheels or tyres of 26 inches in a bicycle. It is usually regarded as the bicycle's size as well.
Here in the case of 26t, it means a wheel of 26 inches. It is very much useful to pick up the right bicycle size. Always measure your size before selecting a bicycle. Bicycle size matters a lot when it comes to performance.
You can get a chart online or in the store according to your height and can choose the right size of the bicycle for you.
Usually, 26t size is ideal for a person of somewhere of height between 4'11" to 5.4 feet.
How to Measure Bicycle Frame Size? Know your Correct Size
How to measure your size for 26t bicycle?
First things first, measure your height and inseam. Inseam basically, is the length of your leg measured from the crotch to find if the proportions of the bike will suit the rider or not. See the image below.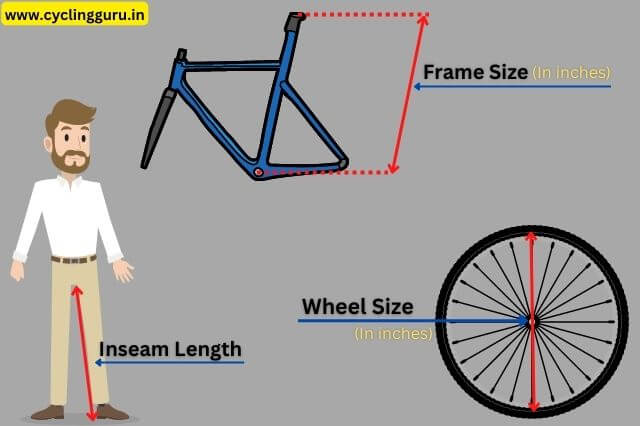 After completing the measurements of your height and inseam length. You can compare them with the size chart for different bikes and that is how it will be determined whether 26t will suit you or not.
Because there are two main components in a cycle which are responsible for the size of a bicycle i.e., Bicycle Frame & Bicycle Wheel.
The right combination of bicycle frame and wheel gives you the best results in terms of performance.
Now you know what 26t means Therefore, For more ease of yours, here are some size charts for different kinds of bikes listed down:
Bicycle Size Chart: Find your perfect size
| Your Height | Cycle Frame Size | Wheel Size |
| --- | --- | --- |
| 4'10" to 5'4″ | 13-15 inches | 26" |
| 5'3" to 5'7" | 15-16 inches | 26" |
| 5'7" to 5'11" | 16-17 inches | 27.5" |
| 6" to 6'2" | 17-19 inches | 27.5" |
| 6'2" to 6'4" | 19-21 inches | 29" |
| 6'4" and above | 21+ inches | 29" |
What are the Advantages of having a 26t Bicycle?
There are a few things as advantages that you might consider looking at when opting for a 26t wheel size in a bicycle. So, let us look at them:
1. 26t bicycles are very suitable for your pocket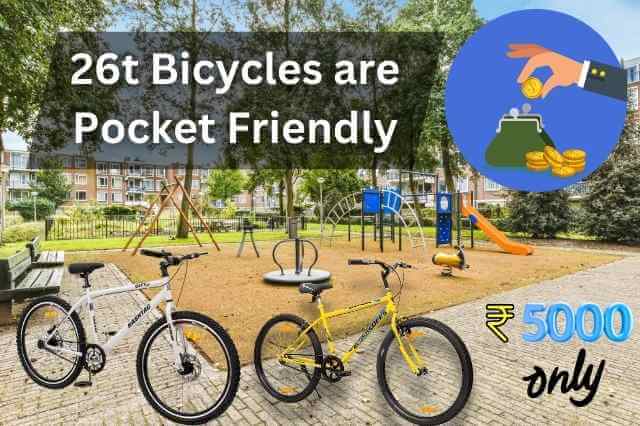 They have a very low price (pocket-friendly) as you will know when you read further. For your ease, I have listed some brands which manufacture 26t cycles in India so that you can differentiate which one is better for you.
The thing is you would be able to gift it to your child or anyone close without a second thought and be quite ensured about the quality.
2. Bicycles with 26t wheels have faster acceleration
They accelerate faster than 20t, and 24t cycles. As it is light in weight, the wheels and all the other components used in building the cycle are very light. It is easy to speed up and go long distances on roads that are smooth.
3. 26-inch wheels are very strong
Although they are light in weight, the wheels are too strong. And their strength is unmatched as compared to other cycles. Their strength is because of the more balanced geometry of the wheel than most of the other wheels. It has been possible due to years of innovations.
What are the Limitations of having 26t Wheels on a Bicycle?
Does anything in the world exist without a disadvantage? No, right? Then let us dive into some of the disadvantages of a 26t in a cycle.
1. 26t cycle is suitable for short to mid-height riders
Bicycles with 26t size are suitable for people of short to mid-height or specifically teenagers. The size of the wheel is short and hence cannot be used by adults of greater heights.
2. 26t inch bicycles are bumpy
The 26t cycle being lightweight adds to its advantages as well as its disadvantages. Due to its lightweight, it does not go smooth on the bumps. You can feel every bump while riding this as it does not give a good grip on them.
3. They are insufficient when it comes to maintaining speed
They accelerate fast due to their lightweight which is easily understandable but when it comes to maintaining a specific speed, they lack for the same reason of they being so light weighted. The amount of rolling inertia gets limited and hence as an outcome, this happens. Read this report.
What are some of the best brands to buy a 26t bicycle from?
There are some 26t bikes that would make your first user experience very good because of the quality and comfort they provide. Here they are:
1. Hero Cycles
It is a very promising brand and you already know about Hero cycles. I mean, who does not know about them?
They are one of the oldest in the bicycle Industry. So, the model that would be the best and most affordable among 26t is:
Hero Kyoto 26T single-speed bicycle with 18-inch frame. The price range of this is rupees 4899.
2. Geekay Cycles
It is one of the high-quality brands and they offer a long time period of their products and that is what makes them cheaper. The bike that you must have a look at if you are thinking about having a Geekay bike is:
Geekay Hashtag Mountain bicycle Non-gear 26T inch wheel. The price range of this is Rupees 8,799 and it has a very attractive body.
3. Hercules

Known for their strength and the name suggests the same, Hercules is the oldest among the International brands of cycles and offers great durability and performance. While going for Hercules' 26t cycles I would prefer going for:
Hercules Donor Pro RF 26T and Hercules HT 26T cycles are the best options to go for. Both are single-speed bicycles and their prices are 7800 and 9900 rupees respectively.
Frequently Asked Questions: What is 26t in Cycle Size?
Q1. What is 26T size in cycle?
26t is a term which denotes the size (diameter) of a bicycle wheel in Inches. It means 26t in a cycle represents, a bicycle having a 26 inches tyres size in diameter. It starts from 12t and goes till 29t for different types of age groups.
Q2. Is 26T cycle good for adults?
26-Inches bicycles are good for those adults who have a height between 5 feet to 5 feet 5 inches. Generally, Such bicycles are made for teenage kids who have short in height. If you are an adult and your height is less than 5'5'' then go for it. Otherwise, 27.5 Inches and 29t bicycles are best for adults.
Q3. What is 24t size in cycle?
This also denotes the tyre size of a bicycle 24 inches in diameter. Such tyre sizes are suitable in bicycles for 9 to 12-year-old kids. All 12t, 14t, 20t, 24t, 26t, 27.5t and 29t etc. denote the diameter of the bicycle wheels.
Q4. What height is a 27.5t bike for?
If your height is between 5'4'' to 6 feet. Then, you can easily ride a 27.5t bicycle. The right combination of frame size and wheel size gives you the best result. Generally, 27.5 inches bicycles have 18 inches frames.
Q5. Can a woman ride a 26 inch bike?
The average height of a woman is 5 feet in India. Thus, women can easily ride 26t bicycles. After reading this article you know 26-inch bicycles are best for below 5.5 feet riders. If a woman is tall then she can go for 27.5t bicycles.
The Bottomline: What is 26t in Bicycle Size
We are at the finish of the article and I hope by now you have understood what 26t in a cycle is. Its tyre size is in inches. It ranges from 12t to 29t. 26t in cycle is the universal size and therefore it's popular.
The quality of them being so light in weight adds to both their pros and cons. So, if you are someone of greater age and height have back problems, you must not opt for them as they make you feel all the bumps in the road.
They are suitable for teenagers, especially for 4,11" to 5'5''. They are a very good option for the kids as they are not that tall and the size fits perfectly.
Let me know in the comments below what things you liked and disliked about 26t in cycles.
---