Cycling Guru is reader-supported!
Some links on this page are Amazon Associate affiliate links When you buy through links on our site, we may earn an affiliate commission! Read more...
Hercules (TI cycles of India) is one of the oldest bicycle manufacturers in India's bicycle Industry. And when it comes to MTBs, Hercules has consistently set new standards, they have proven the same intent with Hercules Roadeo NFS.
The brand has done a fabulous job with the bike and its components. We took this bike for a ride on various types of terrain.
Take a closer look at the Hercules Roadeo NFS review and how it performed during our test ride.
Let's get started
Technical Specifications of Hercules Roadeo NFS (Quick Overview)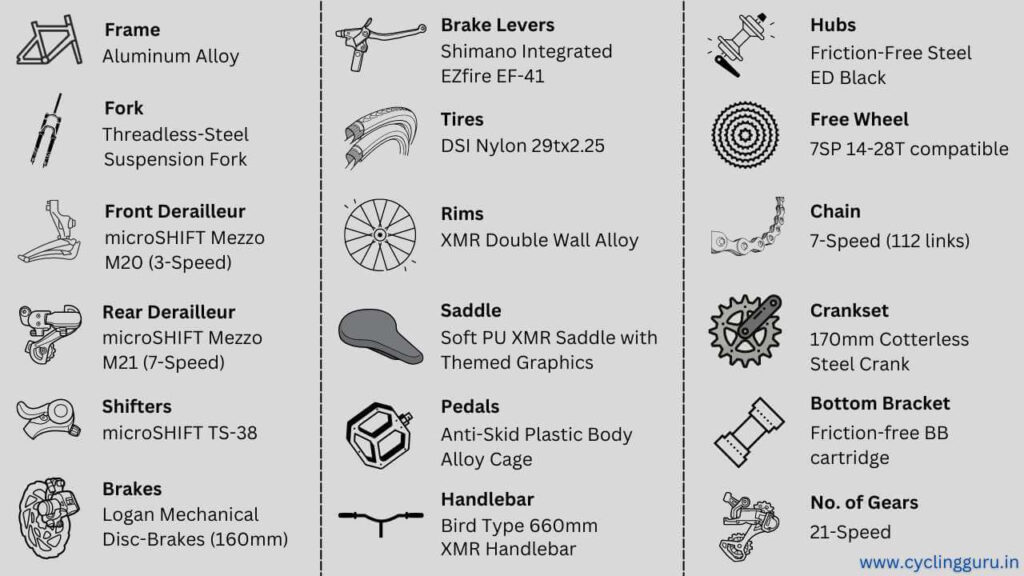 Review Video on Hercules Roadeo NFS 29t: Best MTB under 20000
---
Hercules Roadeo NFS Review by CyclingGuru Expert
Once you read Hercules Roadeo NFS 29t review, You will get to know whether this mtb is suitable for you or not, is this bicycle worth buying for under 20000 rupees in India and what we think about this bike.
1. The Frame of the Roadeo NFS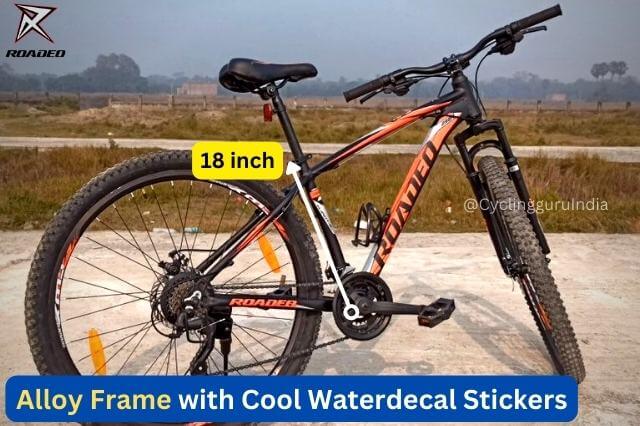 Roadeo NFS has one of the nicest frames ever built by Hercules, Made from alloy material which makes this bicycle lightweight and surely stands out with the premium matt paint job with water decals stickers.
This bicycle weighs only 16.5 kg, making it as good as any other imported bicycle brand. What makes this bicycle even more killer is the graphics and design.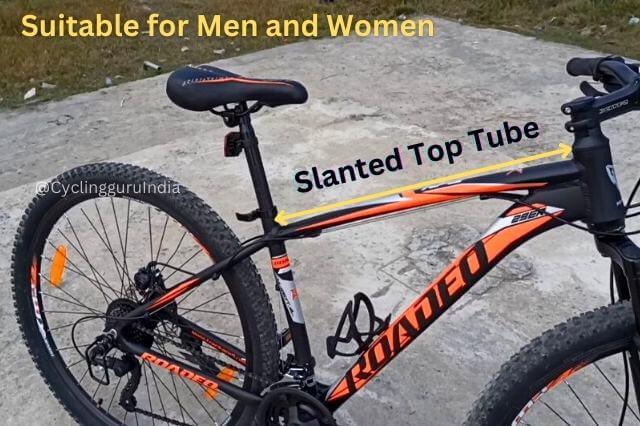 The shape of the frame (top tube) is slanted, making this bike suitable for men and women. Also, bottleholder rivets are already given for carrying a water bottle while cycling. Branding is mentioned on each and every part of the bicycle frame (from the head tube to the downtube).
And when it comes to Hercules Roadeo Cycle NFS colours, this bicycle is available in three amazing colours i.e., red, green and yellow along with a combination of black colours. Due to the seat stays being welded low, the bike has a different look and enables a more upright riding position for the rider.
Considering its overall performance, the Hercules Roadeo NFS frame scores a solid 9 out of 10.
2. Fork and Handlebar
The Roadeo NFS is a hardtail mountain bike which is paired with a threadless-steel suspension fork, that does the job brilliantly of absorbing shocks or vibrations and making the ride comfortable. We have felt the same while riding on trails.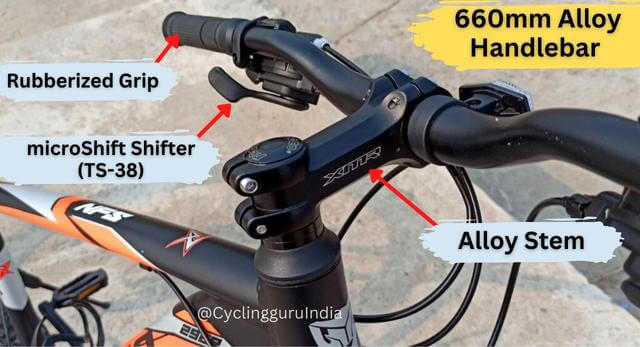 As an added bonus, this mountain bike features an alloy stem that is from XMR, as well as a bird-style 660mm XMR handlebar with rubber grips, which provides a comfortable open-chested riding position.
Besides, thumb shifters have been installed from the microshift brand, which does the work smoothly in a single push and the quality is also great.
Overall, the Handling of the Hercules Roadeo NFS was perfect on all types of surfaces during our test ride. We would surely rate this 10/10.
3. Drivetrain (Gear System)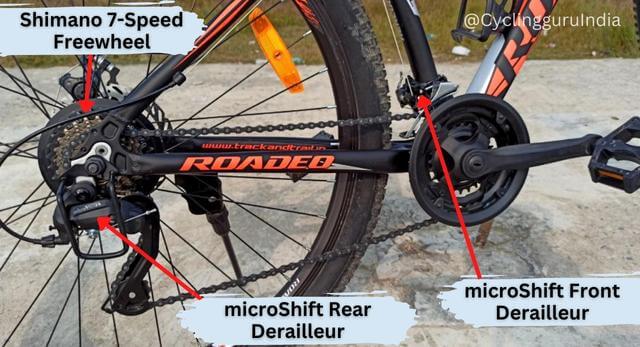 As this mountain bicycle comes with 21-speed gear combinations (3 at the front and 7 at the rear). Hence, it is equipped with a microshift gear system. There is a Microshift mezzo M20 on the front derailleur and a Microshift mezzo M21 on the rear derailleur.
In my opinion, the Mezzo groupset is equivalent to Shimano's tourney groupset. However, during our test ride, we do feel the mezzo's performance is much smoother than Shimano's tourney. It shifted gears without making much noise and the quality of the chain and the Shimano's freewheel is excellent.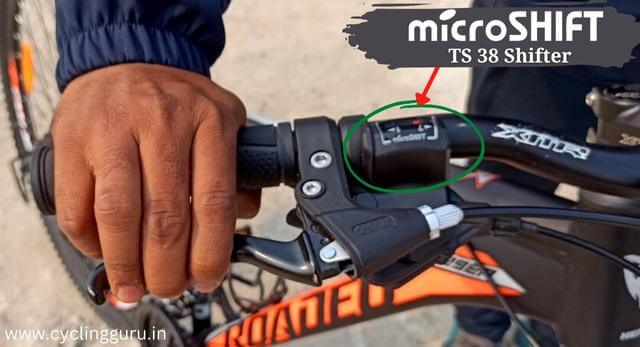 Both front and rear derailleurs are controlled by microshift TS-38 (thumb shifters). It has a push mechanism for shifting and we found the performance of both the shifters was very smooth and perfect during our test ride.
We had no complaints regarding the shifting, as it was flawless. So, the drivetrain of the Roadeo NFS deserves a 9/10 for sure.
4. Braking System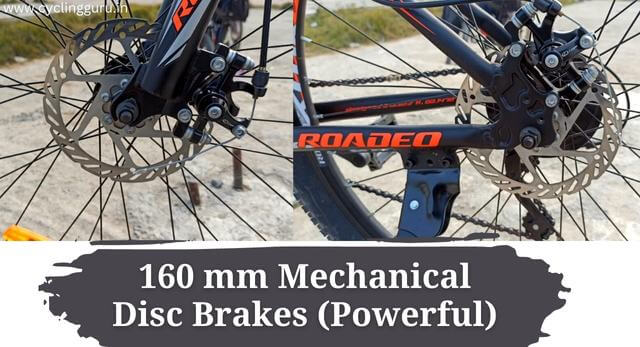 When it comes to braking, the Hercules Roadeo NFS comes with 160mm mechanical disc brakes at the front and rear end. We have tested these brakes on different types of terrains at different speeds and they are very responsive and quick like hydraulic disc brakes.
As a result, we were able to ride downhill as well as on wet roads with a lot of confidence. And then, we tested these brakes in the rain as well, we could not notice any change in the performance of the brakes, they performed the same.
When it comes to the maintenance of disc brakes, Yes! these brakes need maintenance periodically for better performance as compared to rim brakes.
However, we would recommend you not apply these brakes or any other brakes instantly if you are riding on the road whether you are a beginner or a pro-rider. So, Always apply brakes slowly unless it's an emergency.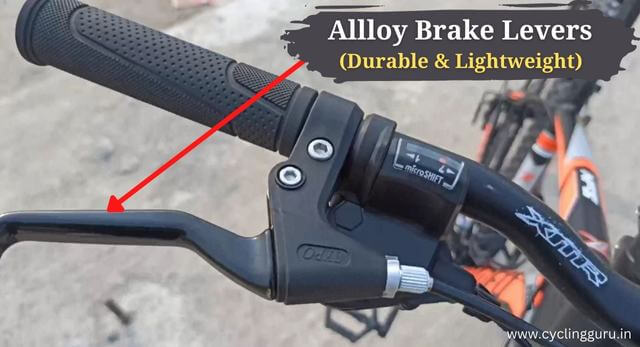 These brakes are controlled by alloy brake levers making them more durable as compared to plastics. Additionally, you can pull these levers using your 3 to 4 fingers providing you better control over braking.
Overall, the quality of these brakes and performance is excellent, keeping that in mind, we would undoubtedly give it a 9/10.
5. Rims and Tyres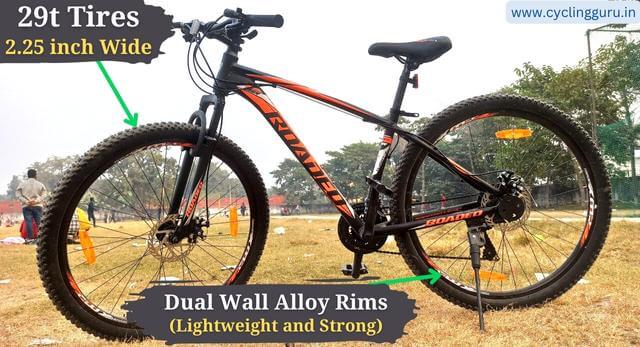 The 29-inch dual-walled alloy XMR rims are paired with 29t DSI nylon tyres that are 2.25 inches wide (perfect for MTBs). Undoubtedly, these rims are durable and strong enough to be ridden on trails. Also, the brand has brilliantly mentioned Roadeo in orange colour on both rims making this bike more attractive and cool.
When it comes to tyres, they are wide enough for trails (rugged roads) as well as city roads. Treads of the tires are the top-notch feature providing superior grips on all types of surfaces whether it is dry or wet. Also, they offer enough comfort by absorbing the shock along with the suspension fork.
The Roadeo NFS is available in two different wheel sizes i.e., 27.5t and 29t. You can go with 27.5t if your height is between 5' to 5'6''.
When it comes to rolling, it offers a good speed on all types of terrains. During our test ride, we felt great comfort and along with excellent grip. On average, these tyres offer a speed of around 20 km/h on plane roads.
Overall, the quality and performance of these DSI nylon tyres are amazing. So we would rate it 10/10.
6. Saddle & Seat Post
The ergonomically designed sleek saddle on the NFS is from XMR, inserted with soft PU foam and looks very classic with themed graphics. It's pretty much soft and wide enough for a comfortable sitting position for longer rides.
If your weight is heavy or you are going for long-distance rides, we always recommend wearing gel-padded cycling shorts so that you can achieve your goal with no harm.
Additionally, the seat post has got a quick-release clamp for your convenience, you can easily adjust the saddle height without using any tool whenever it is required. It also deserves a 10/10.
7. Pedals & Reflectors
Premium quality plastic pedals have been used, making the bike a bit lighter and strong and more sturdy. It has got treads on it which make these pedals anti-skid, which means your legs would not lose control of the pedals. Besides, it has reflectors in it which makes your legs visible during the night ride.
During our test ride, we felt pedalling very smooth and stable because of these non-skid pedals. When it comes to reflectors, they are very important in terms of safety during night rides.
So, Roadeo NFS has EN standard reflectors at the handlebar for front visibility, at the seat post for back side visibility and at the spokes for side-angle visibility.
Premium quality pedals have been installed in this bicycle which offered a very good grip to my legs while riding and also reflectors are nicely visible from far at night. Thus, we would surely rate this a 10/10.
---
Pros and Cons of the Hercules Roadeo NFS 29t
Pros:
Smooth-shifting 21-speed microshift drivetrain.
A powerful performance of logan mechanical disc brakes.
Wide DSI nylon tyres offer superior grips.
Very attractive paint and water decal stickers.
Comes with a good quality side stand.
Cons:
No negative points observed so far.
Who Should Buy the Hercules Roadeo NFS Cycle?
This bicycle is great for those who are looking for a strong gear cycle with disc brakes which can perform brilliantly on Indian roads as well as on trails. If you are planning to purchase a bicycle for maintaining health, commuting, and leisure cycling then Roadeo NFS is the best cycle to start your cycling journey.
I have been riding this bicycle for more than a month on various types of terrains. Undoubtedly, it has offered me a great performance. The design is very attractive on the alloy frame that is lightweight and strong. Scroll up to know more. Thus, Hercules Roadeo NFS is the best gear cycle under 20000 in India.
Is It Worth Investing in Hercules Roadeo NFS Cycle?
Yes, It's worth investing in the Roadeo NFS gear cycle as this is a premium geared bicycle with a lot of features such as an alloy frame, dual disc brakes, wide nylon tires with excellent grips, front suspension, amazing water decals design, dual wall alloy rims and 21-speed gears for different types of terrains.
Overall, it has a lot to offer while you ride. and Yes, you also get 2 years warranty on the frame and fork of Hercules Roadeo nfs mtb cycle. Also, don't forget that Hercules is one of the best and leading bicycle brands in India.
Best Choice
Last update on 2023-12-06 / Affiliate links / Images from Amazon Product Advertising API
---
Our Verdict: Riding Experience on the Roadeo NFS 29t
We have ridden this mountain bicycle on all types of terrains, from plane roads to trails, uphill as well as downhill. The riding experience was great on this bike, it was very comfortable and safe.
On roads, it performed brilliantly and offered a very good speed being a mountain bike because of the alloy frame, making it lightweight. We could achieve up to 30 km/h on plane roads using high gear combinations, it can vary from person to person.
When it comes to riding on off-roads (trails), it is good to go because of the wider tyres and the threadless-steel suspension fork. They absorb the maximum shock giving you minimal vibrations while mountain biking. We could achieve up to 20 km/h while riding on trails.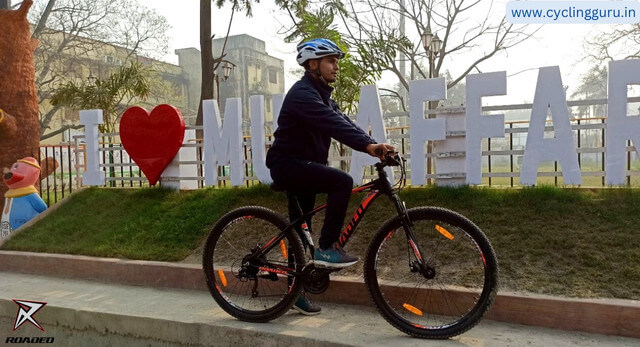 We always recommend wearing a good quality cycling helmet while riding a bicycle whether you ride on roads or off-roads. It keeps your head secure as well as gives you more confidence.
So guys keeping all the features in mind, overall this bicycle is an all-rounder, you can ride Roadeo NFS in all types of terrain without any doubt. According to us, this is one of the best mtb under 20000 rupees in the Indian market.
So this mtb is a total WIN-WIN! Under 20k.
Where to buy Hercules Roadeo NFS 29t Red? Here are the best buying links:
If you are looking for a premium-quality mountain bicycle that is suitable for long-distance cycling, off-roading, and leisure cycling, the Roadeo NFS from Hercules is for you!
Thanks for reading this review article on Hercules Roadeo NFS 29t, do let us know your thoughts about this amazing mountain bike by commenting below.
Share this article with your friends who are looking for a new Hercules bicycle.
Stay tuned! Keep Pedalling!
Related Posts: