Cycling Guru is reader-supported!
Some links on this page are Amazon Associate affiliate links When you buy through links on our site, we may earn an affiliate commission! Read more...
In India, the majority of new bicycles are equipped with disc brakes and people get attracted towards this special feature and purchase a cycle with disc brakes over v-brakes without knowing the real differences. Are you one of them?
If you don't know the real difference between bicycle v brakes and disc brakes. You will understand everything about these two types of brakes in a cycle after reading this article on cycle v brakes vs disc brakes.
How do bicycle rim brakes and disc brakes work and Which one is best suited for the cycling discipline? Apart from that, it is also important to know which brakes are for MTBs and which ones are for your regular gear cycles.
So let's start with how bicycle brakes work.
What is a Bicycle Brake and How does it Work?
The brake is one of the important components of a bicycle because the primary purpose of the brake is to reduce the speed of the cycle (wheel) slowly or stop it instantly in a controlled manner while cycling.
When it comes to its operation, It's very easy to operate a bicycle brake whether it is a disc brake or a v brake. Brake levers are placed at the handlebar and are attached with a cable (wire) to the braking mechanism (calliper and brake pads). Once, you pull the brake levers, brake pads push the rims to slow or stop the wheels.
The most popular brakes in bicycles are v brakes and disc brakes. No doubt disc brakes are better than v brakes but it's not true for all types of bikes because their working mechanism is totally different. Let's understand in detail.
V Brakes vs Disc Brakes in a Bicycle: Detailed Explanation
The most popular types of brakes in cycles are disc brakes and v brakes (rim brakes) and these two are predominantly used in Indian cycles. Let's see each brake, its components, its efficiency, the breaking mechanism, and so on.
1. V-Brakes Anatomy Explained with Pros and Cons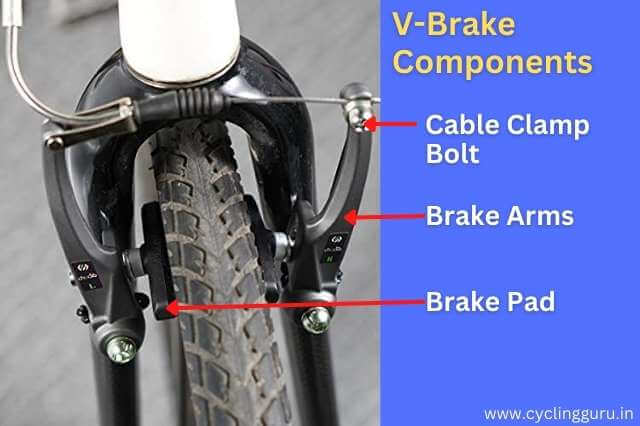 V brake is a type of rim brake which usually slows or stops the bicycle rims. It is not that popular after the introduction of disc brakes. These are of the traditional regular pull cycle brakes. The major components of this brake system are the brake lever, calliper arm included with spacers, and brake pad and cables.
Related Article: All bicycle parts and their functions
How do bicycle v-brakes work?
The brake lever is attached to the handle bar and when you apply force by pulling that leads the cable to be pulled via the housing. This simple mechanism results in the brake pads pushing against the rims and thus the friction halts the bike in a smooth manner.
The front brakes are adjusted near the top fork while the rear brakes are fitted around the seat stays. See the above picture.
Pros and Cons of V brakes
Pros:
Easily accessible brake parts.
Can be repaired easily by the local mechanics in case of wear and tear.
V Brakes do not transmit any kind of tension on the spokes of the wheel, thus giving them a longer life.
The V brakes do not affect or interfere with any other component of the bike as they are very compactly fitted on the upper section of the fork.
Cons:
In the long run, the rims of the bike are damaged due to consistent friction from the braking.
Bicycle V brakes do not perform well in water or mud.
You will be required to clean and change the brake shoe more often.
V brakes cannot be used for road bikes since they have a very strong braking system.
Which type of bicycle is v brake suitable for?
Rim brakes or v brakes are quite lightweight with powerful braking and are best suited for regular gear cycles and road bikes. V brakes used to be a great option for MTBs but now disc brakes are perfect. The V-Brakes are best suited for city bicycles and hybrid bikes as well. Here are some bicycles with v-brakes:
Best Choice
Best Choice
Firefox Bikes Unisex Bad Attitude 8-700C, 21 Speed City Bike I Frame Size: 19.5 inch Bicycle with First Service Available- Green, Black, L
Firefox Bad Attitude 7 is steel Hybrid bike that offers the functionality of casual city cycling. This stylish bike is a great choice for daily commute
In-box Content : 1 Firefox Bikes Bad Attitude 8, Pedal, Tool Kit (Allen Key & Spanner)
Steel rigid hybrid frame with Rigid Fork |The bike is equipped with V -Brake for Power Braking, Alloy rims for extra strength | Tire Size :700C| Frame Size : 19.5 inches | Ideal For :13+ Years| Min Rider Height : 5.8 feet | Max Rider Height : 5.11 feet | Front Brake : V-Brake| Rear Brake : V-Brake | Frame Material : Steel|Side Stand: Yes I Reflector: YES I Suspension :No I Refer Installation video in Images as User Manual
Last update on 2023-10-03 / Affiliate links / Images from Amazon Product Advertising API
2. Disc Brakes Anatomy Explained: Pros & Cons
There is no doubt that disc brakes are one of the most powerful bicycle brakes available today. Because they are responsive and reliable regardless of weather conditions, they are widely considered to be the best brakes in cycling.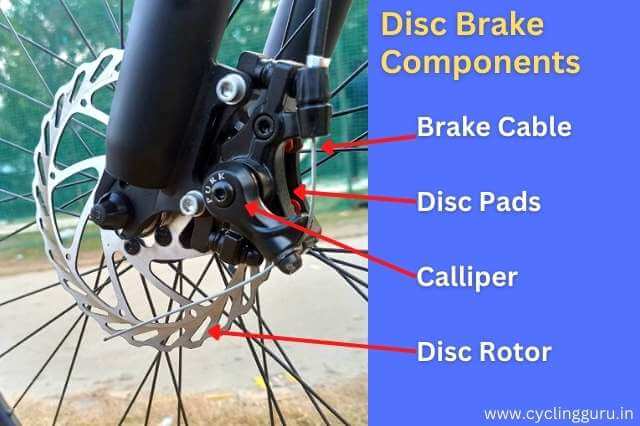 The popularity of disc brakes in cycles has grown rapidly in recent years and therefore, many new commuter and hybrid bicycles feature them these days.
Components of Disc brakes:
The basic components of a disc brake system are metal discs (also known as rotors), callipers, and pads. Along with that, there is a piston, shin, mounting bracket, and a couple of mounting pins and seal to secure the parts together.
Disc Brakes are typical of two types:
1. Hydraulic disc brakes: It has pistons on both sides of the metal disc rotor. The working mechanism of a hydraulic disc brake is quite simple. The hydraulic pressure generated by applying power to the brake pedal is transferred to the brake fluids which in return pushes the piston on the brakes and stops the bike.
2. Mechanical disc brakes: This brake is also powerful but the only difference is that the friction is generated using a cable, whereas a hydraulic disc brake uses a fluid. Therefore, it is cheap and easy to maintain as compared to the hydraulic disc brakes of a bicycle.
Pros and cons of bicycle disc brakes
Pros:
Disc breaks have a high-performance ability and can break abruptly as well.
The braking mechanism works perfectly even under wet, mud, cold, or any other weather conditions.
Disc Brakes could be fitted on any size of tire and the riders do not have to compromise with the style.
Disc Brakes do not wear down the rims and hence keep the efficient breaking performance for a longer lifetime.
Cons:
Disc Brakes include cables and wiring to set up which hinders the reading stand of your bike.
The breaking mechanism of the disc brakes extends pressure on the bike's spokes and hence damages them.
Disc Brakes can only be fitted only to a particular style of a bicycle fork.
Disc Brakes are heavier and also expensive.
Which type of bicycle is a disc brake suitable for?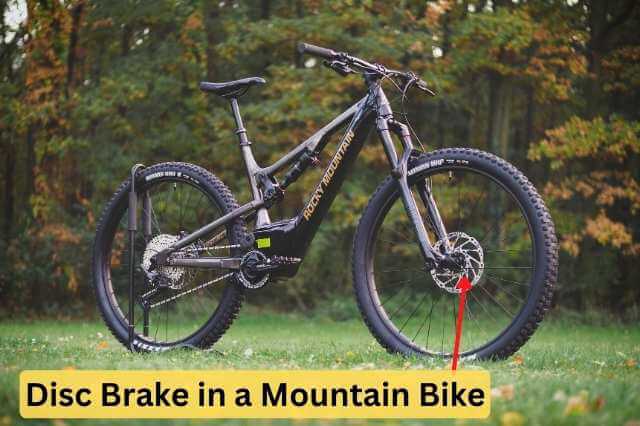 Disc Brakes cannot be modelled on your regular road bikes. Apart from that, you can set disc brakes on mountain bikes but they require utmost maintenance.
Mountain bikers use disc brakes for extreme offroad adventures and races because of their braking power and versatility. It is also possible to use disc brakes in non-competitive cycling for casual riding. Here are some best bicycles with disc brakes:
Best Choice
Best Choice
VECTOR 91 Men'S Defeatr 29T Single Speed Steel Frame 17 In , Mountain Bike Bicycle (Grey & Orange, Ideal For: 12+ Years, Brake: Disc), Front
Frame Set – Frame:17 Inch Carbon Hi-Tensile Steel – TIG Welded, Front Fork: V91 Suspension 80mm Travel, Decals Type: Water Transfers
DRIVE TRAIN – Bottom Bracket Set: Sealed Cartridge High-Precision Bearings, Pedals: Anti-Skid Plastic with Reflector, Shifting & Derailleur: No Hassle Single Speed, Rider Height:5.7-6.3 Feet, Age Group:12+ Years
WHEELS – Rim: Double Wall Rustfree Alloy, Tyres: Nylon Grip Hi-Traction 29″ X 2.1″ Wide
Best Choice
Last update on 2023-10-03 / Affiliate links / Images from Amazon Product Advertising API
Major Difference Between V Brake and Disc Brake of a Bicycle
| Bicycle V Brakes | Bicycle Disc Brakes |
| --- | --- |
| Bicycle V brakes are applied on the outer edge of the rim. | Disc Brakes have been applied away from the rim, to the metal disc. |
| V Brakes do not require a fixed cable on the bike's frame to stop the cycle. | In disc brakes, there is a fixed braided steel cable on the bike's frame. |
| These brakes can be used on a variety of bikes like mountain bikes, hybrid bikes, regular gear bikes, and much more. | On the other hand, disc brakes could be easily replaced by V brakes. Since the pads of disc brakes are bound to get worn out by mud and water when fitted on MTBs. |
| Bicycle V Brakes are easy to maintain and are more price friendly. | Disc Brakes are comparatively more expensive than V brakes. |
| The V Brakes are lighter in weight and do not add much to the overall bike's weight. | The Disc Brakes have more components than V brakes thus making them heavier in comparison. |
Which is Better Disc Brake Or Rim Brake?
The answer to this question i.e., v brakes vs disc brakes depends majorly on the purpose, the kind of bike, and the condition of riding. If you want a low-maintenance, pocket-friendly yet getting-the-job-done braking system then v-brakes are the ones to choose.
Whereas if you want powerful braking performance and short-distance braking along with keeping the rims of your bicycle safe even under rash braking patterns then disc brakes are the best for your bike.
FAQs: Disc Brake or Rim Brake in a Cycle
Q1. What does the term "V brake" mean?
V brake was invented by a German man "Florian Wiessman". Initially, these brakes used to be called "Wies-brakes" in german language. This name is almost similar to V-brakes in the English language, therefore, this type of rim brake is named "v-brakes", not because they are shaped like V!
Q2. Is it safe to ride a road bike with disc brakes?
No! It's not safe to ride a road bike with disc brakes because it is one of the most powerful brakes, it stops the wheels instantly when applied. If it is installed in a road bike and applied, the bike may lose its control as road bikes are very fast, their tyres are thin which rarely provides grip and don't have suspension. Therefore, disc brakes are only good for MTBs and Hybrid bikes. Learn more.
Q3. Why are disc brakes better than v brakes?
All brakes are good, It all depends upon your cycling discipline. However, disc brakes are better than v-brakes because they are more effective in wet weather conditions, long-lasting and don't affect the rims of the bike.
Q4. Are v brakes powerful?
Yes! v-brakes are one of the most powerful rim brakes for bicycles. That is why most mountain bikes used to be equipped with v brakes before the invention of disc brakes. Nowadays some cheap bikes are equipped with v brakes because they are cheaper than disc brakes.
Conclusion: Bicycle Disc Brake vs Rim Brake
It's always a struggle for riders to choose the best-suited braking system for their bikes. We tried our best to evaluate all the factors that you should consider before setting up a braking system. Where the safety guaranteed by a braking system is the utmost concern of every rider, another performance provided by a braking system is also something that bothers the riders.
In case you are confused between other bicycle gear parts:
Apart from that, it is always wise to invest in good branded quality brakes which suit your bicycle and your cycling style.
Please let us know which brake type you have in your bicycle by commenting below. Do share this article if it helped you.
Stay tuned and Keep Pedalling!