Cycling Guru is reader-supported!
Some links on this page are Amazon Associate affiliate links When you buy through links on our site, we may earn an affiliate commission! Read more...
There are so many factors that differentiate between the cycles and without digging into them we cannot label any of the cycle brands to be better than the other.
In this article, we are going to see which cycle is better Hercules or firefox? All the details related to them will be mentioned to help you choose the best for you. Keep reading to know more and decide better.
Which Cycle is Better Hercules or Firefox and which one should you choose?
Hercules vs Firefox: Which is better?
Both bicycle brands are good and leading bike brands in India. Before diving into the bigger part let's first see a little history about the two brands, features, products manufactured and the price range.
1. Hercules Bicycle Brand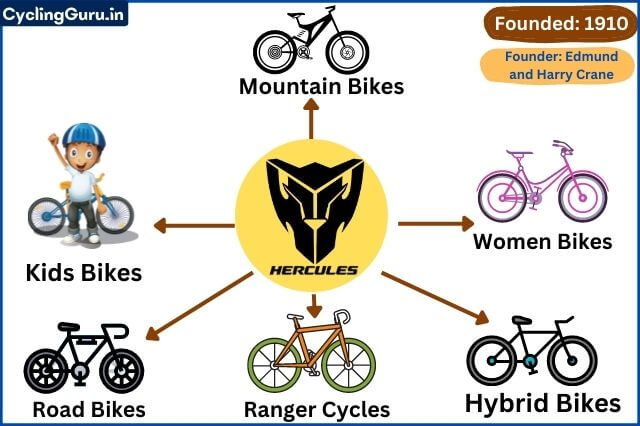 Founded back in the year 1951, Hercules cycle is part of the Murugappa Group (TI Cycles). TI Cycles owns Montra, Mach City, BSA, Track and trail along with Hercules cycles. Hercules has revolutionized the Indian bicycle Industry with suitability and Innovation.
The name as it suggests was given after the roman god of strength and that is what explains their products in the best of ways. The strength and the durability are just something we can finish pages on.
They are really good at what they do and that proves this because they have been in the market for many decades.
Now we are going to explore the features, products manufactured, variety and price range of Hercules cycles.
Features of Hercules bicycles:
First let's talk about Hercules, some of the features that the bicycles of this brand give us are:
Available for all age groups
Special cycles for women and children
Caters to the need of people in a price range that falls under budget (not much high) all over the world.
Products:
As you already know that this is one of THE oldest brands of cycling so it's got to have one of the largest range of products and if you start counting from the beginning then probably it would take ages.
There are many milestones that the company hit and they were one of the most notable of their works.
One of the best things you can do is to go to their official website and check their products category-wise because that would give you a very clear view of the products and the price.
But still, if you want to know some of the best-selling and highly-rated bicycles then look at these:
Variety:
The kinds of bikes which are now asked much about are all available in this brand. If you're still thinking about which are those, then they are
The Road Bikes
Ranger Bicycles
The mountain Bikes and
The Hybrid Bikes
Related: Top 10 Best Ranger Cycles under 5000 – 10000 in India
Price Range:
Comparing the price range would give us a lot more idea about how can the Hercules cycles are different from the Firefox bike brand.
The price of the Hercules cycle brand starts at around 4000 INR and goes above 25,000 INR. The price differentiates between the products and their qualities and different abilities.
Road bikes and mountain bikes fall under this pricing category only and if you see they can cater to the needs of people with low budgets and who still want to enjoy riding their bicycles on different terrains.
---
2. Firefox Bike Brand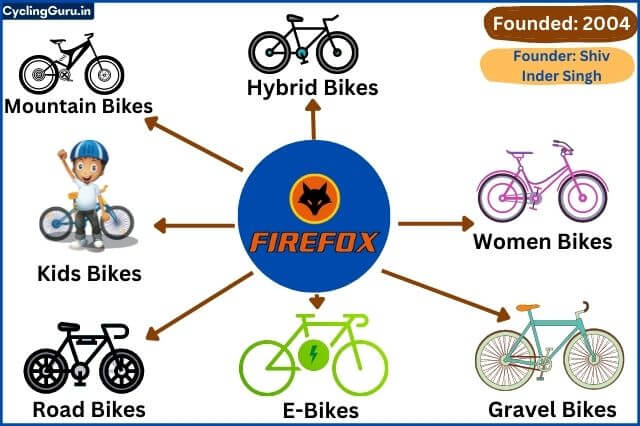 A private, Indian-based company started in the year 2004, Firefox may be a bit new compared to Hercules but then also it is one of the leading brands in India when it comes to bicycle brands.
It was founded by Shiv Inder Singh, he had been an IIT student and at the time when he founded his brand, he was 55 years of age. The company has seen massive turnovers and that has been possible because of the performance of the brand in the market.
Features of Firefox Bike Brand:
It is available for all age groups
Special cycles for women and kids mark a column in this brand also. But the best part about their kids' cycle and accessories is that there are different themes available based on cartoons and Disney movies.
Caters to the premium cycle customers in India.
Products:
Using innovation to the best of their company's use, Firefox launched an app which would help the person choose their bike with information related to them like their age, height, weight, and the terrain that they are going to ride on. It also gives you a feeling of how well the ride be by giving you a virtual experience.
And for checking out the products again, I suggest you do the same as you did with the Hercules cycle brand.
But again let me tell you some of the best models available:
Firefox Bikes Bad Attitude Grunge
Firefox Bikes Cyclone series
Firefox Bikes Nexus-D, etc.
Variety:
On the other hand, Firefox serves all the kinds mentioned in the above brand like
Road Bikes
Mountain Bikes and
Hybrid Bikes and Accessories.
But in the premium qualities, they use the materials that are used to manufacture aeroplanes which increases their cost of manufacturing and eventually increases the price at which their customer makes the purchase.
Price Range:
This brand was made to focus on the premium quality of the cycles so the price range here becomes a lot compared to the Hercules cycle brand.
The cycles start from 8000 to 9000 INR and fall around more than 1 Lakh INR. so, you can imagine how much the pricing differs in the firefox brand. Their sole purpose was to cater for this type of customer. So, if you are one among the premium customers Firefox is the one for you.
We have looked at the basic information of the two brands and now we must dig deep to be
able to figure out which is better Hercules or firefox.
We have a whole section to discuss what's better so let's directly jump into that.
Which cycle is better Hercules or Firefox? (Difference Between Them)
| Basis Of | Hercules | Firefox |
| --- | --- | --- |
| Founded | It is one of the oldest and most trusted brands by people all over the world. | Not as old as Hercules but has proved itself in the market. |
| Made for | Made to cater for people who are not so much financially strong. | Made to cater for the premium customers of the biking range in India. So, the prices are also high. |
| Price-Range | Price ranges from 3000 INR to 17000 or 18,000. | Price ranges from 7 to 8000 to more than 1 Lakh rupees. |
| Age group | They have bikes for every age, starting from kids bikes to adults to women and men, these are all the categories taken care of by them. | The bikes of this company also cater to the same audience. |
| Types | All three categories of bikes that are now trending in the market have a place as a product in the brand. | Firefox also serves its customer all three categories of road, mountain and hybrid bikes. |
| Quality | The materials used are good and durable. | The materials used are of premium quality and one of the best in the entire country. |
| Variety | When it comes to variety there are plenty of cycles you can choose from. | And the variety here too remains in the competition. There are many cycles with different features you can choose from. |
Here is the list of the basis of the things on which, I found it suitable to compare two brands Hercules vs firefox. But the decision of choosing from them is what completely depends on no one but you.
You are the one that has set a budget for you, or the specific features that you want. I just presented the basics for you and now the decision is for you to make.
---
Frequently Asked Questions: Which is better Hercules or Firefox
Q1. How much cost to buy a cycle Hercules?
It does not cost much to buy a bicycle from the Hercules brand. It starts around 3000 rupees and goes above 17000 rupees in India. But the prices change according to the quality and type of bicycles.
Mountain and road bikes are expensive as compared to the Hybrid bikes from this brand. If you have a low budget then go with the Hybrid bikes.
Q2. Is Hercules a good cycle brand?
Yes, but if you go with the high-budget side. This brand is serving its customers for a very long time. This brand is good if you can spend at least 8 thousand and above.
Q3. Is firefox a good cycle brand?
According to me – Yes. Firefox is a premium bicycle brand that offers a wide range of models in the Indian market. The brand is famous for after-sales services and resolving customer issues as soon as possible.
What I Think About Firefox Cycles Vs Hercules
Here were the comparison on which cycle is better Hercules or Firefox? and the data and the information all lie in front of you. Both the brands are good in their places and you would not be disappointed making a purchase from them so, you do not have to worry that much.
If you found this article to be of some help to you kindly let me know in the comments down below and do not forget to check my latest blogs for more information on cycles. Also, if you have a question regarding the article you may mention that too in the comments.
Till then, Keep Cycling.!