Cycling Guru is reader-supported!
Some links on this page are Amazon Associate affiliate links When you buy through links on our site, we may earn an affiliate commission! Read more...
Cycles and cycling have been a major part of all our childhoods. Somewhere, we all grew up between hurting our keens while learning how to cycle to wishing for gear cycles on birthdays.
However, the thrill of having the best gear cycle will always excite us! So, here we are with this detailed and very helpful article which will make it easy for you to choose your best gear cycles under 15000.
In this article, we will discuss the factors you must consider before investing in gear cycles, we will guide you to the top 5 best gear cycles in India that you can buy for under 15000, their pros and cons, and much more.
So make sure you read this article till the end to know some important FAQs as well!
What is a Gear Cycle and its Benefits?
A gear cycle is a system of front and rear derailers attached to the thumb gear shifter. The rear derailleurs are called the gear cassettes whereas the front ones are called the crankset.
These derailleurs are connected to your cycle's handle or the thumb gear shifter. The left handle is used to shift the front gears while the right one is used for the rear ones. Learn more about the parts of a geared bicycle.
Usually the gears in a cycle range from three to fourteen. Ahead in this article, we have discussed how many gears you should go for, so keep reading!
Along with those features, there are certain benefits of using a gear cycle. For instance, lowering the gear down to 2 or 3 will help a lot if you are climbing uphill.
Similarly, shifting the gears to 7 or 8 will tighten your pedals and make your downhill rides super safe!
However, the best part of having gear cycles is that you can escalate or slow down the pace very swiftly under a minimum time range. And let's not forget the stunt-doing benefits you get with gear cycles!
Everything in this world comes with pros but cons as well. So, Gear cycles have some disadvantages which may change your decision of buying a geared bicycle. So read them too!
Is it a Good Idea to Invest 15000 In a Gear Cycle?
Well, the choice of investing in a gear cycle varies on many factors and is different for different people. However, if you consider our advice we would recommend investing 15000 in a gear cycle only if you already have some good cycling experience.
This is because there's this common misconception that gear cycles will make you a better cyclist but it does enhance your cycling skills.
So, if you are a professional or a passionate cyclist who is about to take the competitive field then investing just 15000 in a gear cycle is a good idea, especially when you have our guidance for the best gear cycles in India!
Will you be consistent? Saying this because we have often seen that people initially invest in expensive gear cycles full of passion, but over time they lose interest and it ends up being an impulse buy. Be Consistent in cycling if you want to achieve your goal.
But if you are looking forward to learning and getting big on cycling then go ahead and choose from our list of the top 5 best gear cycles under 15000 in India.
Is Gear Cycle Good for Beginners?
No, using gear cycles for a beginner may not be a good experience. It demands a lot of presence of mind since in gear cycles you have to focus on the roads, breaks, and along with that shifting the gears with your thumb.
Apart from that, if you are a beginner you might find gear cycles hard to ride initially. The reason for that could be the wrong combinations of front and rear gears.
However, with practice, a beginner can excel in it and our recommended gear bicycles will be the best ones to go ahead and start your gear cycle journey with!
Factors to Consider Before Investing in Geared Bicycles: Gear Cycle Buying Guide India
1. Purpose of buying the bicycle
Having an apt purpose will give you clarity which will be very helpful for you in choosing the best among the top 5 gear cycles from our recommendation.
Now, the purpose for owning a geared bicycle could be simply for regular use, long rides or cardio exercise. One can have gear cycles for professional cycling, and participate in events for personal passion as well.
So, what's your purpose for investing 15000 in the best gear cycles in India with gear and disc brake?
2. Select the best gear bicycle brands
There are so many companies in the Indian market which manufacture geared bicycles. But all of them are not good. So select wisely, and don't trust the shopkeeper blindly if you buy from a bicycle shop. To keep you informed about the best gear cycle brands in the Indian market, we have done market research, also we have been using these brands for a long time.
3. Take a test ride
Now, test rides before buying a gear cycle are critical and that is why we have comprehended it in a few sub-points that you should consider before buying a gear cycle in India.
Frame: Before buying a cycle, you must compare the frame material with other options. Usually, the materials are steel, aluminium, or carbon fiber. If you take our advice then for professional cycling carbon fiber is the best whereas an aluminium frame does the job pretty well for other purposes. But, for under 15000 rupees, you would get only a steel frame.
Suspension: Suspension is the of the most important factors you should check while test cycling. A high-suspension cycle is always the best option to go for! Also, don't forget to check it on different surfaces.
Alignment: In gear cycles, you must check whether the gear cascade, the crankset, and the thumb gear shifter are properly aligned and is comfortable to use or not. This is important to check so that you don't face any problems while you are on the roads.
4. Compare the price of the selected bicycles
While you are planning to buy a gear cycle, you should not just compare it with other competitive cycles, but also with your purpose of buying a geared bicycle. Whether you are looking for a gear cycle for losing weight, long rides or daily use. This is one of the most effective ways of investing in a gear cycle and not regretting later.
---
Top 5 Best Gear Cycles Under 15000 in India 2023 (Detailed Review)
As you know bicycles have got many types according to their purpose. I have selected some hybrid bicycles and mountain bicycles with gear and disc brakes which come under the price range of 15000 in India.
1. CARDIAC Discover Pro 700C Hybrid Bicycle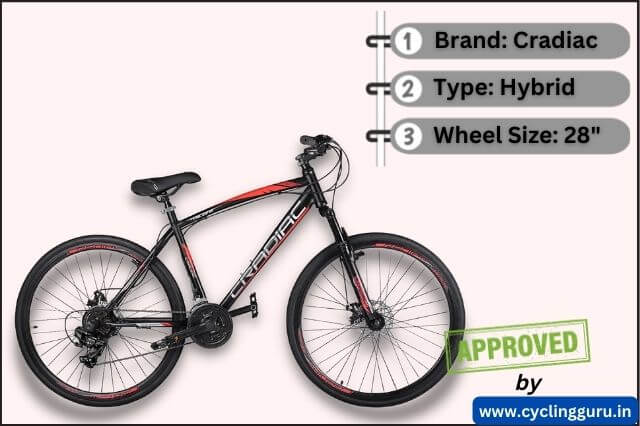 This is one of the best hybrid gear cycles under 15000 in India manufactured by Cardiac. Cardiac is one of the emerging cycle brands in India. Cardiac 700 Hybrid comes with 7 rear gears and 3 front on a 19-inch hi-tensile steel frame, making it strong and long-lasting.
Talking about the derailleurs cardiac 700c hybrid has a Shimano 21- speed driven bike! Along with that, this bike is fitted with a great suspension fork which will make your off-road adventures smooth and safe.
The shifters of Cardiac Discover pro has Shimano TY EF500 shifters, which are very efficient and handy. The Cardiac 700c focuses on safety and thus comes with 160 MM dual disc brakes which will make your rides safe!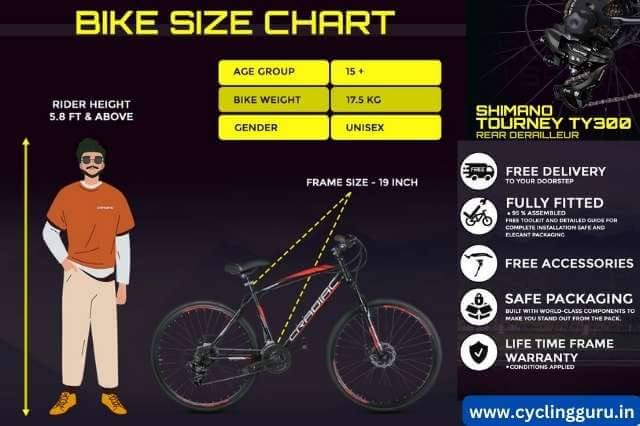 Let's not forget the 700C nylon tires that provide the perfect grip on various surfaces. The Cardiac Discover pro is suitable for anyone with a height range of 5'5" to 6'4".
PROS:
Cardiac Discover Pro comes with a shock-absorbent suspension.
Comfortable riding seats and easily adjustable with quick release feature.
You will get a one-year warranty as well.
CONS:
The pedal holds are of low quality.
The Gear Shift needs maintenance after 6 months.
Since the Cardiac Discover Pro does not have tubeless tires, you will be required to get it replaced after every puncture.
Our Verdict:
Cardiac Discover pro is just a value-for-money gear bicycle. Honestly, it is a good buy at 13000 but if you are looking for a long-term bicycle then this is not the one. This product requires overhead maintenance charges after 1 year of usage.
---
2. Urban Terrain UT1000 Series MTB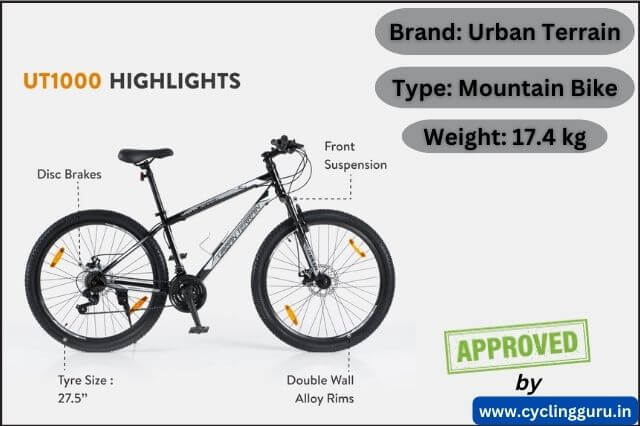 This bike by Urban Terrain is one of the bestsellers of mountain bikes that you can get for under 15k rupees in India. UT1000 is again a 21-speed geared cycle i.e. 7*3 gears.
The carbon steel stylish yet sturdy frame is comfortable, durable, and would not fatigue during your off-road rides! Keeping safety in mind, Urban Terrain's UT1000 Series MTB comes with double disc brakes on both front and rear wheels, which ensures a smooth and safe braking experience for you.
The 27.5-inches wide tires are installed with light and strong double-walled alloy rims, providing you with a seamless experience.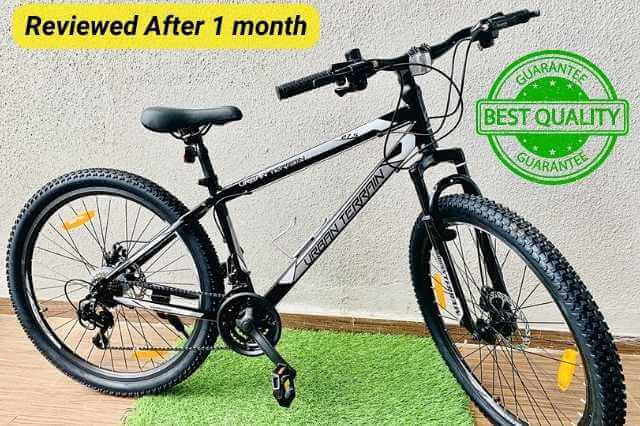 One of the highlights of UT1000 is that the well-cushioned seats are easily adjustable and you would not even require any tools for it!
PROS:
Urban Terrain provides a free brand-authorized installation and demo by verified experts pan India.
Accessories like back reflectors, Allen keys, and a low-quality pump are provided.
A Premium subscription to the cultfit app is provided for free.
CONS:
UT100O BY Urban Terrain has no workout for the suspension.
This product does not include a mudguard.
Bells are small and produce faint sounds.
Our Verdict:
UT1000 By Urban Terrain is a very value-for-money cycle and the best gear bicycle under 15000. If you are looking for something that you can start your gear cycle journey with, this is the best fit. It will allow you to get started on your neighbourhood roads and practice longer distances even though it will require maintenance depending on your usage. We highly recommend this bike if you are a beginner.
Related Post: Check here if you are looking for more mountain bicycles with gear under 15k.
---
3. NINETY-ONE Leopard 27.5T Hybrid Bike with 21-Speed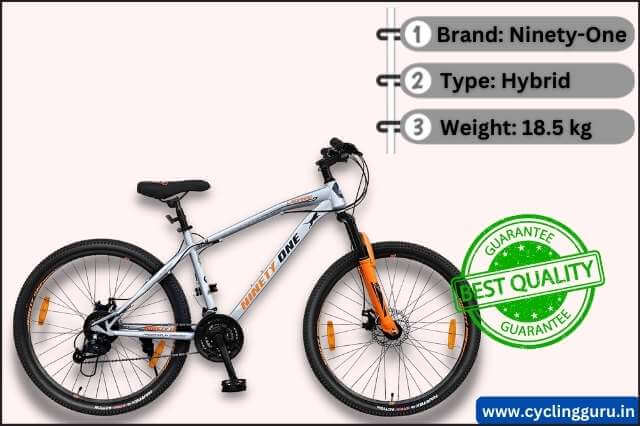 This is a hybrid bike with a Hi-Tensile carbon frame and steel welding. The frame size is somewhere around 17". which is perfect for riders in the height range of 5'4" to 6'3". You can adjust the seat post accordingly.
Leopard 27.5T is a very stylish silver and orange bicycle produced by Ninety One Cycles which is a very new brand in the cycling industry. One of the key features of this hybrid-gear bicycle is the v19 fork suspension.
The hi-traction tyres which are 27.5"x2.2" wide and the disc brakes make this bicycle very safe. Along with that Leopard 27.5T has a sealed cartridge High-Precision Ball Bearing Set for smooth movement. The dual-width and rust-free alloy RIMs are the MVP of this bike.
PROS:
Ninety One's Leopard 27.5T comes with a 6-month warranty.
The front and rear reflector lights are provided.
Unlike many gear cycles, this product does have a side stand.
CONS:
The installation is not free.
There's no mudguard provided.
The gear shifters are low in quality.
Our Verdict:
The Leopard 27.5T by Ninety One is the best gear cycle for beginners, it can be used for daily use as well as for exercise. This brand delivers amazing after-sales support to its customers. Therefore, we have included this geared bike in our list of 5 best gear cycles under 15k in India.
Related: Top 5 Best Gear Cycles under 10000 in India - Our recommended bicycles.!
---
4. Firefox Bad Attitude 10 MTB with 21 Speed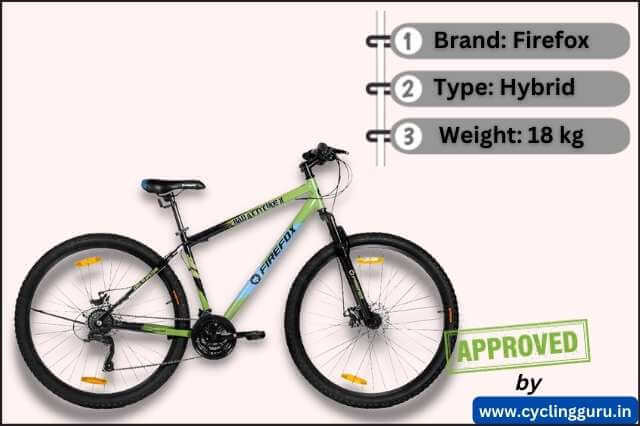 Firefox Bad Attitude 10 is a hybrid bike with a sturdy and durable steel frame for very good stability. With a frame size of 18 inches and tire size of 29 inches, this cycle is suitable for 13+ years. However, riders with a height range of 5.4 to 5.8 feet are preferred.
If your height is up to 6.5 feet, you can ride this bike by extending the seat post. It's so simple you don't need any tool for this because it has a quick-release feature for easy saddle adjustments.
The suspension fork along the steel hard MB frame will support all the bumpy terrains on your ride. For power breaking, this bike has disc brakes. And the alloy RIMs provide extra strength.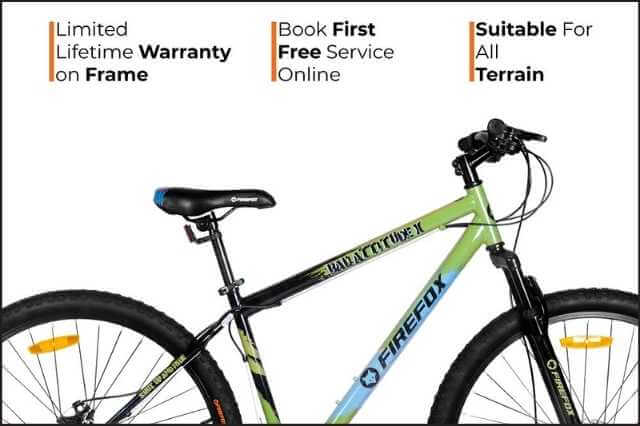 This bike has tube tires, which may make it easier for local servicing. The cycle comes 85% assembled. However, you can easily refer to the installation video provided by Firefox.
PROS:
Firefox Bad Attitude 10 has a warranty of 6 months.
The first servicing will be free.
This cycle includes a tool kit and a stand.
CONS:
The installation service is not free.
Gear Shifters are not smooth enough.
Our Verdict:
We know that Firefox is one of the prestigious bicycle brands and this cycle is actually one of the best mountain bikes with gears and disc brakes which you can get for under 15000 in India. However, Be aware of bad customer service if you are planning to buy this online.
---
5. Omobikes Ladakh X7 700C Hybrid City Cycle
Ladakh X7 700C is one of the best hybrid bikes you can get for under 15000 in India. This cycle is suitable for 13+ years. However, riders with a height range of 5 feet 6 inches to 6 feet 2 inches are preferred. There is a 10-inch adjustable seat pillar available as well.
There are 7 Speed Shimano gears in this bike. The 18-inch frame has a perfect build for your rides. The 700c tyres (28inches) along with dual disc brakes support you to go beyond limits with this bike.
The telescopic 60 MM front suspension is one of the key features of this bike. Ladakh X7 700C by Omobikes is perfect for mountain roads, trails, or for off-roading as well.
Visit OMO Bikes store and apply coupon code for 6% Discount: CYCLINGGURU
PROS:
It is easy to assemble.
Mudguard is provided with this product.
Have got 2 years warranty from the brand.
CONS:
The socket movement is not smooth enough.
Tube Tires might create a problem.
Our Verdict:
This is the best hybrid bicycle with gears which you can get for under 15k in India. The features of this cycle are worth the money. We would totally recommend this bike if you are passionate about gear cycles.
---
FAQs: Best Gear Cycles in India Under 15000 Rupees
Q1. Which is the best brand for Hybrid Cycle?
Omobikes, Cardiac, and The Urban Terrain are the best brands for hybrid cycles in India. These brands provide the best quality cycles for under 15000 rupees. They provide quality cycle parts which make their product durable.
Q2. Which is the cheapest MTB cycle?
UT100O BY Urban Terrain is the cheapest MTB cycle yet does a very good job. The high-quality build and features make it a value-for-money product.
Q3. Which hybrid bike is the safest to ride on mountain terrains?
Yes, you can indeed ride certain hybrid bikes on mountain terrains. For example, CARDIAC Discover Pro 700C Hybrid Bicycle is one of the best hybrid bikes for your off-roading!
Final Verdict: Best Gear Cycle in India under 15000 in India
Cycling has always been a fascinating activity but having detailed knowledge about it is what makes you extraordinary. Apart from just knowing the prices, it is very important to know about the factors and features of a cycle you should keep in mind before buying.
We went through very detailed research and decided on these 5 best gear cycles in India for under 15000 for you. We hope that your journey with gear cycles will be smooth and easy after reading our article and we could help you and guide you to choose the best gear cycle for you!
Keep Cycling!