Cycling Guru is reader-supported!
Some links on this page are Amazon Associate affiliate links When you buy through links on our site, we may earn an affiliate commission! Read more...
When it comes to selecting a drivetrain for your mountain bike Shimano Deore Vs Altus often comes in the spotlight just after Shimano Acera vs Deore. The Shimano groupsets never fail to serve their customers, right?
Actually, both of them belong to the slightly expensive category of the Shimano groupsets while catering to the different riding styles and preferences.
In this blog, we will try to cover and see what situations and riding styles are best fitted for Shimano Altus & Deore and then move on to the pros and cons for each.
We will also discuss the major differences between Shimano Deore and Altus groupsets. There's a lot to cover so let's dive in straight.
Must Learn: Bicycle Parts Names for better understanding!
Shimano Deore vs Altus: Quick Comparison Table
| | | |
| --- | --- | --- |
| Features | Shimano Altus | Shimano Deore |
| Intended Use | Daily commuting and recreational rides. | Mountain biking and off-road adventures. |
| Gear Range | Modest gear range for casual riding. | Wide gear range for the technical terrains. |
| Shifting performance | Reliable and consistent shifting. | Smoother and precise shifting. |
| Durability | Reliable performance. | Built to withstand the off-road rigours. |
| Price range | Affordable | Slightly expensive. |
| Weight | Slightly heavier than the higher-end models. | Lightweight. |
| Material and construction | Balanced materials for reliability. | High-grade materials and advanced technologies. |
| Speed | 9-speed rear derailleur. | 10, 11 & 12-speed rear derailleur, |
Related article: Shimano Vs Microshift vs Sram groupsets
Shimano Deore Groupset Quick Overview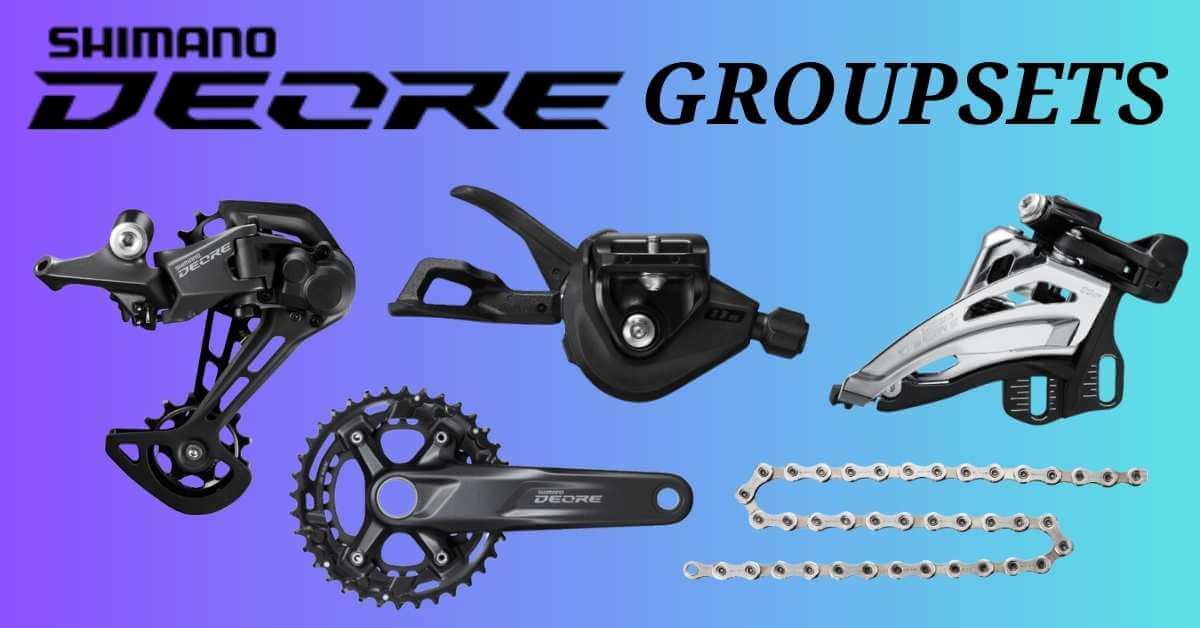 The Shimano Deore groupset is known for its high performance and robust built quality. It comes with a lot of varieties for mountain riders of different styles. It is perfect for riders who demand precision and versatility across various terrains.
The Deore groupset offers seamless shifting and power transfer which makes it a popular choice among riders. Dore is available in 10-speed, 11-speed, and 12-speed options and offers a wider gear range of cassettes which are as follows: 11-42T, 11-46T, or 11-51T.
What is Shimano Deore designed for?
The Shimano Deore is the kind of mountain bike groupset that tackles demanding terrains and challenging off-road adventures. It is mainly made for people who are into mountain biking. It is very reliable as it has efficient drivetrain components to help you change gears smoothly on trails.
Pros & Cons of Shimano Deore Drivetrain
PROS:
The very first thing is that it offers very precise shifting as it has advanced technology and refined engineering which is responsible for the shifts.
Made to tackle mostly mountain terrains, it offers extreme durability. This is the reason it offers long-lasting performance even in harsh conditions.
All of this has been possible because of the wide gear range that it has.
CONS:
It is only the weight which drags this groupset a little bit. It adds additional weight to the bike, affecting the overall performance. But to some riders it is negligible.
It is not very suitable for recreational and beginner riders. With all the gear sets that it offers, these riders might get confused.
---
Shimano Altus Groupset Quick Overview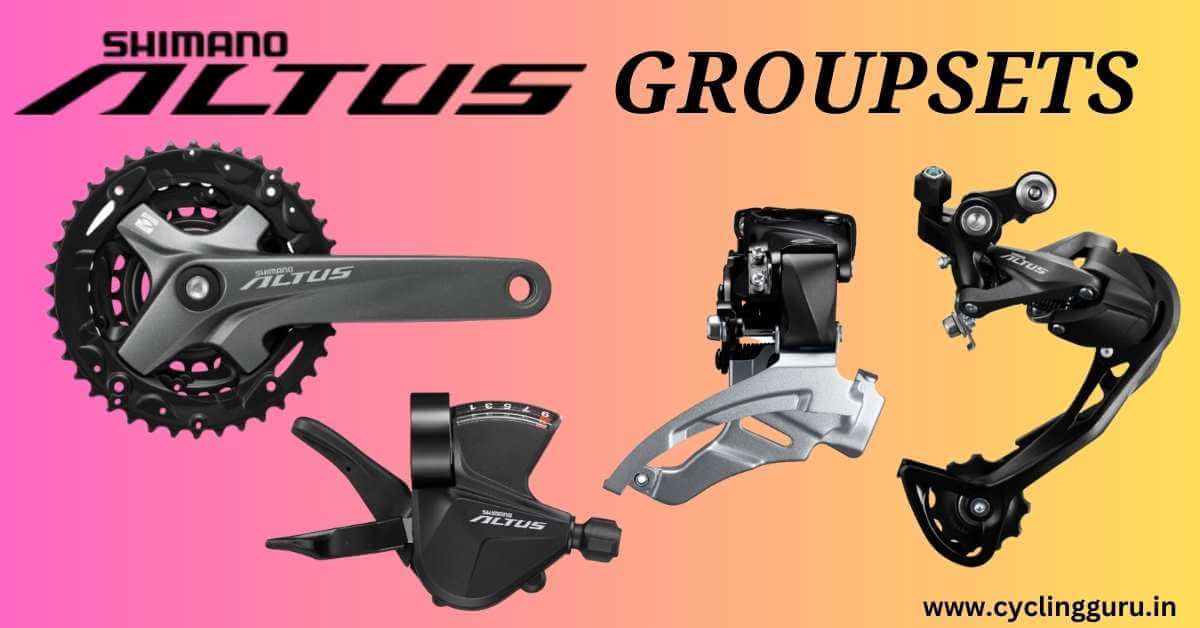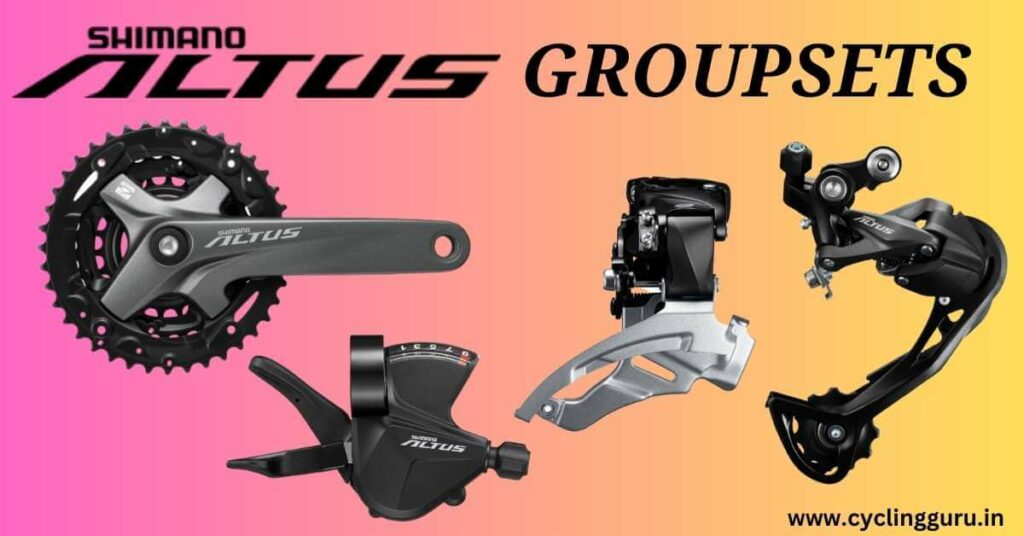 The Shimano Altus groupset is a very perfect choice for riders who are just looking to begin riding bikes. It is perfect for recreational rides and hence comes with all the features that are suitable for the situations it would face.
It is also perfect for daily commuting and offers very reliable gear shifting. With a 9-speed option with cassettes like 11-32T or 11-34T, the Shimano Altus offers this speed range with the different cassettes which ensures good shifting. Also, it has fewer gears compared to the Doere.
What is Shimano Altus designed for?
Shimano Altus is mostly designed for beginners and recreational riding and daily commuting. It does not have the capacity to handle technical terrains and hence all the features that it comes with are only suitable to light ridings and smooth terrains.
Pros & Cons of Shimano Altus Drivetrain
PROS:
It is perfect for beginner riders who are looking for daily commutes and recreational rides.
It offers durability and good performance.
It is very affordable with all the features that it offers.
All the components are very reliable and provide consistent performance.
CONS:
It has a limited gear range, unlike Deore which comes with a lot of gear ranges. There will be limitations when it comes to challenging terrains.
Similar to Deore this has a slightly heavier weight too. This could affect some and be completely alright for the other riders.
Shimano Altus vs Deore: 7 Major Differences
There are some major differentiators when it comes to comparing both the groupsets:
1. Performance and durability
Shimano Deore is better than Altus when it comes to performance and durability because it is made to tackle mountainous terrains. Although Altus can also tackle the trails it does not provide satisfactory performance when it comes to mountain biking on technical trails.
Whereas, Shimano Altus is more suitable for commuting, long rides on off-roads and recreational usage. Get Shimano Altus if you are a normal mountain bike rider as it is cheaper than Shimano Deore in terms of price.
2. Gear range
Shimano Deore provides a wider gear range which allows it to tackle steep ranges and navigate effortlessly. Whereas, Shimano Altus does not require extensive gears and offers a modest gear range that is sufficient for normal off-road riding.
3. Material and Construction
The components of Deore are made up of higher-grade metals and use advanced construction techniques & technology. Whereas, the components of Altus are made keeping in mind the cost-efficiency. That's why Altus is cheaper than Shimano Deore.
4. Price Range
Shimano Deore has been priced higher than the Altus as it has all these high features and extensive gears that Altus doesn't have. It's very obvious.
Whereas Altus is an entry-level groupset for mountain bikes with all the features that it comes with, it is very affordable.
5. Speed
Dore is available in 10-speed, 11-speed, and 12-speed options, and offers wider gear range cassettes which are as follows: 11-42T, 11-46T, or 11-51T. And all of these together help them in better adaptability and gear change.
The Shimano Altus on the other side has only a 9-speed option with cassettes like 11-32T or 11-34T. It has fewer gears than Deore, which gives Doere an upper hand.
6. Wheelset
Generally, Wheels are not included in a groupset but still, Shimano Deore offers some of the wheel sizes that are compatible with both of these groupsets and that are 27.5 and 29-inch wheels.
It also depends upon the type of bike and the rider too. For Altus also, it is the same. There's not very big of a difference there.
7. Brakes
The brakes in the Deore groupset are hydraulic disc brakes, they are known for their excellent stopping power and modulation. They are very much less affected by weather conditions, like mud and ensure reliable braking in all circumstances.
Whereas, the Altus has a mechanical disc brake. They are capable of activating the calliper, which provides decent braking capability but not as a hydraulic brake would. Again a +1 to the Shimano Deore groupset!
Is Shimano Deore Better than Altus?
Yes! It's true that Shimano Deore is better than Altus as it has more advanced features, wider gear options, and powerful brakes as well as expensive too. But it depends on the riders who are going to use the groupsets.
For example, if a beginner rider is looking forward to getting himself a groupset that is affordable and at the same time very reliable and budget-friendly, then he must go with Shimano Altus.
On the other hand, more experienced riders who are looking to tackle more challenging terrains should get Shimano Deore because of its smooth performance and amazing durability.
But while comparing Shimano Altus vs Deore it can be stated that Deore has an upper hand. With the performance and the durability to tackle technical mountain terrains, Deore is one of the best groupsets to go for!
Final Verdict: Shimano Altus Vs Deore Groupsets
Choosing between Shimano Deore and Altus groupsets can be tough if you are not clear about what you want in your riding experience and that is the reason the blog was created in the first place.
As we saw above that choosing groupsets comes down to your preferences and the terrains that we are looking to tackle.
Both the groupsets have some similarities but their features and performance characteristics make them suitable for different riding cases. Once you understand these differences, you will be able to choose the best fit for yourself.
Thanks for reading this blog till the end! I hope you are not confused between these two groupsets. Still, if you have any doubts, your questions are most welcome in the comment section below!
Related: Shimano Tourney Vs Altus Components: Which is Better?
---
Frequently Asked Questions (FAQs)
Q1. Is Shimano Altus compatible with Deore?
Yes! You can pair Shimano Altus or any 7-9 speed rear derailleur and use it with any Shimano 7-9 rear shifter. You know the Deore front shifter works brilliantly with the Altus FD. But, Do keep in mind that some 7-speed rear derailleurs may not be able to handle the inward movement of a 9-speed unit.
Q2. Where does Shimano Deore rank?
Shimano Deore ranks 4th in the top tier because it is one of the best performance-oriented components just after Shimano SLX and XTR. It has got wider speed ranges i.e., 10, 11, and 12-speed. It's designed for pro mountain bikers.
Q3. Where does Shimano Altus rank?
Shimano Altus ranks last in the list of Shimano groupsets ranking because it is an entry-level component for mountain bikes & commuting bikes. It has only a 9-speed rear derailleur with a cassette.
Q4. Is Shimano Altus for MTBs?
Yes! Shimano Altus is designed for entry-level MTBs as well as commuting bicycles. It comes with 9×3-speed gear options for larger-wheel mountain bikes. It's a good option for riders with a limited budget.