Cycling Guru is reader-supported!
Some links on this page are Amazon Associate affiliate links When you buy through links on our site, we may earn an affiliate commission! Read more...
Shimano SLX and Deore are both groupsets offered by the Shimano range but still, they have some striking differences in the way how they operate.
Shimano SLX is designed for riders looking for high-performance components that are more affordable when it comes to pricing.
Shimano Deore on the other hand is all in one kind of component. It can be used by people who are looking for mountain riding the people who are looking to use their bicycle for daily commutes.
In this blog, we will extensively see the comparison between the two (Shimano SLX vs Deore) and try to answer the questions that might be in your head!!
Must-read article: Shimano vs Microshift vs SRAM Gears: Which is better for you?
Shimano SLX vs Deore: Quick Comparison Table
| Features | Shimano SLX | Shimano Deore |
| --- | --- | --- |
| Performance | Higher performance and smoother shifting | High performance and smooth shifting |
| Pricing | Higher compared to Deore | Affordable compared to SLX |
| Weight | Lighter than Deore | Heavier than SLX |
| Features | Advanced features | Balance between cost and functionality |
| Configuration options | 1×12, 2×11, and 1×11 setups available | 1×12, 2×10, and 3×10 setups available |
| Target riders | Aggressive trail ridings | Mountain biking, touring. |
Shimano SLX Groupset Quick Overview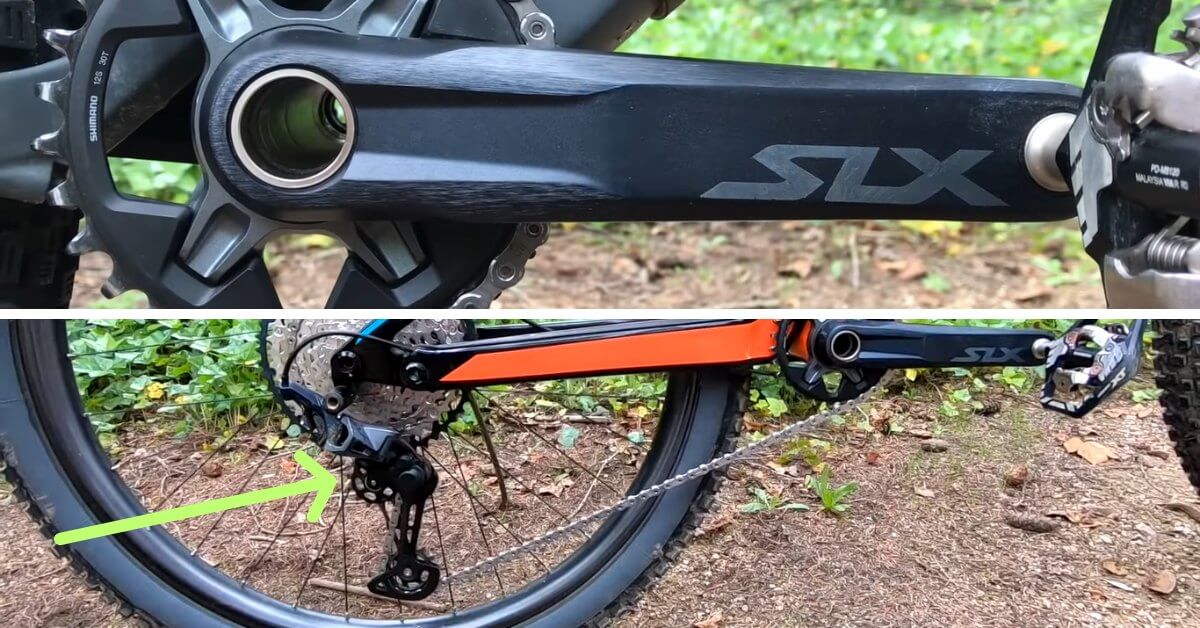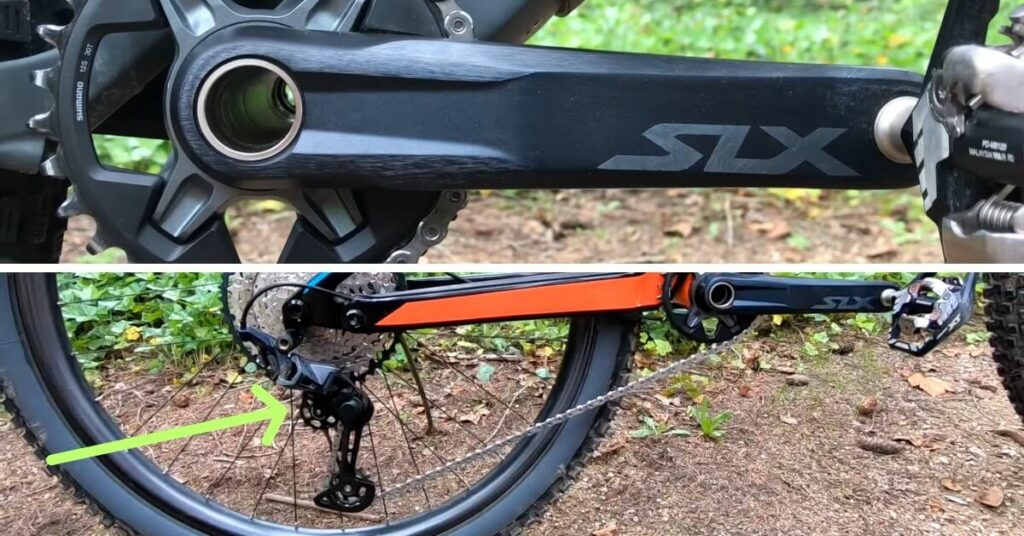 The Shimano SLX is a very high-performance mountain bike drivetrain groupset. It is very reliable, provides smooth shifting, and the durability you need and is absolutely the best value for money.
This groupset includes the technologies from the top XTR groupset and has all the new features that the riders would need.
What is Shimano SLX designed for?
The SLX is specifically designed for mountain biking, unlike Deore which is known for its versatility. It covers all the aspects when it comes to mountain riding giving versatility in that range.
It is specifically built to withstand all the demanding conditions for off-road riding. It is suitable for technical terrains and tackles them without much of an issue! It is versatile and adapts to different riding styles.
Pros & cons of Shimano SLX Drivetrain
PROS:
When it comes to performance the SLX offers a very smooth and precise shifting. This is possible because of the modern and higher technologies that have been used.
It is built for rigorous and technical terrains and hence is durable as anything.
It is a total value for money. Considering ALL the things that this groupset offers for the money it is priced at it does not at all feel very expensive. It gives a premium feel without making you go bankrupt.
It is available in various configurations to allow users to choose better setups needed for their rides.
CONS:
It can be slightly higher than the other groupsets if compared but again this weight is almost very negligible.
The features in SLX have just been touched upon, there are a lot of advanced features that are there in the top groupsets but are lacking in SLX. This is justified by the price point. For the price, the features are justified.
Shimano Deore Groupset Quick Overview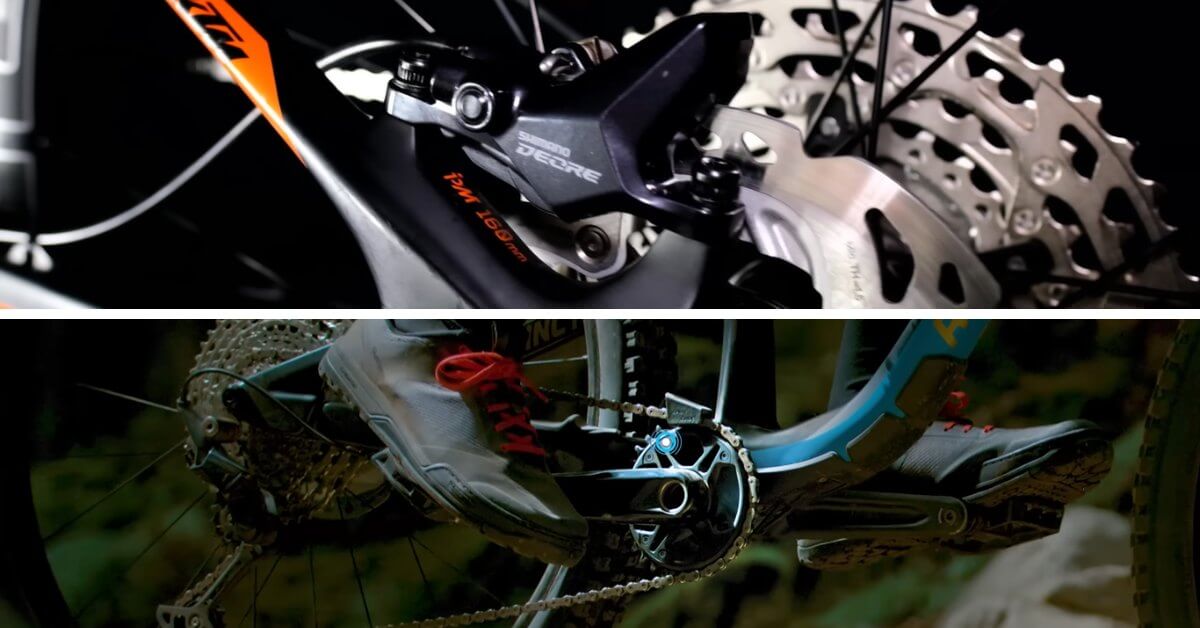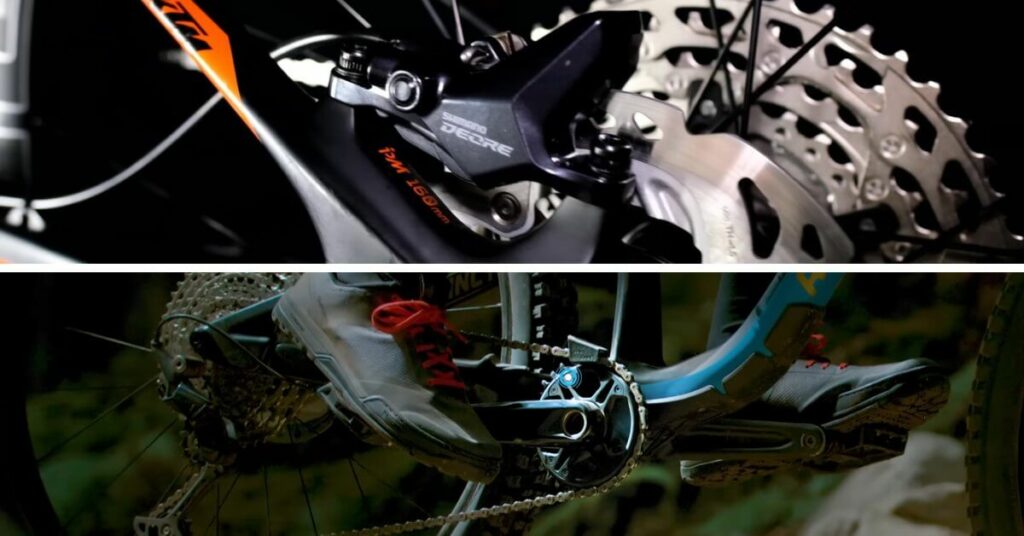 Shimano Deore is a very reliable and durable drivetrain solution that is available for riders who want to enjoy varied types of riding. We are going to just quickly overview it and see some of the major things that we should know.
What is Shimano Deore's design for?
The Shimano Deore is not designed for one specific thing. It is designed for various things as we already saw from mountain riding to daily commuting, Deore can be used everywhere.
The drivetrain is designed to offer reliable and consistent shifting performance with keeping in mind affordability. This is all done keeping in mind the suitability of the riders. Its durability is top-notch which makes it suitable for the riders to ride off-road.
I have recently compared Shimano Deore with Shimano Alivio, if you are confused about which one should you prefer, have a look at this guide.
Pros & cons of Shimano Deore Drivetrain
Now, certainly no matter how things are, there are ALWAYS pros and cons to it. If you are looking for the best option and still considering if it would be a good choice or not, then this list would be a major help to you:
PROS:
It is very reliable and consistent in its performance. It ensures smooth and precise shifting across a wide gear range!
Deore components are best known for their durability. They are so smartly designed that they withstand the demands of off-riding too!
With everything it offers, it is affordable and it is a very attractive choice for riders who want reliable components without having to spend a lot of money.
As we discussed earlier also, it is very versatile which is very beneficial to riders.
CONS:
Compared to the other groupsets Deore might be slightly heavier than these. This is because of the additional economical materials. But this does not matter in most cases. People are not able to distinguish the differences between these weights and this does not affect the performance.
It lacks some of the advanced features that are there in the high-end groupsets.
Shimano SLX vs Deore: Major Differences
The main differences that occur between SLX and Deore are among the factors mentioned above only. Those are the main points on which you could argue on choosing the best-fitted groupset for you and your uses.
Get clear with what you need and then move ahead to make a decision. The major differentiating factors are:
Target riders: SLX is aimed at aggressive riders and people who are top-tier performance and features. It is mostly designed for people who are looking for mountain bike riding. Deor, on the other hand, has a set of wide gear ranges suitable for the same audience but not the same aggression and features as SLX.
Price: SLX is slightly more expensive than Deore.
Performance: SLX offers better and high performance than Deore and it is possible because of the high-tier and technologically advanced manufacturing of SLX.
Configuration: SLX offers a wide range of configurations including 1×12, 2×11, and 1×11. Whereas, Deore is available in 1×12, 2×10 and 3×10 setups.
Is Shimano SLX Better than Deore?
Looking at the purposes they are designed for it is arguable and both of them can and cannot be labelled as better than each other. In some cases, SLX is better than Deore and in some Deore is better than SLX. At the end of the day, it all depends on the needs and what are you trying to extract from the groupsets.
But if both are compared with each other and asked to come to a conclusion, each and every time SLX is going to win the game. With its higher performance, lighter weight and durability, it will win the match.
Final Verdict
In conclusion, both sets are targeting mountain bike riders only but the difference that lies here is that there are different levels that they target. SLX is there on a higher level than Deore, whereas Deore is suitable for beginner mountain riders.
Both groupsets are very good and offer value for their price. Shimano never fails to cater to its customers and hence both the sets do a great job.
It would be fun to choose. Hope this detailed comparison blog on Shimano SLX and Deore components helped and let us know which groupset you have chosen to enhance your biking experience.
---
Frequently Asked Questions (FAQs)
Q1. What is the difference between SLX and Deore?
The primary distinctions between SLX and Deore at the 12-speed level revolve around their weight and appearance. SLX components possess a slightly more polished look, and the cassette features an alloy spider that reduces weight by approximately 67g compared to the Shimano Deore.
Q2. What's better than Shimano Deore?
Shimano SLX is better as it provides better value and weight savings compared to Deore, thanks to an alloy cassette and improved aesthetics.
Q3. Is Shimano SLX good for MTB?
Yes, Shimano SLX is a great choice for mountain biking (MTB). Because, it has very strong, high-quality and durable components, specifically made for off-road trails. Overall, it provides a smooth gear-shifting experience along with good control over braking.
Related Posts:-