Cycling Guru is reader-supported!
Some links on this page are Amazon Associate affiliate links When you buy through links on our site, we may earn an affiliate commission! Read more...
Leader Cycles is an Indian bicycle brand which offers a variety of cycles such as bicycles for kids, ladies, MTBs, rangers and Hybrid cycles of amazing quality at affordable prices in the Indian market since 2011.
One of the best hybrid cycles from this brand is the Leader 700c 21-speed hybrid city cycle, I have been riding this hybrid bike for a month and tested it on roads and off-roads; I haven't faced any problems yet.
So, I am sharing my genuine review of the Leader 700c hybrid city bicycle so that you can also consider this cycle if you are planning to purchase a hybrid cycle for around 10000 to 15000 rupees.
Once you read this blog article on Leader 700c 21 speed hybrid city cycle review, You will have a better idea about its features, components, performance, riding experience and also Is it worth investing in Leader hybrid city cycle?
Here is an unbiased review of the Leader 700c hybrid bicycle.
Leader 700c 21-Speed Hybrid City Cycle Review Video
---
Leader 700c 21 Speed Hybrid City Cycle Review: Is it worth Investing?
Leader 700c is a geared hybrid bicycle for men and women that comes with a 21-speed drivetrain, dual disc brakes, a steel frame and so many special features making it a perfect city bicycle for commuting and leisure cycling.
Do read this review till the end if you are looking for the best hybrid cycle under 15000 in India.
Frame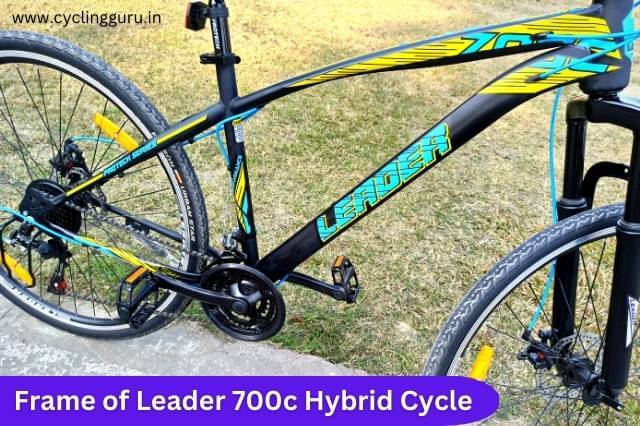 Leader 700c hybrid city cycle has a TIG welded steel frame of black colour having a length of 19 inches. The design of the frame is ergonomic to maintain a comfortable riding position and the top tube of this frame is slightly down making it suitable for women as well.
The brand has done a tremendous job on its paint and graphics as it has premium quality paint along with water decals graphics on it with the combination of blue and yellow colours making this hybrid bicycle more attractive.
The branding of LEADER is mentioned on the downtube of the frame and the model name is mentioned on the top tube in a stylish way making this bicycle recognisable. Two rivets have been already provided on the downtube for fixing a water bottle holder for your ease.
One of the best parts of the frame of this bicycle is its Internal wiring system. It's very rare on a bicycle around 13000 rupees.
Overall, the frame of the Leader 700c hybrid cycle is strong and lightweight. This frame is suitable for adults between 5'6'' to 6'. We couldn't find any cons about the frame.
Fork and Handlebar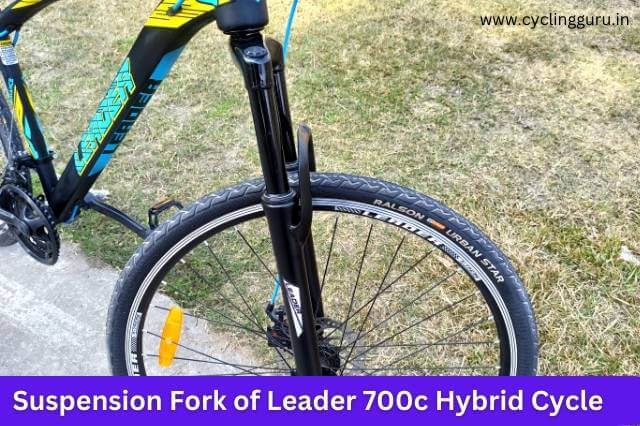 Leader 700c is a hybrid bicycle with a threadless suspension fork at the front for absorbing shocks and vibrations while riding on rough roads. Unfortunately, the condition of Indian roads is pathetic so suspension fork plays a vital role even in a hybrid bicycle as well as improves braking performance on types of surfaces.
When it comes to the handlebar, It has a T-type handlebar (raised) & stem of alloy material for your comfortable riding position and long durability. Additionally, It has soft rubber grips for comfortable long-distance rides.
The overall quality and performance of the fork were fine during our test ride. And the riding position was upright because of the raised handlebar which helped us to ride long distances.
Drivetrain
The Drivetrain (chain, freewheel or cassette, crankset, and derailleurs) plays a vital role in terms of performance and speed. Leader 700c hybrid cycle is equipped with Shimano Tourney TZ components which have 21-speed gear combinations i.e., 7-speed freewheel and 3-speed crankset.
Both the derailleurs shift the gears brilliantly and they are managed by Shimano tourney thumb shifters that are very quick and simple to use while pedalling. The numbers on the shifters make the rider aware of the gear combination making it helpful for beginners.

Coming to the overall quality and performance of the gearsets of this Leader hybrid bike, they are the original Shimano and the performance is very quick and smooth. Pedals are anti-skid as well as it has reflectors for more visibility and they are very smooth while pedalling.
The benefit of a geared hybrid bike is that you can climb uphill easily just by shifting your gears to the lower numbers. I couldn't find any issue with the drivetrain of this Leader hybrid cycle.
Wheelset (Tyres & Rims)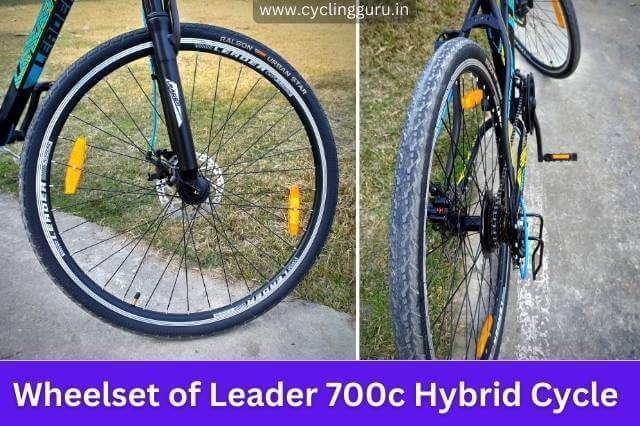 The tyres of the Leader city rider are from the Ralson brand and they are thin because it is a hybrid bicycle the size of the tyres is 700 x 35c on double-wall alloy rims for a smooth ride on-roads and off-roads.
The front wheel has got a quick-release axle for easy on and off. Treads on the tyres are not much which means they are specially made for riding on roads and sometimes on off-roads but not for stunts.
Rims are very strong, and durable and look very attractive and eye-catchy from the sides because of the silver colour chrome finish. I have ridden this bicycle on plane roads, rough roads and wet roads; the grip was super excellent and provided a good speed.
Braking System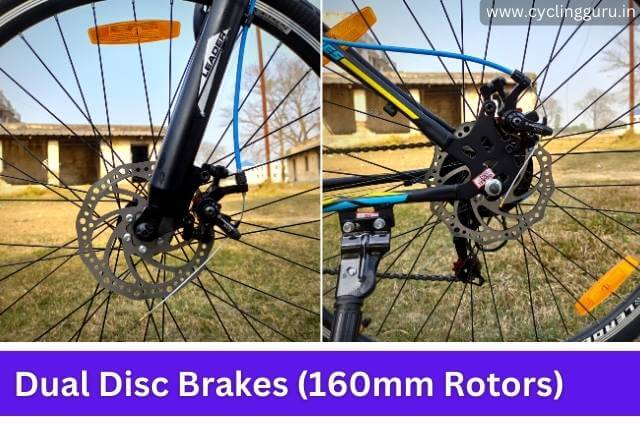 Good brakes are essential on any bicycle for safety. Keeping that in mind, the Leader 700c hybrid city cycle is equipped with 160mm mechanical disc brakes on both sides for instant braking. When it comes to brake levers, It has Shimano brake levers of alloy material which means they are strong and durable.
We have tested these brakes on almost every type of terrain and the performance was excellent; I felt an instant braking experience in a controlled manner. As of now, Disc brakes are the best brakes for MTBs and hybrid bicycles as well.
Saddle & Seat Post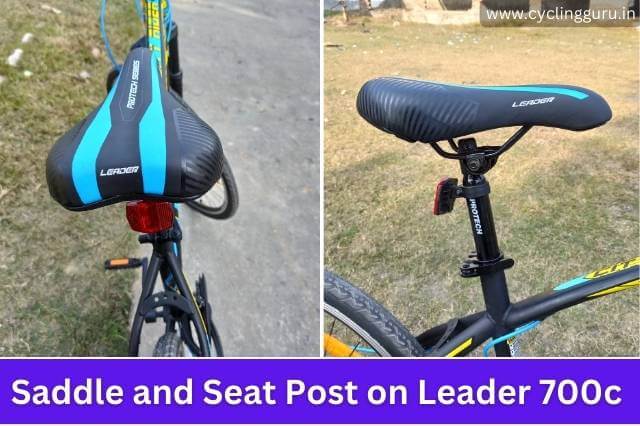 Leader 700c is a hybrid city cycle therefore It has got a well-cushioned and wide saddle to provide a comfortable riding position to every type of rider; I felt the same during our rides.
The seat post has got a quick-release clamp to adjust the seat height without any tool, you don't have to carry a spanner. However, the length of the seat post is not much but that's not a big deal because the frame is 19 inches.
Pros & Cons of Leader 700c Hybrid City Bicycle
Pros:
Quick release for seat height adjustment and front wheel.
Suitable for short and long-distance commutes on planes and rough roads.
Internal wiring on the frame is a top-notch feature.
Water decal graphics and TIG welded frame.
Seamless gearshifting and braking experience.
All reflectors are available with the bike.
Lifetime warranty on the frame.
Cons:
Mudguards and water bottle holders are to be purchased separately.
Not suitable for short riders (recommended height: 5'6'' and above).
Why I Chose Leader Hybrid Cycle Over Other Brands?
There are thousands of bicycles available online from top bicycle brands, so it's a matter of choice which is in your hand so you must know the process to purchase a bicycle online otherwise you would end up buying the wrong bicycle of the wrong size.
Luckily, I know how to purchase a bicycle online and my purpose was very clear, I wanted to purchase a bicycle that I can ride on plane roads as well as on unpaved roads and my budget was around 10000 to 15000 rupees. So, I decided to go with a Hybrid bicycle.
I opted for Leader Cycles out of the top 10 brands because Leader offered me the best deal and fulfilled my requirements under my budget, I read the review of Leader 700c hybrid city cycle on e-commerce stores and on the Leader's website and ordered the same. I chose Leader Cycle Brand because of:
Offers premium quality bicycles at affordable prices.
The Quality of the leader's bicycles can be compared to imported brands.
Offers Lifetime warranty on their bicycle frames.
Offers 1-year free subscription to the Goqii app for health maintenance.
Free bicycle assembling service to your doorstep.
Where to purchase Leader 700c hybrid city cycle online?
I hope you liked the review of this Leader hybrid bicycle. Some of you might want to know where to purchase this hybrid cycle online at a discounted price. Thanks to me guys! I have got you a coupon code by using that, you would get a flat 12% discount on all types of cycles from www.leaderbicycles.com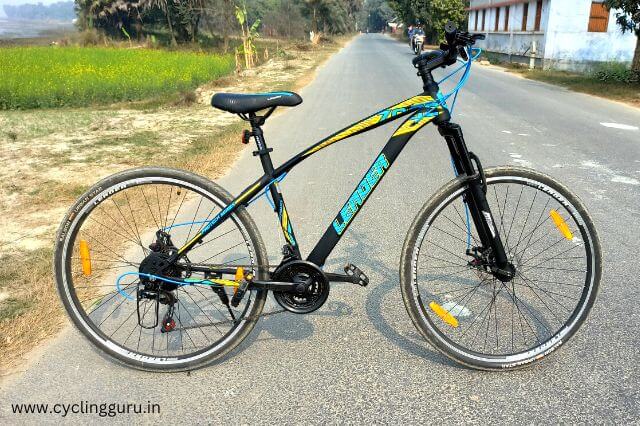 ---
Final Verdict: Riding Experience of Leader 700c Hybrid Bicycle
You have read the review of the Leader 700c hybrid cycle till now. It's time to discuss the riding experience of this bicycle and how it performed during my rides on various types of roads.
The riding position on this bicycle is upright making it comfortable for long and city commutes As well as the riding on bumpy roads also becomes smooth and shock-free as the front suspension performs brilliantly.
When it comes to speed and pedalling, I could achieve speeds of up to 25km/h on plane roads and up to 18km/h on off-roads without letting myself tired because pedalling becomes very smooth on a geared hybrid bicycle. Speeds may vary from person to person as it is a pedal-powered bicycle.
If you are looking for a bicycle for weight loss and your budget is around 12000 to 15000 rupees, I would recommend you purchase the Leader 700c hybrid bicycle because it's worth investing in this bicycle as it would definitely fulfil your requirements for weight loss (using the Goqii app) and city commutes.
Thanks for reading this article on Leader 700c 21 speed hybrid city cycle review. Do share your thoughts about this bicycle in the comment section below.
Also, do share this article with your friends and beloved ones. Till then, Stay tuned and Ride hard!