Cycling Guru is reader-supported!
Some links on this page are Amazon Associate affiliate links When you buy through links on our site, we may earn an affiliate commission! Read more...
We face so many problems while buying something under budget. The same goes for selecting the best hybrid cycles in India under 20000 rupees.
Also, we have so many questions in our mind such as which is the best hybrid bicycle brand in the Indian market, what benefits that hybrid bikes have and which hybrid cycle is best for us.
If you also have such questions, you have landed on the right page.
In this blog, I am going to tell you about the top 5 best hybrid cycles under 20000 Which are mostly used in India and will help you how to choose the best among them. So stick around and read till the end to find out the best fit for you.
What is a Hybrid Bike or Bicycle? Explained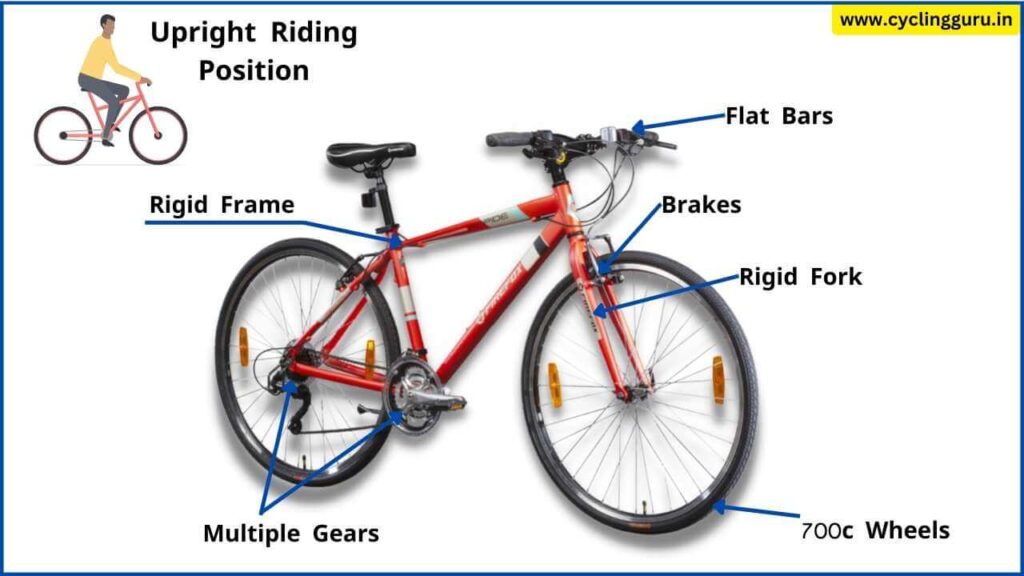 Probably you already know what a hybrid bicycle is. But do not worry friend we got you covered. The way it sounds to your ears the word hybrid represents its literal meaning which is a product of two to three things combined.
So, a Hybrid bicycle means a combination of road bikes and mountain bikes. Hybrid bicycles are best for commuting and are also known as ranger cycles in some states of India.
Common Characteristics of Hybrid Bicycles:
Whenever we are trying to find something, we should get complete knowledge about it. Because we believe complete knowledge is always helpful. Otherwise, You may develop the wrong mentality towards a thing after not knowing the complete thing so get to know about the characteristics of the best hybrid cycles in India under Rs. 20000.
1. Frame of a hybrid bicycle
They are strong and low weight which leads their framework to be made of aluminium which comes under the budget. But if you have extra money, you can opt to buy the carbon fiber framework of these cycles.
There are a few manufacturers who make them because of the even lighter weight provided than the aluminium framework which helps you to carry them easily.
2. Brakes
There are two types of brakes used in hybrid bikes either v brakes or disc brakes. Both of them are good for applying brakes on dry surfaces but the disc brakes perform well in wet conditions.
3. Gears
They usually have seven to eight gears which makes them good to use. Sometimes eleven gears are also used in them to maximize the use and speed. But if you are a beginner and want a hassle-free ride, go for a single-speed hybrid bike.
4. Wheels
When it comes to wheels, the tyres of a hybrid bicycle are thicker than the road bike and slightly thin as compared to a mountain bike or sometimes the same as MTB. Due to this, hybrid bikes are easily ridden on paved as well as on unpaved roads, thus such bicycle performs the function of a road bicycle and MTB.
5. Rack for luggage
Traditional hybrid bikes have racks or carriers for carrying loads of luggage. Now, You have the option to choose them if you have your bags and all to carry if you are a student or a working man. The majority of ranger cycles have a carrier at the back and ladies hybrid bikes feature a front rack.
6. Front suspension fork
Most people say suspension on a hybrid bicycle is not good because of some extra added weight. But I think suspension on a hybrid bike is always worth it because the conditions of Indian roads are worse especially if you live in a village. So having the front suspension on your hybrid bike absorbs the shock and helps you maintain the balance properly on gravel roads and gives no pain in your shoulder and back. You can also go with a front suspension fork with a lockout feature.
Those were a few main characteristics that you should know while selecting the best hybrid bicycle in India under 20000 INR.
Advantages of a Hybrid Cycle
Some advantages of the hybrid cycles are listed below to give you ease while taking your decision:
They are suited for both smooth and rough surfaces. You can ride them on smooth roads, unpaved roads without facing any problems.
The design that the hybrid bikes follow is very comfortable for a person. This comfortable position is determined by looking at the positions of the handle and the saddle. The Handlebar is slightly higher than the saddle.
Upright positions on hybrid bicycles offer a very comfortable ride as well as handling becomes also easy.
Hybrid bikes are considered the best bicycle for beginners to start cycling because it is good for commuting and upright body posture while riding hybrid bikes helps a lot to beginners.
Hybrid bicycles provide good visibility to their rider as the position on such bikes is upright.
They are designed to carry weights of more luggage so they might be suitable for you if you carry weights on daily basis.
They are lighter than MTBs and their efficiency is great on rough roads than on a road bike.
Who should ride a hybrid bicycle?
To be very honest with you guys, people of all age groups can ride hybrid cycles. There is no limit to that which is to be followed. Also, it is best for beginners, senior citizens, school-going children, and college-going boys and girls. If you are to participate in BRM events, hybrid cycles are good to go with.
---
Top 5 Best Hybrid Cycles in India under 20000 Rupees: Detailed Review
All the below-mentioned hybrid bicycles are of top quality and are being ridden by some of our cycling enthusiasts for a long-time. You can choose any which you like the most and fulfils your requirements. Let's get started!
1. OMO Bikes Alloy 700C 29T Hybrid Cycle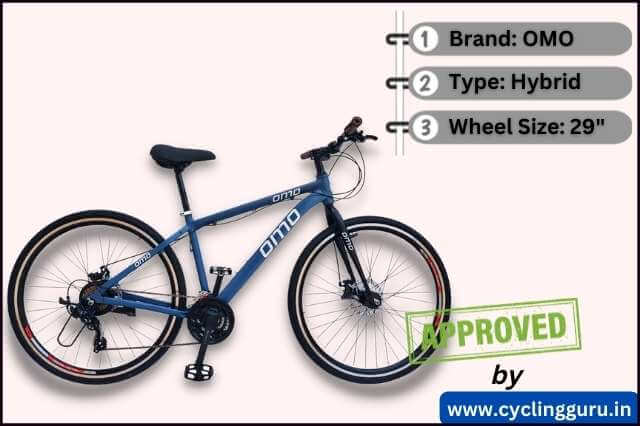 Omobikes is an Indian bicycle brand which is popular for top-class hybrid bikes in India, Omobikes Alloy 700c is one of them, this bicycle comes with 29-inch thin nylon tyres which give excellent traction on the road.
This is a unisex hybrid bicycle, suitable for tall riders. If your height is between 5 feet to 6 feet 1 inch, you can easily ride this cycle. If you are above 6 feet, you can adjust the saddle height using the quick-release feature and start your ride.
This bicycle is fully equipped with 21-speed Shimano company shifters and derailleurs. Shimano fire shifters have been used with alloy brake levers, you will find a Shimano tourney derailleur at the front and a Shimano Acera derailleur at the rear end.
When it comes to frames, a 17.5-inch aluminium frame is used which makes this bike lightweight and easy to ride. It has a very unique and cool design with a very attractive colour.
As it is a hybrid bike, it has a rigid fork at the front, made from aluminium alloy material. Also, mechanical disc brakes (both sides) are given for instant braking.
For betterment in your choice-making, I have listed a few key features, pros and cons.
Key features of Omobikes alloy hybrid bicycle:
Delivered in 90% assembled condition, only the front tyre, handlebar, pedals and reflectors are to be fitted. Assembly tools and instructions are provided for your convenience.
A rigid steel fork is provided in this hybrid bicycle but you have the option for customization on the OMO bike website.
It comes with dual wall alloy rims which reduces the chance of rusting.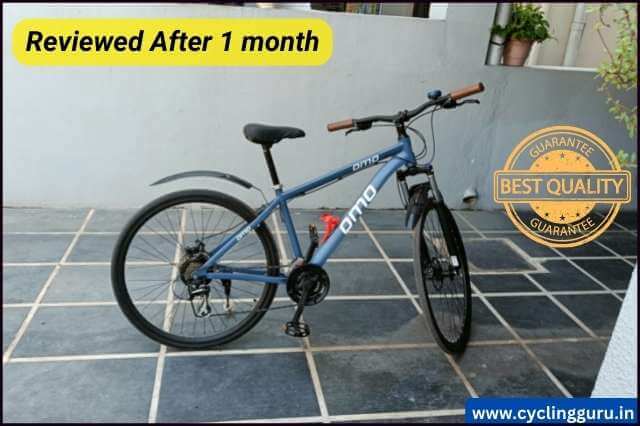 Visit OMO Bikes store and apply coupon code for 6% Discount: CYCLINGGURU
Pros:
This hybrid bicycle is as lightweight as floating clouds, thanks to its alloy frame.
The quick-release clamp is made from alloy.
Non-skid alloy-made pedals with reflectors.
Comes with mudguards and a side stand.
Rivets/holes are already given for a bottle holder.
2 years of warranty on the frame.
Cons:
Components of Tourney and Acera are mixed up, which may cause issues while shifting gears.
The suspension fork is not provided under this budget, which is not good for Indian roads.
It does not come with a carrier, but you can install it.
Our Verdict:
We would highly recommend this hybrid cycle to purchase therefore, It is number 1 on our list of best hybrid bicycles out there under this budget. This bicycle has got almost everything that a rider wants in a hybrid bike. Such as 700x35c time tyres, dual-wall alloy rims, Dual Disc brakes, 17.5-inch alloy frame, and only 13.5 kg weight. Overall, it's a perfect hybrid cycle under 20k for all purposed except mountain biking.
---
2. VECTOR 91 Wanderer Pro 700C
If you are looking for a multi-purpose hybrid bicycle under 20000 rupees that you can ride on plane roads as well as on trails, Vector 91 wanderer pro 700c can be the perfect choice for you.
This bicycle features the frame (18.5-Inches) of a mountain bike which is made from hi-tensile carbon steel material and a flat handlebar. Tyres are slightly thicker than road bikes (700x35c).
When it comes to the performance of the wanderer pro, you will enjoy an amazing ride with its rigid front suspension on plane roads on its PU saddle, also offers a very good speed because of thin tyres & smooth gear-shifting experience with microshift gear components.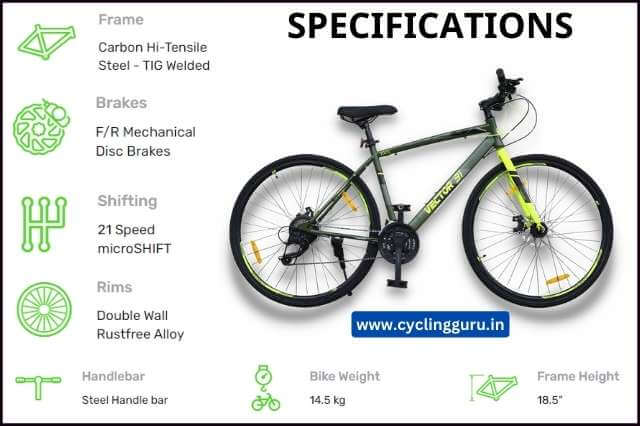 If your height is between 5'4'' to 6'3'' then you can easily ride this bike for going to school, tuition, city commutes, and leisure biking.
Key features:
Both side mechanical disc brakes are given for an instant braking experience.
Nylon hi-traction thin tyres are fitted for better grip on the dual wall alloy rims which are quite lite, rust-free and strong.
21-speed microshift shifters and derailleurs are used on the drivetrain of this hybrid bicycle.
Pros:
It is light in weight which makes it very easy to ride.
TIG welded steel frame make it sturdy and strong.
Available in two colour options: Army green and White-Orange.
The pedals are made with anti-skid plastic with reflectors.
Comes with 6 month warranty on the frame and fork.
Cons:
Mudguards are not available under this budget.
No suspension fork at the front.
Our Verdict:
After analysing its features, pros and cons. We have taken this bike to our list at number 2. Wanderer Pro hybrid bicycle is from the famous and well-known brand of 91 bicycles, It is the kind of bicycle that can prove to be very good for you. You must go for this gear bike if you love riding in the city on plane roads and semi-rough roads.
---
Related: Top 5 Best Cycles Under 10000 in India (Reviewed with Pros & Cons)
---
3. Firefox Bikes Rapide Hybrid Bike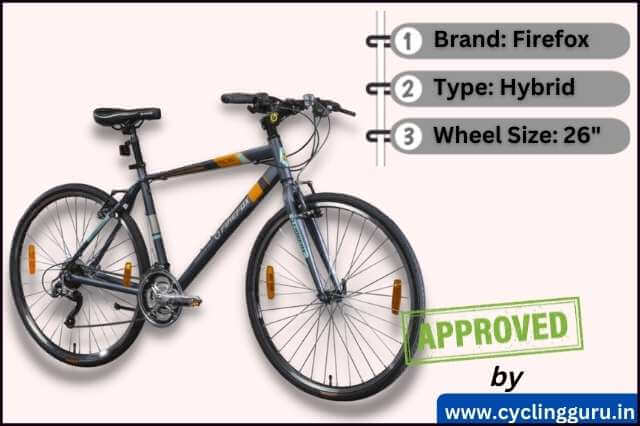 The Firefox Rapide hybrid bicycle is the best one for city cycling. This bike has excellent performance on city roads and is best for long-distance rides. You can also choose this hybrid cycle for losing weight.
If you don't know much about Firefox bikes, let me tell you that It is also an Indian bicycle brand which only deals in premium quality bikes. So don't worry about the quality of this hybrid bike, they never compromise on it.
This bike does not have suspension, it is designed for riding on the roads with its rigid fork. It makes the bicycle lightweight and increases the speed and reduces the price of the bike. You can choose this hybrid bike if you ride on the roads.
As far as the geometry of this bike is concerned, it has an 18-inch alloy frame, dual wall alloy made rims with good quality spokes, and 700C hi-traction nylon tyres which are thin for more speed.
Talking about the ideal height, This bike is recommended to be ridden by riders having a height between 5'4'' to 6 feet. If you are tall, you can increase the saddle height by using the quick-release feature and start riding.
When it comes to the braking system, There are no disc brakes under 20k, you will get only v-brakes (alloy-built), well they are good too but not much effective when the tyres are wet.
The drivetrain is one of the most important parts of a bicycle, your bike won't run without this. It should be very smooth and effective otherwise, you may face issues while riding.
So, It has got 21-speed gears from the microshift brand. Where you will get a 3-speed microshift M22 front derailleur, 7-speed rear derailleur and TS38 shifters. Anti-skid wide pedals for a firm grip and Alloy-made crankset (28/28/38T, 170MM).
Key features of Firefox Rapide:
It has a steel handlebar (600mm, 300mm rise) with a rubber grip.
Threadless steel-made headset with zoom alloy threadless stem (adjustable).
You will get a lifetime warranty on the frame and 6 months warranty against other components (only manufacturing defects).
Pros:
Very comfortable saddle with a quick-release feature.
Front-wheel has a quick-release option for easy transportation.
First free service is provided for tuning up the bike.
It is suitable for both men and women.
Available in two different colours.
Cons:
This bike is not much comfortable on rough terrain.
No Mudguards and disc brakes under this budget.
No front suspension is provided.
Our Verdict:
If you want to ride a top-quality hybrid bicycle under 20000 with traditional looks (old is gold), this bicycle is perfect for riding on the roads, brm cycling events, weight loss purposes, and long-distance rides. We would highly recommend this bike if you are looking for the best hybrid cycle in India under 20k.
---
4. Triad Unisex X4 700C Hybrid Bike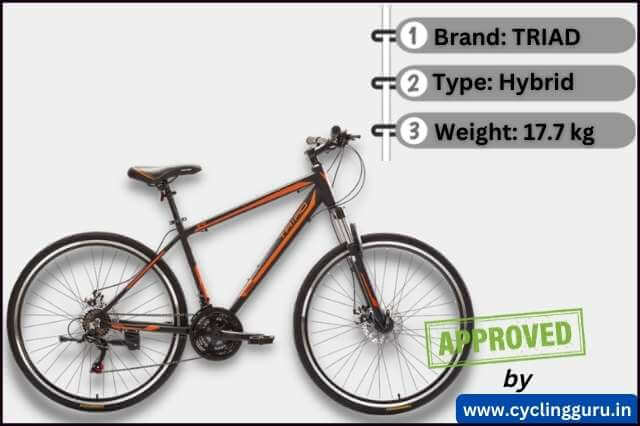 Triad X4 is one of the best hybrid bicycles under 20000 for men and women which comes with an 18-inch aluminium frame, and 28-inch tyres with superior grip on dual wall alloy rims. You can ride this bike on all types of surfaces.
The colour of this bicycle is cool and unique and catches the attention quickly. You can easily ride this bicycle for uphill climbing because it has got 21-speed Shimano tourney gears, which makes riding very easy and smooth.
For a quick braking experience, It has got mechanical disc brakes at the front and rear ends. And for comfort, it has a PU comfortable saddle and a front suspension fork with a lockout feature.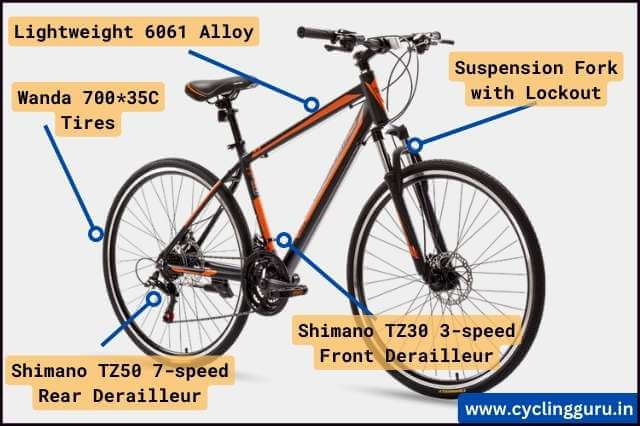 If your height is between 5'4'' to 6'1'' then this bicycle with an 18-inch frame is the perfect size for you, You also have the option to adjust the seat height accordingly. You don't need any tool for this because it has quick release instead of nuts and volts. Make sure to look at the bicycle sizing guide if you are confused about bicycle frame size and wheel size.
Key features of Triad X4 700C:
The front tyre has got a quick release for easy on and off.
Very lightweight hybrid bicycle due to its alloy frame.
The suspension has a lockout feature which is good for riding on plane roads.
Riders enjoy the upright riding position while sitting straight on this Triad X4 hybrid bike.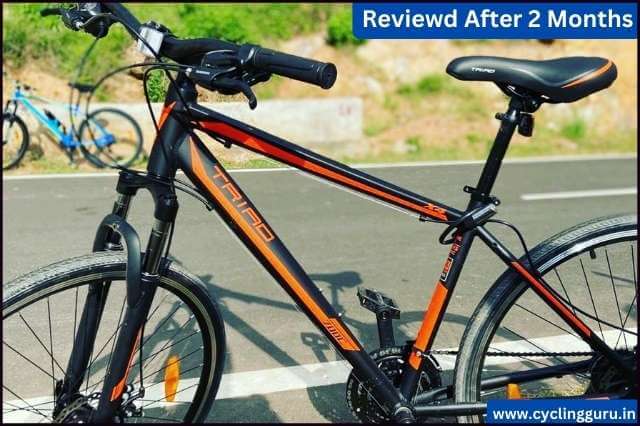 Pros:
The frame and suspension fork comes with 2 years warranty.
With well-cushioned handlebar grips, the rider's arms are protected from shock by the best palm support available.
Disc brakes are effective in all weather conditions.
Colour is unique and cool enough to attract someone's attention.
Cons:
Does not come with a side stand and mudguards.
The brakes of this cycle are exactly reversed because of International standards, some riders may get confused in beginning.
Maximum riders' weight is only up to 90 kg, not good for heavy-weight people.
Our Verdict:
Triad bicycle brand is an International bicycle brand which also sells bicycles in India, People are loving the quality and performance of the cycles of this international bicycle brand. You should go for this bicycle if your weight is under 90kg. This bike is good for long rides, city cycling and commuting. So we can say Triad X4 is one of the best hybrid bicycles under 20000 in India.
---
5. CRADIAC Discover Pro 700C Hybrid Bicycle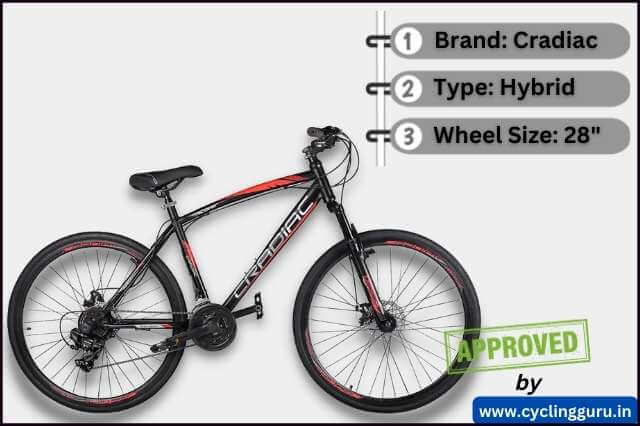 Last hybrid bicycle but not least, we have got Discover Pro 700C from a well-known bicycle brand Cradiac. This bike is known for its long-lasting frame quality, speed and excellent performance.
Cardiac Discover Pro has 21-speed Shimano Tourney groupsets in its drivetrain which are very much useful while cycling on inclined roads (flyovers) and off-road terrains. It has a 19-inch hi-tensile steel frame with an attractive design and colour.
Related: Top 10 Best Ranger Cycles Under 5000 to 10000 in India – Get it before the offer ends!
Shimano EF500 shifters shift the gears smoothly and brake levers perform well. When it comes to braking, it has a mechanical disc brake (160mm). And these brakes perform nicely because it has a suspension fork at the front.
Discover Pro rolls on 28 inches (700c) nylon tyres which provides good speed and grip even on wet surfaces. And these tyres are fitted on dual-wall alloy rims, spokes are also of good quality.
Key features:
The suspension has a lockout feature to be used on plane roads to improve pedalling efficiency.
21-speed combinations make cycling easy in city traffic, and good for uphill rides.
Anti-skid alloy pedals with reflectors.
Pros:
Front-wheel has a quick-release feature to remove the wheels without any tool.
Accessories like a side stand, mudguards, reflectors and assembly tools are provided.
Modern design saddle with premium cushioning.
Available in two amazing colour options under 20000 rupees in India.
It is lightweight and charming which can make you popular among your friends in school or the neighbourhood.
Cons:
No alloy frame is provided at this price.
Not suitable for people with heights up to 5'4''.
Our Verdict:
This hybrid bicycle is best for sports and fitness as well as for commuting purposes. Its comfort and the easiness that it has while riding is phenomenal. It is meant for people greater than 15 years of age and above. If your height is above 5'5'' this bike is perfect for you and It can be used by both men and women.
---
Types of Hybrid Cycles (based on tyre thickness)
The purposes of hybrid bicycles are commuting, long-distance riding, exploring cities etc. Based on these purposes, we have classified hybrid cycles into four types, such as:
1. Commuter Bikes
A commuter bicycle is a kind of hybrid bike which is mostly used for commuting from one place to another. Such bicycles are used on paved surfaces for short as well as long distances.
If you notice, you will find a chain guard for extra safety, wide seats, 700c wheels with thin tyres, Iron made frames for carrying heavy loads, a rigid fork, a carrier at the back, and mudguards on both sides.
Also, there are some commuter bicycles which come with lights which help with riding in low lights. A commuter hybrid bike is the best choice for cycling to work.
2. Trekking Bikes
If you are looking for bicycle touring or brm cycling events, trekking bikes will the perfect choice for you because it is a combination of road bikes and mountain bikes. You can easily ride such bikes on paved as well as unpaved roads. Such bikes feature both side fenders, bike racks for carrying important items, some bottle holders, and lights.
Related: Top 5 best MTB under 25000 in India – Our best recommendations!
3. Comfort Bikes
The main objective of comfort bikes (hybrid bikes) is to provide maximum comfort to the rider either for long or short-distance rides. Such bikes are the extended version of MTBs with modified frames. Due to this, the rider's position is upright and he/she enjoys a very comfortable ride.
4. Cross Bikes
The last one is Cross Bikes which is the extended version of the road bikes because it has the same design that the road bikes have. It comes with a flat handlebar with semi-tread tyres to ride on challenging surfaces with gravel, mud, and sand.
I hope you understood the types of hybrid bicycles, In this article, we have covered all the types of hybrid cycles which you can get under 20000 in India, read the complete article to explore the top best hybrid bicycles under 20000 rupees.
---
How to Buy a Hybrid Cycle Online: Buyer's Guide
As you have already seen the types of hybrid bicycles that are there in the market are based on the thickness of their tyres, frame design and the rider's purpose. There are also a few things that you should always keep in mind while buying a hybrid cycle online or offline.
1. Select the lightweight frame material
These cycles have different frame materials like aluminium, carbon and steel. Steel is the heaviest and as a result, its strength is very good and offers you a comfortable ride.
But if you live in a flat or something and do not have a space downstairs to park your cycle you may want to go with the carbon one because it is the lightest but it costs a little bit more.
Then, you should go with an aluminium or alloy frame whose strength is also no less than any other of these materials and is very lightweight, durable and comfortable to ride.
2. Disc brakes are more effective than power v brakes, how?
As discussed earlier we saw that these bikes use two different kinds of brakes, power v brakes and disc brakes. Disc brakes are more effective than power v brakes because disc rotors are in the centre of the tyres, and don't get wet on roads therefore, it performs well.
Whereas power v-brakes have a different mechanism, where rims are stopped using rubbers but when rims are wet then they don't stop instantly.
When it comes to the selection of disc brakes, we have two types of disc brakes i.e., hydraulic and mechanical brakes. In which the hydraulic is preferable as it provides stronger braking with less finger effort using disc fluids.
Whereas mechanical disc brakes used the brake wires to stop the wheel. Mechanical disc brakes are cheaper than hydraulic ones and need less maintenance.
3. Select the type of hybrid bike according to your purpose
Now, based on their use there are a few types of hybrid bikes (discussed above) that are available in the market. Some bikes are dedicated solely to fitness, to adventure some are folding bikes and there are women-specific bikes.
These different ones can go based on your need and are designed in that way. If you are concerned about fitness you can choose the fitness-focused bikes or if you are too much into adventure then you can go for adventure-focused bikes in case you do not have enough space you can choose the foldable bikes.
And if you are a woman and want women-specific bikes, you do not need to worry, every kind of bike is designed to cater for your needs, and you can have them easily (if you have a good budget).
---
Frequently Asked Questions (FAQs): Best Hybrid Cycle under 20000 in India
1. Are hybrid bikes good for weight loss?
You just read the point above, did not you? Hybrid bikes are multipurpose bicycles you can use for commuting, long rides, and perfect for weight loss training. Using this type of bicycle you can fulfil your fitness needs. They are specifically made for that so, you do not need to worry.
2. Is buying hybrid cycles worth it?
I mean, why not? They are a mixture of mountain and road bicycles and do their job completely well on all types of terrain. They are efficient in maintaining your fitness. They are adventure designed and they also are foldable cycles.
3. How much you can travel with a hybrid bicycle?
It's up to you. How long you can ride using this bike, this bike has no limits like the sky, You also have not. Generally, Daily, it can go somewhere around 80-120km. So that is a pretty good distance daily.
4. Are hybrid cycles comfortable?
Yes, they are comfortable on roads as well as on rough terrains. Their strength and comfort are something that you can talk about all day. Their saddles and paddles make them more comfortable than road bikes.
5. What is a good speed for a hybrid bicycle?
When it comes to the average speed of hybrid bikes, you can go between 13 to 30 km per hour while riding hybrid bikes. They are relatively faster than MTBs.
Conclusion on the best hybrid cycles in India under 20000
Hybrid bicycles are suited in many different ways and the best part they are available in different styles to fulfil their customers' needs. Overall cycling gives you the best physical fitness and is very interesting and adventurous. We all enjoyed cycling when we were kids.
Must-Read Posts:
Anyways, I hope that it helped you choose the best hybrid cycles in India under 20000 rupees. And if it did let us know in the comments section below or even if you have any queries. I would love to hear and help you all further.
Keep Pedalling!