Cycling Guru is reader-supported!
Some links on this page are Amazon Associate affiliate links When you buy through links on our site, we may earn an affiliate commission! Read more...
Omobikes is one of the emerging cycle brands in India that's turning heads among new cycling enthusiasts. The brand offers a variety of MTBs, hybrids and kids' bicycles that you can choose from.
Recently, OMOBIKES has launched an mtb of around 15000 rupees i.e., Shillong 27.5t. We got a chance to ride this bike and review it.
This blog will cover the Omobikes Shillong MTB review along with special features, riding experience, pros & cons, and why should you choose Omo bikes bicycle over other brands.
After reading this review of the Shillong 27.5t mtb cycle you would have a better idea about this mtb and be able to decide whether this cycle is perfect for you or not.
Here is our review of the Shillong mountain bike!
Why Choose Omobikes Bicycles Over Other Brands?
Many of you want to know why we chose OMOBIKES mtb cycle over other bicycle brands. There are so many reasons such as:
OMO BIKE is an Indian bicycle brand which offers premium bicycles in the Indian market at affordable prices.
One of the best services that OMO provides is, they allow us some important customization in their bicycles such as wheel size, Frame material (steel or alloy), groupsets (freewheel or cassette), and suspension (rigid, suspension with or without lockout) etc.
They provide world-class after-sales support that includes a lifetime warranty on the frame and 30 days part replacement warranty.
The quality of the bicycle is excellent and can be compared with imported brands too. Also, original parts are used such as Shimano or microShift gears, Zoom or Suntour suspension, and Ralson tyres.
All bicycles are MADE IN INDIA and very much suitable for Indian roads.
These were the top 5 reasons which influenced us to purchase OMOBIKES Shillong MTB with 27.5t tyres and lockout suspension.
---
Technical Specifications of Shillong 27.5t MTB (An Overview)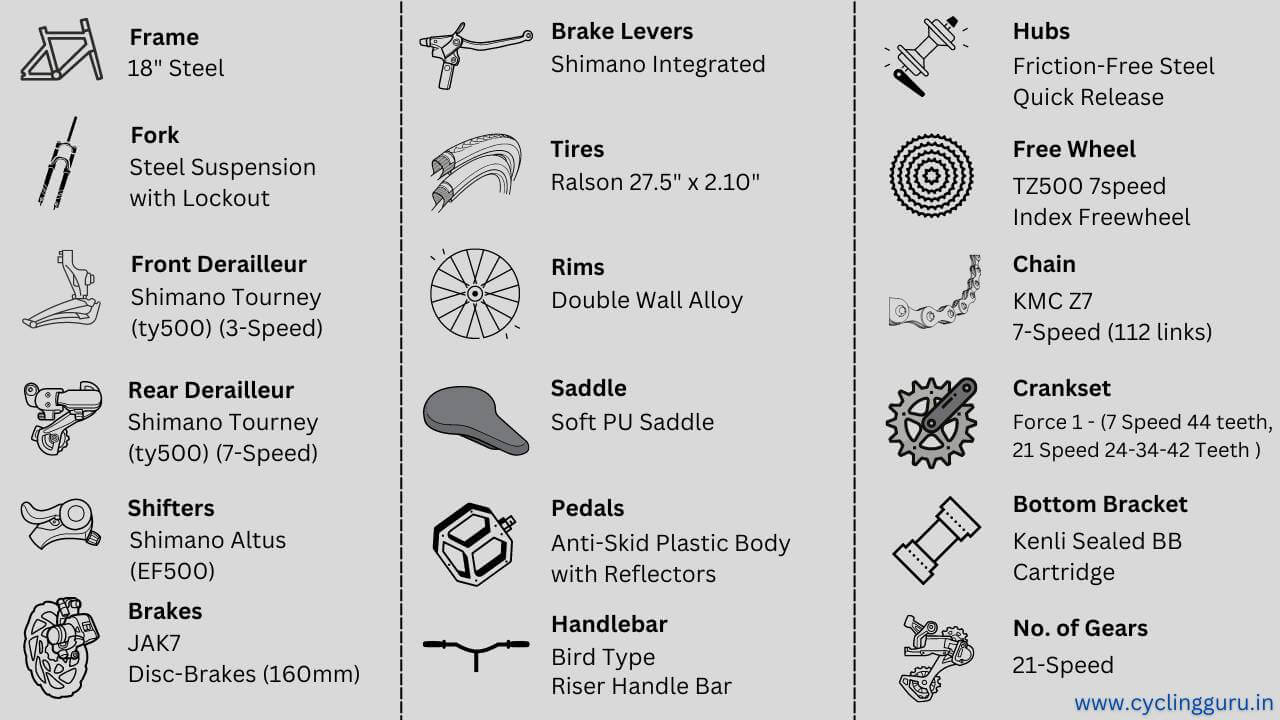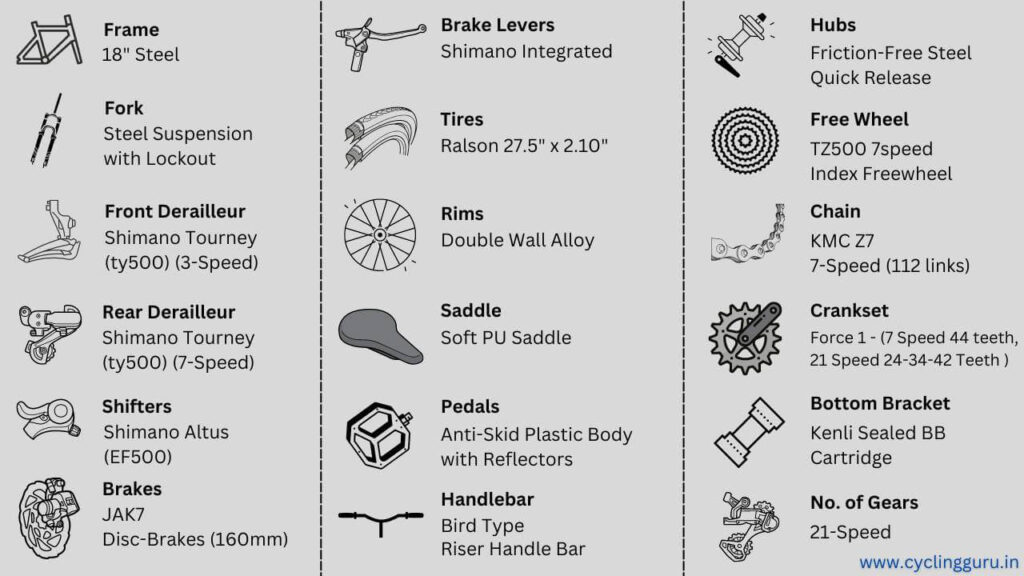 ---
OMOBIKES Shillong Mountain Bike Review Video by Cycling Guru
Use Coupon Code for flat 6% discount: CYCLINGGURU
---
Omobikes Shillong MTB Review (27.5t): Features, Price, and Riding Experience
Omo bikes Shillong is an entry-level mountain bicycle for around 15k in the Indian market with gears, disc brakes and a lot of special features. Well, this bicycle is suitable for 12+ years of riders height must be around 165-186cm. Do read the OMOBIKES review of the Shillong 27.5t mountain bike.
Frame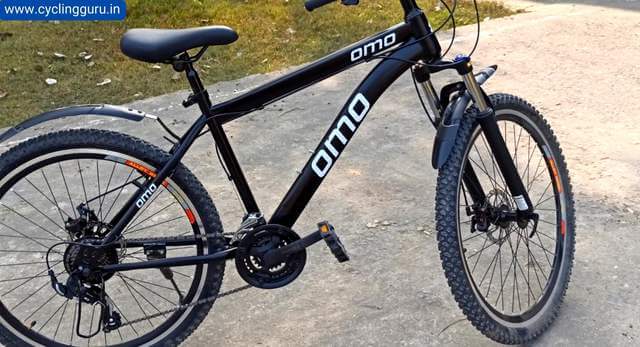 The Shillong MTB frame is made from steel having a length of 18 inches which is a very strong and durable material. All entry-level bicycles below 20k are made from steel and this bike is lightweight too because the steel is mild!
However, steel frames are likely to rust so need little extra care in coastal areas. But that's not a big deal because the paint job is excellent on the frame offering a very premium finish to the bicycle that enhances the look of the bike and provides an extra shield to the bike's frame.
Also, this bike is available in two attractive colour options i.e., Black and Golden green. The branding of OMO is labelled on the top and down the tube of the frame for brand recognition. Rivets are also provided on the frame for fixing a water bottle.
Fork & Handlebar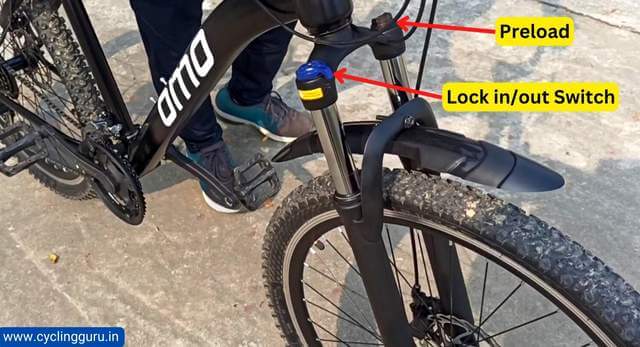 This bicycle is equipped with a steel suspension fork with lockout and preload features having a 50 mm travel that offers very good comfort and absorbs the shocks and vibration on trails and bumpy roads.
By using the lock-in feature, you can enhance your performance (speed) when riding on plane roads. And don't lock your suspension fork if you are riding on trails (bumpy roads), you would enjoy a very comfortable ride. This means this suspension fork can be used as rigid as well.
And when it comes to preload feature, you can adjust it according to your weight. If your weight is high, don't increase the preload much (keep it to medium).
This fork is paired with a raised handlebar which is wide enough for quicker and sharper handling on all types of terrains. It also has rubber grips which offer a very strong and firm grip during long rides too!
The brand gives you the option to choose the suspension between:
Steel suspension (normal),
Steel suspension with lockout + preload (50 mm travel), or
Zoom alloy suspension with lockout + preload (80 mm travel).
We opted for the second option because of the budget. You should go with the third suspension if you don't have the budget issue because it's from the Zoom brand.
Drivetrain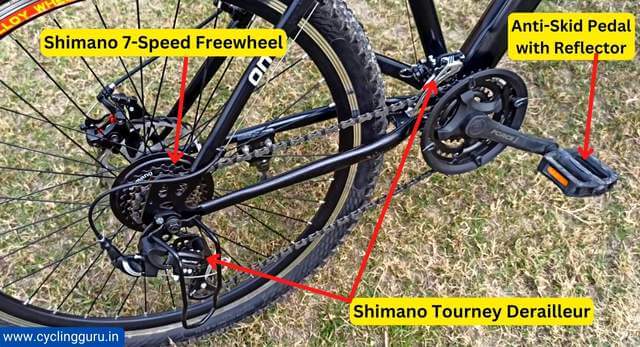 When it comes to determining the performance, speed, and riding comfort of a cycle, the drivetrain plays a very crucial role. The Shillong 27.5t has got 21-speed gears with Shimano TZ500 7-speed freewheel, featuring a rear derailleur of Shimano Tourney (ARDTY500B), and the 3-speed front derailleur is again Tourney (AFDTY500TSM6).
And these gears are smoothly managed by Shimano Altus EF500 thumb shifters that are very easy to use while riding uphill or downhill. Also, It has a high-precision chain wheel (24-34-42T) with plastic protection against the chain for extra security.
Coming to the quality and performance of the Shimano Tourney groupset of this bike, these are the original ones and the shifting is very smooth (in a single push/pull) and doesn't make much noise while shifting gears. And the quality of the chain (KMC Z7) and crankset (Force 1) is excellent.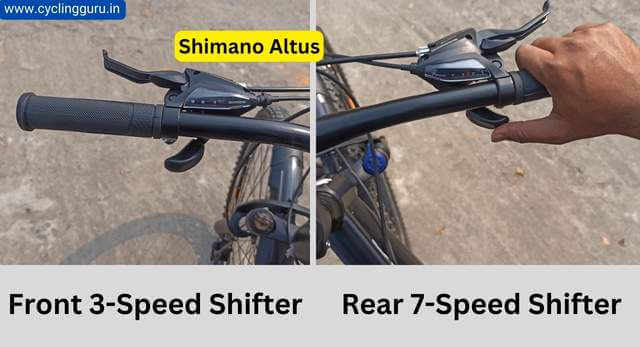 As I mentioned above, OMOBIKES offers some customization in the drivetrain of their bicycles. There is a choice between 7-speed or 21-speed, freewheel or cassettes. As I wanted to purchase a gear cycle with 21-speed for commuting on roads and off-roads so I opted for the freewheel option. If you go with a cassette option, your bike will be smoother than the freewheel.
Tyres & Rims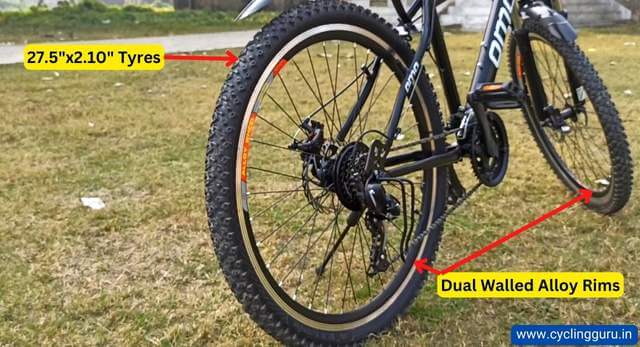 The Shillong mtb comes in two different sizes i.e., 27.5t and 29t. We have got 27.5t which is a nylon tyre (Alpine Trail model) from Ralson company and this is wide enough for riding on trails and roads. The treads on the tyres offer great traction on all types of surfaces (wet & dry).
When it comes to the rims of the wheel, it has got dual-walled alloy rims of black colour with chrome finishing from the side which looks very shiny and attractive.
Overall, the quality of these alloy rims is very good for mountain bicycles.
Braking System
The brakes of any bicycle are as important as the drivetrain because it helps you to control the bicycle's speed while riding. The Shillong 27.5t has mechanical disc brakes at both ends on 160 mm disc rotors and these brakes are controlled by alloy brake levers from the Shimano brand.
During our ride, we tested these brakes on various types of terrains and the performance was brilliant at high speed as well as at low speed. Disc brakes perform great in wet conditions as well and we felt the same.
Saddle & Seat Post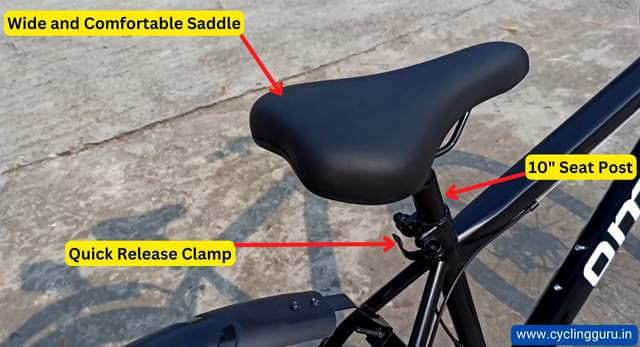 When it comes to the saddle of this bike, It comes in black colour, wide and comfortable enough for riding long distances. Don't worry! Your thighs won't rub.
During our long-distance test ride, we didn't feel any bumps on the trails. Overall, the saddle of Shillong MTB is excellent.
The length of the seat post is 10 inches, which can be adjusted using a quick-release clamp. This means you don't need any tool for seat height adjustment.
Pros and Cons of Omobikes Shillong MTB
Pros:
Lockout suspension along with preload.
Lightweight mtb bicycle (only 16kg).
Quick release on the seat post and the front axle.
Lifetime warranty on frame and 30 days part replacement warranty.
Wider tyres provide superior grip on all types of surfaces.
Comes with a mudguard, side stand and a bottle holder.
Cons:
The quality of the mudguards could be improved.
There should be some graphics on the saddle.
---
Where to Buy Omobikes Shillong 27.5t Mountain Bicycle?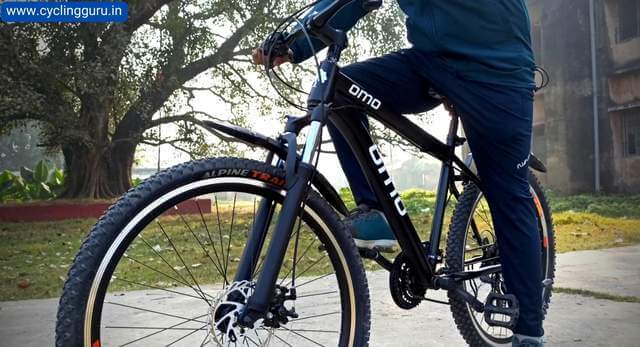 Omobikes bicycles are sold online through its own official website (www.omobikes.com) as well as via various e-commerce platforms such as Amazon, Flipkart, Bajaj Mall, and Indiamart.
We purchased Shillong 27.5t mountain cycle from Omobikes' official website because we wanted some customization in the cycle. If you want the same, you should buy from the brand's official website where you would a lot of benefits which I have already mentioned above and some more are:
If you running short of funds, you can also avail NO-COST EMI option on major credit cards, Bajaj Finance and HDFC debit cards.
Otherwise, you have the option for COD too! But a prepayment of 999 is required and the due amount will be collected on delivery to avoid misuse of the Cash on Delivery option.
Don't worry about your PIN CODE as Free shipping to 30000+ pin codes all over India within 24 hours.
If you are a business owner and want to purchase some bicycles for your business purpose, you can get GST input credit as well.
Also, If you purchase from the Omobikes store, You would get a flat 6% discount on your purchase that you wouldn't get on Amazon or Flipkart.
Use Coupon Code for flat 6% discount: CYCLINGGURU
---
Final Verdict: Riding Experience of Shillong MTB Cycle
After reading the review you must know how the Shillong mtb cycle performs on various types of surfaces as it is very much important to know if you buying online because you don't get the option for the test ride.
During our ride, We tested this bike on all types of surfaces including plane roads, rough roads, and wet roads as this is an MTB. It performed brilliantly on all of them and provided superior comfort because of the 50 mm travel suspension and well-cushioned saddle. The braking performance along with the tyres was quick and safe.
When it comes to speed, We could achieve a maximum speed of up to 30 km/h on plane roads and 20 km/h on rough roads. Pedalling was fine and very smooth. With the help of 21-speed gears, we could easily climb uphill and that's the best part of having a geared bicycle.
Overall the performance of the Shillong 27.5t bicycle was perfect and best for commuting, long-distance rides and leisure cycling. Therefore, We would recommend purchasing this bicycle if you are looking for a gear cycle of around 15000 to 20000 rupees in India.
I hope, you enjoyed reading this article and liked the Omobikes Shillong mtb review. Let us know your thoughts about this bicycle in the comment section below and do share this blog with your friends who are planning to invest in a good-quality cycle of around 15k.
Till then ride hard and Stay safe.
Disclosure: This article contains affiliate links. As an Amazon Associate, I may earn from qualifying purchases at no additional cost to you.!