Cycling Guru is reader-supported!
Some links on this page are Amazon Associate affiliate links When you buy through links on our site, we may earn an affiliate commission! Read more...
Alloy bicycles are on trend in India because they are lightweight, strong and durable. One of the best alloy hybrid bicycles in the Indian market is OMO Alloy Hybrid 700c bike.
I purchased this hybrid bicycle after some customization from the Omobikes brand's website according to my height and riding preference so that I don't face any problems while riding it.
Well, I have been riding this amazing hybrid bike for one month and haven't faced any issues yet. That's why I am sharing my honest opinion Omo alloy hybrid 700c bike review via this blog article and video.
Make sure to read this article till the end so that you can know all the features that Omo alloy hybrid bike offers, how it performs on various surfaces and terrains, how the riding experience going to be, and whether you should buy it or not.
Here is the Omo Alloy Hybrid 700c Review.
OMO Alloy Hybrid 700c Bicycle Review Video
Apply Coupon Code: CYCLINGGURU

(For 6% Discount on OMO Store)
---
Omo Alloy Hybrid 700c Bike Review: All Features and Riding Experience
Frame
Omo hybrid 700c bike has a 6061 alloy frame which comes in three sizes i.e., 17", 19" and 21". I have got 19-inch frame because my height is 5'7''. You can also select the frame size according to your height.
The alloy frame makes this bicycle very lightweight i.e., 15kg (approx) as well as protect it from rust. Also, the colour is quite attractive and looks cool.
The brand's logo is on the downtube and top tube of the frame on both sides making it recognisable. Rivets are already provided on the frame's downtube for a bottleholder and the frame comes with a lifetime warranty from the brand.
One more thing that I liked in this bicycle's frame is the Internal wiring which is yet another top-notch feature. Overall, the frame of the OMO alloy hybrid bicycle is of premium quality.
Fork and Handlebar
Omo alloy 700c hybrid bike has got four types of forks:
Rigid Steel Fork (Perfect for smooth roads)
Steel Suspension Fork with lockout + preload (50mm travel)
Zoom Alloy Suspension Fork with lockout + preload (80mm travel)
SRSuntour XCT (Alloy) with lockout + preload (100mm travel)
I ordered a Zoom alloy Suspension fork which comes with a lockout and preload (80mm travel) feature because I ride on various types of surfaces (smooth and rough roads).
The Zoom Suspension fork is quite lightweight because of the alloy material and it absorbs the shock brilliantly on off-roads. You too should go with a suspension fork because the condition of the Indian roads is not good.
Also, the suspension fork has lock-in and lockout features which make this bike suitable for off-roads and plane roads simultaneously. As you can lock in the fork while riding on paved roads for a better speed.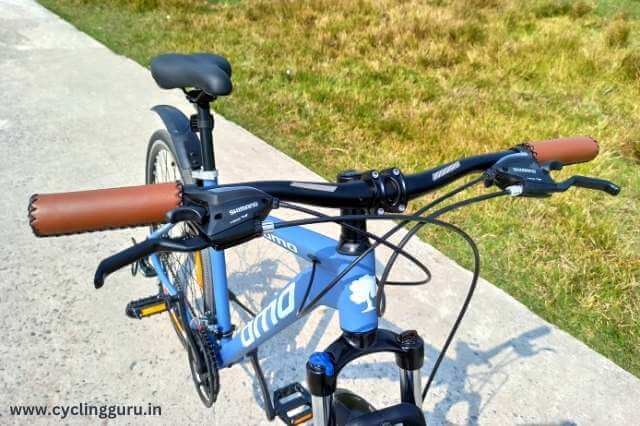 The Handlebar and Stem, both are alloys which reduce some extra weight from steering. The handlebar is wide enough to provide an open-chested upright riding position so that you can ride long distances without getting tired.
This bicycle has got leather grips on the handlebar which are super-comfortable for proper gripping. Because of these leather grips, I don't wear gloves while riding this bike.
Do we need a suspension fork on a hybrid bicycle? Know Why.
Saddle, Seat Post and Pedals
The saddle (seat) of this hybrid bicycle is super-comfortable and wide enough for a proper sitting position. It's black in colour which looks appealing with the colour of this bicycle.
The alloy seat post is quite lengthy as well as it has numbers on it which is suitable for different riders. For eg., I prefer riding at 12" seat post height and my brother prefers riding at 9 inches.
Don't worry about the adjustments as you don't need any tools for this. Because OMO alloy hybrid bicycle has a quick-release clamp which is also made from alloy material.
Talking about the pedals, They too are made from alloy material which makes them very lightweight and strong. Also, These pedals are anti-skid and have reflectors on them for easy visibility at night.
Drivetrain
OMO Alloy hybrid bicycle has got top-quality components in its drivetrain which enhances the performance of this bicycle. It has the following options in gears:
7 Gears with a freewheel (Perfect for city roads)
7 Gears with a Cassette and Alloy Sealed Bearing Hubs (Best for flat city roads)
21 Gears with a Freewheel (Suitable for Steep Inclines)
21 Gears with a Shimano Cassette and Alloy Sealed Bearing Hubs (Best for Steep Inclines)
24 Gears with a Cassette with Alloy Sealed Bearing Hubs (Suitable for Steep Inclines)
I have got 21 gears with a Shimano Cassette and alloy-sealed bearing hubs. You can select any option according to your preference. If you are a beginner, go with 7-speed gear.
My customized hybrid bicycle is equipped with a rear derailleur of Shimano Acera M360 (7-speed) which performs gear shifting effortlessly. And front derailleur is Shimano Tourney TY700 (3-speed).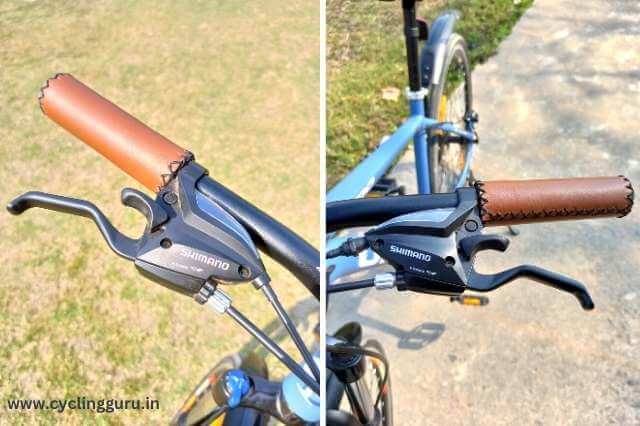 These gears are managed by Shimano Altus EF500 thumb shifters. These shifters work on push and pull mechanisms. Overall the performance of these gears is outstanding on all types of terrains.
Rims and Tyres
When it comes to the wheels of this hybrid bike, It has got dual-walled alloy rims of 29 inches and has silver plating on the sides of the rims which looks attractive.
This hybrid bicycle rolls on Nylon tyres 700X35c which come from the Ralson company. These tyres are not as wide as MTB tyres but they are good for riding on plane roads and off-roads and provide excellent grip on a wet surface as well.
Braking System
One of the most important parts of a bicycle in terms of safety is the Brakes. Omo alloy hybrid 700c bicycle is equipped with the JAK7 160mm dual disc brakes for an instant and safe braking experience.
These disc brakes are mechanical and it performs brilliantly in all weather conditions. Therefore, they are considered the most powerful braking system on a bicycle just after hydraulic disc brakes.
And these brakes are controlled by Shimano Altus alloy brake levers which perform the job effortlessly. Overall, the performance of these brakes is excellent on smooth roads and off-roads.
Riding Experience
As I mentioned earlier that I have been riding this hybrid bicycle for a month and haven't faced any issues yet. Because the bicycle is lightweight and almost every component is made from alloy.
I have ridden this bicycle on flat roads, off-roads, wet roads, and flyovers. It performed nicely on all of them. Also, my speed is quite amazing because of the thin tyres, I could achieve around 30 km/h on plane roads.
Related Bicycle: OMO Shillong Mountain Bike (Best MTB under 15k)
Pros and Cons of OMO Alloy Hybrid 700c Bike
Pros:
Anti-rust and lightweight frame because of Alloy material.
Quick-release axle on the front and rear wheels.
Premium quality components such as Shimano Acera, alloy pedals, stem, etc.
Lengthy alloy seat-post for tall riders with numbers.
Zoom alloy suspension fork with lockout and preload feature
Lifetime warranty on frame and 30 days part replacement.
Cons:
Only one colour is available.
Not made for mountain biking.
---
Who Should Buy OMO Alloy Hybrid Bike?
Hybrid bicycles are perfect for long-distance riding which burns more calories making them perfect for weight loss. Also, hybrid bicycles are good for Indian roads as they can be ridden on a plane and on rough roads.
If you are a beginner, want to purchase a bicycle for commuting, city riding, leisure cycling or want to go on an India cycling tour. Then, This OMO alloy hybrid 700c bicycle is perfect for around 25000 rupees.
Where to Buy OMO Alloy 700c Hybrid Bicycle?
OMO Alloy hybrid bicycle is available online on OMO's website, Amazon, Flipkart on other e-commerce stores. You can purchase this bike from these online stores.
But, When you buy this bicycle or any other bicycle of OMO from their official website, you get the customization option as well as a flat 6% discount after applying the coupon code i.e., CYCLINGGURU.
Final Verdict
I hope you like the OMO Alloy Hybrid 700c bike review. To conclude this article, I would say this hybrid bicycle is perfect for riding on all types of surfaces except mountain biking.
It's a premium bicycle with top-quality components and hence can be compared to an imported bike brand. All bicycles of OMO are MADE IN INDIA for India, so don't invest your hard-earned money in Imported bicycles.
If you really want to invest in a premium quality hybrid bicycle, OMO Alloy hybrid 700c bicycle will be the best to go with.
My Personal review after 2 months: I have been riding this bicycle for more than two months and it was a great experience. The bicycle build quality is of top-notch quality, with strong parts that make the ride super smooth and steady. So I would definitely recommend this OMO hybrid bicycle to anyone who loves biking and wants a bike that's reliable and high-quality.
Thanks for reading this blog till the end. Do share this article with your friends and share your thoughts in the comment section below.
Keep pedalling and Stay Safe!
Related Posts: