Cycling Guru is reader-supported!
Some links on this page are Amazon Associate affiliate links When you buy through links on our site, we may earn an affiliate commission! Read more...
India's cycle market is growing daily as a developing nation focused on supporting new brands. Amongst such new Indian manufacturers of bicycles in India are Ninety One and Firefox bikes.
Both these brands are preferable amongst riders which adds to the confusion between Firefox vs Ninety One Cycles and which one is better.
There is no doubt that both Ninety-One and Firefox bicycles have brilliantly designed, technologically improved high-quality premium bikes at reasonable price ranges along with advanced features which can be compared with imported brands.
In this article, we will make a detailed comparison of Firefox Bikes vs Ninety One Cycles, from their products, utility, and quality to determining which brand has the perfect bicycle for you!
Moreover, we also have the top 5 FAQs to clear all your remaining doubts at the end. If we miss any, ask us in the comment section.
Let's get started…
Ninety-One Bicycle Brand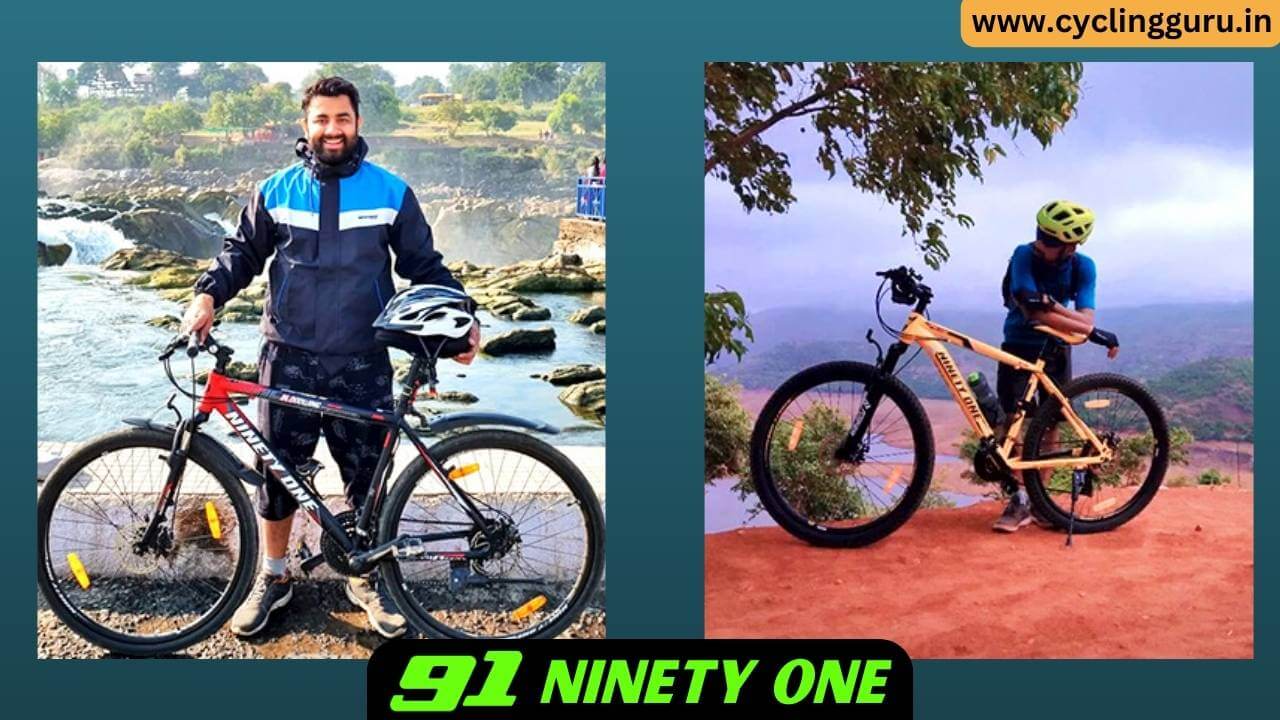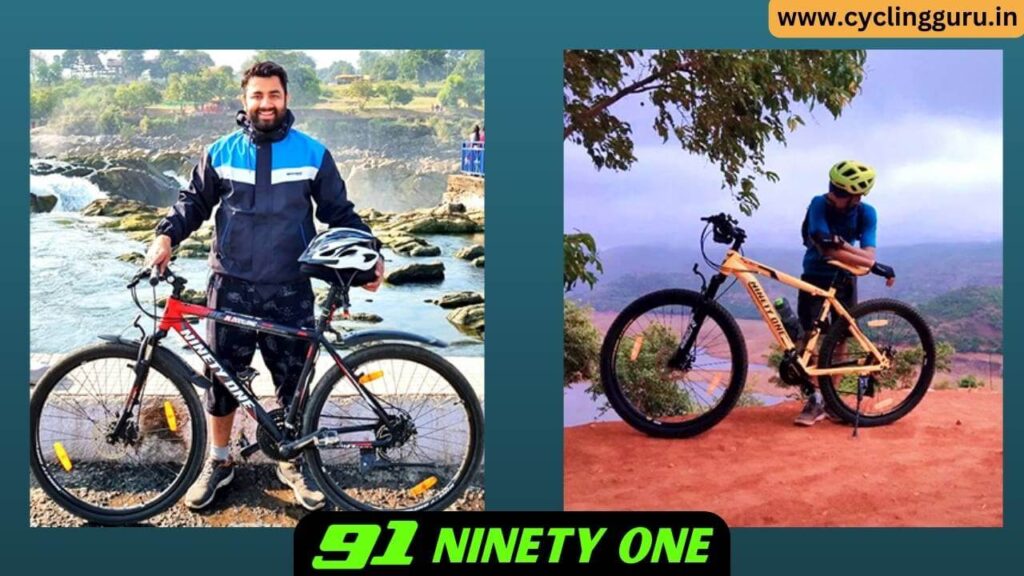 Ninety-One cycle is one of the newest bicycle start-up companies established in 2015 to bring revolution in the bicycle market of India and cater to the riders with developed aerodynamic designs and smart features and give cycles a purpose beyond just transportation means.
Ninety-One as a bicycle brand has worked efficiently to make sure their bikes have the utmost quality feature which makes each ride a luxurious experience.
Apart from that they have a wide range of special-engineered products varying from road bikes, MTBs, ATBs, and hybrids to children's bikes. Ninety-One as a brand represents accessibility and affordability.
Why Choose Ninety-One Cycles?
Ninety-One saw that the Indian cycle market was lacking in stylish yet high-quality bikes with optimal functionality at affordable prices.
They aim to design and produce cycles that are not only meant for transportation but also as a leisure activity, and workout means as well.
A few of the special features of Ninety-One Bikes that make them stand out are:
Durability: Their high-quality durable components focus on availing riders who want their cycles to support their adventurous rides with sturdiness.
Performance: The founders being engineers, ensured perfecting the dynamic components to provide a smooth, luxurious ride with comfort for any terrain.
Versatility: Ninety-One has been filling a huge gap in the availability of various frame materials, wheel sizes, designs, and suspensions. They know for adding a wide range of purpose-filled bikes for regular communication, racing, exercise bike, and much more for all men, women, and children.
Ninety-One Products and Their Variety
Ninety-One has a huge variety of bicycles and a few of its products are much loved by all kinds of cyclists. Let's look into the such variety and their top-rated products:
| Bike Type | Models |
| --- | --- |
| Electric Bike | The Meraki Bikes |
| Mountain Bike (MTB) | The Wolverine 29T |
| All-terrain Bike (ATB) | Blizzard 26T |
| Hybrid Bike | Wanderer Pro 700C |
| Road Bike | Tracer 700c |
Price Range of Ninety-One Bikes
Ninety-One aims at reaching every rider in India and enhancing the cycling experience. Hence, to outreach their customers, they have a super affordable price range for their bikes starting from 5000 rupees in India.
---
Firefox Bikes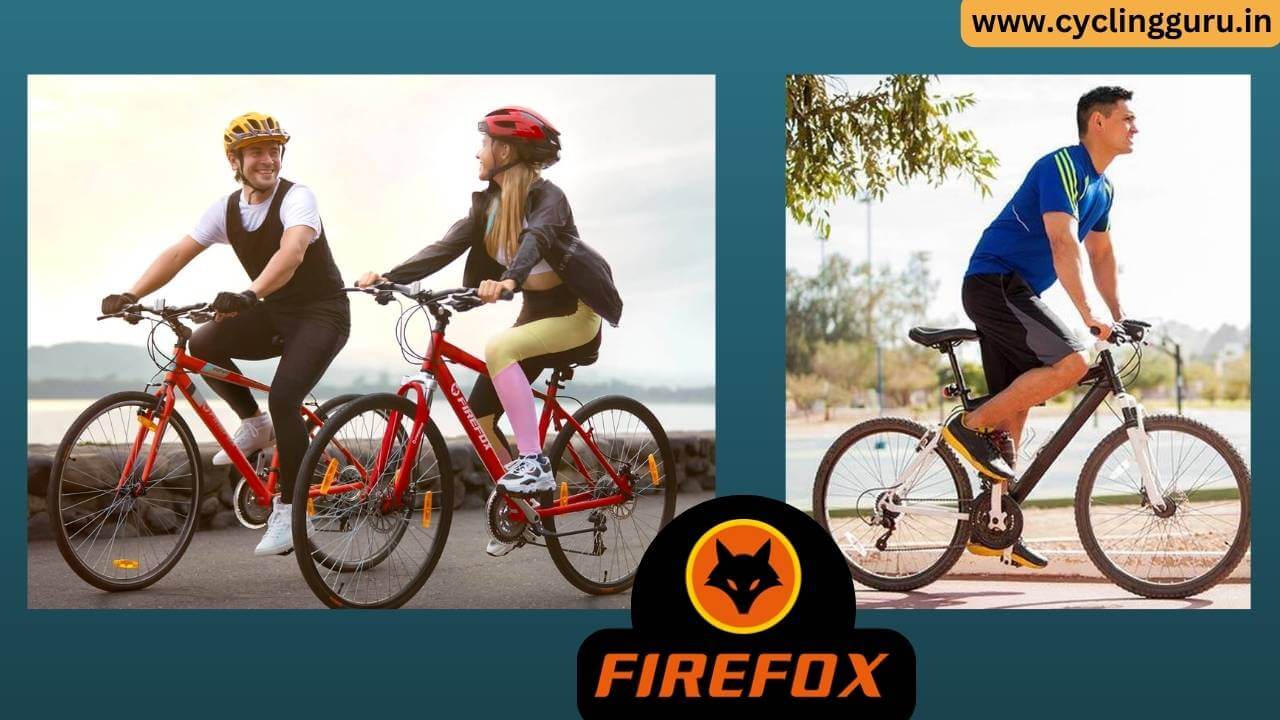 Established in the year 2005, Firefox bikes are not only a brand but an emotion for all the 90's millennials. Firefox cycles' moto is adventurous, and non-conformist by adding purpose and passion to their bikes.
As a brand, they aim to deliver innovation to the cyclist with their high-quality bikes designed and renovated keeping in mind the feedback and requirements of the riders.
Firefox bike helps passionate cyclists by facilitating and encouraging them to reach new heights through various terrains.
What makes Firefox Bicycles unique from other brands?
When it comes to highlighting the distinctive features of Firefox cycles, we can not miss anything from innovation to comfort that they incorporate in their bicycles to give an adventurous ride-enhanced yet safe experience.
A few of their special features are:
Rapid Release(RR): Firefox Cycles have a much quicker functional feature updates facility along with efficient bug-fixing services.
Extended Support Release (ESR): Firefox truly believes in "customer first" along with diversity and inclusion in its bikes hence they are not only selling bikes but also are your long-term biking buddy that supports your rides with new, advanced updates every 45 weeks.
Speciality Bikes: To truly bring revolution and change by designing fully functional bikes for specially-abled people breaking all the norms of riding.
Firefox bikes models and their types
Firefox has a wide variety of bikes from gravel bikes to electric bikes with a collection of components such as frame material and size, wheel size, bike weight, suspension travel, and much more in the most stylish colours and designs.
Let's look into the varieties of bikes and the top models of Firefox cycles.
| Type of Bicycle | Product (Model) |
| --- | --- |
| Gravel Bike | PIRATE 4.0 700c |
| Mountain Bike | Nexus-D 27.5T |
| Hybrid Bike | Bad Attitude Harpoon 700C |
| Road Bike | MAESTRO |
| Electric Bike | ADVENTRON 27.5D E-BIKE |
| Speciality Bike | AVATAR 27.5D |
| Women's Bike | GLITZ-24 |
| Kids, Marvel and Disney-Themed Bike | IRONMAN 18 |
Price Range Of Firefox Bicycles
Firefox bicycles have premium quality components so their prices are relatively high as compared to Ninety One Cycles or any other Indian cycle brands. However, their prices are quite convenient as per the features they offer in their all bikes. Currently, The price range of Firefox cycles ranges from 7000 rupees to 60000 rupees.
Related: Firefox Bikes are Expensive, Know Why?
Firefox vs Ninety One Cycles: Which one offers better performance?
Now that we have evaluated the major factors which dictated whether a bike brand is better than the other or not, it is time that we draw a vivid structure to this question.
It is important to understand that they both serve distinct needs and it depends on the rider to choose the perfect match depending on our analysis.
However, a few crucial points to consider here are that Ninety-One mostly designs and produces high-end bikes capturing the needs of professional cyclists and atheists, whereas Firefox bikes are more intended for passionate riders irrespective of their experience.
Apart from bikes, another distinctive similarity between these two brands is that they also manufacture cycling accessories. However, Ninety-One's product is preferred amongst cyclists since they are comparatively lightweight material and have stylish designs.
However, the Ninety-One brand has more varieties of bicycles with multiple colour options as compared to Firefox. Both brands provide excellent after-sales support.
More Related articles:
---
FAQs: Ninety-One Cycles or Firefox Bikes
Are the components of these bikes Made In India?

Are Firefox bicycles more expensive than Ninety-One?

Comparatively yes, but if you look into all the features and components of a bike it might seem worthy of the dime. But there are some bicycles of Ninety-One which are expensive like electric and Ktm bikes.
Conclusion: Firefox Bikes vs Ninety One Cycles
Ninety-One and Firefox are both individually great Indian bicycle brands with distinctive yet similar features. Ultimately, the choice between which brand is better and which one to buy is laid out based on the cyclist's purpose, budget, and preferences.
In our say, both the brands are great innovative Indian Bike brands, because of these two brands cycling is becoming popular in India as a hobby as well as a profession.
Hence choosing from any brand would add to the development of the nation and help achieve your goal.
Related Posts: