Cycling Guru is reader-supported!
Some links on this page are Amazon Associate affiliate links When you buy through links on our site, we may earn an affiliate commission! Read more...
The Economic Forum 2022 has marked India as a growing capital of entrepreneurs and start-ups, amongst such multiple start-ups one successful venture in the world of bicycles is the Ninety One cycle brand by Sachin Chopra.
Cycling and bicycles have a great opportunity in India and with limited traditionally trusted brands like Hero cycles and Hercules, Ninety One saw an opportunity for growth with a revolutionized design and features in premium bicycles and entered the market.
As It's a startup company so most of you want to know Is Ninety One cycle a good brand or not. If you are going to purchase a bicycle from this brand. Don't worry!
Your query will be solved only when you know how the Ninety-One bikes brand started, what's their vision, what type of bicycles they make, how is it different from traditional brands, and is the price point appropriate for the Indian market.
In this Ninety One cycle review, we have covered all the above-mentioned points in this article along with some most frequently asked questions about Ninety One bicycle brand.
Let's analyze whether Ninety One is a good brand for bicycles.
Part of Best Cycle Brands in India
Overview of Ninety One Cycles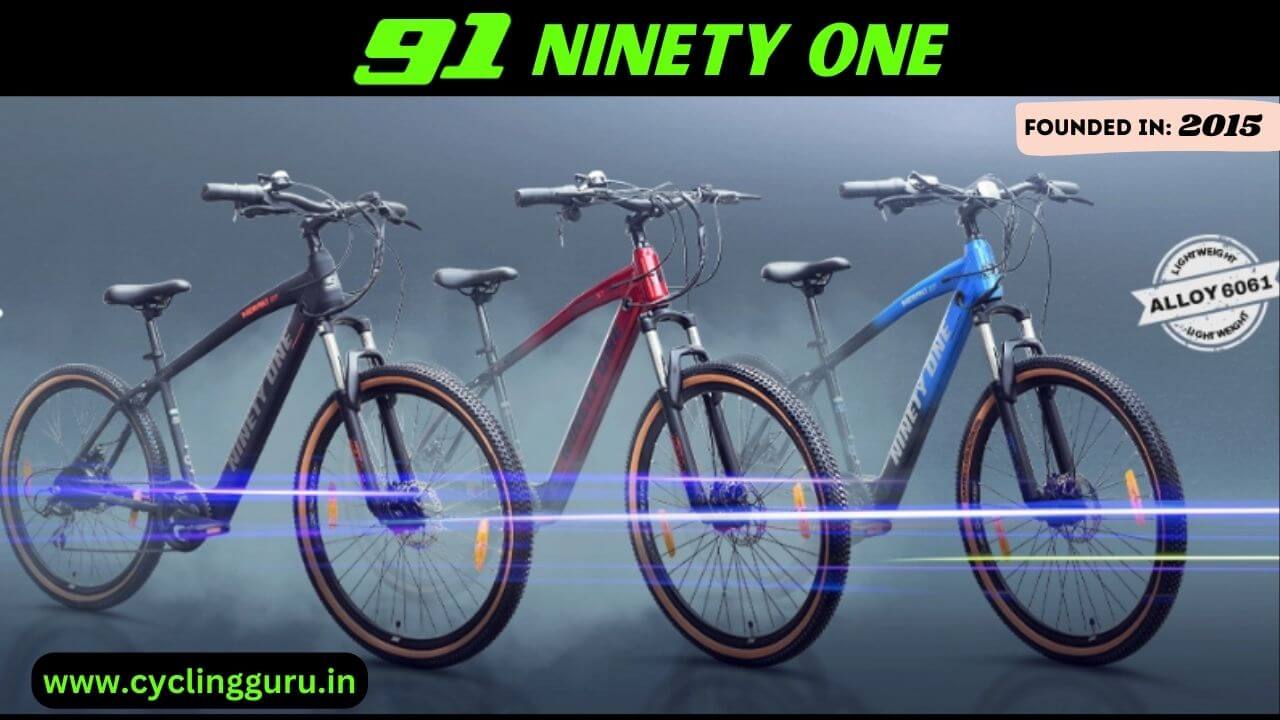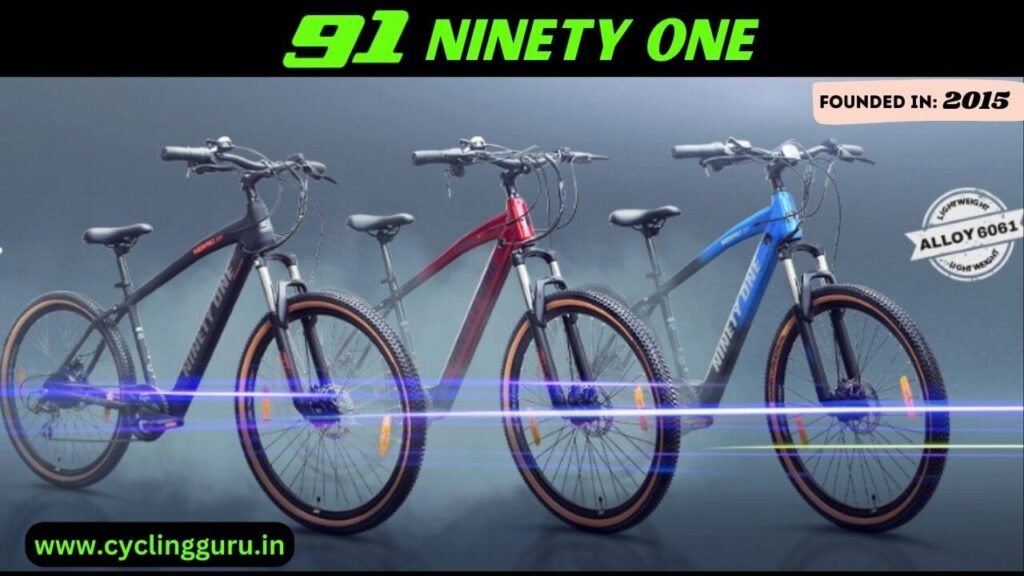 Ninety-One is a 2015 established cycle brand startup by an engineer. The name "Ninety-One" was decided since the number 91 is the country code of India and Sachin Chopra thought about what could be better for a MADE-IN-INDIA cycle brand.
Sachin Chopra and his team observed a major lack of innovation in the bicycle business and deep roots of margin of growth, hence they started to move with a thorough knowledge gained by studying the market deeply.
Moreover, his vast experience along with the co-founders' input made Ninety One a successful, profitable, and sustainable bicycle brand in the Indian market.
What Type of Cycles does Ninety-One Manufacture?
Designed by cyclists and engineered for safety and endurance, Ninety One uses world-class components to make all kinds of bicycles such as E-bikes (Electric bicycles), Mountain bikes (MTB), All-Terrain Bikes (ATB), Ranger Bicycles, Fat Tire Bikes (FTB), Hybrid Bikes (City), Little Champ Bikes (Kids), Road Bikes, and Ladies bicycles.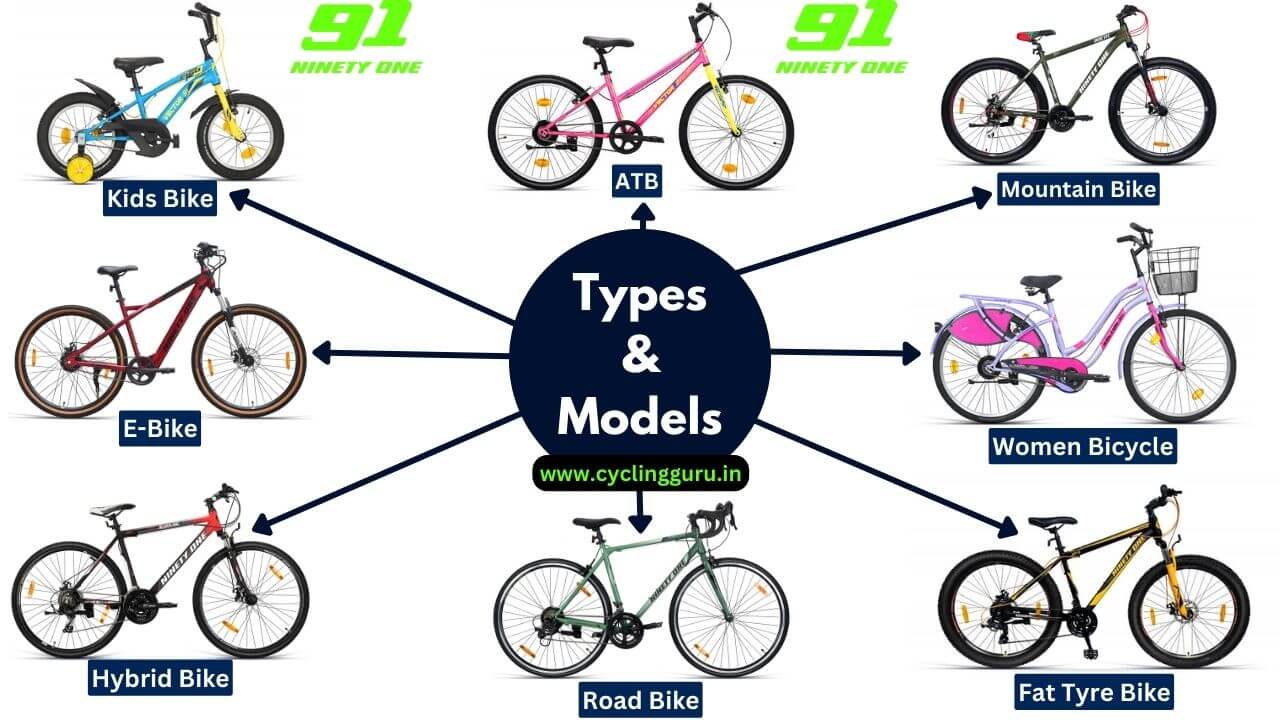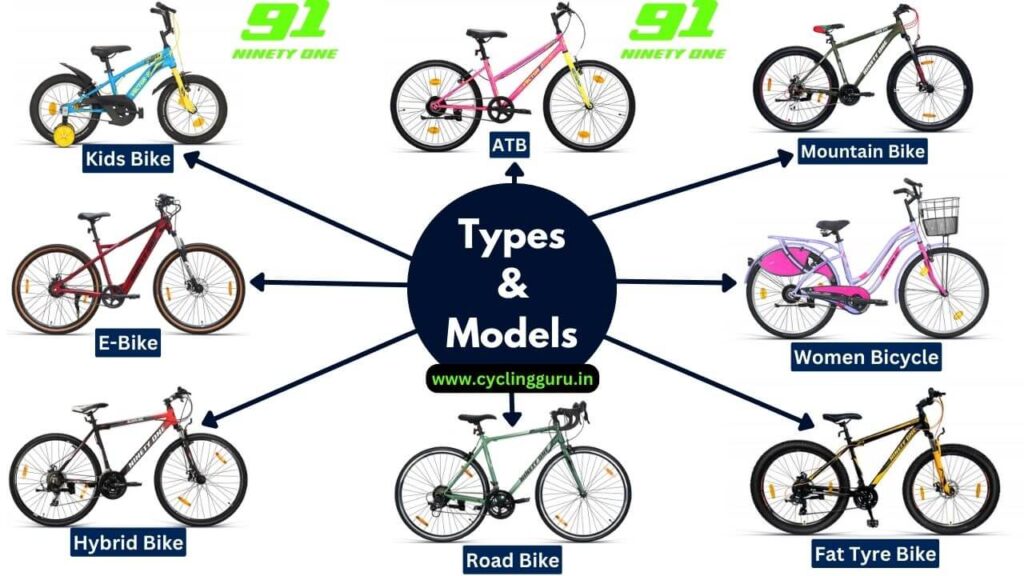 Let's see in detail what kind of bicycles Ninety One makes and their speciality!
1. Electric Bicycles (E-Bikes)
Ninety-One has always aimed to become a sustainable brand and to stand on the same belief they have a wide range of electric bicycles for adults men and women. This brand makes sure they have something to offer for all; hence, its e-bikes have different material frames from steel and alloy to trendy carbon covering low to high price range, making it one of the best e-bike brands in India.
When it comes to Ninety one electric cycle review, their Meraki electric bikes have world-class components with durable lithium batteries. Keeping the Indian market in mind the price range of their e-bikes starts from 30000 to 60000 rupees.
The Meraki Electric Bike is an unparalleled experience in convenience and quality.

91
Here are some best electric bicycle models of Ninety-One Bikes:
Meraki 27.5T
Meraki S7 29T
Meraki S7 Alloy 27.5T
Meraki Ultra 27.5T
Key features of the Ninety One Meraki e-bike series:
Bikes come with powerful BLDC motors.
They are equipped with 7 high-speed Shimano gears.
The brand provides 2 years battery and motor warranty.
Bikes come with 80 mm travel zoom suspension and a 720 mm handlebar.
It is also safe to ride in the rain or sunshine.
Must Read: Electric bicycle buying guide India
2. Mountain Bikes (MTB)
With India's emerging demand for mountain bicycles, Ninety One brought out their MTBs with innovative and developed designs. And to ensure expandability, they have their MTBs in single and multi-speed as well. With beast-like performance and great assistance for your adventurous rides.
Ninety-One MTBs have a zero shock suspension feature with fast and dynamic disc brakes for that abrupt braking on off-roads.
Apart from that, the stylish colours and low-rise design give them a strong and classy build along with comfortable excellent performance. The Wolverine 29T is one of their bestsellers and is quite affordable as per the MTB price range.
Related topic: Best mountain bicycle under 25000 in India
3. All Terrain Bikes (ATB)
Ninety-One saw a wide gap for all-terrain bikes in the Indian market and a vast range of professional cyclist who goes on long tours. To fulfill this gap Ninety One came up with a variety of simple, sustainable yet safe and comfortable all-terrain bikes.
Their ATBs have a single-gear, high-tensile steel frame body with tires ranging from 24 to 29 inches for your choice and comfort.
They not only have disc brakes but also rapid and secure V-brakes depending on the model you choose, with ensured zero shock suspension. A few of their best seller bikes that provide different performance specs, and features on all kinds of terrains are Viking 27.5T, Blizzard26T, and much more. Let's not overlook their bright and amazing features.
4. Hybrid Bikes
Hybrid bikes in India are of high choice amongst riders since they provide the features and robust performance of mountain bikes with the comfortable and sleek design of road bikes. Ninety-One makes stylish and durable hybrid bikes with both steel and alloy frames and 700c wheel size.
Some of the special features of their hybrid bicycles are that they manufacture distinctive models designed specifically for city roads or difficult uneven trails. Amongst the cycle's component features, a light rigid steel fork and lock-in/lock-out suspension make every ride perfect by backing up your confidence.
Endurance 700c and Trooper 700c are again a few of the best sellers with a convenient price range of 15000 to 30000 rupees.
5. Road Bikes
There are only a few Indian brands selling road bikes at affordable prices as 85% of the Indian cycling market is off-road bikes, to play on this fact Ninety One decided to bring innovation and revolutionized road bikes by making stylish, colourful, lightweight leisure activity road bikes.
To add to the change and innovate road bikes Ninety One made their road bikes least resistant to winds and paid minimal attention to the design to make sure they stand out when you take your road bike for a spin. From city riding, and running errands to going on long rides, Ninety One Road bikes are quite a good choice.
These were the major kinds of bikes Ninety One makes apart from that, to bring change in the traditional bicycle industry they also specialize in Ladies' bicycles, Fat Tyre Bikes (FTBs), kid's premium bikes, riding accessories (there are multiple offers under which you can get free accessories with bikes), riding gears and much more.
Is Ninety One Cycle a Good Brand? What's their Vision?
What makes a brand good? Their products, prices, customer feedback, sales, revenue, and profit? Maybe YES! But what really makes a brand good and stand out in the market is its founders (makers) especially when it comes to a start-up.
Ninety-One is definitely a good cycle brand with great founders, co-founders have worked to make it a strong bicycle brand with the in-depth distribution of the cycles backed up by solid manufacturing background. Their premium cycles with such a wide variety of features and affordable prices make Ninety-One a good brand for the Indian market and beyond.
One of my friends bought a bicycle from Ninety-One and The service he received from Ninety One Cycles was excellent. He was very pleased with their delivery and assembly services and had no trouble coordinating with them. The bicycle he purchased is great in all aspects.
Ninety-One Cycles Vision
The prime aim of Sachin Chopra and his co-founders, when they decided to start a bicycle brand, was to provide a luxury riding experience at a reasonable price. Moreover, for decades cycling and bicycles have been seen just as a means of transport rather than a hobby, or fitness activity.
The founder wanted Ninety One to become a brand and serve the customer's needs and fill their demands, to fulfil that dream, the makers even burn out a little extra cash to acquire customers and gain their loyalty. Ninety One in the future wants to revolutionize the cycling experience with smart features and engineered technology.
Must know: Ninety-One Cycles Vs Firefox Bikes?
Conclusion About Ninety One Cycle Review
India is a growing and developing nation with multiple start-up stories, one of them being the successful Ninety One Cycle brand. They are entirely made in India, and from designing, and manufacturing to producing they do it all with the people of India.
They have successfully grown their business by adding a wide range of bikes for all age groups and enhancing features and their price point is appropriate for Indians.
We hope that our insight into this emerging brand will help you make a choice for your next bike and motivate you to support Indian Bicycle Brands.
If you liked this article on the ninety one cycle review, do share this article with your friends. Share your thoughts about Ninet-One Cycles in the comment section below.
Keep pedalling and Stay Safe!
---
FAQs: Is Ninety One a Good Brand for Cycles?
Q1. Can I take a test ride of the cycle before buying?

Yes, you can surely give it a test ride before buying by finding the nearest store of Ninety One on Store Locator. Moreover, the website itself provides an ample amount of pictures, information, and AR to examine the bike thoroughly before buying.

Q2. Do we have to assemble the bike ourselves?

No, Ninety One cycles come 85% to 90 % pre-assembled and for the rest, it is advisable to get it assembled by Ninety-One experts for safety purposes. However, if you are an expert or have done it before, you can do it yourself as well with the bare minimum tools.

Q3. Is the website safe for online payments?

Absolutely, the website is 100% secure and reliable to make online transactions of your purchase. They have a well-designed website to make sure the transactions are seamless and secure.

Q4. What is the return or exchange policy of 91-Cycles?

Ninety-One does not have any return policies since they are quite confident about their products, however in case you find a default or a flaw, you may email them for their defect support policy, product will be replaced in case of wrong product delivery or defect in transit.
Related articles: